This antipasto french bread pizza can be made in 15 minutes start to finish. An easy, tasty weekday meal or snack for the big game. You can make it in either the air fryer or oven and use whatever you favorite pizza toppings. This antipasto is filled with various meats, cheeses, artichokes, peppers and more.
You might also like this antipasto tortellini salad.
Pizza is pretty much a regular thing around my house and it's a family favorite and an easy meal on the weekends. I play around with making 2 ingredient dough (Freezer Pizzas) or making it with naan bread (Easy Flatbread) and even made it into a low carb waffles (Pizza Waffles)!
Today I tried using French bread to make this Antipasto French Bread Pizza. It has all the components of an antipasto; meat, cheese, peppers and artichokes all on a tasty hunk of fresh, French bread.
It was very easy and very tasty. Originally I made this in the oven but today I made it in the air fryer which I am using more and more for recipes like this. But I have instructions for both ways below.
The flavor combination is courtesy of local gourmet grocery store (McGinnis Sisters) where my hubby and I used to eat lunch when we were dating. They made a fabulous grilled sandwich with capiocola, provolone, artichoke hearts, lettuce, tomato and onion. It was yummy.
I haven't had one in 15 years but with that in mind I made this French bread pizza recipe for my hubby. Using a baguette and all of our favorite antipasto ingredients, I made this delicious and easy dinner.
Recipe ingredients I used.
All you need for this home French bread is a baguette of French bread, a jar of marinated artichoke hearts, mini bell peppers, red onion slices, provolone cheese, asiago cheese and an assortment of Italian meats (capicola, salami, hot calabrese). I got the Italian meat try at Aldi and you can see it below.
SPECIAL NOTE: I'm updating this post and used a loaf of Italian bread which is chewier and more dense instead of French bread which can be too hard and too narrow to make into pizza.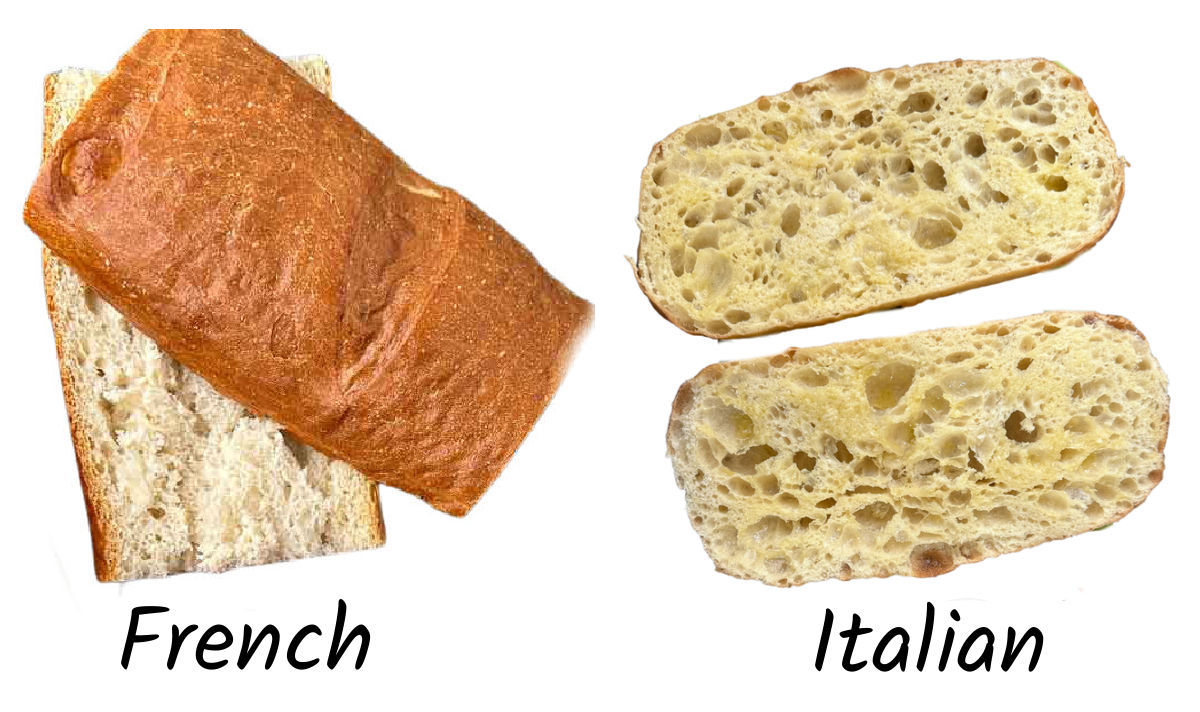 Either one will work. Above is a picture showing the difference so you know what they look like. I bought the Italian loaf at Aldi and their French loaf was too thin to use. The one pictured above was found at a larger grocery store.
You can use whatever antipasto toppings you want for this dish. Try roasted peppers, cherry tomatoes, olives, feta cheese, pickled cauliflower, ham, turkey, pepperoni, etc.
I do like the cheese combination of provolone and asiago but feel free to substitute with them too.
How to make anitpasto French bread pizza in the air fryer.
Step 1: This step is optional but you can slice your (French or Italian) bread in half like shown below and brush some olive oil and crushed garlic on top. Then you air fry it at 400°F for 3 minutes to get the stop crispy.
When I made some pepperoni pizzas it didn't seem necessary but I wanted to to include this step in case you wanted to try it.
Step 2: Place the provolone cheese slices on the base of the bread. You need this so everything will stick to the bread as it melts. Next layer the meats. I used 3 different kinds as listed above.
Finally add the veggies before topping with the shredded asiago cheese. The asiago cheese is not a melty one but it is very flavorful. If you want you can mix in some shredded mozzarella cheese with it or just use mozzarella. But the asiago adds lots of flavor in my opinion.
Step 3: Bake at 400°F for 5-8 minutes. Check it at 5 minutes and see if the cheese is browning and melty. If not put it back in for a few minutes. Cooking time may vary.
Step 4: When it's done, take it out of the air fryer and let it set for a few minutes. Then slice into pieces and serve.
You can eat these as a snack, appetizer or serve with green salad and make it a meal. With all the meats, cheese and veggies it is very satisfying and filling.
Store leftovers in an airtight container or wrap in aluminum foil. You can heat up in the air fryer, oven or microwave. Please scroll down to view the printable recipe card.
To make this in the oven.
Preheat the oven to 400°F and spray a baking sheet with nonstick cooking spray and set aside.
Slice the bread in half and brush the cut sides with a combination of olive oil and crushed garlic.
Layer the provolone cheese, then meats, then veggies and finally the asiago cheese on top.
Place in the oven and bake for about 10 minutes until the cheese is melted and browned. If the cheese is not browned enough you can also stick under the broiler for a few minutes to brown it at this point.
Let cool before slicing and serving.
You can see what it looks like coming out of the oven. Either way you make these antipasto pizzas it will taste delicious. It's pretty much the same amount of time so you pick.
I think these would be a great appetizer to bring to a small party or get together. You can slice it up into pieces to make a great finger food. Best of all you could personalize these anyway you wanted.
Of course Max had tomato sauce, mozzarella and pepperoni on his. That boy loves a good pepperoni pizza! I hope you like this quick but tasty dinner. It only took me about 15 minutes from start to finish and my hubby loved it. I hope you do too.
Antipasto French Bread Pizza
This antipasto french bread pizza can be made in 15 minutes start to finish. An easy, tasty weekday meal or snack for a party. Make it in the oven or air fryer.
Ingredients
1 loaf French bread (can also use Italian bread loaf)
12 pieces provolone cheese
6 ounces Italian meat slices (I used salami, capicola, ham)
1 jar artichoke hearts
½ red onion thinly sliced
1 cup shredded Asiago cheese
½ cup sweet bell peppers, thinly sliced
Instructions
To make in the air fryer spray the basket with nonstick cooking spray and set aside.
Slice the bread in half lenghtwise and then cut eac of those in half to make 4 pieces. Make sure the pieces will fit in your air fryer basket. You might have to make these in batches.
Place a layer of overlapping provolone cheese as the first layer. Then follow with Italian meat slices, then veggies (artichokes, red onion slices, sliced peppers) and finally the shredded asiago cheese. You need to have the last layer be cheese because toppings can fly away from the air in the air fryer.
Bake at 400°F for 5-8 minutes. Check at 5 minutes to see if the cheese is nicely browned, if not keep baking for a few minutes. Take it out and eat is as is or slice into small pieces as an appetizer.
To make it in the oven, preheat oven to 400°F degrees.
Slice your bread the same as above and layer all the ingredients the same way too.
Place on a rimmed baking try that you spray with nonstick cooking spray.
Bake in the oven for 10 minutes until the cheese is golden brown. If cheese is not brown enough for your taste, place under the broil for a minute or two but watch it doesn't burn.
Slice and eat!
Nutrition Information:
Yield:

4
Serving Size:

1 grams
Amount Per Serving:
Calories:

806
Total Fat:

36g
Saturated Fat:

20g
Trans Fat:

0g
Unsaturated Fat:

13g
Cholesterol:

111mg
Sodium:

1762mg
Carbohydrates:

67g
Fiber:

3g
Sugar:

7g
Protein:

54g