For an easy and quick lunch or dinner try this air fryer French bread pizza. With just a few ingredients you can make homemade french bread pizza in less than 15 minutes! This easy recipe is one to keep on hand for busy weeknights.
You might also like these mini frozen pizzas with 2 ingredients dough.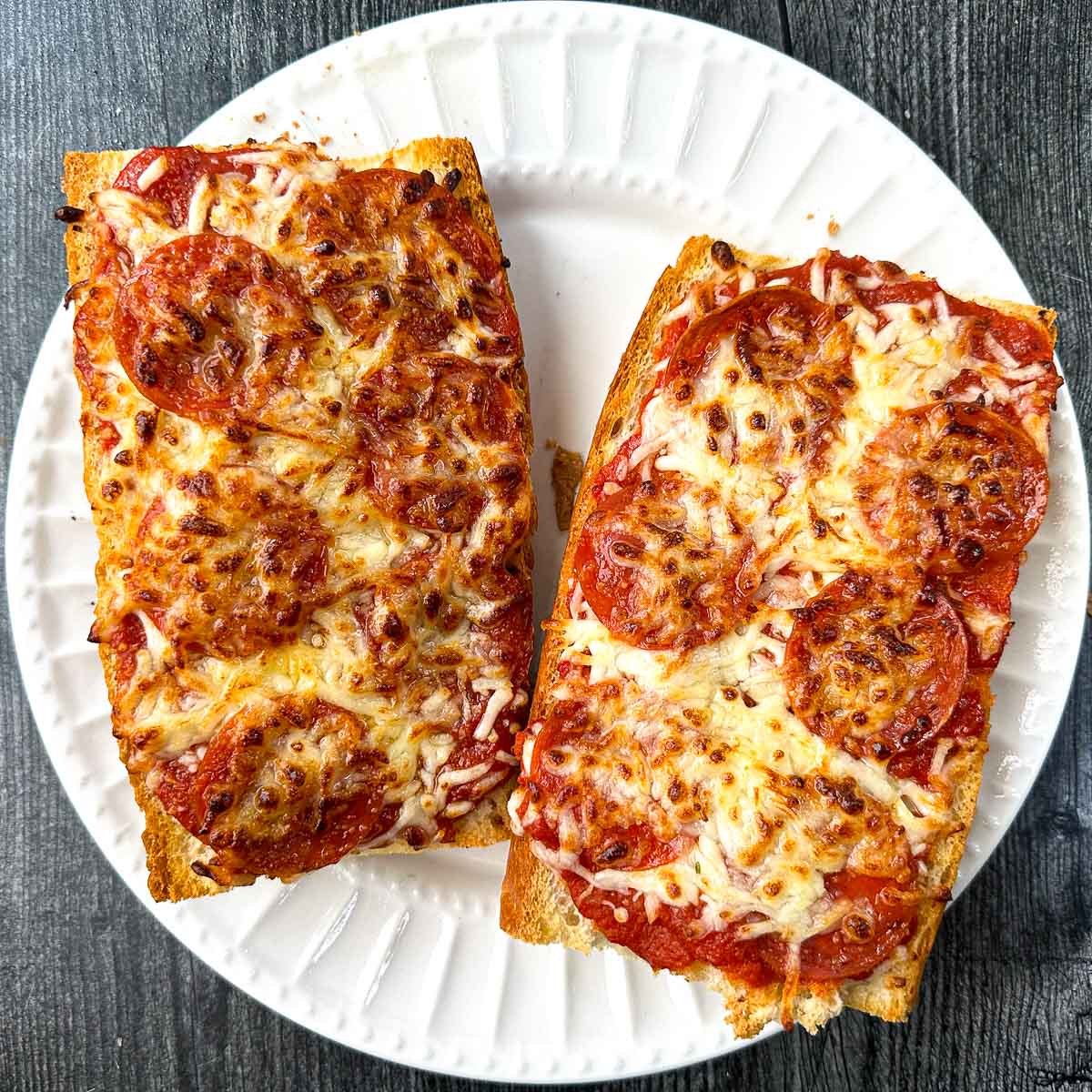 I've bought frozen french bread pizza for my son but it's always seems like you are eating cardboard. Well today I bought a nice loaf of French bread and decided to make my own air fryer french bread pizza. My son loved it! Of course pizza is his favorite food group and he loves any kind of pepperoni pizza.
We are starting to use our air fryer for all kinds of things. I started with french fries and now I cook desserts and even dog treats too! This is yet another reason I love air frying. You can make an easy meal like this for the whole family in little time and with very little mess.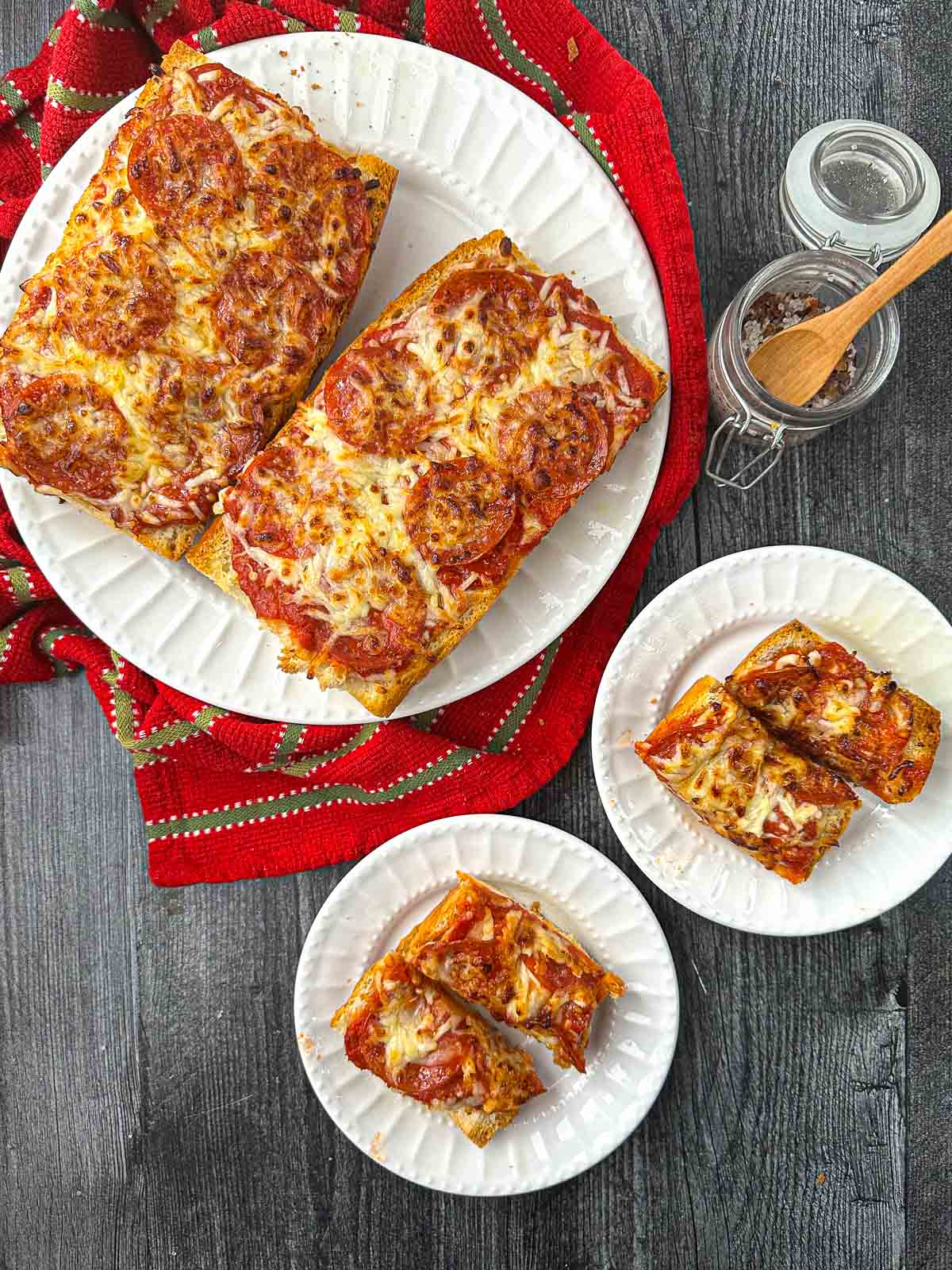 Recipe ingredients I used.
All you need to make this recipe is a loaf of French bread, marinara sauce and mozzarella cheese. Sometimes the french baguette you find is too hard, or narrow and long. I was able to find a good size one as you can see in the picture below.
I have also bought a loaf of Italian bread (below right) and my family loved that too. You can see the Italian bread is thicker in width and it's heavier than the French. I could only fit one of the halves of Italian in my air fryer but 2 of the French. And Italian bread is more chewy while the French is more crunchy when baked.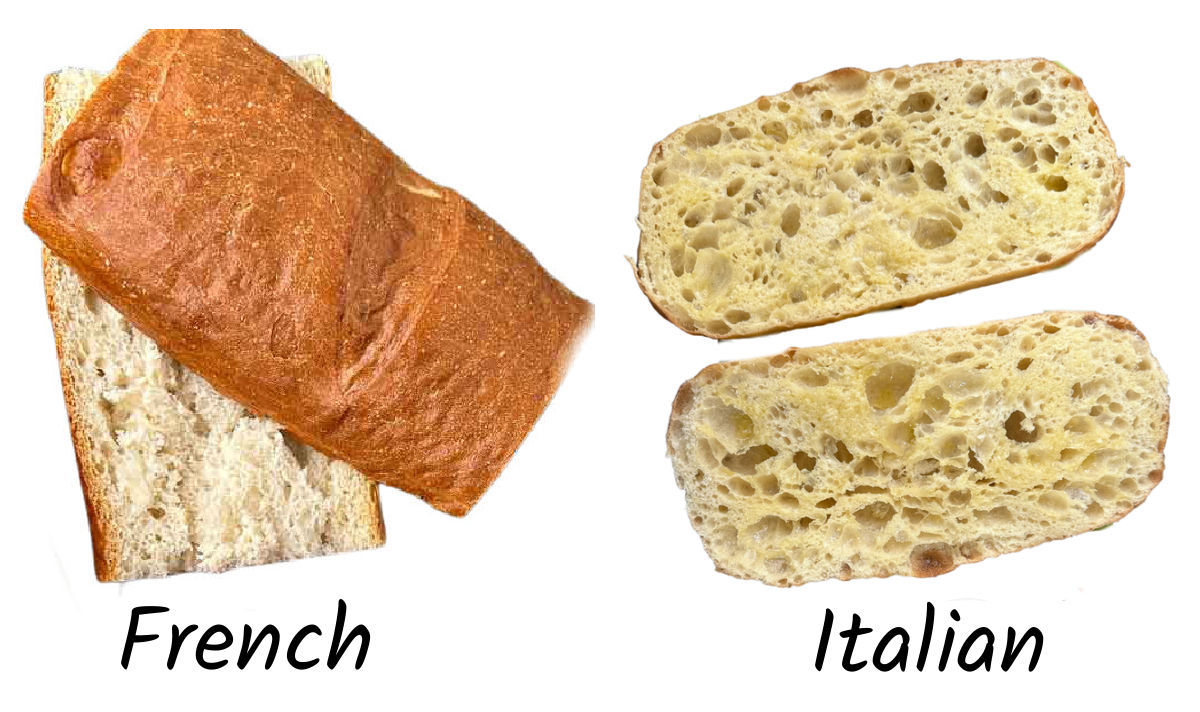 As for the toppings I used sliced pepperoni today but I've also made redid this antipasto pizza so check that post as well. Use any or all of your favorite pizza toppings. Also I recommend using mozzarella cheese as it's gooey cheese that is traditionally used for pizza. You could add to the mozzarella with other cheeses if you want to change the flavor.
And lastly I use Rao's marinara sauce because we love the taste and it's low carb for me. You can use homemade pizza sauce if you have it or any kind of jar pasta or pizza sauce you want.
My two types of air fryers.
I have 2 different air fryers that I used for different things. Check out my air fryer for making jerky and rotisserie chicken which has 2 racks instead of a basket making it ideal for dehydrating.
And I have another one similar to this air fryer that I bought at Aldi and so far so good. I like the large basket in that one and use this as my main one.
How to make french bread pizza in the air fryer.
Step 1: Spray the air fryer basket with nonstick cooking spray and set aside.
Step 2: Slice the loaf of bread in half lengthwise so it' opens up like a book.
Note these have to fit in your air fryer so you will probably have to then cut each half of the loaf in half again to make 4 pieces. Maybe even more depending on the size of your air fryer.
Step 3: Take the pieces of bread and spoon some of the tomato sauce over top. I used about ¼ cup per piece but use as much or as little as you like. Then sprinkle some shredded mozzarella on top.
Try to use only half of amount of cheese that you want to use. Then add your favorite toppings (I used pepperoni slices) and top them with the rest of the cheese.
You need to cover your toppings because the circulating air will blow the toppings around and the cheese will weigh it down.
Step 4: Place the pieces into the air fryer basket in a single layer and bake at 400°F for 5-7 minutes.
Check around the 5 minute mark so see if the cheese has browned enough. You want it to be golden brown. If it's not to your liking cook for a few minutes more. Note cooking time may vary depending on your type of air fryer.
Step 5: Take the pizzas out of the air fryer and let cool for a few minutes then serve with a simple green salad to make it a meal!
Store leftovers in an airtight container or wrap in aluminum foil. You can reheat in the air fryer or microwave. Please scroll down to view the printable recipe card.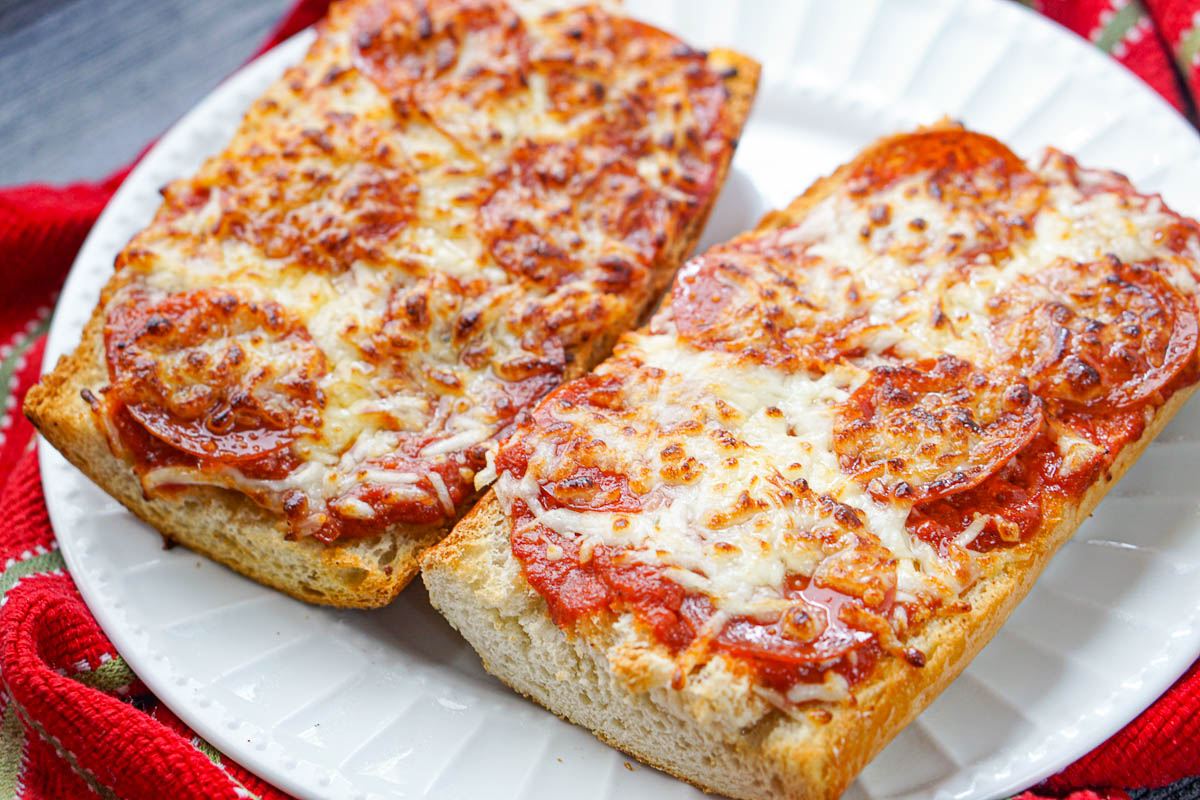 Recipe notes and tips.
If you want to add another layer of flavor, you can mix together olive oil, crushed garlic and a bit of Italian seasoning. Then brush it on the bread and air fryer at 400°F for 3 minutes. It gives it a big of garlic bread flavor. Continue making it like the rest of the recipe.
To make your own pizza sauce, try mixing a can of plain tomato sauce with fresh crushed garlic, Italian seasonings, salt and pepper. If you want a bit of sweetness add a tablespoon of tomato paste.
If you want to add a bit of heat use crushed hot pepper flakes in the sauce or on top when it's done baking.
Different pizzas flavors and toppings to try.
bbq chicken – Mix cooked chopped rotisserie chicken with bbq sauce and then spread on the bread. Top with cheddar cheese and thinly sliced red onion. Use more bbq sauce on top if you want to. Or drizzle a little Ranch dressing.
buffalo chicken – Mix melted butter, crushed garlic and hot sauce with cooked chopped rotisserie chicken and place on the bread. Top with cheddar cheese.
meat lovers pizza – Used cooked Italian sausage or breakfast sausage crumbles along with cooked bacon bits, pepperoni and ham as your toppings. Continue with sauce and cheese making sure the toppings are under some cheese.
veggie lovers – Use your favorite veggies like bell pepper, mushrooms, onions, broccoli, zucchini, etc. Just make sure to slice everything thinly and cover with enough cheese to weigh down the toppings so they don't fly off when cooking.
other ideas are taco pizzas, chicken with alfredo sauce, white pizza, etc.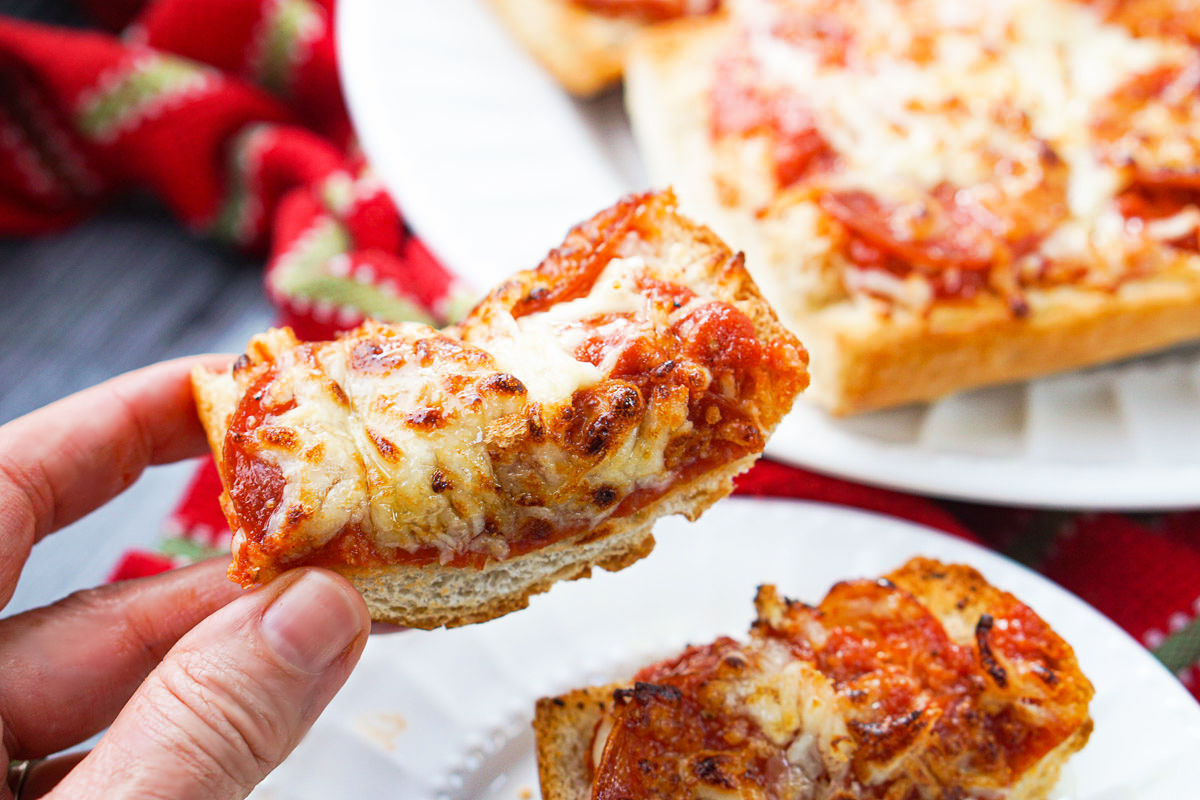 Well I hope the next time you are reaching for a frozen Stouffer's French bread pizza or Red Baron pizza in the grocery store, you put it back and try this air fryer French bread pizza recipe instead.
Or for your next pizza night you get out your air fryer and make make this kind of pizza. It's an easy and fun way to make pizza and sure to be a family favorite. Enjoy!
Air Fryer French Bread Pizza Recipe
For next pizza night try these easy and homemade air fryer French bread pizzas. Use whatever toppings you want and you are done in 15 minutes!
Ingredients
1 loaf French bread
1 cup Rao's marinara sauce (or other pizza sauce)
2 cups shredded mozzarella cheese
12 slices pepperoni
Instructions
Spray air fryer basket with nonstick cooking spray and set aside.
Cut the French bread in half like you would for a sandwich. Then cut it down to size so that it fits you air fryer basket. I was able to make 4 pieces with mine.
Using as much or as little of the pizza sauce spread over the top of the bread. Then sprinkle half of the amound of cheese you want to use on the sauce. Next comes the pepperoni or whatever toppings you want. Lastly cover with the remaining cheese. The toppings will fly around the air fryer so you need some cheese to weigh them down and keep them in place.
Place in the air fryer basket and bake at 400°F for 5-8 minutes. Check at 5 minutes to see if the cheese is golden brown. If not cook for a few minutes more until it's to your liking. Cooking time will vary.
Note I just used approximate amounts of ingredients becuase it will depend on how many you are making and how much like of the ingredients. Use your own judgement.
Nutrition Information:
Yield:

4
Serving Size:

1
Amount Per Serving:
Calories:

514
Total Fat:

15g
Saturated Fat:

7g
Trans Fat:

0g
Unsaturated Fat:

6g
Cholesterol:

35mg
Sodium:

1384mg
Carbohydrates:

69g
Fiber:

4g
Sugar:

10g
Protein:

25g