If your family loves pizza, you have to try these easy mini frozen pizzas that you can make from 2 ingredient pizza dough. You can freeze them so they will be on hand for whenever you need a quick and easy dinner. And the dough only needs 2 simple ingredients – Greek yogurt and self rising flour! No kneading or rising so these pizzas can be made in 30 minutes or frozen for later.
You might also like this easy sausage and pepper flatbread pizza.
This was one of my first posts. I wanted to make easy pizzas for my son one summer as he was and still is a pizza fanatic. It started with my love for 2 ingredient pizza dough which makes the process so much easier.
If you have never tried 2 ingredient pizza dough I highly recommend you do. Especially if you are not one to make homemade bread. All you do is mix, knead for a few minutes and roll out your pizza crusts. So easy – no rise time!
This post will show you how to make mini frozen pizzas using this Greek yogurt pizza dough. You can then make them for dinner or freeze them for a quick lunch. You could also double this recipe and make 12 mini pizzas to freeze for whenever.
I think this type of dough was originally called weight watchers pizza dough and I'm assuming someone from Weight Watchers. Whoever invented it, I thank you.
You can make all kinds of these with this dough. I've even made a cranberry pecan bagel recipe with this 2 ingredient dough and baked them in the air fryer.
It makes a chewy and elastic crust just like regular pizza dough and it's very versatile. While we are just making pepperoni pizzas today you can add Italian seasoning or other herbs and spices to your pizza dough and of course your favorite pizza toppings. But since is meant for kids I'm keeping it simple.
What you need to make 2 ingredient pizza dough.
To make the pizza crust all you need is greek yogurt and self rising flour. Note that you have to use Greek not regular yogurt and self rising flour and not regular all-purpose flour for this recipe. Self rising flour can be found in most grocery stores so you shouldn't have trouble finding it.
If you don't have self rising flour you can make it!
All you need is regular all-purpose flour, baking power and salt. For 1 cup of flour you add 1 ½ teaspoon of baking powder and ¼ teaspoon of salt. (source)
Since we are using 1 ½ cups of flour in this recipe you would need to use 2 ¼ teaspoons of baking powder and ⅜ teaspoon of salt.
Honestly it's much easier to buy it and then you don't have to do the math!
Other recipe ingredients you need.
So technically you only need Greek yogurt, self-rising flour, pizza sauce and mozzarella. From there you can use your favorite toppings you want which for my son is definitely pepperoni.
And you don't have to get fancy pizza sauce. I use jarred pasta sauce from Aldi or Rao's marinara sauce as that is our favorite. It ends up being a rather inexpensive dinner as the ingredients can be found anywhere and are not costly.
How to make your own mini frozen pizzas.
Step 1: First preheat the oven to 350°F and cover a baking sheet with a sheet of parchment paper.
Step 2: To make the dough add the Greek yogurt and self rising flour to a large mixing bowl and mix together until it forms a ball of dough.
The dough ball should be tacky but not too sticky. Place ball of dough to floured surface and If the mixture is too wet, add a some additional flour to your work surface and start kneading the dough to incorporate the extra flour and get your dough to the right consistency.
I kneaded mine by hand and it just took a couple minutes to get it all to come together. No need to get out the mixer and bread hook.
Step 3: Once the pizza dough is made, cut it into 6 equal balls of dough. Take each piece of dough and roll it into a ball. Then using a rolling pin (dusted with a little flour so it doesn't stick) and flatten into a small pizza shape. Below you can see what mine looked like.
Step 4: Place the uncooked pizza crusts on a parchment paper covered baking sheet and spray with nonstick cooking spray.
You could also brush dough with olive oil or even butter and some garlic powder for a breadstick flavor. But cooking spray is what I used. Place in the oven and bake for about 8 minutes.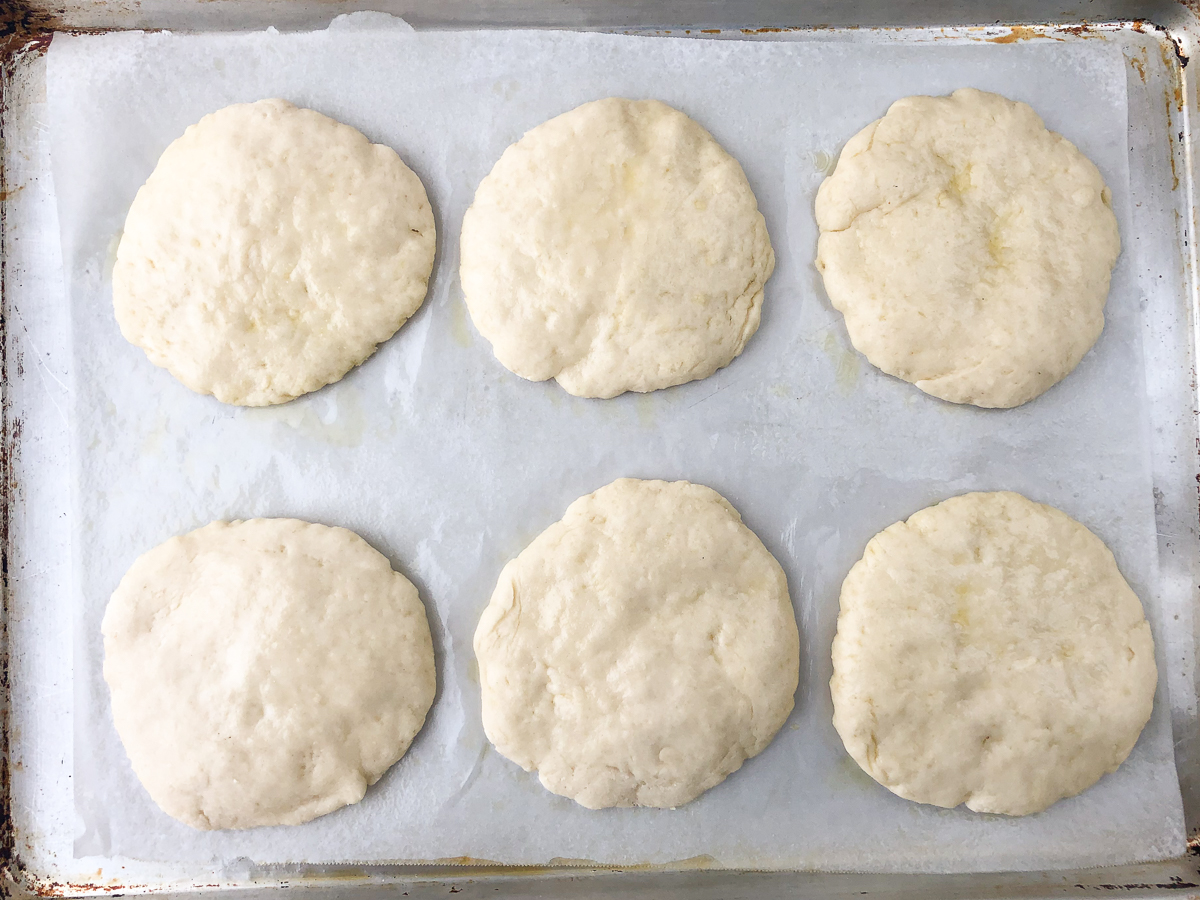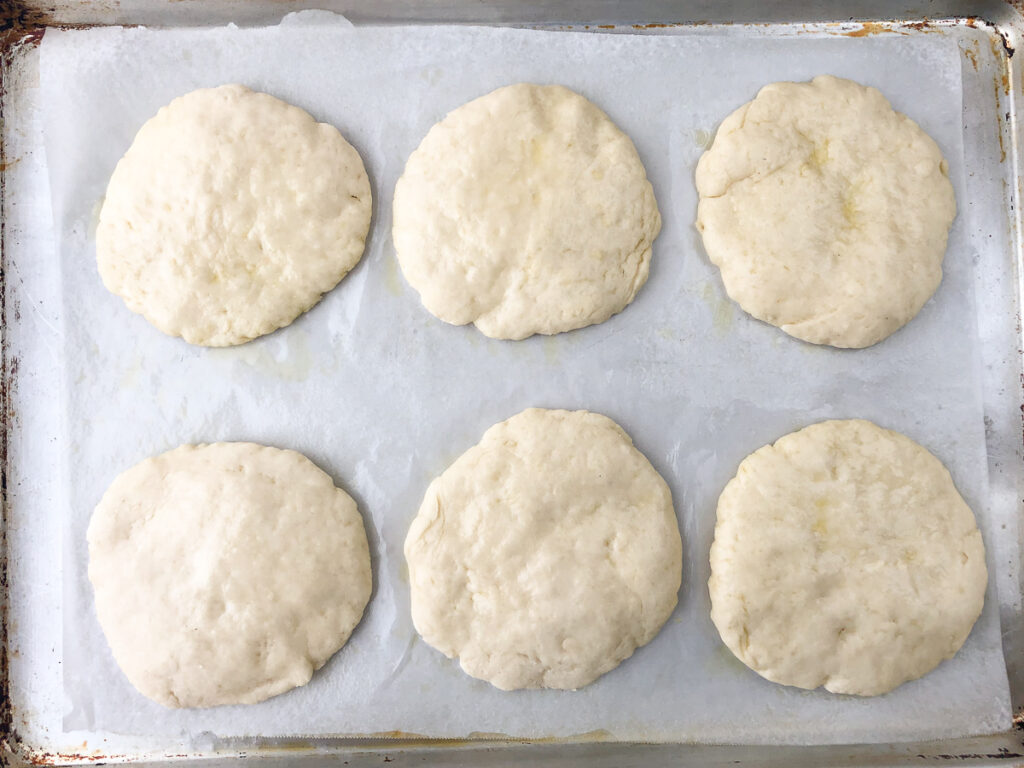 Step 5: Let them cool and then add your toppings to the pizza bases. I used just sauce, mozzarella and pepperoni. Set the whole baking tray in the freezer for about 2 hours.
Step 6: Then take the one the baking sheet and place in a ziplock freezer bag. I just stacked mine in the bag like below. However if you have the right size airtight container for the freezer that would work too.
You can also just freeze the crusts or shells and make your pizzas later. Either way works fine. (Please scroll down for the printable recipe card.)
How to bake these frozen mini pizzas.
To make from frozen, just bake in a 350°F oven for 10 – 12 minutes until golden brown. You can even turn on the broiler after the 12 minutes if you want them more browned on top. Easy peasy.
If you want to bake these mini pizzas right away.
To make them cook these right away, just don't freeze them at all. Make the 2 ingredient pizza crust, bake for 8 minutes then take them out of the oven and add your toppings. Return to oven and bake for 10 minutes more until brown and bubbly.
This recipe only makes 6 mini pizzas. I like them because you can make a batch for dinner or just bake a couple from your freezer for a quick lunch. Plus they are easier to freeze in a smaller size. Cooking times may vary if you make a bigger pizza crust.
And that's all there is to this homemade pizza dough recipe.
One of these days I will mix some herbs in the dough and make a few white pizzas with fresh tomatoes and fresh basil for me and my hubby. However this recipe was originally meant for my son. Even now that he's older, pepperoni pizza is one of his favorite foods.
I hope this easy pizza recipe helps you out a bit with meal planning for your family or even yourself. And play around with the greek yogurt dough to make all kinds of things. It's so easy and tasty too. Enjoy!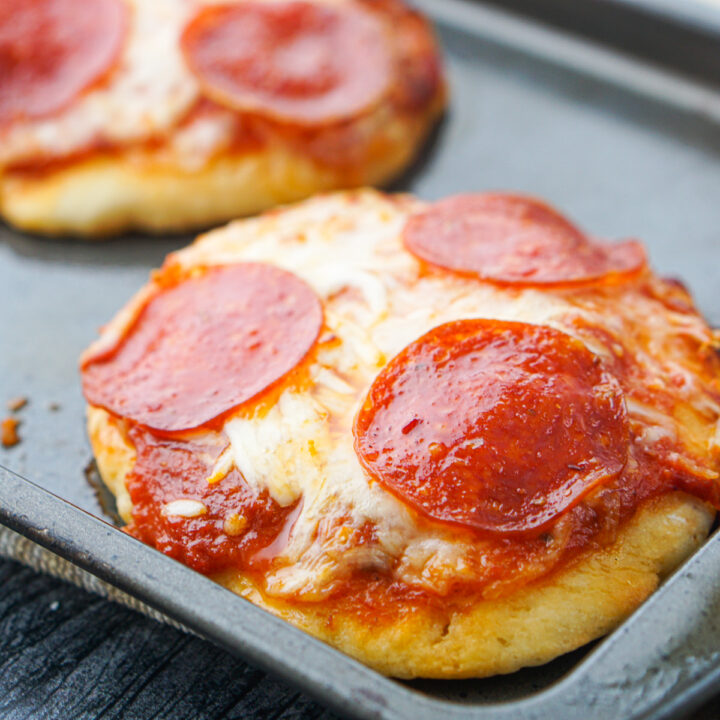 Frozen Mini Pizzas Using 2 Ingredient Dough Recipe
These frozen mini pizzas use a two ingredient pizza dough made from greek yogurt and self rising flour. You can make a quick, easy and homemade meal your kids will love. Or freeze them to have on hand for a quick dinner or lunch.
Ingredients
1 cup Greek yogurt
1 ½ cups self rising flour + ½ cup extra for rolling out the dough
1 cup pizza sauce
1 cup shredded mozzarella cheese
toppings of your choice
Instructions
Preheat the oven to 350°F and cover a baking sheet with parchment paper.
Add the yogurt and 1 ½ cups of self rising flour into a large mixing bowl.
Using your hands, mix the ingredients together until they form a ball. Dough should be tacky not sticky.
Add extra flour to your working surface and and continue to knead the dough on the floured surface if it is too sticky.
Once you get the dough into a round smooth ball, use a knife or pizza cutter and cut the dough into 6 equal pieces.
Take each piece and roll into a ball and then use a rolling pin (or your hands) and make your pizza shell. Roll out each as thin or as thick as you like.
Place the 6 shells on the prepared baking sheet. Spray the crusts with nonstick cooking spray or brush some olive oil on top.
Bake for 8 minutes and then take them out and let them cool.
Once cool add your sauce, cheese and toppings and place the whole cookie sheet into the freezer for 2 hours.
When frozen, place the pizzas into a ziplock freezer bag and refreeze until you are ready to use.
Whenever you want to eat the pizzas, bake in a 350°F oven from frozen for 10 -12 minutes and then broil until the cheese is browned.
Nutrition Information:
Yield:

6
Serving Size:

1
Amount Per Serving:
Calories:

369
Total Fat:

13g
Saturated Fat:

6g
Trans Fat:

0g
Unsaturated Fat:

6g
Cholesterol:

11mg
Sodium:

786mg
Carbohydrates:

49g
Fiber:

2g
Sugar:

3g
Protein:

12g