My son is a pizza fanatic. Is yours? Are all kids? Now that's he's home all day for the summer, I thought I'd start making fresh pizzas again. I don't have the time to make real pizza dough….the kind that needs to be kneaded a lot and then set to rise and then kneaded again. Too much work. So I used the two ingredient dough that I've used many times in the past with greek yogurt and self rising flour. I thought it would be great if I could make a bunch of mini pizzas and freeze them so he could make them himself (yeah right). Well at least I could just pop one or two in the oven for him for a quick lunch.
First thing you do is make the dough. I think next time I will double this batch because I only got 6 mini pizzas out of this recipe. You mix the ingredients together in the bowl of your mixer and once they come together, knead them with your mixer for 8 minutes (or by hand). Your dough should be tacky not sticky. If it's too sticky (which it probably will be) flour your work surface and knead in by hand with a little more flour. Cut your dough into 6 pieces and roll out each into 6 mini pizza shells. Place them on a parchment paper covered cookie sheet and brush with olive oil. Bake for about 8 minutes in a 350 degree oven.
Let them cool and then add your toppings and set them in the freezer until frozen. It may take an hour or two. I stacked mine and placed them gently in a ziplock bag or if you have the right size freezer container that would work too. You can also just freeze the shells and make your pizzas later. Either way works fine.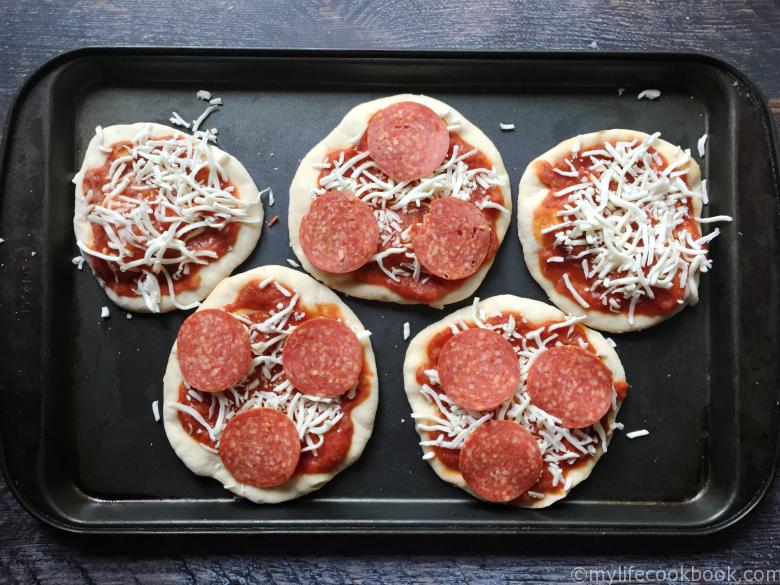 To make from frozen, just bake in a 350 degrees for 10 – 12 minutes. You can even turn on the broiler after the 12 minutes if you want them browned on top.
And that's all there is to it. I think next time I will mix some fresh herbs in the dough and make a few white pizzas for me and my hubby but in the meantime at least Max is set. Hope this helps you out a bit with your young ones or even yourself. Enjoy!
Frozen Mini Pizzas Using 2 Ingredient Dough
These frozen mini pizzas use greek yogurt and self rising flour for a quick, easy and homemade meal your kids will love. You can freeze just the pizza shells or make the pizzas and then freeze.
Ingredients
1

cup

greek yogurt

1 1/2

cups

self rising flour + 1/2 cup extra for rolling out the dough

1

cup

pizza sauce

1

cup

shredded mozzarella

toppings of your choice

2

Tablespoons

olive oil
Instructions
Add the yogurt and 1 1/2 cups of flour in the mixing bowl of your mixer.

Using your hands, mix the ingredients together until they form a ball

Knead for 8-10 minutes in your mixer or by hand. Use the dough hook if using the mixer.

Dough should be tacky not sticky.

Flour your working surface and and start rolling out your dough

If too sticky use a little of the extra flour and knead in.

Cut dough into 6 equal pieces.

Roll out each piece into a small circle as thin or as thick as you like.

Place on a parchment lined cookie sheet and brush with olive oil.

Bake in a 350 degree oven for 8 minutes.

Let cool and then add your sauce, cheese and toppings.

Put the whole cookie sheet in the freezer and freeze for 2 hours.

When frozen, stack the pizzas and place in ziplock bags and refreeze until you are ready to use.

Whenever you want to eat the pizzas, bake in a 350 degree oven from frozen for 10 -12 minutes and then broil until the cheese is browned.