This easy flatbread recipe is so delicious with toppings of sausage, peppers, spinach and Asiago cheese. Make a delicious dinner for your family in less than 20 minutes!
You might also like this easy apple and cheese flatbread recipe!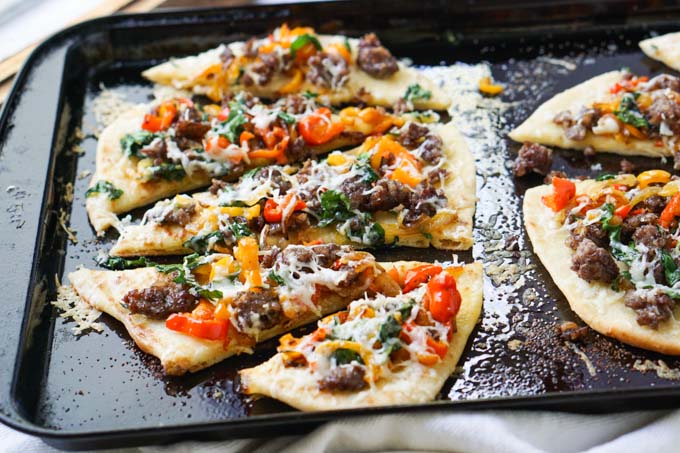 I am always trying to think of quick and easy dinners for my family. Some days are just too busy and the last thing I want to do is make dinner. But I like good food and feel guilty if I don't take care of my family so this is our new go to dinner on those "crazy" days.
Recently my son told me he liked naan bread. I was shocked to be honest… but also excited! He's really starting to like different foods which is great. So I made this easy flatbread recipe for me and my hubby. And for my son I used the naan bread to amen a pepperoni pizza. He's not there yet. 😉
These flatbreads are easy to make and very versatile. I bought everything at Aldi, even the naan bread. I told you they were quick and easy, but I forgot to mention inexpensive too!
Naan Bread For An Easy Flatbread Or Pizza Crust
Naan bread makes the best pizza crust. It's thin but chewy and very tasty. Anything you put on top of it is going to taste great. This is the naan bread that I bought at Aldi. There were 4 to a package and they are pretty big in size. I could only fit two on a cookie sheet and one is plenty per person unless you are a big eater.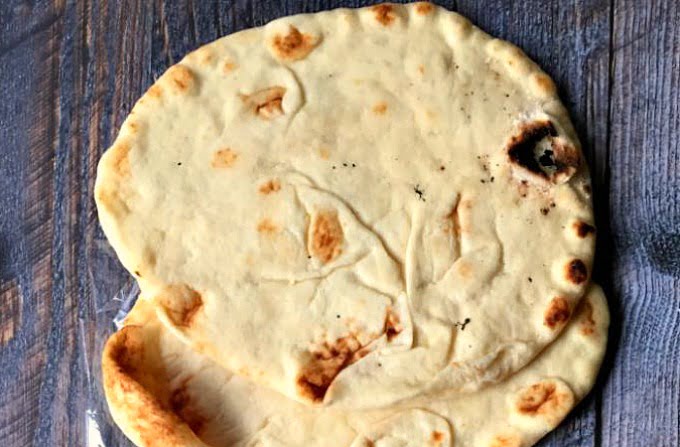 Easy Flatbread Recipe
So the first thing you want to do is sauté your toppings. I started with the onions and peppers and when they softened I added the sausage. Here I used Italain sweet sausage. I think it has tons of flavor and I only used 1 link. Brown that along with the onions and peppers and at the end, add your spinach.
You can take it off the stove and just mix the spinach in and it will wilt instantly. No need to cook it because it will have more volume when it's just wilted.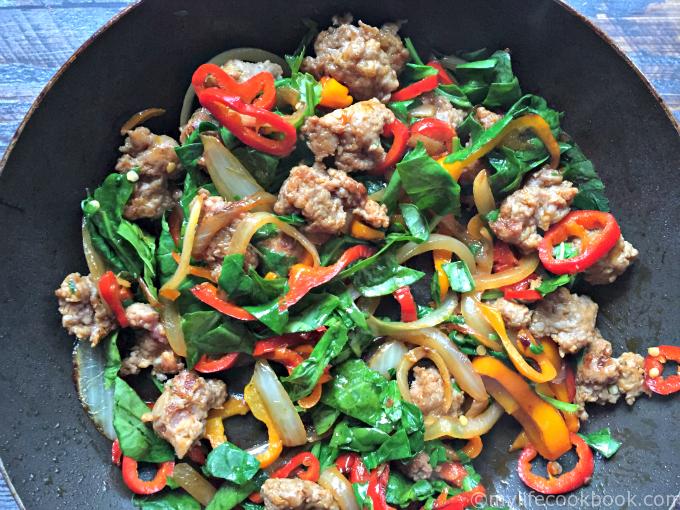 Assemble And Bake The Flatbread Pizzas
Now all that's left is to assemble your flatbreads. I first brushed them with some olive oil and crushed garlic. This too gave it some good garlic flavor that I love so I wouldn't skip this step. Add your toppings and top with Asiago cheese.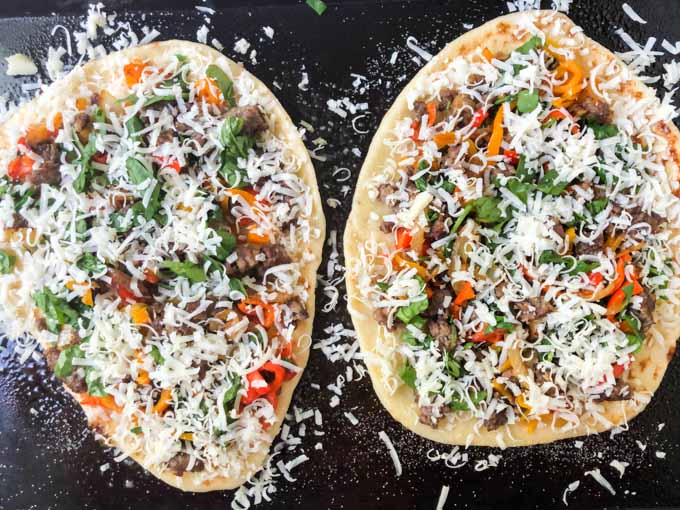 Then pop them in the oven for about 10 minutes. You don't want to bake them for too long because everything is already cooked and all you want to do is melt the cheese. Add more cheese if you like but the Asiago is very flavorful and so it doesn't take much.
You could also put these under the broiler if you want instead of the oven. I haven't tried that but I'm sure it would work fine.
Easy Flatbread with Asiago Sausage & Peppers
See how lovely they come out! Oh they were so good. My husband went on and on about them and my son loved his pepperoni pizza too.
So there's another quick and easy dinner for you. I can't wait to try out different combinations here. I'm seeing some bacon and avocados or maybe arugula and goat cheese in my future. So many things to try out.
Quick Flatbread Tip
This flatbread recipe would also make a great appetizer for a party. Just cut into small pieces and serve on a platter. This recipe would be perfect but you can also try the flatbread recipes below.
More Easy Flatbread Recipes To Try
Easy Flatbread Recipe with Asiago, Sausage & Peppers
This easy flatbread is so delicious with toppings of sausage, peppers, spinach and Asiago cheese. Make a delicious dinner for your family in minutes.
Ingredients
2

naan bread

2

Tablespoons

olive oil

1

Italian sausage link

1

cup

baby spinach, chopped

½

yellow onion, thinly sliced

sliced

1

cup

sweet peppers sliced

½

cup

asiago cheese shredded

1

teaspoon

crushed garlic

salt & pepper to taste
Instructions
Preheat oven to 350 degrees.

In a saute pan, add 1 Tablespoon of olive oil and turn on the heat to medium high.

Add your onions and sauté for 1 or 2 minutes.

Next add your peppers and sauté for another 2 minutes.

Take off the casing of the sausage link and crumble into the pan and cook until browned well.

Turn of heat.

Mix remaining 1 Tablespoon of olive oil with garlic and brush all over both naan bread.

Split your sausage topping in half and spread evenly over naan bread.

Top with cheese.

Place in the oven for 10 minutes or until the cheese is cooked to your liking.

Enjoy!