If you like making your own dog snacks try these super easy homemade chicken dog jerky treats made in the Air Fryer. All you need is chicken and an air fryer and you'll have a healthy dog snack for your favorite dog to chew on.
You might also like these vegetables chews dog treats.
I haven't made my dog Izzy a homemade treat in quite a while. So I thought I'd get out my air fryer and try making these homemade chicken dog jerky treats.
It was so easy that I will definitely be making these more often for her. I like that I can make her something that is good for her and that she loves. This is by far the easiest homemade dog treat that I have made so far.
How to make chicken dog jerky in the air fryer.
All you need to make these treats is a boneless, skinless chicken breast. That's it!
Step 1: First thing you want to do is slice the chicken breast into uniform thin pieces. The size and thickness of the pieces will determine how long it will need to air fry.
TIP: Use a frozen chicken breast and let it thaw for a little bit. It will be much easier to slice. You can see the plate below for how thin I sliced it.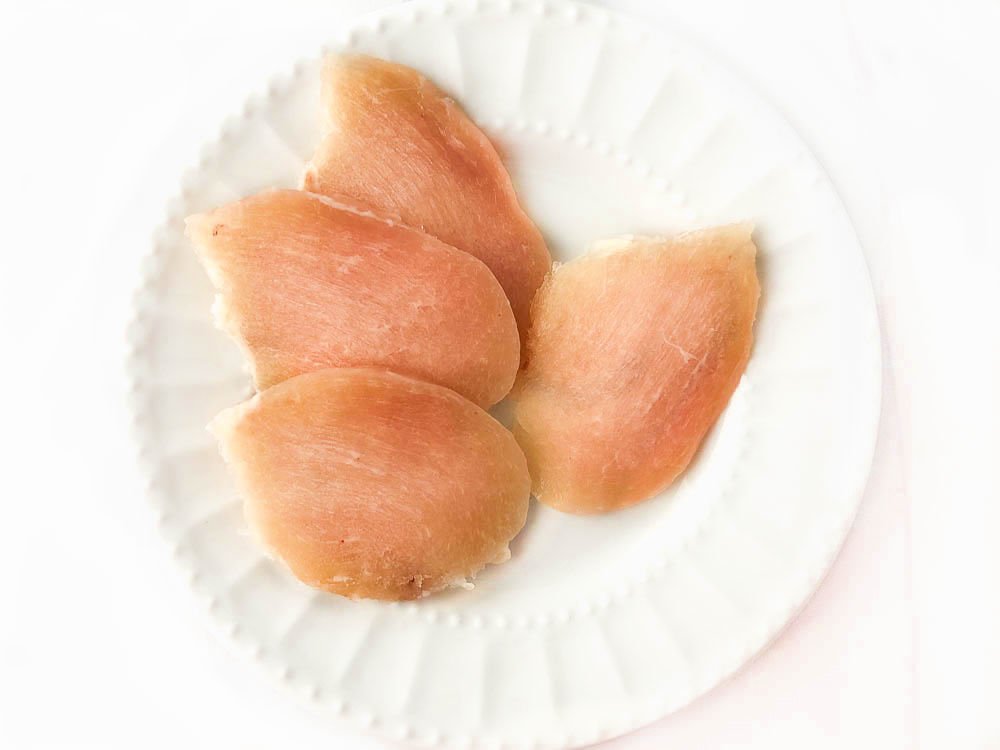 TIP 2: Slice the chicken with the grain for a chewy piece of jerky.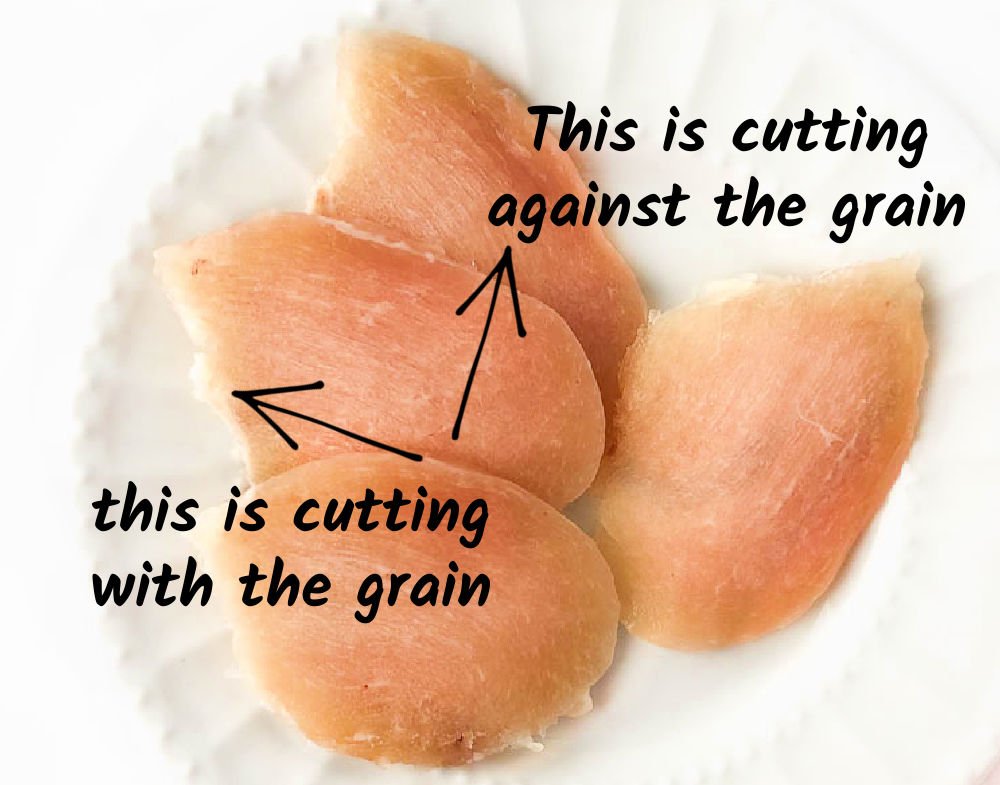 Step 2: Spray your air fryer trays or basket with nonstick cooking spray and lay the chicken slices on them. Don't overlap or crowd them if you can.
Step 3: Set your air fryer for 180°F and cook for 2 hours. Yours might take more time or less time depending on how thin you cut your chicken breast. You know when they are done they are hard and not spongy to the touch.
Step 4: Let them cool and then store in baggie in the refrigerator. They should last for up to a week.
I don't know if these are Izzy's favorite treats or not because she seems to like them all LOL!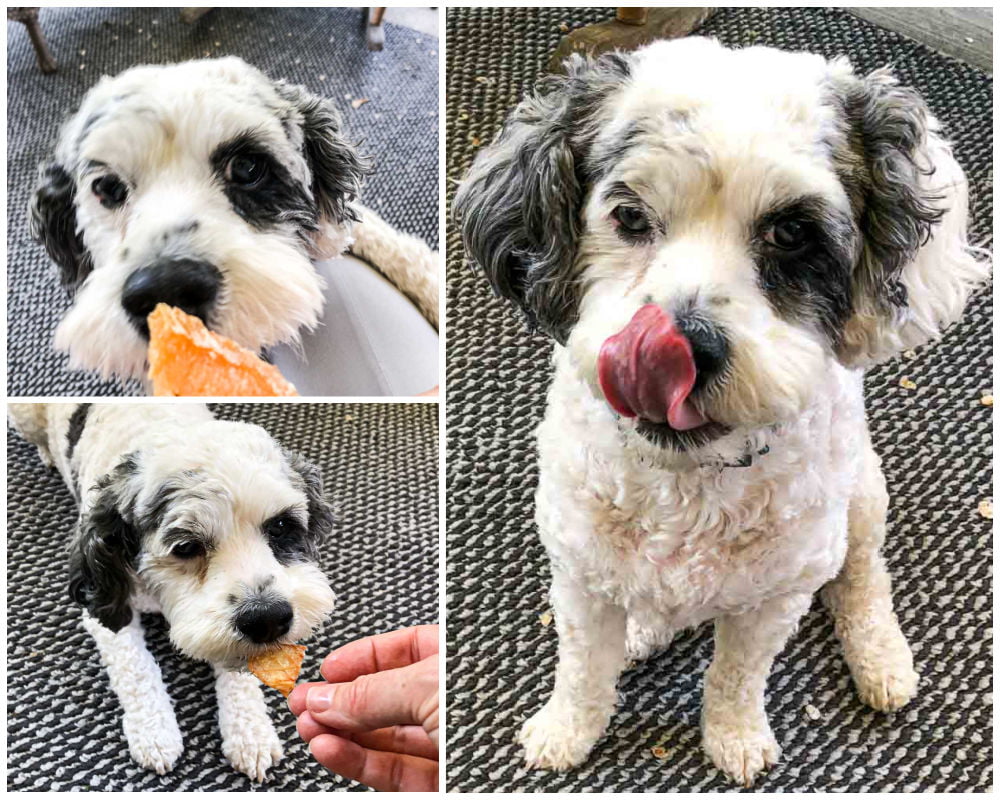 However I feel better about giving them to her because I know they don't have any artificial ingredients or preservatives. Also I like cooking for my loved ones and she is definitely a loved one!
I hope you enjoyed this simple homemade dog jerky. If you want more healthy dog treats, here are my 6 homemade dog treats post so you can check them out.
Homemade Chicken Dog Jerky Treats in the Air Fryer
Total Time:
2 hours
5 minutes
If you enjoy making homemade dog treats, you will love how easy these chicken dog jerky treats are when you make them in the air fryer.
Ingredients
1 chicken breast, boneless, skinless (preferably frozen)
Instructions
If you use a frozen chicken breast it is easier to cut. You may have to let it sit out for a bit until you can cut it.
Cut thin, uniform slices. For a chewier jerky, cut with the grain.
Spray the trays or basket of your air fryer with cooking spray and place the chicken pieces on it.
Cook for 2 hours at 180°F. Times may vary depending on how thick you've cut your chicken pieces.
Store in a baggie in the refrigerator for upt to a week.
This recipe made 27 pieces. It was a mixture of larger and smaller pieces.
Nutrition Information:
Yield:

27
Serving Size:

1 piece
Amount Per Serving:
Calories:

14