These healthy homemade dog treats are the simplest thing to make and so good for your dog. Plus they are much cheaper than buying them in the store.
Check out all of my healthy homemade dog treats!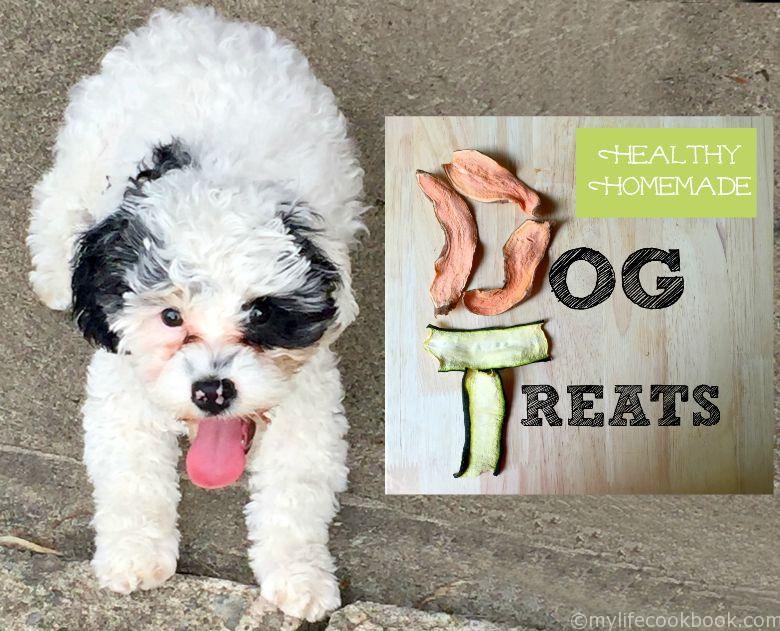 Well I've had a crazy summer. The best thing that happened was the addition of this cute little puppy we call Izzy. I was stressed out at first because so much was happening in our lives and I had never had a puppy before. I couldn't believe how much work they are.
However this little sweetheart has taken over out house and our hearts. She has been so much fun to all of us that I can't imagine not having her in our lives. Since I love to cook, I am on a mission to make healthy homemade dog treats for Izzy. My husband things I'm crazy (that's nothing new there), but it's fun for me. 
Here's a pic of both of my sweethearts, Max and Izzy. He has wanted a puppy for years and he is having a wonderful time with Izzy. It makes me so happy to see him playing with her. I was worried the novelty would wear off but it hasn't.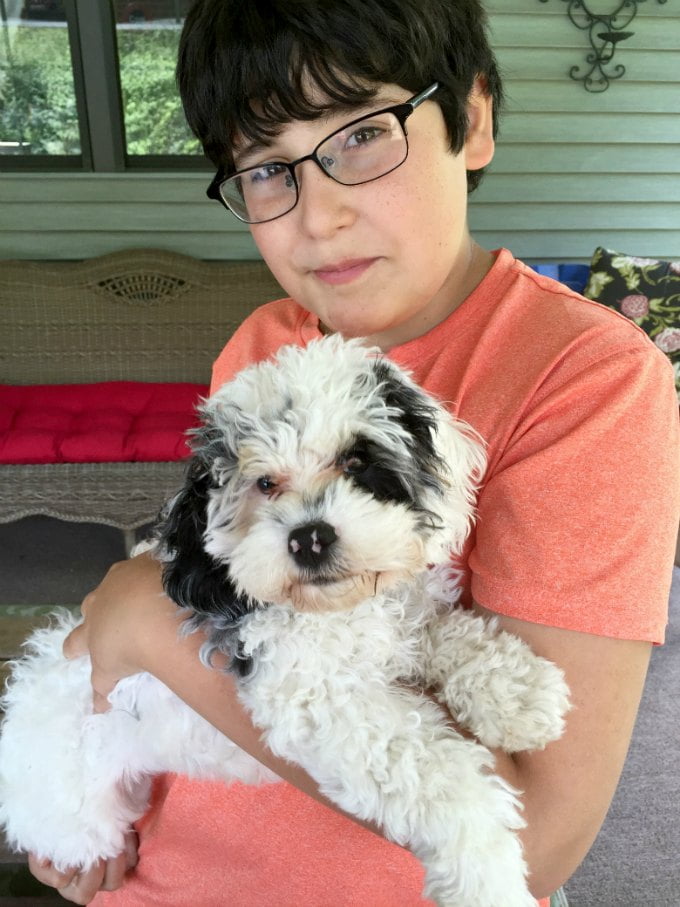 Below is a list of 10 fruits and vegetables that you can feed your dog. I don't like to feed our puppy scraps from the table (yet) but I do like to give her some of these every once in awhile as a treat.
I wish I had a video of her and the carrot. She would bark at it, back up, surge forward and bark some more. Well it was funny to us.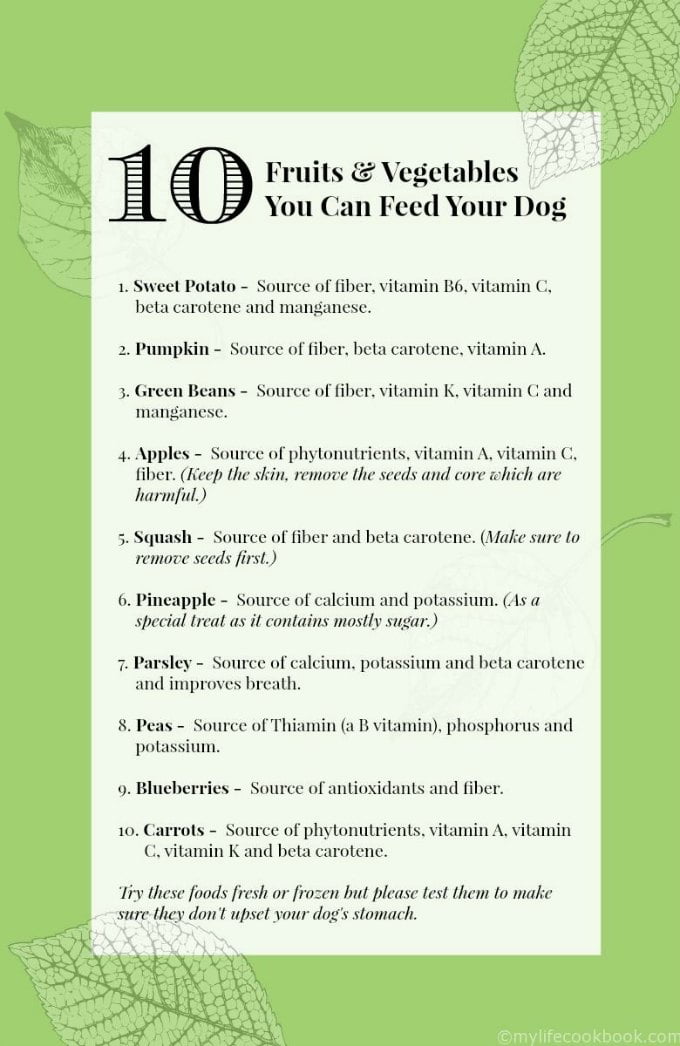 On to our treats. Since Izzy is just a puppy I wanted to give her something that she could chew on and keep her occupied for a bit.
I haven't had much luck with the Nylabone puppy toys I've bought her and I've been told not to give her rawhide so I saw on Pinterest that you can make sweet potato leathers.
So I broke out my dehydrator and made some sweet potato and zucchini leathers.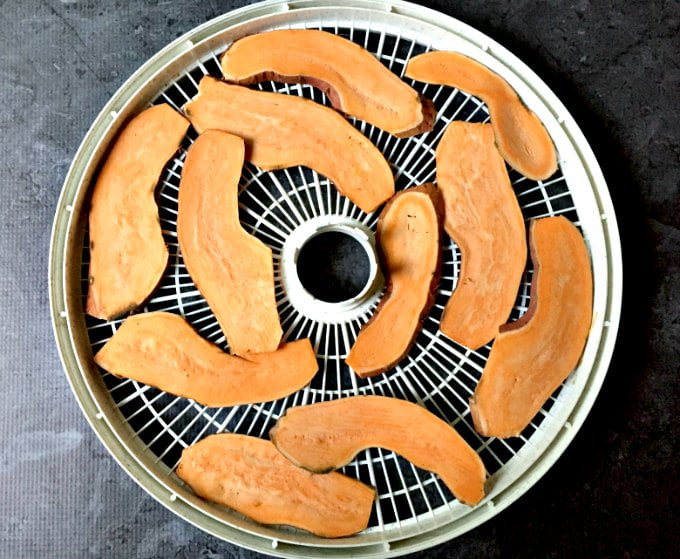 I used my mandoline but made them a little thicker that I would for cooking. They are probably ⅛″ thick.
I set them on the racks and cooked at 135 degrees F for about 4 hours. You have to check them every once in awhile and take out the ones that are finished.
You want them chewy, not soggy or crunchy. The sweet potatoes take a bit longer to cook.
It's surprising but Izzy likes raw zucchini. If I'm cooking with zucchini (something I've done ALOT this summer) I toss her a piece while I'm cooking. As I mentioned above, she doesn't like carrots but she does like blueberries.
Healthy Homemade Dog Treats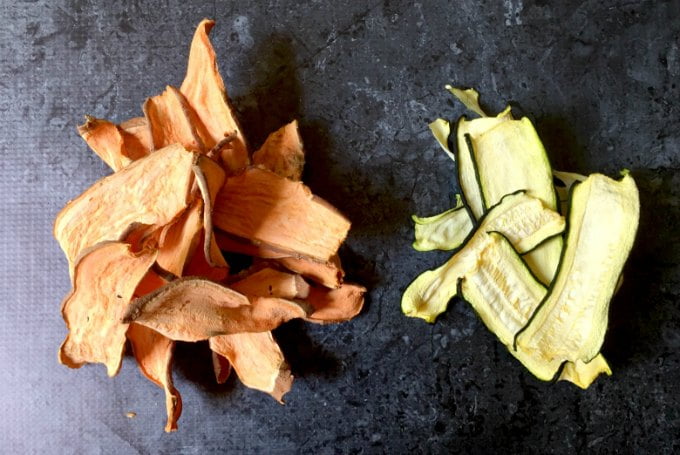 This is what they look like after about 4 hours. Again remember to check them after two hours to make sure you get the right leathery type texture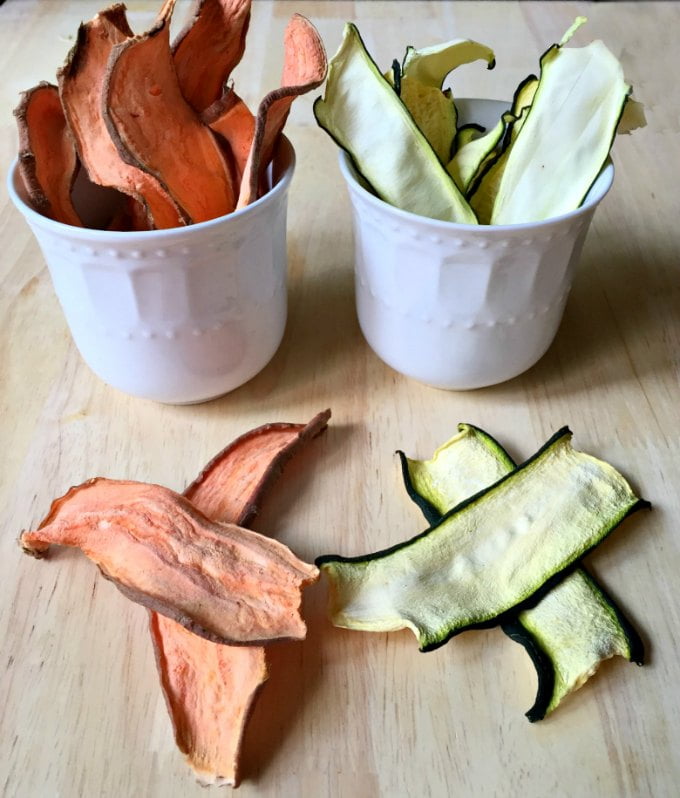 The great thing about these treats is that they are all natural and they are very inexpensive to make. One sweet potato will make about a dozen treats.
I don't give her more that one or two a day so this batch will last me all week. Also it's extremely easy. Cut the veggies and dehydrate them. That's all you do!
I keep them in the refrigerator because they still seem to have some moisture in them and I don't want them to spoil. I haven't tried freezing them yet but that might help with puppies teething.
So if you have a little puppy or smaller dog, I hope you give this healthy treat a try. And if you would like to share, I'd love to hear what you make for your dog! PS You might also like Homemade Dog Biscuits.
A reader gave me this tip: "I've heard that you should store them in a paper bag, like they do at meat markets when you purchase beef jerky. It helps them stay dry. I tried this and put them in the fridge as well. It worked well and the treats stayed crunchy (the way my dogs like them)!" Thanks Nikki!
You might also like these other homemade dog treat recipes – chicken jerky, coconut strawberry treats and biscuits made from baby food.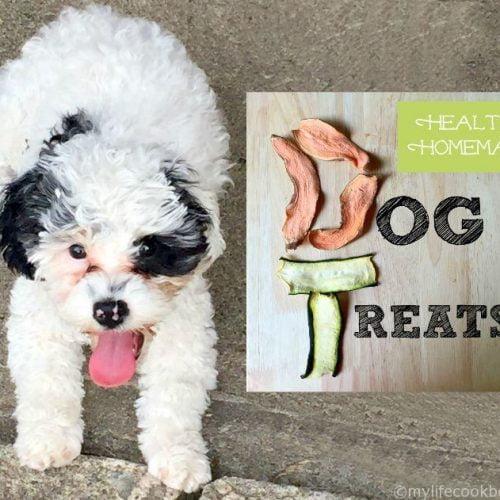 Healthy Homemade Dog Treats
A healthy homemade dog treat using dehydrated sweet potatoes and zucchini.
Ingredients
1

sweet potato

thinly sliced lengthwise (about ⅛th inch)

1

zucchini

thinly sliced lengthwise (about ⅛ inch)
Instructions
Set your vegetable slices on a trays of your dehydrator.

Using your manufacturer's setting for vegetables cook for 2-4 hours checking for desired consistency. You want them to be chewy and leathery not limp or crunchy.

Take out the ones that are finished and keep the others in the dehydrator until finished.

Store in a ziplock back in the refrigerator for up to a week.

A reader gave me this tip: Store them in a paper bag. It helps them stay dry. I tried this and put them in the fridge as well. It worked well and the treats stayed crunchy (the way my dogs like them)!
This post may contain affiliate links. For more information please visit our policies page.
---
Homemade Dog Treat Recipes & More!