This Skrewball peanut butter whiskey milkshake is a creamy delicious cocktail that will keep you cool this summer. It's the perfect combination of creamy vanilla sweet flavors and the smooth blend of peanut butter whiskey. Only 4 ingredients needed for this Skrewball milkshake.
You might also like one of these other cocktail recipes.
A while back some friends brought a bottle of Skrewball peanut butter whiskey to my sister's house. The night I first tasted it I thought it would be disgusting because I'm not such a whiskey fan. However I am a fan of peanut butter and I was pleasantly surprised that it was really good.
So I bought a bottle of this delicious peanut butter whiskey myself and started thinking of what I could make with it. And since the weather is hot I though I'd make a Skrewball peanut butter whiskey milkshake. Oh it was good. Maybe a little too good. It's the perfect dessert cocktail for peanut butter lovers and those with a sweet tooth.
You only need a few ingredients and you can whip up this creamy, sweet Skrewball whiskey milkshake in minutes. This version is made with ice cream but I also made a "healthier" one with frozen bananas. However I think the ice cream one was better so that's one I'm sharing with you today.
Recipe ingredients I used.
All you need to make this cocktail is of course Skrewball whiskey, vanilla ice cream, milk and vanilla pudding mix. And if you want, whipped cream for on top. I also used a bit of ice cubes.
Skrewball Whiskey
I don't even know if there are other peanut butter whiskey brands. But the company describes this spirit as "a little salty, a little sweet, a little savory, and always smooth, Skrewball is unlike anything you've ever tasted before". (learn more)
Vanilla Ice Cream
I really wanted to keep the calories down for this drink so I used Breyers No Sugar Added ice cream. You of course can use your favorite vanilla ice cream brand.
Milk
In my first version I used a non-dairy milk (almond milk) and it was fine. But since I had 2% milk I used that. Again you can use your favorite milk type and it will work.
Sugar Free Vanilla Pudding Mix
I used this to thicken the milkshake. Again I wanted to save a few calories and used sugar free mix. You can use regular vanilla pudding mix if you want. Just make sure it's the mix. You only use a tablespoon of it.
Whipped Cream
This is optional and not even necessary but it makes the drink look better and does at to the creaminess of it.
How to make a peanut butter whiskey milkshake.
Put your milkshake glasses in the freezer ahead of time for better results.
Step 1: Get out your blender and add the milk, peanut butter whiskey, ice cream and ice cubes. Blend on high until all the ice cubes have been crushed.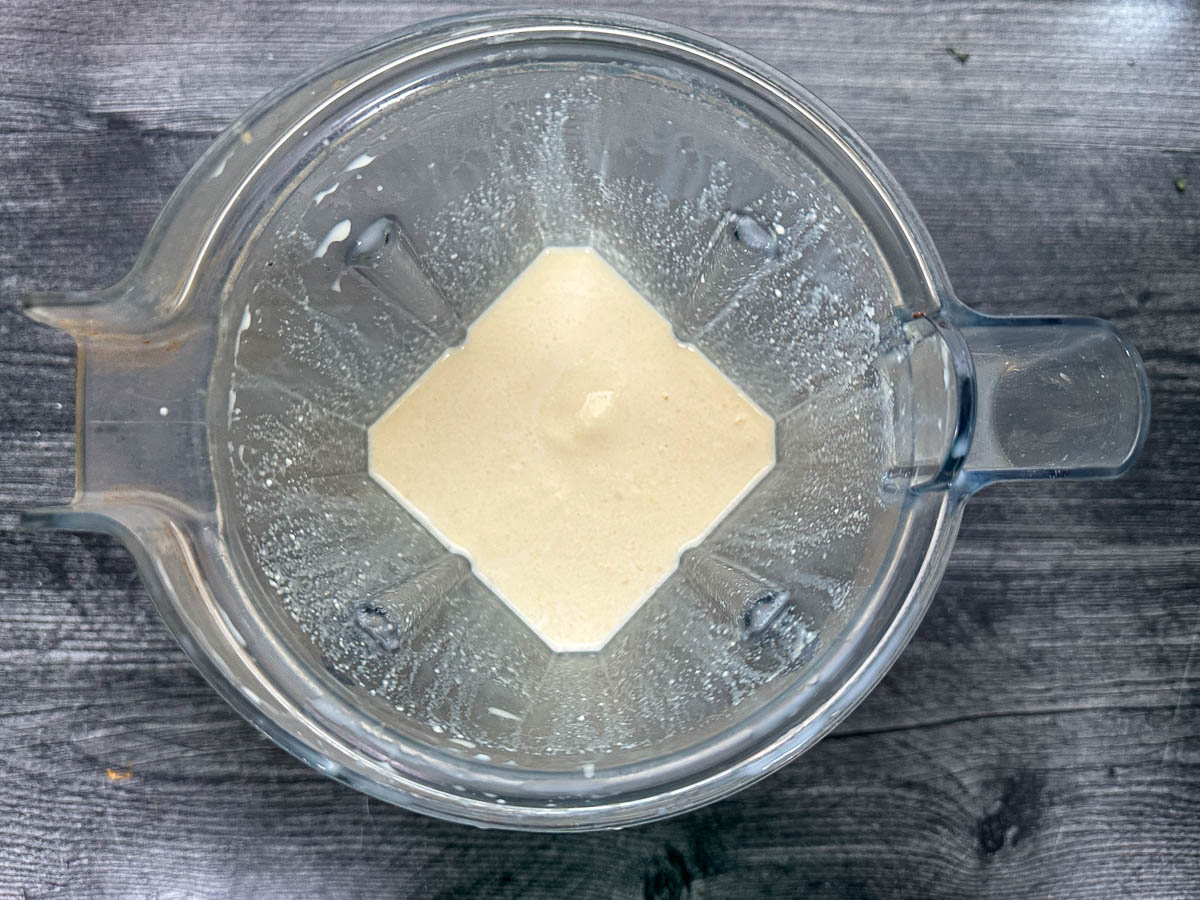 Step 2: Add the pudding mix and blend again for just a few seconds until it's well combined. Taste it and if you want more of a kick add a bit more whiskey.
Step 3: Let sit for a few minutes and it will thicken more with once the pudding mix starts to activate. Pour into a chilled glass and top with whipped cream if using. (FYI I got my glasses at the Dollar Tree!)
You can also top this with some chopped up mini peanut butter cups or cookies, some peanut butter sauce, or a sprinkling of PB2!
Optional – You can add some creamy peanut butter or even powdered peanut butter to this recipe if you want extra peanut butter flavor. Or you can even use peanut butter ice cream instead of vanilla. I wasn't going for that. I like the more subtle taste with this drink. Play around and make it your own taste.
If you have extras you could problem store it in a the refrigerator for a few hours but it's best to drink it right away. Please scroll down to view the printable recipe card.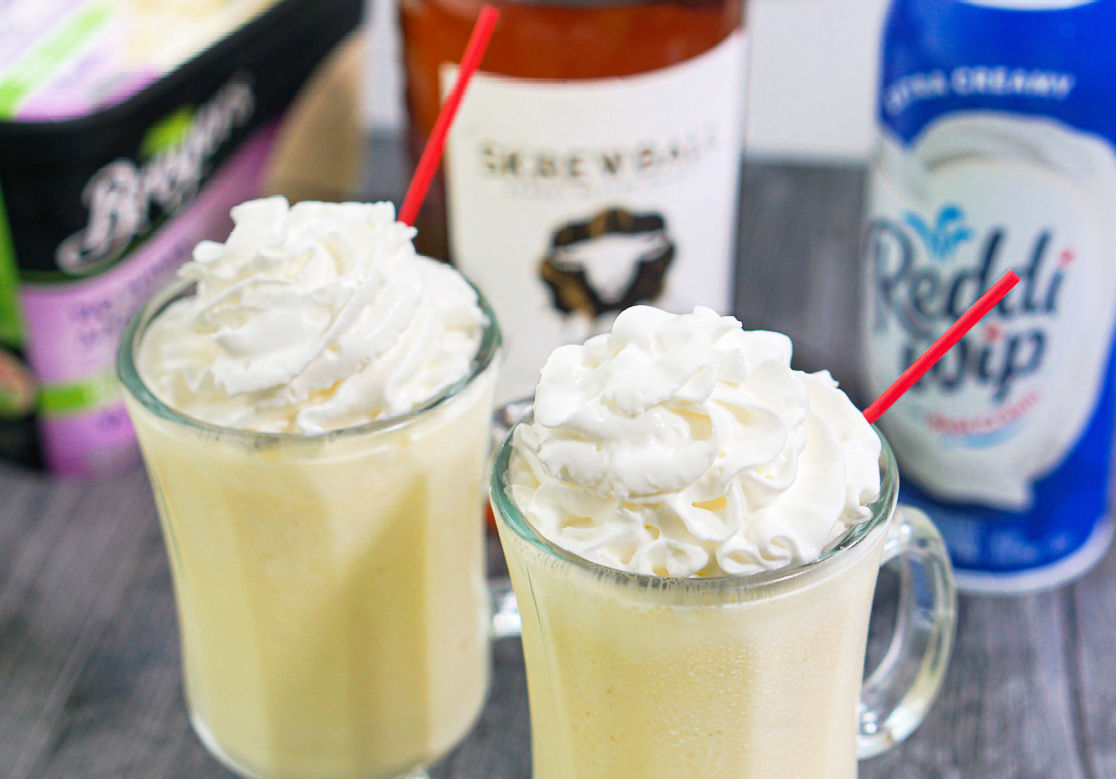 Skrewball banana milkshake recipe.
I mentioned above I made these boozy shakes with frozen bananas originally and it had a great taste but I was trying to bring down the calories and I didn't seem to be that much less. But it was very good so I thought I'd include it with this recipe in case you are interested.
First slice a banana (½ cup) and freeze on a plate until frozen. Then add ½ cup of almond milk, ¼ cup of heavy whipping cream, ⅛ teaspoon vanilla stevia sweetener, ¼ cup Skrewball whiskey, the frozen bananas and 1 cup of ice to a blender.
Blend on high until smooth and creamy. Top with whipped cream if you want. It doesn't look much different then this recipe but it has that banana peanut butter flavor combination.
Note if you don't have vanilla liquid stevia you can use a simple syrup or the sweetener of your choice.
More sweet and creamy drinks to try.
I have quite a few keto drink recipes on this side and few other creamy boozy shakes you can try. Below are cocktails similar to this one in that they are sweet and creamy drinks. All of them are low carb too and the perfect treat for after dinner.
What else you can make with Skrewball whiskey.
This peanut butter whiskey is much like the company describes it – salty, sweet, savory, and smooth. The peanut butter taste isn't overwhelming like you might expect. So here are other things to try with a bottle of Skrewball.
drink it neat or over ice – This taste great just sipping it straight.
shots – Pour into a shot glass and drink it like that. I personally like it better when sipped.
add a salted rim – Salt goes great with this whiskey so drink it neat with a salted rim much like you would a margarita and other cocktails like that.
pair it with cranberry juice – One of the company owners suggested this one as she said it tastes a bit like peanut butter and jelly.
make a milk shake with bananas – I did this originally to save calories but found it wasn't much less. It did go great with the peanut butter whiskey and made a good shake. I included this recipe above and in the recipe card below.
spike your cider – Since this is such a sipping and warming alcohol, it goes good with cider. It's goes good with a warm apple cider and sipping it in colder weather.
make a chocolate peanut butter milkshake – Follow this recipe and add a couple tablespoons chocolate syrup or use chocolate ice cream and cocoa powder to the recipe.
For more peanut butter whiskey cocktail recipes check out the Skrewball Recipe page on their site.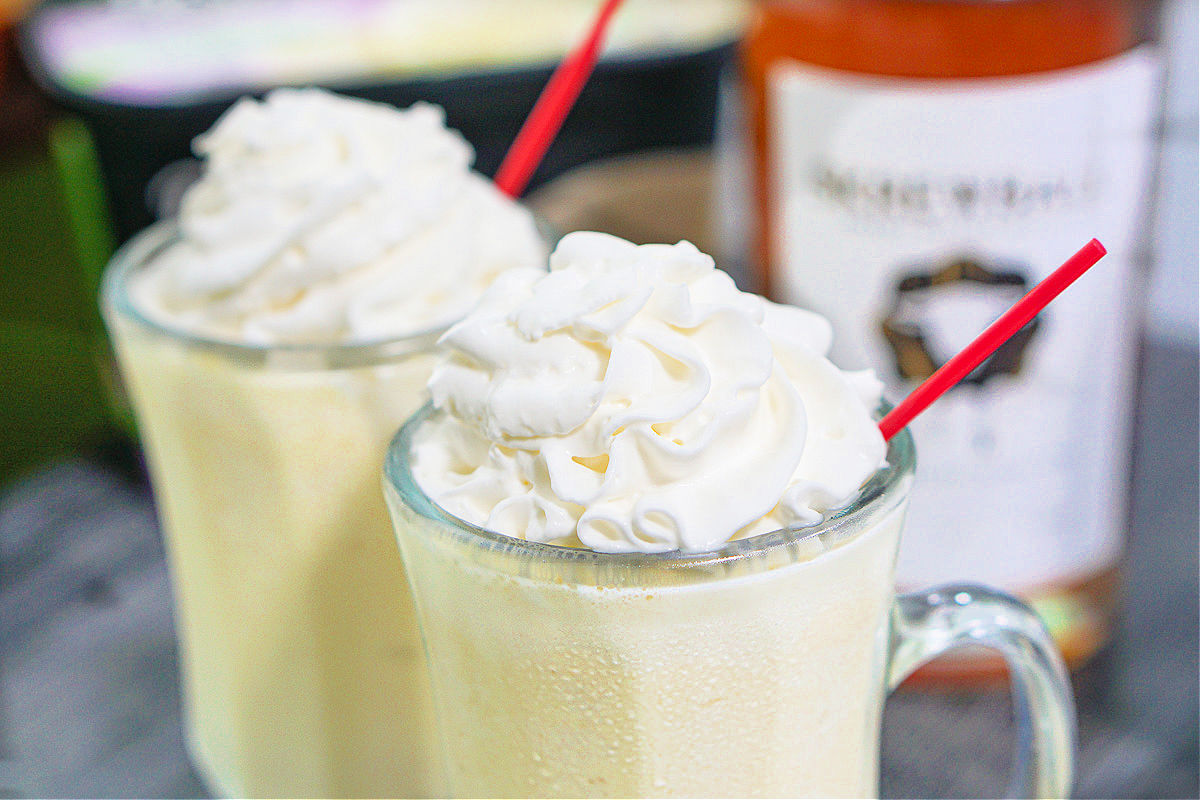 Well I hope that this delicious dessert cocktail intrigues you enough to try it if you have a bottle of Skrewball at your side. If you love peanut butter and whiskey, I can't see where you will go wrong with this boozy milkshake recipe. It's sure satisfy your sweet tooth. Enjoy!
Skrewball Peanut Butter Whiskey Milkshake Recipe
Try this Skrewball peanut butter whiskey milkshake is a delicious cocktail that will sastify your sweet tooth. It's sweet and creamy and perfect for a hot summer day. This boozy peanut butter milkshake makes for a decadent dessert cocktail.
Ingredients
1 cup vanilla ice cream
1 cup ice cubes
2 ounces Skrewball peanut butter whiskey ( 4 tablespoons)
1 tablespoon sugar free vanilla pudding mix
½ cup milk of choice
whipped cream (optional)
Instructions
Add milk, whiskey, ice cream and ice to a blender and blend on high until the ice is crushed completely.
Next add the vanilla pudding mix and blend for a few seconds to combine. Taste and adjust.
Let the shake set for a few minutes and the pudding will thicken it a bit more. Pour milkshake into glasses and top with whipped cream if using.
Notes
To make a Skrewball Banana Milkshake
• ½ cup frozen banana
• ½ cup almond milk
• ¼ cup heavy whipping cream
• ⅛ teaspoon liquid vanilla stevia
• ¼ cup Skrewball whiskey
• 1 cup ice cubes
Slice banana and set in the freezer in a single layer. Take out when completely frozen. Then blend milk, heavy cream, whiskey, stevia, ice cubes and bananas (in that order) until smooth and creamy. Top with whipped cream if using. 
Note if you don't have vanilla liquid stevia you can use a simple syrup or the sweetener of your choice.
Nutrition Information:
Yield:

2
Serving Size:

1
Amount Per Serving:
Calories:

277