This is the last simple low carb meal plan (week 4). It has a wide range of recipes from Mexican meatloaf to sausage egg cups and chocolate mousse! Your make a full recipe to eat all week and freeze portions for another time. All are easy and I have some tips for low carb drinks this week!
You can check out all my keto meal plans here!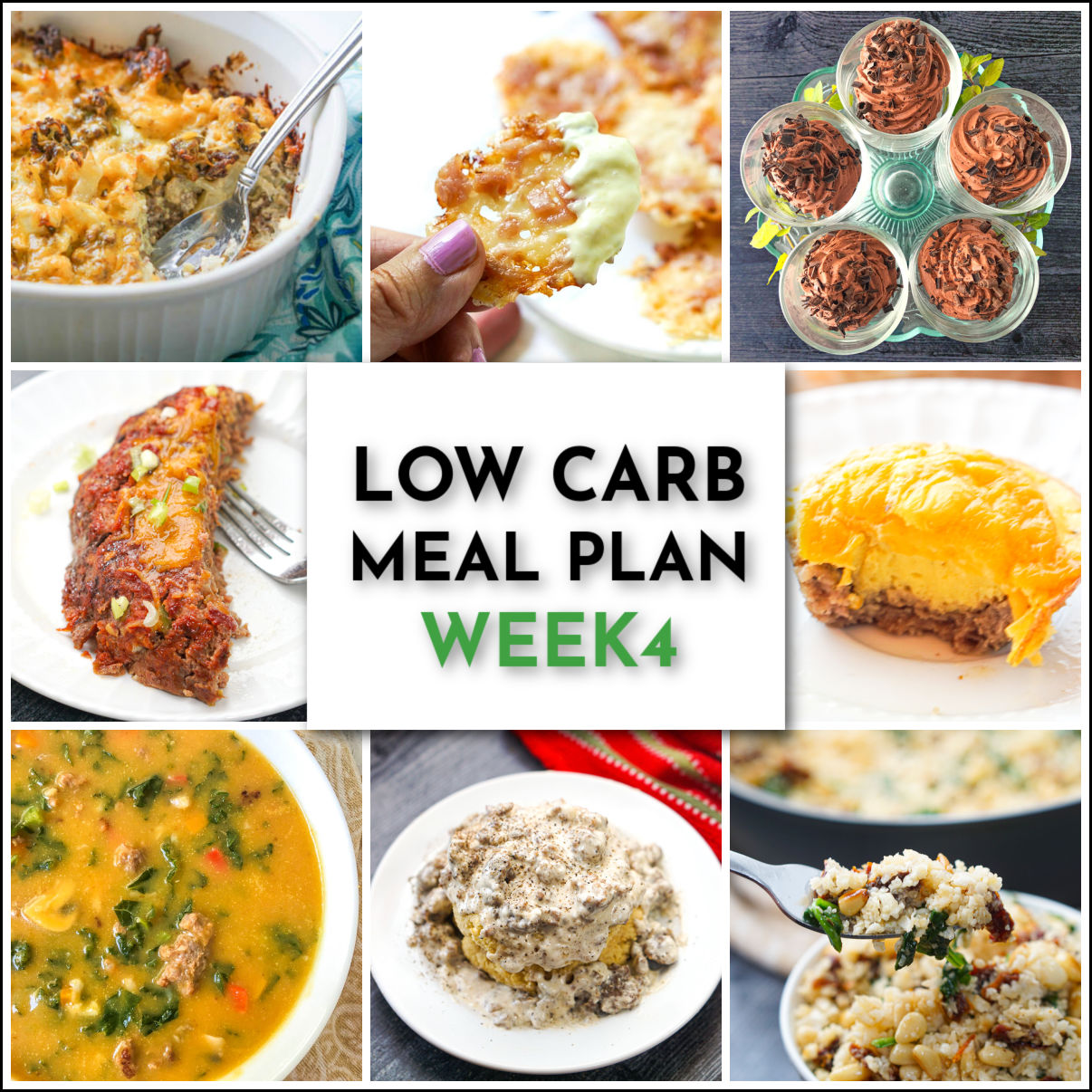 This is our last week of the simple low carb meal plans. If you miss the others here is week 1, week 2 and week 3. The menu for week 4 has some good comfort food from keto biscuits and sausage gravy to cheeseburger casserole and Mexican meatloaf!
I also have some information for you about low carb cocktails. You can see how many carb in various types of alcoholic drinks as well as some tips of how to make your own.
Alcohol content in different alcoholic beverages.
If you are in the mood to indulge in an alcoholic drink and want to keep to your keto diet, here is the lowdown on carbs in alcohol.
Beer – There are many lower carb beers available these days but compared to other types of alcohol beer has the most carbs. However there is a new Budweiser Next that has 0g and their Budweiser Select 55 has just 1.9g carbs. Other popular brands are Corona Premier (2.6g) and Michelob Ultra Pure Gold (2.5g). Check out some IPAs that might be low as well. This post has lots of low carb beers.
Wine – Surprisingly to me, wine is not that high in carbs if you are drinking a drier wine. For whites try Sauvignon Blanc (roughly 2.7g) and for reds try Pinot Noir (roughly 3.4g). The problem with wine is that it's easy to drink a couple glasses and it adds up.
Champagne: Believe it or not champagne isn't all that expensive and a drier one has very few carbs. A glass of dry champagne has only 1g of carbs. Prosecco is another great low carb sparkling wine to try with 1-2g net carbs per glass.
Liquor: Hard alcohol or liquor has no carbs at all. The problem is the mixers. So if you use diet sodas, seltzers and other low carb mixers (see below) this might be your answer.
Hard Seltzers: This is a newer phenomenon that has sprung up over the years. There are tons of hard seltzers on the mark and great for low carb dieters. But essentially they are seltzer water (0g) mixed with hard alcohol (0g). So in my opinion it is cheaper to just make your own (suggestions below). However here is a good article comparing hard seltzers.
If you are interested in learning more, check out this post (carbs in alcohol) and how it affects your body.
Click below to see all my 35+ low carb cocktail recipes!
Low carb mixers and ideas for keto cocktails.
If you want become a low carb mixologist here are a few ideas for making your favorite cocktails and keeping them low carb.
Make your own hard seltzer with the large variety of seltzer flavors you can find in the grocery store and your favorite hard liquor. Most common liquors used in these are vodka, rum and tequila.
Try using flavor extracts or drops for a boost of flavor. You can buy Capella flavoring online in almost any flavor but they aren't sweet. You can then add a little Swerve sweetener or stevia for a delicious drink.
Try adding orange, lemon or lime zest which has no carbs and adds lots of flavor.
Of course there are a lot of sugar free sodas and drinks in the store, all of which work well as mixers. I often use Crystal Light in my drinks in the summer time.
Try a few Torani sugar free syrups in your drinks. I especially love the fruit flavors for drinks. They add sweetness and flavor and there are over 30 sugar free flavors.
There are SO many flavored teas on the market that would make delicious drinks. All you need is the sweetener.
Lastly take your favorite latte and make it into a drink. Heavy whipping cream is very low in carbs and when mixed with coffee and different flavored Torani sugar free syrups you can make an excellent low carb drink.
Week 4 low carb meal plan.
Below you will see how I used these recipes for this weeks meal plan. I also have suggestions of how to store leftovers for other meals.
So the recipes you would make this week are these.
Egg Sausage Cups (1.1g)– makes 12 cups (you have 9 this week so freeze the other 3 or eat on the weekend)
Keto Biscuits (4.2g) – makes 6 biscuits (eat 2 biscuits and freeze the other 4 or eat on the weekend)
Sausage Gravy (1.9g) – makes 6 servings (use 2 servings this week and freeze with the 4 extra biscuits)
Mediterranean Cauliflower Rice (5.8g) – makes 4 servings (you have 2 this week then freeze or eat this weekend.)
Mexican Meatloaf (5g) – makes 8 servings – (you have 3 this week so freeze the other 5)
Cauliflower Cheeseburger Casserole (1.9g) – makes 6 servings (you will eat all of it this week)
Pumpkin, Kale & Sausage Soup (5.7g)– makes 8 servings (you will eat 2 servings this week and freeze the rest for another day)
Keto Chocolate Mousse (1.2g) – makes 6 servings (you will eat all of these this week)
Ham and Cheese Chips (0.2g) – makes 20 chips (you have 10 this week and can eat the rest this weekend)
Monday
Tuesday
Wednesday
Thursday
Friday
Well that's it for this series of low carb meal plans. I hope they are helpful to you and if you have any questions please just leave a comment below.