If you love Mexican flavors you will love this easy and tasty green enchilada soup with chicken. You only need a few ingredients that you probably have on hand to make this rich and satisfying chicken soup. And best of all it only takes 20 minutes to make and is family friendly so it's perfect for busy nights.
You might also like this shredded chicken enchilada recipe!
I have my beautiful step daughter Laura to thank for this green enchilada soup recipe. She told me about this dish many years ago and I remembered it and thought I'd redo this post. It's a very flavorful, dump-everything-in-the-pot kind of recipe.
It's so easy to make and so tasty too. It uses ingredients you may already have in the pantry or freezer so you don't has to spend hours cooking as it only takes 20 minutes! My husband loved it and I next time I'm doubling the batch so I can freeze it for a quick lunch.
The main ingredient in this dish is salsa verde. What's great about that is it adds a lot of flavor and it containers a lot of ingredients you would have used separately such as yellow onions, green chiles or jalapenos, limes, spices, etc. Just pour the bottle in and no chopping!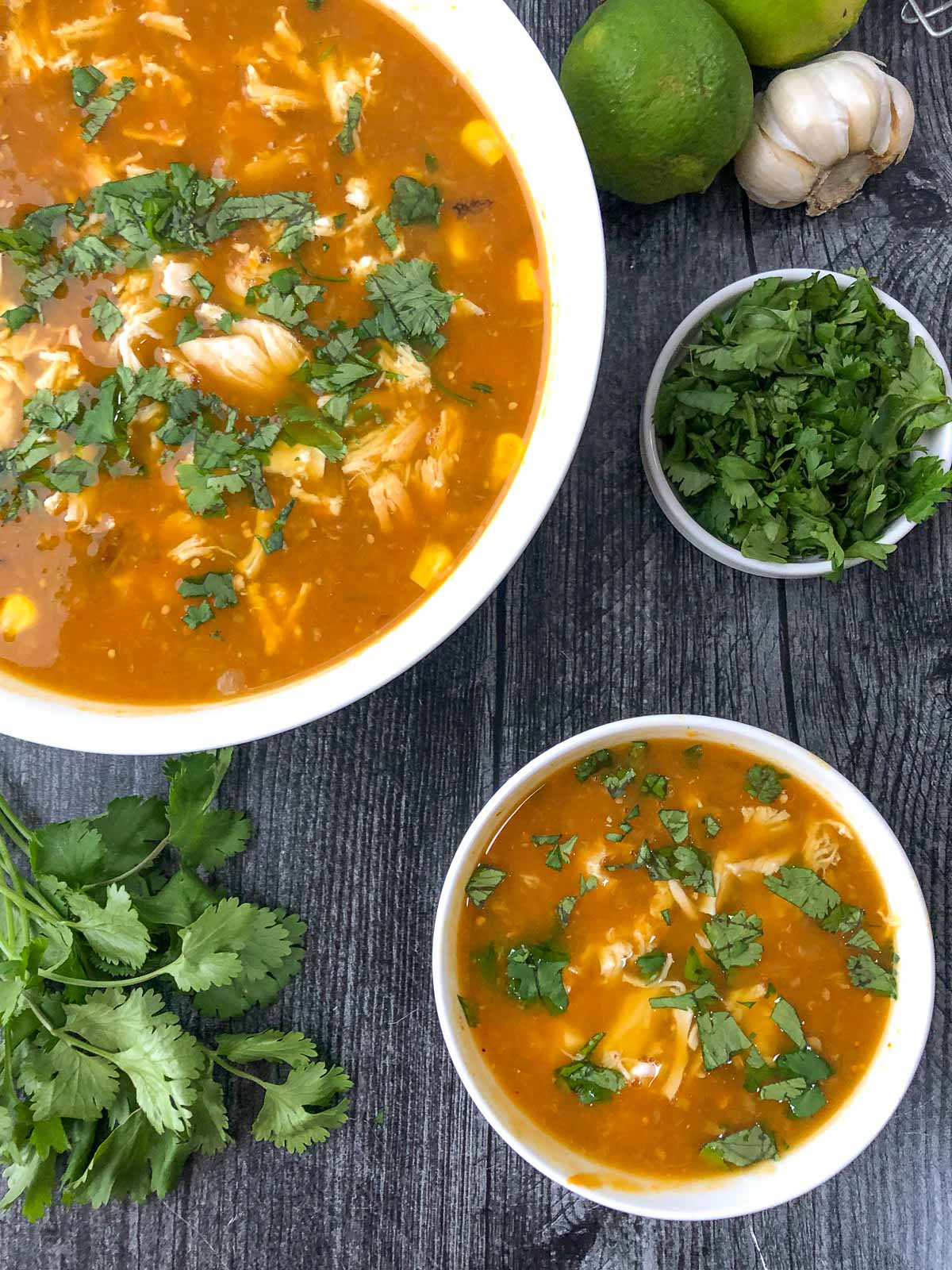 Recipe ingredients I used.
The simple ingredients I used for the soup recipe is chicken broth, pumpkin puree, corn, black beans (can use white beans as a sub), garlic, salsa verde and cooked chopped chicken breast. If you want to add a little heat to this recipe you can add green chiles, hot pepper flakes or hot sauce.
I also used a little of Better than Bouillon chicken base as I think it adds a ton of flavor for all my soups but if you don't have it you can just eliminate it.
I used frozen corn, canned pumpkin, canned black beans, jarred salsa verde and a container of chicken stock or broth. Since I often have many of these items on hand, it's easy to whip up quickly.
I always have cooked chopped chicken in the freezer. I often buy a rotisserie chicken, clean and chop the meat and freeze it for soups and casseroles so it comes in hand for recipes like this.
The first time I made this I used my own salsa verde (get the recipe here ). This time I used store bought salsa. Note I'm using salsa verde which is green salsa and not green enchilada sauce. You could use that but it might have a bit of a different taste. Also make sure you use pumpkin puree and not pumpkin pie filling.
I just used sour cream and fresh cilantro on top as a garnish but you could also use cheddar cheese, Monterey Jack cheese, Mexican blend cheese or even some queso fresco cheese.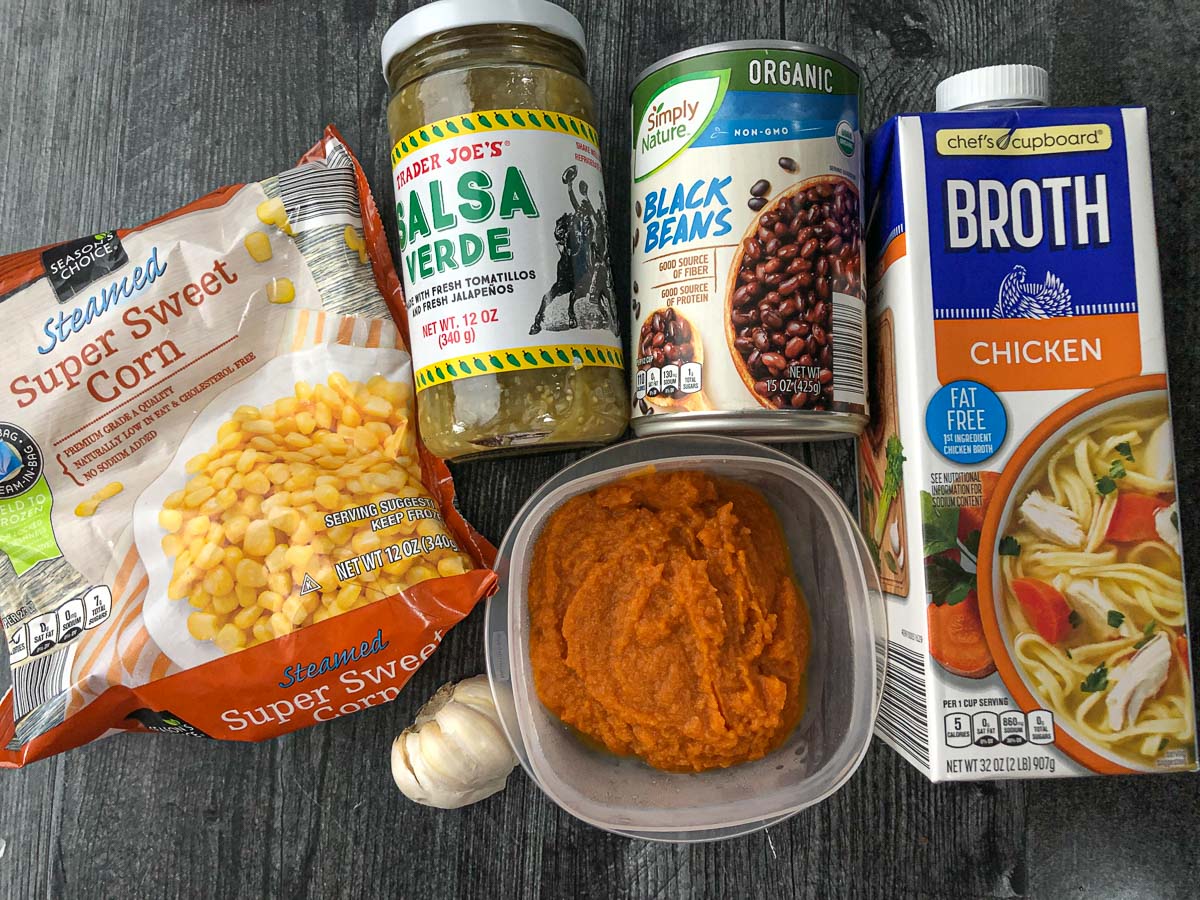 How to make green enchilada soup with chicken.
The base of the soup is salsa verde, broth and pumpkin puree. The pumpkin thickens it a bit and adds a touch of sweetness to counter balance the salsa verde.
Step 1: Get out a large soup pot and heat to medium heat. Add the broth, salsa verde and canned pumpkin. Mix well and cook for 3-4 minutes to let the flavors meld together.
Step 2: Add the frozen corn, drained black beans and fresh garlic to the soup pot. Mix well and cook for 5 more minutes.
Step 3: Lastly add the cooked chunks of chicken, mix and cook for about 5 minutes. Taste and season with salt and black pepper if you think it need its.
Step 4: That's all there is to it. Take the soup pot off the stove and ladle into bowls and then you can garnish with your favorite toppings.
Some toppings options to try are shredded Monterey Jack cheese, green onions, sour cream, fresh cilantro, jalapenos, fresh avocado slices, tortilla strips, or whatever you want.
Store leftover soup in an airtight container or freeze for a quick meal. Please scroll down to view the printable recipe card.
So to recap it only takes about 20 minutes to make with common ingredients from your freezer and pantry.
Base: chicken broth, pumpkin puree, salsa verde.
Add in: corn, beans, chicken, garlic.
Top with: cheese, green onions, sour cream, etc.
You can add a nice green salad with this bowl of soup and maybe some crusty bread to make it a meal.
More delicious soup recipes to try.
My family loves soup so I make it often and have over 35 delicious soup recipes on the blog. Here are a few of my favorite recipes.
Well if you like easy soup recipes with Mexican flavors, you can't beat this green chicken enchilada soup. Now that my son is older and loves Mexican food, I'm glad I rediscovered this recipe. It's sure to be a family favorite. And since it just 20 minutes to make with simple ingredients it makes me happy. Enjoy!
Quick & Easy Green Enchilada Soup with Chicken
This delicious green enchilada chicken soup can be made with common items from your freezer or pantry and finished in less than 20 minutes.
Ingredients
3 cups salsa verde (can all use green enchilada sauce though salsa verde is better)
4 cups chicken broth
1 can pumpkin puree
1 can black beans
1 cup corn (frozen or fresh corn)
2 cloves garlic, crushed
2 cups cooked chicken, chopped (can use shredded rotisserie chicken)
Instructions
Heat up a a large soup pot to medium heat. Add chicken broth, salsa verde and pumpkin and cook for about 5 minutes.
Next add in the corn, beans and garlic and cook for 5 more minutes.
Lastly add in the cooked chopped chicken and cook another 5 minutes. Taste and season with salt and black pepper if you think it needs it
Take the soup pot off the heat and ladle into bowls.
Garnish with your favorite toppings such as shredded cheese, green onions, sour cream, cilantro, jalapeños, avocado slices, whatever you like.
Store leftovers in an airtight container or freeze.
Nutrition Information:
Yield:

6
Serving Size:

1 grams
Amount Per Serving:
Calories:

273
Total Fat:

8g
Saturated Fat:

2g
Trans Fat:

0g
Unsaturated Fat:

4g
Cholesterol:

46mg
Sodium:

1675mg
Carbohydrates:

33g
Fiber:

10g
Sugar:

9g
Protein:

19g