This is the best Instant Pot beef barley soup recipe though you can make it on the stove top too. However making it in the Instant Pot is so much easier. This healthy and hearty soup has tender chunks of beef surrounded by barley, mushrooms, carrots in a savory thyme tomato broth.
You might also love this chunky chicken noodle soup!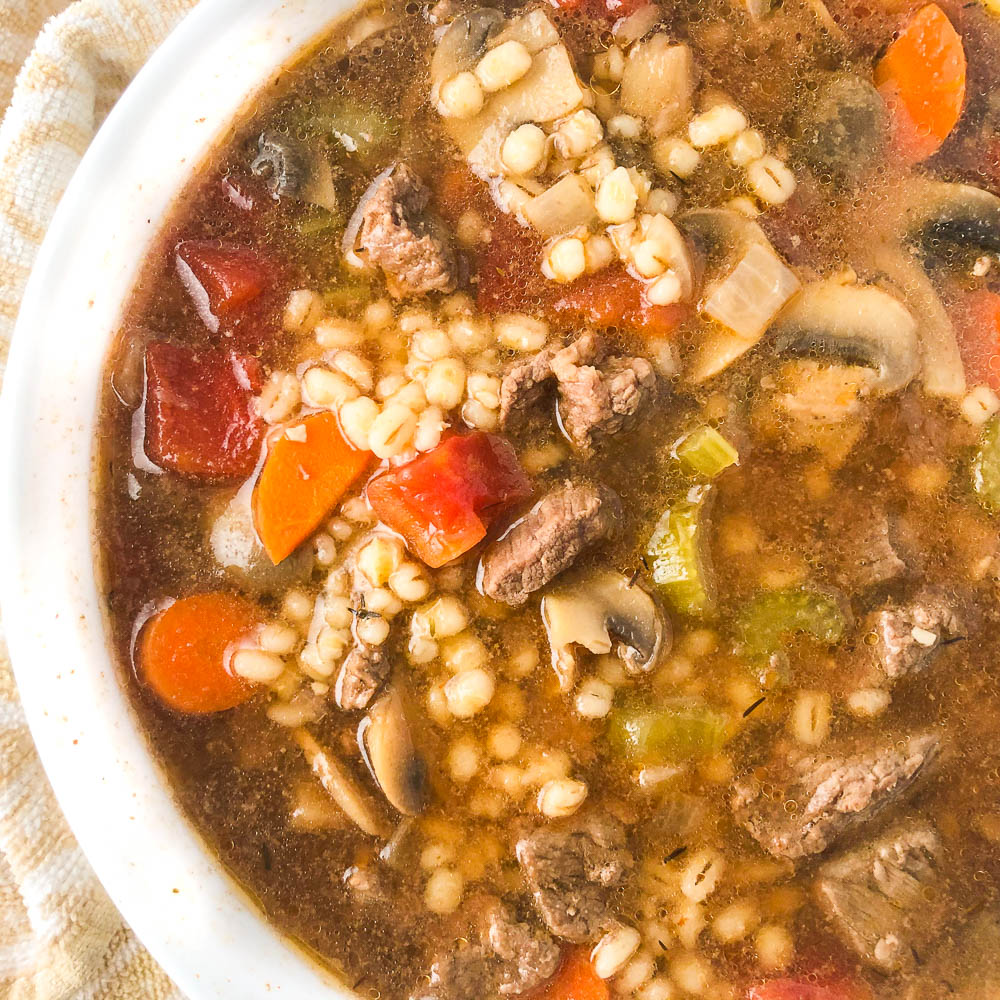 This soup is a staple in our household because it's one of my hubby's favorite soups. It's full of tender, juicy pieces of beef along with mushrooms, carrots and barley all in a savory broth of tomatoes and thyme.
It's delicious and that is why I think it's the best beef and barley soup and it's super easy in the Instant Pot or pressure cooker.
I always make a big pot of this soup because we like to have it the next day for lunch. It's almost a meal on its own but it goes nicely with a good melty cheese sandwich on a cold winter day.
Ingredients I Used.
All you need to make this beef and barley soup is beef cubes, barley, olive oil, onions, carrots, mushrooms, celery, a can of diced tomatoes, beef stock, garlic, dried thyme, salt and black pepper.
For the beef you can use a chuck roast, top round or stew meat. Whether you make this in the pressure cooker or stovetop I'll show you how to get the meat nice and tender. Pressure cooking does make meat tender so I would highly recommend it if you have one.
As for the veggies, I love the combination of onions, carrots and celery in a soup but you can use other veggies as well. However the mushrooms and tomatoes are must and I think potatoes would be too much starch with the barley.
Two Of My Favorite Cookbooks.
I adapted this recipe from one of my favorite cookbook authors, Pam Anderson. No not the Baywatch Pam Anderson but a fabulous author whom I learned a lot of basic cooking techniques from.
How to Cook Without a Book
taught me how to sear a steak and cook a cutlet, among other things. If you are very new to cooking, I would highly recommend this book as it teaches you all the basics of cooking a good meal for your family or friends.
In The Perfect Recipe
she has perfected everyday classics like meatloaf and chicken pot pie and beef and barley soup! Which is where I learned the basics of this recipe pre Instant Pot. In addition to everyday classics she has perfected special dinners such as roasted turkey and prime rib. Learn about making stock, bread and more.
How To Make Instant Pot Beef Barley Soup!
On to our recipe. The most important part is tender beef in my opinion. So using the Instant Pot is the perfect way to achieve that.
Turn the Instant Pot on to saute mode and adjust the heat to high. Add your tablespoon of oil and once it's hot, add in the onion, beef stew meat and season with salt and black pepper.
Once the meat has browned a little, add in the rest of the ingredients and place the lid on. Turn the nozzle to the sealing position.
Hit the manual button and cook for 20 minutes. Once the time has run out, let the pressure come down naturally. That is do a natural release not a quick release.
Take off the lid and serve. This batch makes 10 cups of soup.
How To Make It On The Stove Top.
If you'd rather make this on the stove instead of a pressure cooker here is how you do it.
Add the oil to a stock pan and brown the beef. Add the onions and a little water or beef broth. Loosely cover the pot and let it simmer until the meat is tender.
This can take anywhere from a half hour to an hour. You have to watch and add more water or broth if the liquid evaporates.
Once the meat is tender, add in the rest of the ingredients (barley, vegetables, seasonings and broth). Bring it to a simmer and cook for about 45 minutes until the barley is cooked and tender. That's it.
NOTE: I have updated this recipe from being a stovetop soup to and Instant Pot soup and I have both ways in the recipe card.
I hope you get a chance to try this beef barley soup recipe and see if becomes one of your favorite soups too. It's such a hearty soup you can eat for a meal. Enjoy!
P.S. I have a lot of soup recipes on this blog. As a matter of fact there are almost 40 soups to choose from!
Best Beef Barley Soup (Instant Pot and Stovetop)
Total Time:
1 hour
10 minutes
This is a healthy and hearty beef barley soup and you can make in the pressure cooker or stove top. Chunks of beef surrounded by barley, mushrooms, carrots in a savory thyme tomato broth.
Ingredients
1 tablespoon olive oil
1 lb beef cut into bite sized pieces (chuck roast, top round, stew meat, etc)
½ cup yellow onion, chopped
2 carrots, sliced
1 stalk of celery, sliced
1 can diced tomatoes (roughly 15oz can)
½ cup pearled barley
8 oz package of mushrooms, sliced
4 cups beef broth or stock
½ teaspoon dried thyme
½ teaspoon salt
½ teaspoon pepper
2 cloves garlic, crushed
¼ cup parsley, chopped (optional)
Instructions
To make in the Instant Pot: Hit the saute function on the Instant Pot and adjust the heat to high.
Add the olive oil and let it heat up. Then add in the beef, onion, salt and pepper. Saute until the meat has browned a bit. Then hit the cancel button.
Add in the rest of the ingredients and mix together. Place the lid on and turn the nozzle or valve to the sealing position.
Hit the manual button for 20 minutes. Let the pressure come down naturally.
Stir in parsley if using and serve.
To make on the stove top: In a stock pan, add your oil, onions and beef cubes. Season beef chunks with salt and pepper.
When beef is browned, add enough water to almost cover the beef.
Bring to a simmer and cover loosely with the lid skewed.
Simmer for 30 minutes -1 hour until the meat is soft. Check often and add more water if it evaporates. When the meat is cooked there should be a bit of liquid left.
Add in the rest of the ingredients and then bring to a boil.
Add the barley then turn down the heat to a simmer. Cover and cook for 45 minutes or until barley is tender.
Stir in the parsley parsley if using and serve immediately.
Nutrition Information:
Yield:

10 cups
Serving Size:

1 cup
Amount Per Serving:
Calories:

189
Total Fat:

11g
Saturated Fat:

4g
Trans Fat:

0g
Unsaturated Fat:

6g
Cholesterol:

40mg
Sodium:

558mg
Carbohydrates:

7g
Fiber:

2g
Sugar:

2g
Protein:

15g