This easy Instant Pot chicken barley soup is full of flavor and makes a hearty, healthy meal. More like a stew, this barley soup uses spices like caraway and cinnamon to give it a uniquely delicious flavor and cooks perfectly in the pressure cooker.
You might also like this easy Instant Pot beef barley soup.
Last week I made my hubby some beef barley soup in the Instant Pot and it cooked the barley perfectly. So I was trying to see what else I could make with barley and came up with this Instant Pot chicken barley soup.
It is so yummy. It has many of the flavors of moughrabia which is a Lebanese dish but I uses barley instead of pearl couscous. And it takes much less time because I used a pressure cooker.
My hubby really loved this soup recipe. It's a change from your everyday soups and stews and its really filling and comforting meal!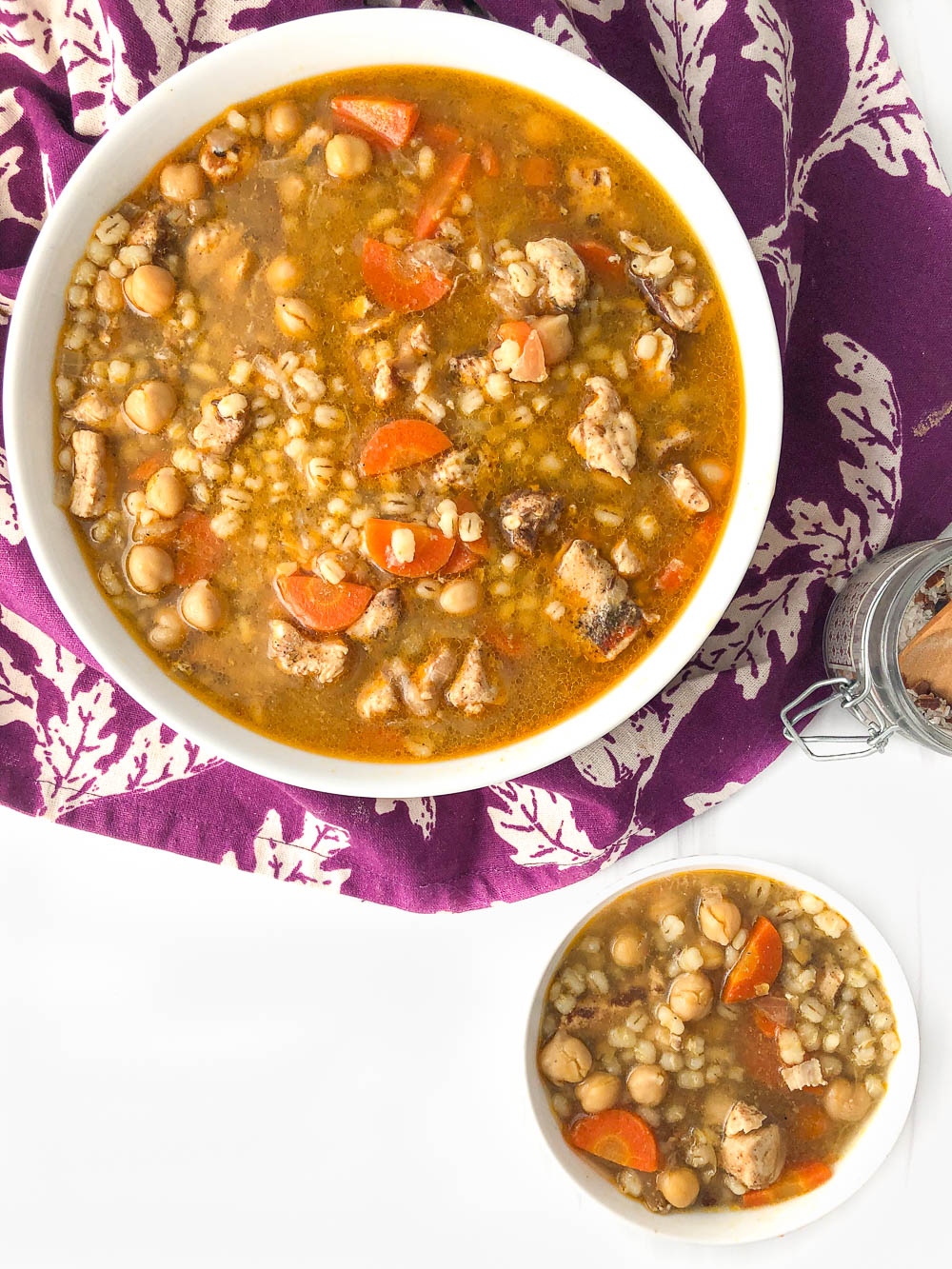 Ingredients I used.
There are a few ingredients but they all go together wonderfully to make this dish so it's worth it.
I used chicken breasts, onions, olive oil, caraway, paprika, cinnamon, salt, black pepper, chick peas, carrots, chicken broth or stock, pearl barley and Better than Bouillon.
That sounds like a lot of ingredients but you probably have many of them on hand. The only one I had trouble finding is caraway spice but I found it at a Fresh Thyme Market if you have one of those or you can get it online.
Also I only used carrots and onions in this recipe but you could use other vegetables like celery and mushrooms too if you wanted.
Let's make this Instant Pot chicken barley soup!
This soup is really very easy so here we go.
First use the saute function and adjust the heat to high. Add some olive oil and then add the onion slices. You want to cook these for a few minutes until they become translucent and start to brown and caramelize.
While the onions are cooking, chop the carrot and chicken breast into bite sized pieces. Then add the chicken pieces and spices to the Instant Pot. Mix it well to coat the chicken and cook for just a minute or two.
Lastly pour in the rest of the ingredients – carrots, chick peas, Better than Bouillon, barley, and broth or stock. Mix well then put on the lid and cancel the saute mode. Now turn the pressure release valve to the sealed position and manually cook for 20 minutes. 
Once the 20 minutes are up, you can do a natural pressure release and let it come down on it's own or you can do a quick pressure release.
Below you can see the steps of how I added the ingredients.
What does this chicken barley soup taste like?
The best I can describe this dish is that it has what I would consider Moroccan flavors. The caraway, cinnamon and caramelized onions add a bit of sweetness.
The barley is like a chewy pasta and the chickpeas have a bit of nuttiness to them. And the broth is rich and flavorful and pulls it altogether.
The combination is warming and hearty. I could have easily called this a chicken barley stew. It definitely could be a dinner in a bowl kind of meal.
Chicken Barley Soup FAQ
What if I don't have an Instant Pot?
I would suggest you check out this similar recipe for Middle Eastern chicken & couscous soup which uses similar ingredients and is made on the stovetop. It uses rotisserie chicken and cooked couscous so it's very quick to make.
Can I make substitutions?
You could use beef cubes and beef broth instead of chicken if you want. You can skip the chick peas if you don't like them though they do add another texture to the recipe. However I would definitely use the same spices. That is the key to this dish. Here are a few caraway substitutes but they are just as exotic IMO.
Can I freeze this barley soup?
Absolutely. One caveat would be that the barley soaks up a lot of the broth but you can just add some broth to it when you heat it up.
I wish I would have made this earlier in the winter because it's such a warming and hearty soup and makes a tasty dinner.
I hope you like this recipe as much as my hubby and I did. And if you have leftovers, this is a good soup to freeze. Also if you like chicken soups you will also love this chunky chicken noodle soup in the Instant Pot. Enjoy!
Hearty Chicken Barley Soup in the Instant Pot
Additional Time:
30 minutes
eThis chicken barley soup is so easy in the instant pot and it's full of flavor with the unique spice blend.
Ingredients
1 cup yellow onion, sliced
2 tablespoons olive oil
1 lbs chicken breast, chopped into pieces
½ teaspoon cinnamon
2 teaspoons caraway spice
¼ teaspoon paprika
½ teaspoon salt
½ teaspoon pepper
15 oz can of chickpeas, drained
1 carrot, chopped
1 teaspoon of Better than Bouillon, chicken flavor
½ cup barley
4 cups chicken broth or stock
Instructions
First use the saute function and adjust the heat to high. Add some olive oil and then add some sliced onions. You want to cook these for a few minutes until they become translucent and start to brown and caramelize.
While the onions are cooking, chop the carrot and chicken breast into bite size pieces. Then add the chicken and spices to the Instant Pot. Mix it well and cook for just a minute or two.
Lastly pour in the rest of the ingredients - carrots, chicken peas Better than Bouillon, carrots and broth. Mix well then put on the lid and cancel the saute function. Now push the pressure release valve to seal and manually cook for 20 minutes.
Once the 20 minutes are up, you can do a quick release or natural release to bring down the pressure.
I only used carrots and onions in this recipe but you could use other vegetables like celery and mushrooms too if you wanted