These keto bacon pancakes are the perfect flavor combination with sugar free maple syrup. If you miss regular pancakes on a keto diet, you will love these gluten free pancakes. Whip them up in minutes and enjoy the salty crunchy bacon along with the fluffy keto pancakes. Each one has just 2.3g net carbs!
You might also like this keto maple bacon no bake cheesecake recipe!
Recently I bought a bottle of sugar free maple syrup and of course I had to make some pancakes. I thought I'd make some keto bacon pancakes and oh my they were delicious!
The salt from the crunchy bacon works so good with the fluffy pancakes and sweet maple syrup. They are great for a tasty low carb breakfast or even a snack. With only a few simple ingredients you can make these in minutes!
So if you are craving a sweet pancake breakfast but want to keep it low carb and gluten free, try this tasty recipe.
Recipe ingredients I used.
You only need 6 simple ingredients to make these sugar free pancakes – coconut flour, eggs, cream cheese, Swerve brown sugar sweetener, baking powder and cooked bacon slices!
I used coconut flour instead of almond flour because it has a bit of a sweetness to it. Also I really like using Swerve brown sugar sweetener in this recipe because brown sugar goes so well with maple and with bacon. However you can use regular sweetener if you want.
Also I used a good thick bacon but you can use any kind you want. I also used Lakanto Maple Syrup and it was great for this recipe.
Love this keto maple syrup!
I never used much maple syrup before but after using Lakanto maple syrup for this recipe I am finding more and more uses for it. Though it's a bit on the thin side, the flavor is great and it only has 10 calories and 1g net carbs per 2 tablespoons of syrup!
My DASH mini griddle & waffle maker.
My first Dash kitchen gadget was a Dash mini waffle maker. It's great for making keto chaffles because of the small size they are easy to get out. Next I bought the Dash mini griddle and found that it's even more handy.
You can easily make a fried egg for a sausage egg sandwich. Or use these mini low carb tortillas with it to make keto pizza quesadillas. And now I'm making pancakes with it.
These mini Dash products are usually less than $15 and you can buy them on Amazon or at Target. For a small kitchen appliance I highly recommend them for low carb cooking. I liked them so much I gave them to my nieces for Christmas!
And I can also recommend the Dash mini ice cream maker. Check out this keto soft serve recipe to see it in action.
How to make keto bacon pancakes!
Step 1: Make the bacon any way you want and then place the bacon strips on a some paper towels to absorb the grease. Note you could save the bacon grease to cook the pancakes to add even more bacon flavor.
Step 2: Add the coconut flour, egg, baking powder, Swerve brown sugar and soften cream cheese to a blender and blend until nice and smooth.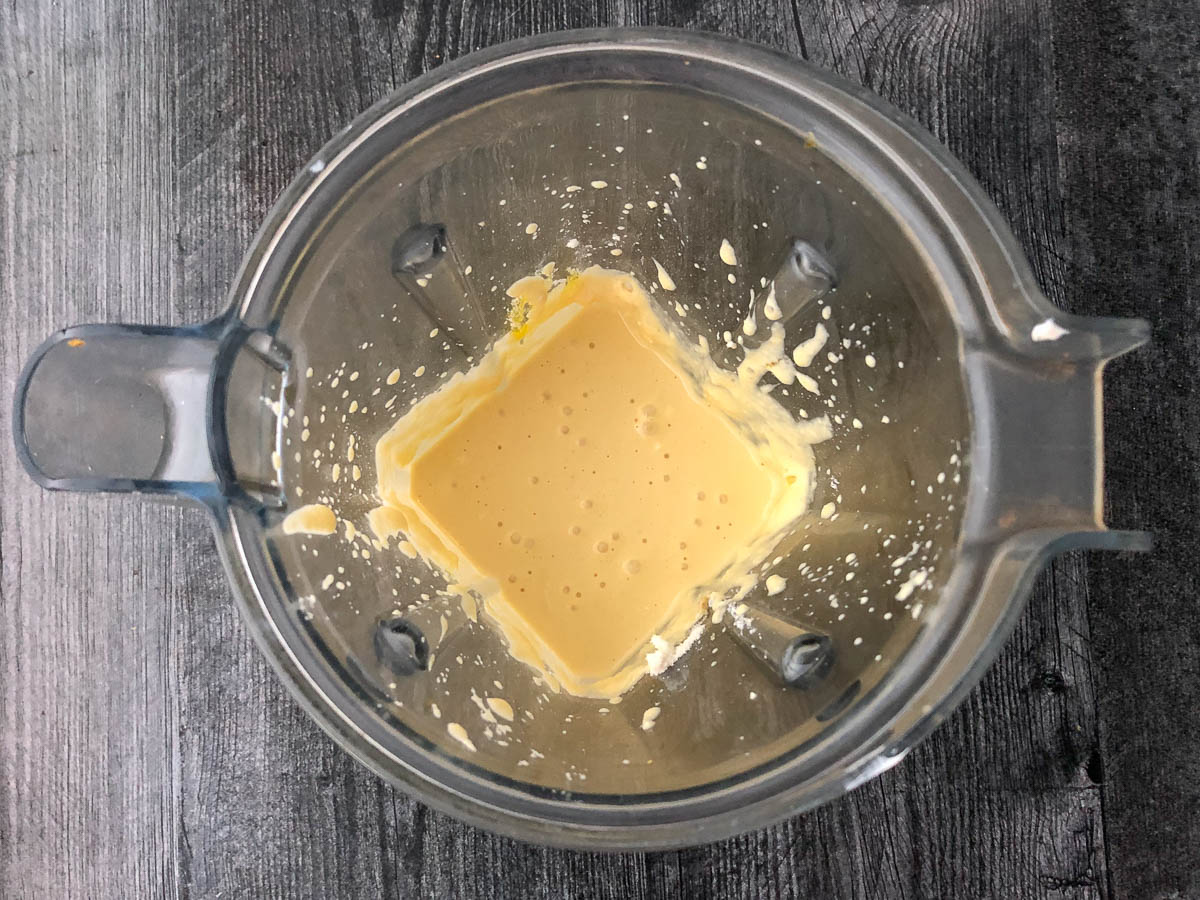 Step 3: Get out your griddle or a small skillet and spray with nonstick cooking spray or a pat of butter. You could also use the reserved bacon grease if you want at this point. Heat up to medium low heat then add about 3 tablespoons of the pancake batter to the griddle.
Step 4: Break up the cooked bacon strips and place in the pancake or crumble it and scatter around. Cook for a couple of minutes and if you are using this Dash mini griddle it should be done.
If you are making in a skillet, look for the batter to form small bubbles everywhere in about 2-3 minutes and then you can flip it. Cook for just a minute or two until golden brown and it should be done.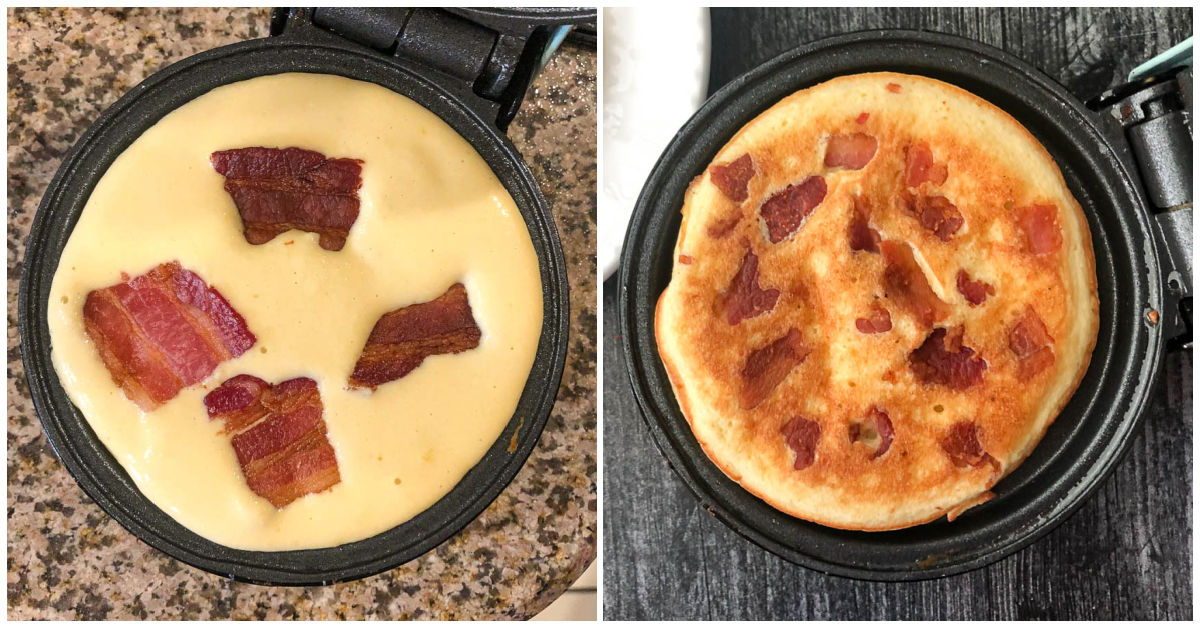 And that is all you need to do to make these low carb pancakes. You could quite eat these as is for a snack but they are extra good if you eat them like classic pancakes with a bit of melted butter and a drizzle of maple syrup.
Some other toppings you can try are chopped pecans or walnuts with the syrup or sugar free chocolate chips in the pancakes. Store leftovers in an airtight container in the refrigerator. Please scroll down to view the printable recipe card.
I think these would freeze well for easy meal prep. Just pop them in the microwave oven for 30 seconds or until warmed through for a quick keto breakfast.
More sweet keto breakfast ideas!
I'm not usually a sweet breakfast person but my hubby is so I have quite a few sweet keto breakfast recipes on this site. Here are a few of my favorites.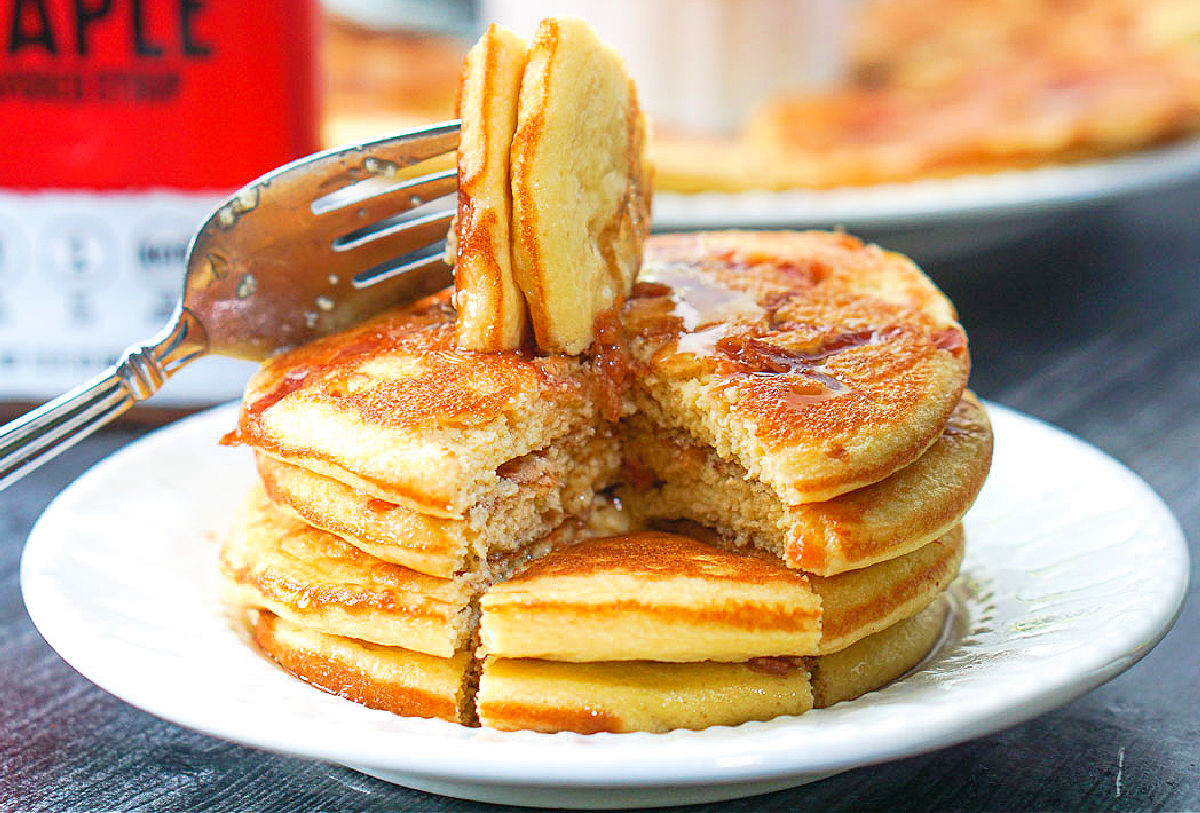 Well I have to tell you these keto bacon pancakes were out of this world and I hope you give them a try. I love that they are filling and tasty but don't make me feel like I'm going to fall asleep. Enjoy!
The nutritional information for 1 pancake is 147 calories / 11.2g fat / 3.6g carbs / 1.3g fiber / 6.5g protein = 2.3g net carbs
Keto Bacon Pancakes Recipe
This keto bacon pancake recipe are a delicious combination of salty, crispy bacon and fluffy pancakes topped with sugar free maple syrup. Great for a keto breakfast or fall snack!
Ingredients
2 eggs
3 ounces cream cheese, softened
½ teaspoon baking powder
1 tablespoon Swerve brown sugar sweetener
2 tablespoons coconut flour
2 slices bacon, cooked
Instructions
Make the bacon anyway you want. If you make it in a skillet, you can reserve bacon grease to cook the pancakes in for extra bacon flavor. Place the cooked bacon on pieces of paper towels while you make the pancakes.
Add to a blender container coconut flour, egg, baking powder, cream cheese and Swerve brown sugar sweetener. Blend until smooth.
Preheat mini griddle or skillet to medium heat. Spray with nonstick cooking spray. Add about 3 tablespoons of batter to the griddle or skillet and a ½ strip of bacon to each pancake. Or you can crumble the bacon and add as much as you want.
Let cook for a minute or two until the batter bubbles and you are able to flip it over. If using the Dash mini griddle you don't need to flip them. When they are golden brown they are done. Top with sugar free syrup or eat plain as a snack. (PS I love Lakanto Keto Maple Syrup.)
This recipe makes 4 medium size pancakes. Store leftovers in an airtight container.
Notes
The nutritional information for 1 is 147 calories / 11.2g fat / 3.6g carbs / 1.3g fiber / 6.5g protein = 2.3g net carbs
Nutrition Information:
Yield:

4
Serving Size:

1
Amount Per Serving:
Calories:

147