If you miss Dairy Queen or soft serve ice cream on a keto diet, you have to try this keto soft serve ice cream recipe you can make at home with a Dash ice cream maker. You only 4 ingredients for your basic vanilla ice cream base and I have low carb topping ideas too. The whole batch has just 1.6 grams of carbs and 27 grams of protein so it's a healthy sweet treat too!
You might also like these low carb 2 ingredient jello popsicles!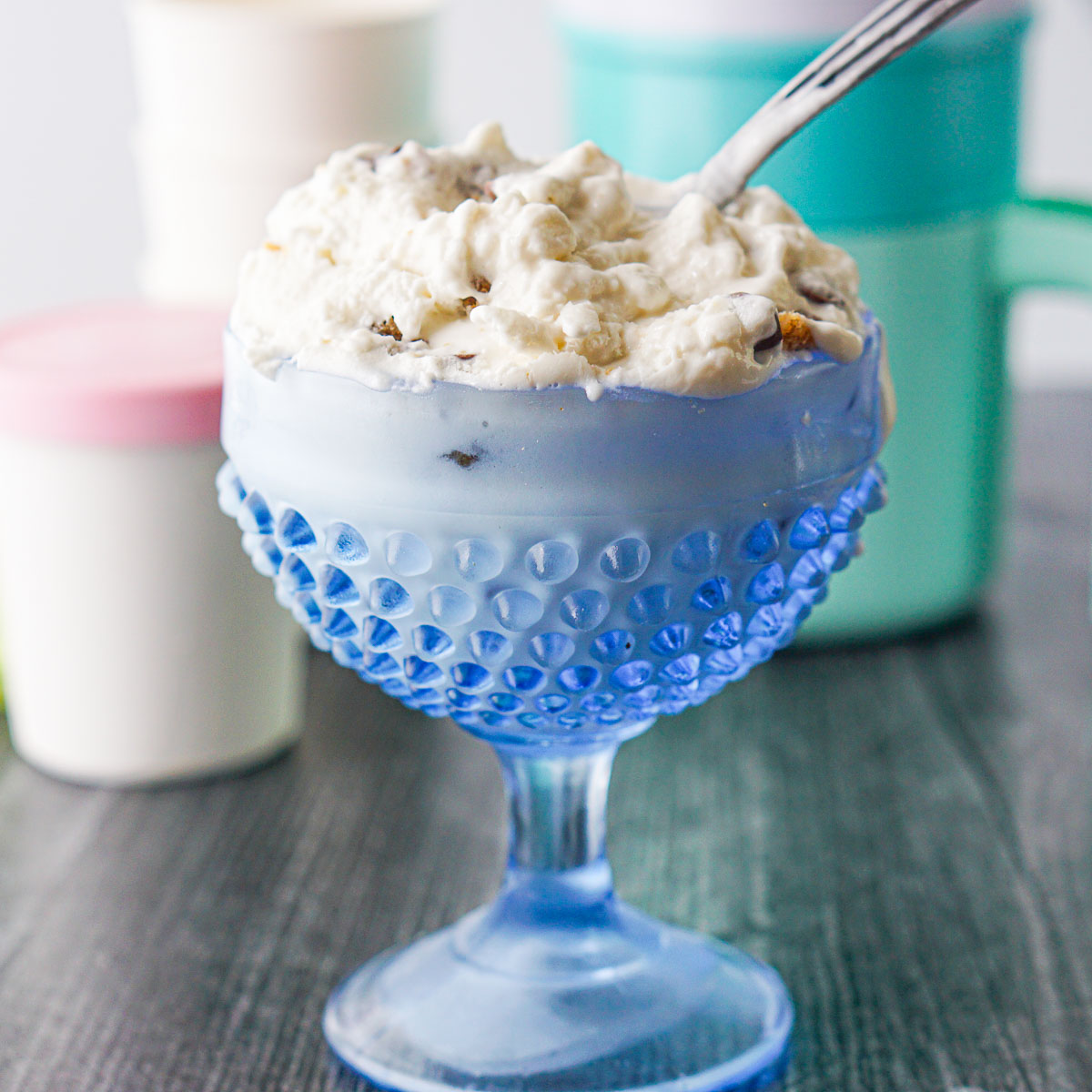 Recently I bought a DASH pint ice cream maker and I am LOVING it! It's so easy to make homemade soft serve ice cream I can make it everyday if I want. It's easy to use and I can change up the flavor easily (ideas below in the post).
So today I am sharing with you a keto soft serve ice cream base that only uses 4 simple ingredients. There are no eggs in this recipe. From there you can add anything you want… as long as it's low carb to make your favorite cold treat!
I've made chocolate chip and cookie dough so far which is my favorite recipe. However not only is this recipe low carb (1.6g net carbs) and sugar free, but it is also high in protein (27g protein)! So that is a win win if you are on a low carb diet.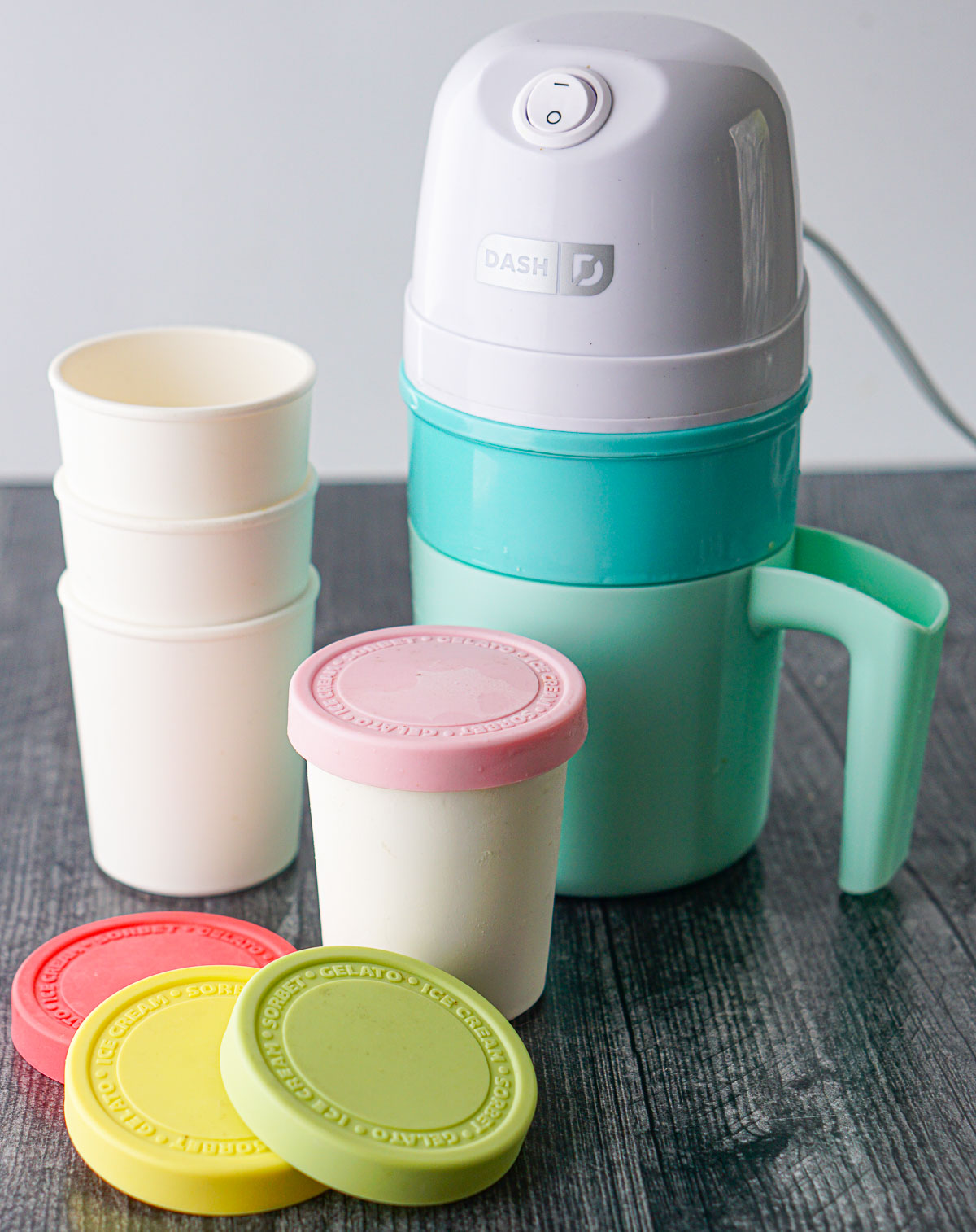 Why I love this Dash ice cream maker.
This keto ice cream recipe will revolve around the Dash pint ice cream maker. I have many Dash products and really love them and here is why I love this one. (Note this is my unsolicited opinion; I have not been paid to write about this.)
It's fairly inexpensive ($just 23.99 as of today on amazon.)
It's not very big so it doesn't take up much room in the kitchen nor the freezer.
It only makes a pint so you can play around with different flavors and not waste when you make any flops.
You need to freeze one of the containers overnight but aside from that it only takes about 15-30 minutes to make the actually soft serve. If you do it by hand it could take hours.
It really works and makes an excellent soft serve texture.
You have control over what goes into your recipe. I like the health benefits of using less cream and as well as using mostly almond milk. Plus the added protein in this particular recipe.
The container that you have to freeze overnight sits there everyday. If I make a batch of soft serve, I clean it place it right back in the freezer for the next day.
Low carb ice cream ingredients.
All you need to make the sugar free recipe is Isopure zero carb vanilla protein powder, heavy cream, plain unsweetened almond milk and vanilla stevia drops.
You can use a different protein powder but it should be whey protein. I like Isopure brand because it has zero carbs and the flavors are good.
f you are dairy free, you can experiment with other non-dairy protein powders and coconut milk and coconut cream. I haven't tried this yet but I think it would work if you need an alternative to dairy.
You can use a different choice of sweetener if you wish. I really like these SweetLeaf Vanilla Creme stevia drops. They don't seem to have that weird aftertaste some keto sweeteners do. If you just have plain stevia drops you can add a bit of vanilla extract.
If you have xanthan gum you can add ¼ teaspoon into the mixture. It keeps it from forming ice crystals and will make a smoother soft serve. However I know this is an unusual ingredient so I didn't include it.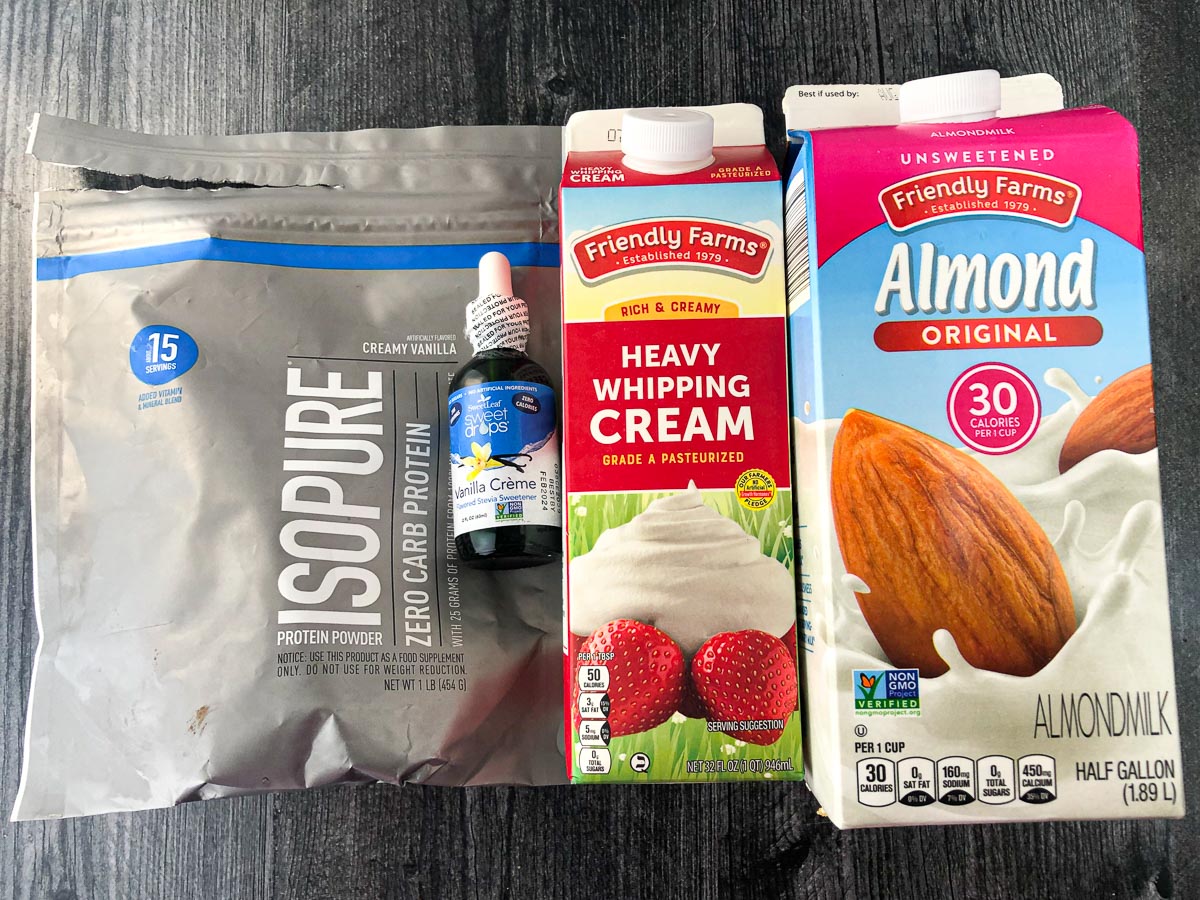 How to make keto soft serve ice cream at home.
Step 1: If you are using the Dash ice cream maker, place the thermal cup in the freezer overnight until you are ready to make your soft serve.
Step 2: Add the heavy cream, almond milk, protein powder and stevia drops to a blender and blend for a few seconds to mix it up well.
Note if you are using a regular type granular sweetener instead of the stevia you might want to try add 2 tablespoons and then taste it. You want this to be fairly sweet because for some reason when it freezes it loses a bit of the sweetness so err on the side of too sweet when making the liquid mixture.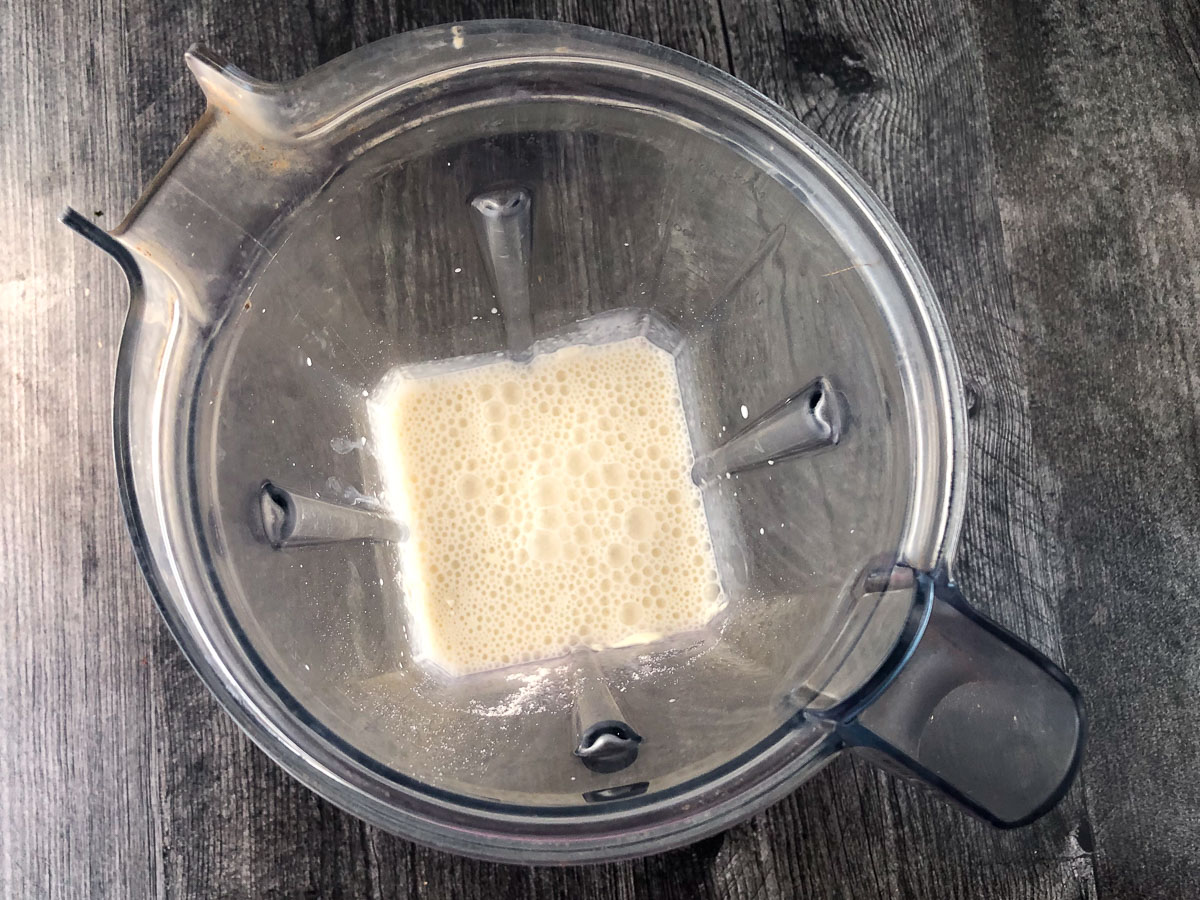 Step 3: Pull the thermal Dash container out of the freezer and pour in the ice cream mixture. Place the paddle in the top of the machine, attach it to the base and turn the mixer on.
It can take anywhere from 15-30 minutes to set up. For this batch it took me about 25 minutes. As it starts to form the soft serve it might start to wobble around the counter as its turning. Just start checking the consistency around 15 minutes.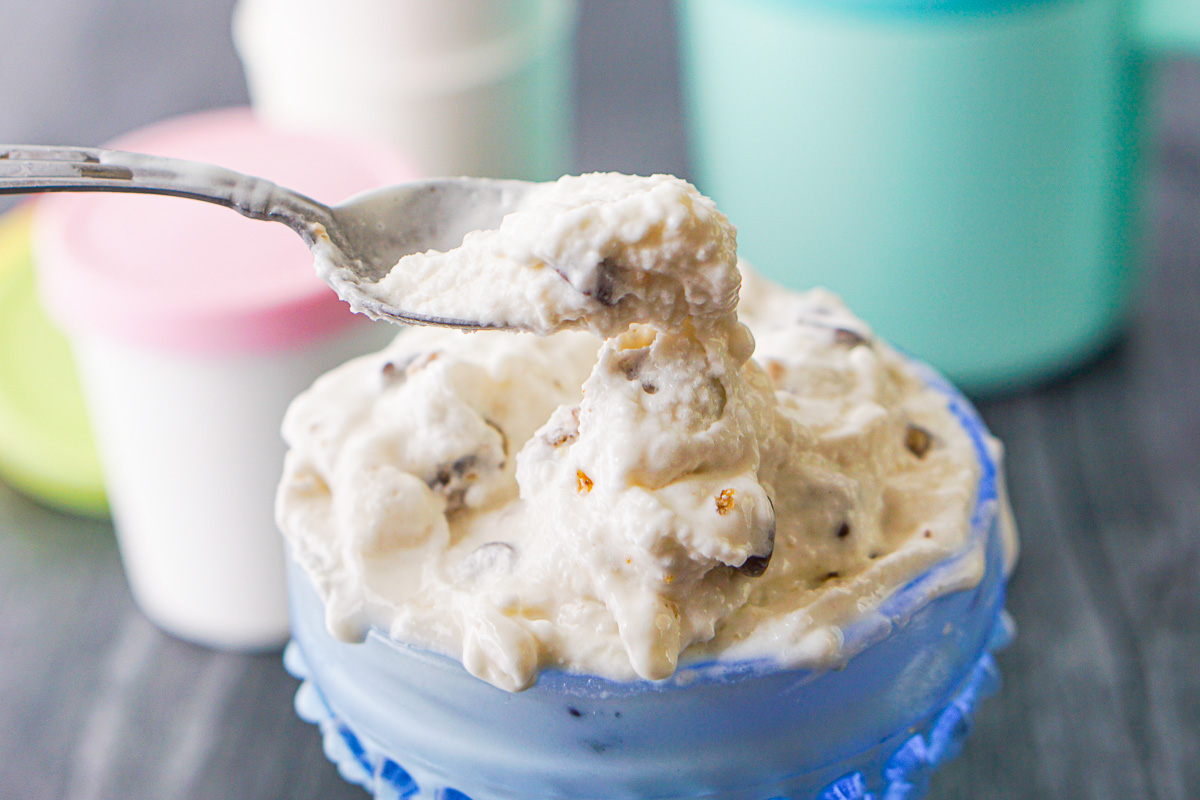 Step 4: When it's done, take off the lid and spoon your keto soft serve into a bowl and enjoy! Some of it will stick to the walls of the freezer container because it's frozen but it's not much. You get plenty in this batch.
If you are not eating right away, you can store it in an airtight container and place in the freezer. I bought these 6 oz ice cream tubs that are perfect for homemade ice cream.
Note it might get pretty hard once it's frozen. You can let it sit out before you eat it for 10-20 minutes. Or microwave it for 15 second intervals until it softens and then eat it.
Please scroll down to view the printable recipe card.
Keto ice cream toppings and mixing.
Here are a few low carb mixings and topping you can try if you are on a ketogenic diet that are easy to use.
Sugar free chocolate chips are the easiest mix in. Lily's chocolate chips come in a variety of flavors (salted caramel, milk and dark chocolate, white chocolate) and they are low carb.
You can also chop up your favorite keto candy bar and add it in.
Nuts are another easy option.
Flavor extracts will add flavor but not sweetness but are an easy addition. Try pistachios and an almond extract or butterscotch flavoring with pecans. Mint extract and chocolate chips are a classic treat. The combinations are endless.
Natural peanut butter or any nut butter would be delicious. Just make sure to check the nutrition label and the amount of carbs. Go for natural types of nut butters.
Sugar free candy, low carb treats or keto cereal.
Toasted coconut is easy to make. Add some unsweetened coconut flakes to a dry pan and toast over medium heat. What that it doesn't burn but it will done in minutes. This adds both flavor and a bit of crunch.
Berries are low in carb and would work great. Blending frozen strawberries in your mixture would work great and speed up the processing time.
Below you can see the sugar free cookie dough balls that I made for a post. You can make these and roll them into much smaller balls and add them to your sugar free ice cream. I made this and it was delicious!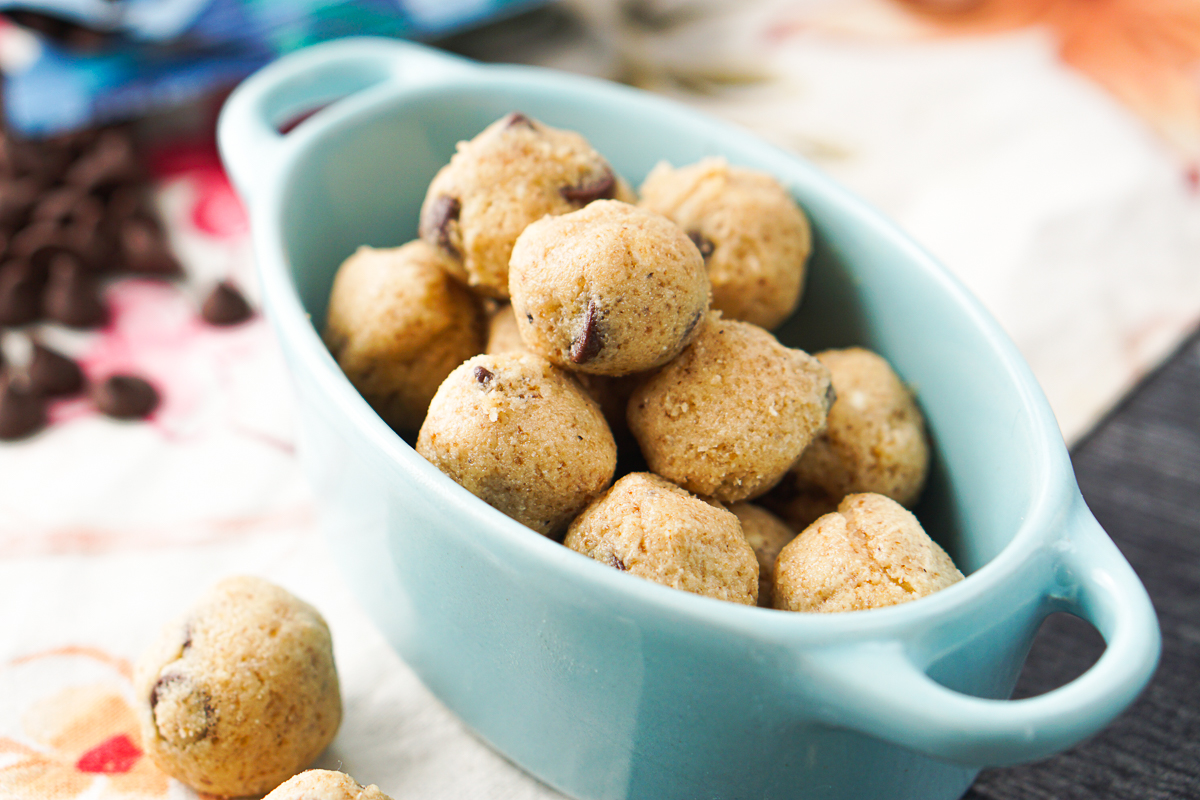 More keto ice cream recipes to try.
I have a few other homemade keto friendly ice cream recipes and keto desserts for you to check out. Some are made in the blender and others are just your standard homemade ones. You can see all of my keto ice cream recipes here.
The keto chocolate peanut butter and caramel butter pecan are my favorites!
Below you can see the Tovolo storage tubs I talked about above. They hold 6 oz so if you use the Dash ice cream maker you will have enough to fill one of these freezer friendly containers and bit leftover to eat right away.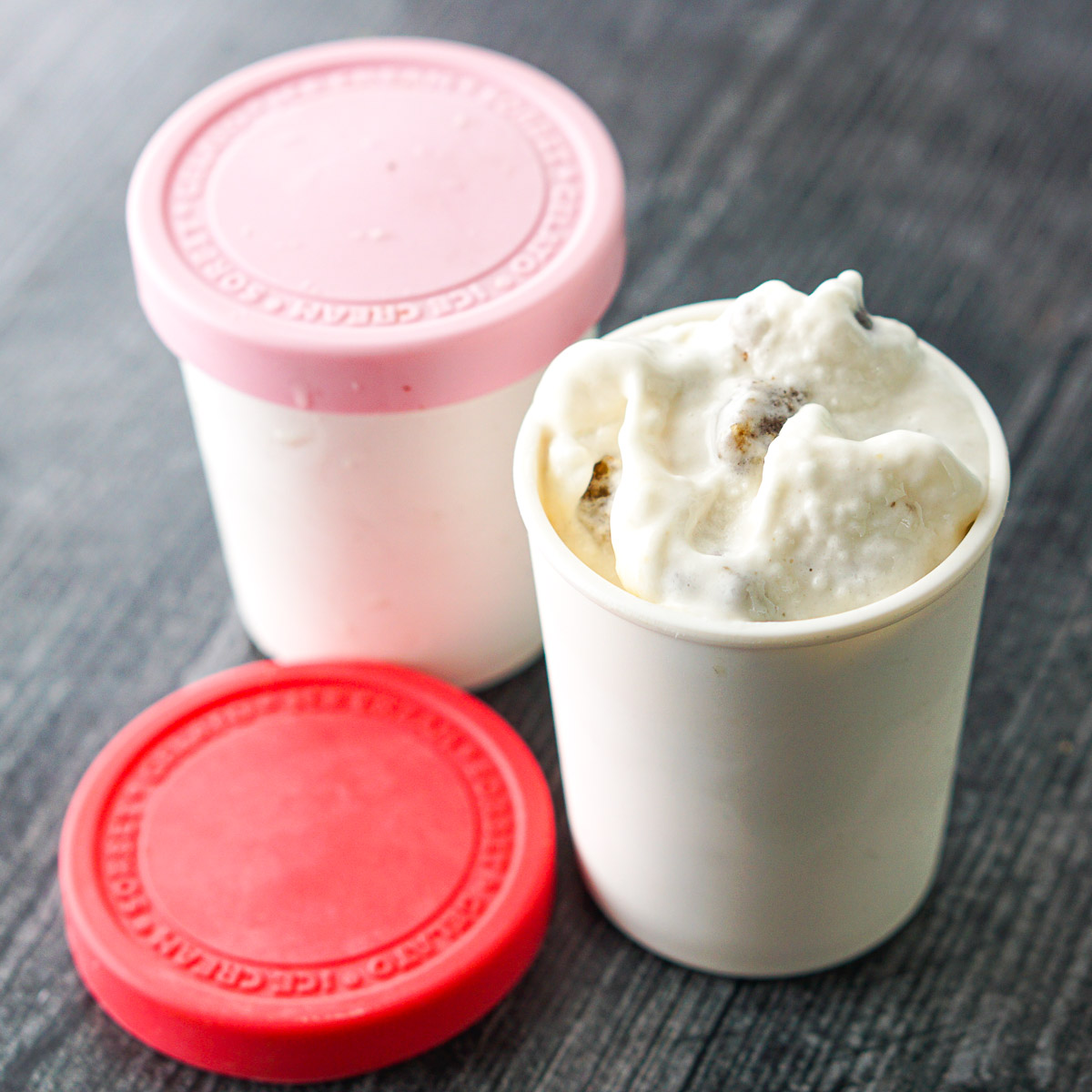 Well I highly recommend the Dash pint ice cream machine if you are in love with soft serve ice cream and want a keto friendly version. It's worth the small investment and will definitely satisfy your sweet tooth!
The nutritional information for the whole batch is 335 calories / 24.3g fat / 2.4g carbs / 0.8g fiber / 27g protein = 1.6 grams net carbs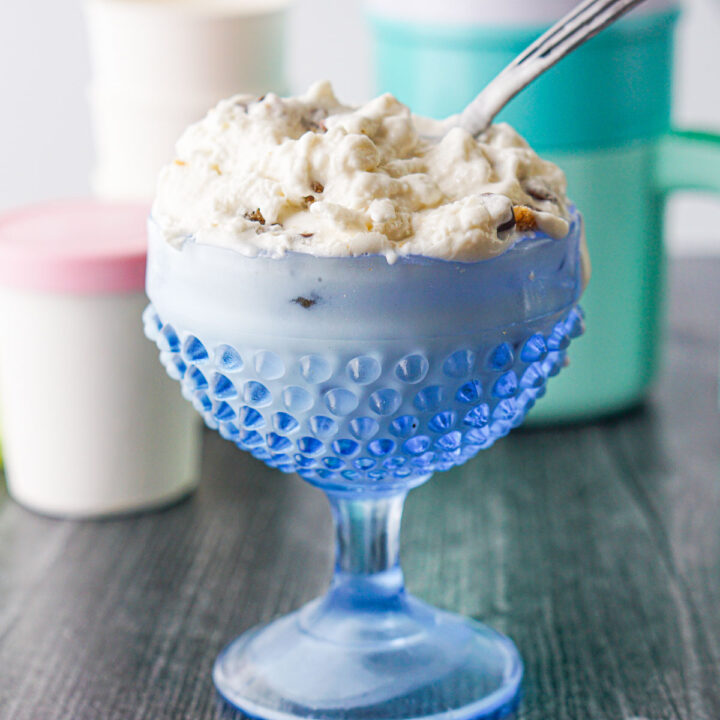 Keto Soft Serve Ice Cream Recipe
The keto soft serve ice cream recipe will satisfy your Dairy Queen cravings this summer. It only requires 4 ingredients for this basic recipe and about 30 minutes to make it. From there you can make all kinds of low carb flavors. This recipe will also give you a healthy dose of protein too!
Ingredients
¼ cup heavy whipping cream
¾ unsweetened almond milk, plain
¼ teaspoon liquid vanilla stevia (I like SweetLeaf vanilla creme)
1 scoop vanilla protein powder (I like IsoPure ZeroCarb Vanilla)
Instructions
The day before place the thermal container of your Dash mini ice cream maker in the freezer.
When ready to make your ice cream the next day, add the 4 ingredients into a blender and blend for 10-20 seconds to mix completely.
Get the machine ready and pull the thermal container out from the freeezer. Pour the mixture in and attach the paddle and machine top. Turn it on and churn for 15-30 minutes. Mine took 25 minutes. Watch it close to the end because as the liquid turns to ice cream the top of the machine will wobble. It won't hurt anything but make sure it doesn't fall off the counter.
Turn off the machine and scoop out all of the ice cream into a bowl. Some of it will freeze on the walls of the container but don't worry about it. There is plenty of ice cream from this batch.
If you want you can add keto chocolate chips, nuts, flavor extracts etc to make your own flavor.
Notes
The nutritional information for 1 serving is 335 calories / 24.3g fat / 2.4g carbs / 0.8g fiber / 27g protein = 1.6g net carbs
Nutrition Information:
Yield:

1
Serving Size:

1
Amount Per Serving:
Calories:

335