These edible keto cookie dough bites are a delicious and easy no bake snack with only 0.8g net carbs! Store them in the freezer for a quick, keto sweet treat you can grab and go. This recipe only uses a few simple ingredients and no eggs at all. Best of they taste like the real deal which is great on a keto diet!
You might also like these keto chocolate chip cookies recipe.
I have always loved traditional cookie dough. When I was little and we made chocolate chip cookies I always preferred the batter to the finished cookie. Also cookie dough ice cream is one of my favorite flavors.
So the other day I was craving some edible cookie dough and decided to make these keto cookie dough bites to keep in the freezer. They are sugar free, gluten free and delicious.
I generally will snack on one or two after dinner because they are only 0.8g net carbs per treat. And it's oh so simple to make and I didn't use eggs or almond flour. Instead I made this delicious cookie dough with coconut flour.
I learned when I made my 3 ingredient cookie dough bites that nuts and nut butter made a great base for cookie dough.
It kind of takes the place of both flour and oil that you would normally use in a cookie recipe. Also I realized that brown sugar is an important taste in cookie dough.
No bake cookie dough ingredients I used.
The basic ingredients I used for these low carb cookie dough balls were:
A larger grocery store or even Walmart should have most of these ingredients or you can get them on Amazon. Note I did not use vanilla extract just because I was trying to keep the ingredients to a minimum but you could add ½ teaspoon of you wish.
So for the Paleo version you can use coconut sugar which tastes similar to brown sugar. But for this low carb version I used Swerve brown sweetener and you could also use Lakanto golden sweetener.
You can also use your granulated sweetener of choice and make it into brown sugar sweetener by using just a scant ¼ teaspoon of molasses with it to get that brown sugar flavor without the carbs.
Below you can see the keto chocolate chips I used. I just got these and really like them for making cookies. Today I used the milk chocolate chips though I have often used their dark chocolate chips too.
How to make keto cookie dough bites.
Step 1: Add raw walnuts to the bowl of a food processor and crush them until they get sticky and start to make a dough. You don't want to process them too much or they will become a nut butter.
Step 2: Add the softened butter, coconut flour and sweetener and process until it turns into cookie dough batter like that shown below.
Step 3: Spoon the mixture into a small mixing bowl and then fold in the keto chocolate chips. I used Lilly's milk chocolate chips but you can try other brands as long as they are low carb.
Step 4: Now you want to roll the dough into balls. You can use a teaspoon to scoop dough roll into about 14-16 bite sized cookie dough balls. A cookie scoop would make bigger bites. If the batter is too melty, place it in the freezer for 10 minutes to harden and then it will be easier to handle.
Store them in a baggie or airtight container in the freezer or refrigerator. They melt in your hands because of the butter so I like using the freezer to store them. (Please scroll down to view the printable recipe card.)
A tip for storing no bake bites like these in the freezer. Place them on a wax paper covered cookie sheet or baking sheet and freeze for an hour. Then take them out and place the frozen bites into the baggie.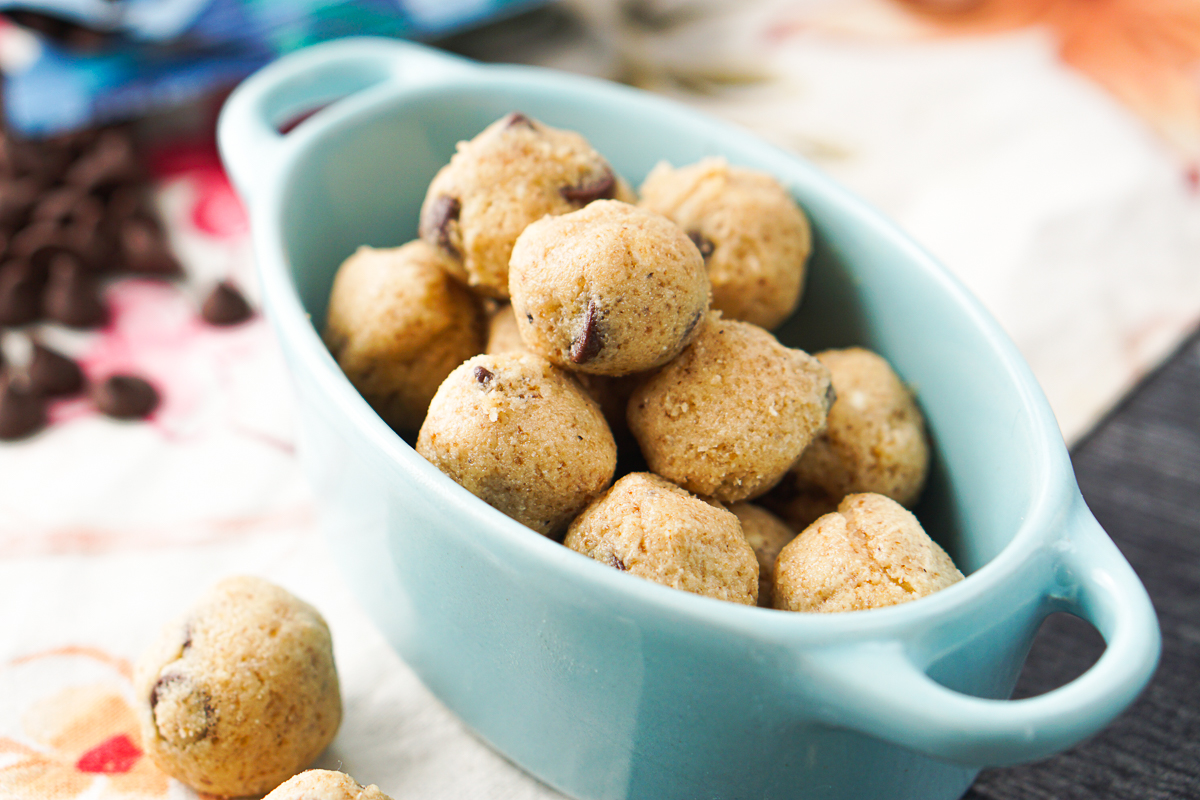 More keto sweet treats to try!
I love no bake keto treats like this recipe because they take so little time to make. Below are more easy no bake keto recipes to try out.
These really are tasty little desserts to have on hand. They make it easy to just have a sweet something after dinner or whenever you sweet tooth calls to you. They are pretty filling like fat bombs so only 1 or two will satisfy you.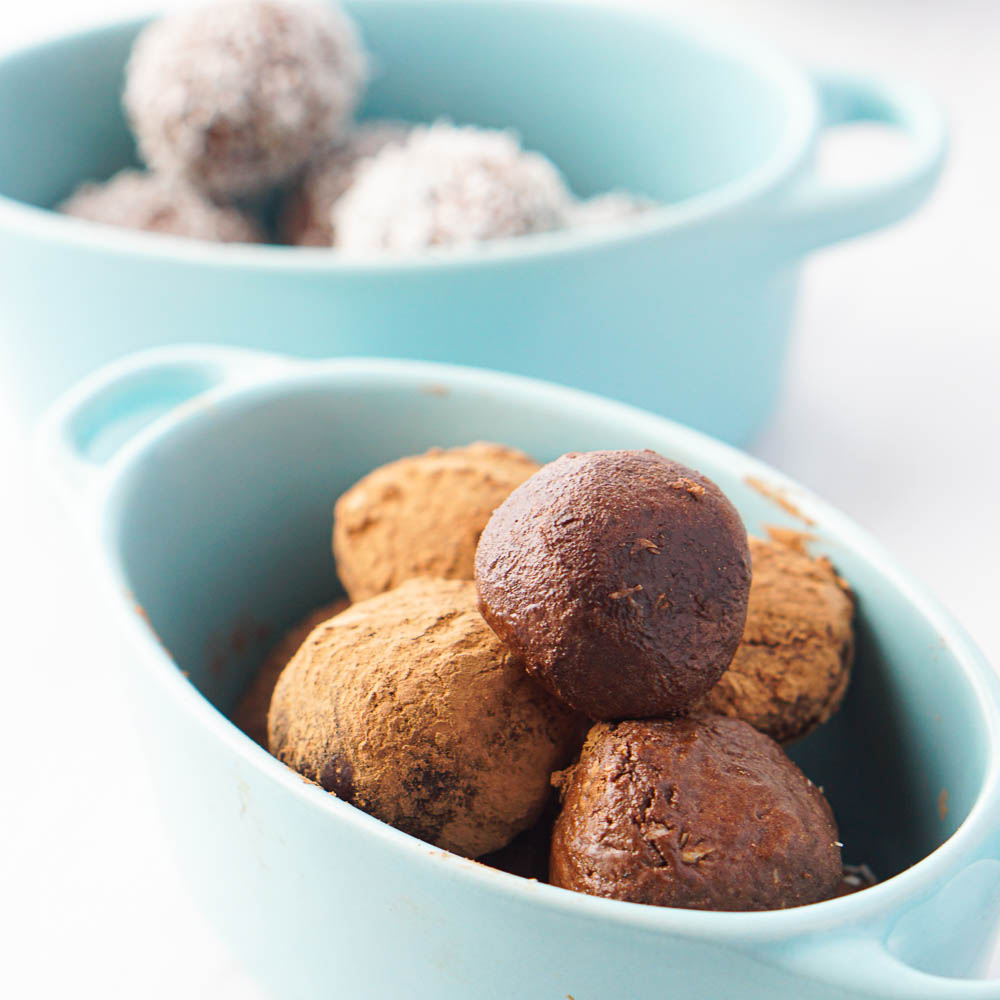 You might also like these other keto cookie recipes.
So if you are cookie dough fan, I know you are going to love this delicious keto cookie dough recipe. I think I've found the perfect combination of ingredients to mimic raw cookie dough.
This cookie dough flavor would be great in a low carb vanilla ice cream. I have similar recipe for keto cookie dough popsicles! The nutrition for 1 of these delicious bites is:
72 cals / 6.8g fat / 2.1g carbs / 1.5g fiber / 1.1g protein = 0.8g net carbs
Keto Cookie Dough Bites
These keto no bake chocolate chip cookie dough snacks are delicious and easy to make with only 0.8g net carbs!  Store these low carb cookie dough bites in the freezer for a quick, treat you can grab and go.
Ingredients
½ cup raw walnuts
3 tablespoons coconut flour
4 tablespoons butter, slightly softened
3 tablespoons Swerve sweetener
2 tablespoon keto chocolate chips, I like Lilys milk chocolate chips
Instructions
Add walnuts to a food processor and pulse until it becomes sticky. Don't do over process or it will be come too liquid like a peanut butter.
Add in the softened butter, Swerve sweetener and coconut flour and process until it looks like cookie dough.
Spoon into a bowl and then fold in the chocolate chips.
Roll into bite sized balls. I used a heaping teaspoon and got 14 pieces. If the dough is too soft to roll, place in the freezer for 10 minutes to harden. Take out and roll into balls.
Store in a baggie or airtight container in the freezer or even refrigerator. They will melt a bit in your hand because of the butter so I like to use the freezer.
Notes
The nutritional information for 1 bite is 72 cals / 6.8g fat / 2.1g carbs / 1.5g fiber / 1.1g protein = 0.8g net carbs
Nutrition Information:
Yield:

14
Serving Size:

1
Amount Per Serving:
Calories:

72
Unsaturated Fat:

0g