Not only is this bacon pretzel chocolate chip cookies recipe make the BEST chocolate chip cookies, but they have bacon and pretzel pieces too! If you are looking for a little twist on an already awesome chocolate chip cookie this recipe is it. Would be a great gift to give for the holidays too.
You might also like this chocolate peanut butter toffee recipe too!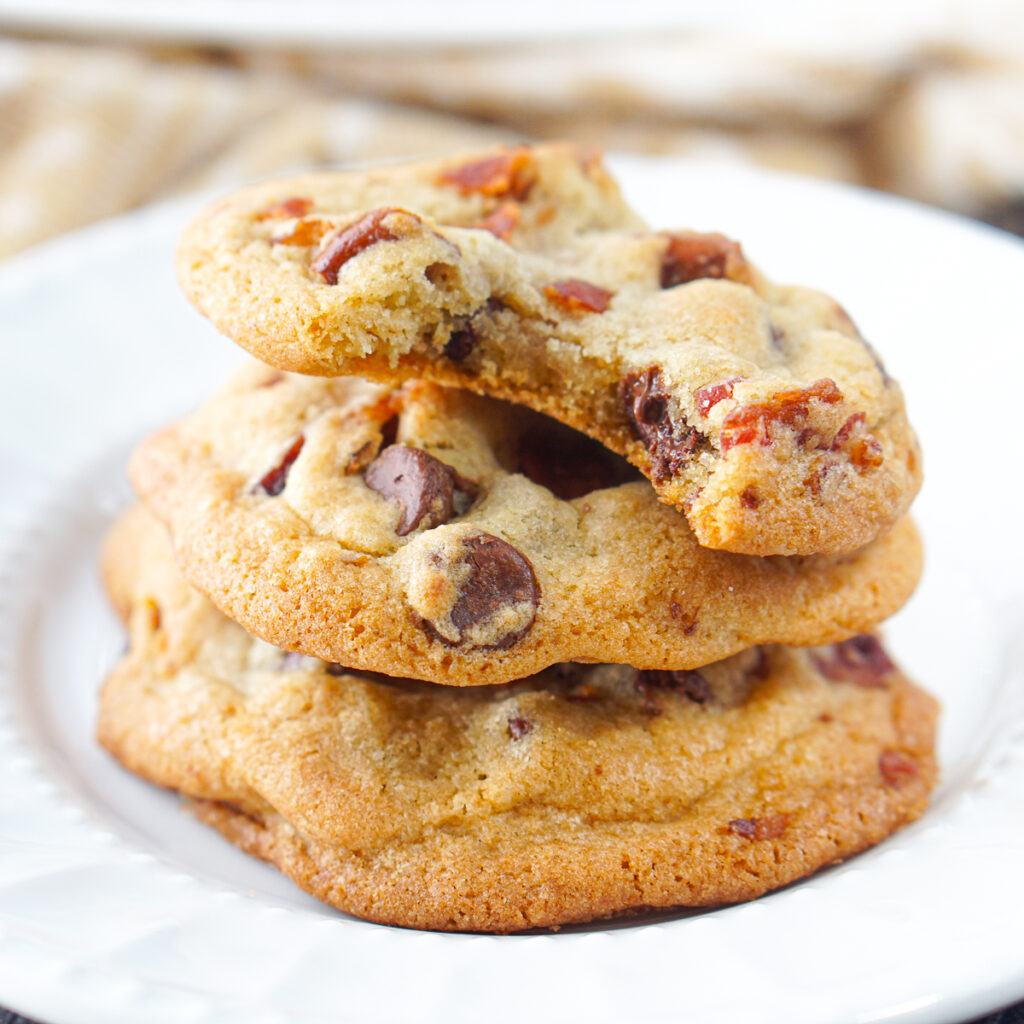 Let me first say that my sister-in-law Gayle makes the best chocolate chip cookies ever and she gave me her recipe which I based these on. I'm not kidding they are fantastic.
I don't often make cookies because I will eat all of them. I have no restraint and I love, love, love cookies. On this particular day I knew I had to bring something to my book club and I was jonesin' for salty and sweet.
So I thought I'd put favorite flavors in on cookie and this bacon pretzel chocolate chip cookies recipe was born!
Well I made these tasty chocolate chip cookies and my son LOVED them. He will eat practically anything with bacon in it, but add it to a cookie and now you've really got his attention.
I dutifully put a bunch in the freezer for my book club. I didn't want the temptation. But when book club was canceled, well I could have left them in the freezer for next month.
But I didn't. I ended up eating most of them until I had to give some away so I wouldn't eat them for breakfast lunch and dinner. <sigh>That is why I don't bake.
How to make this bacon pretzel chocolate chip cookies recipe.
One of my sister in law's secrets is that you will replace half of the butter with butter flavored Crisco. With that in mind let's make some cookies!
Step 1: Preheat oven to 375°F. In a large mixing bowl, cream butter and Crisco. Then add the sugar, brown sugar, and vanilla extract. Beat the ingredients together with a hand mixer or standing mixer.
Step 2: Add the eggs and mix until well combined.
Step 3: In a separate bowl mix the dry ingredients – flour, baking soda and salt. Slowly add this to the wet ingredients and mix until well combined.
Step 4: Gently fold in the chocolate chips, crushed pretzels and bacon bits into the cookie dough.
Step 5. Place a small balls of cookie dough on an ungreased baking sheet. They will spread a little so make sure to leave room. I love this cookie scoop to make sure they are the same size.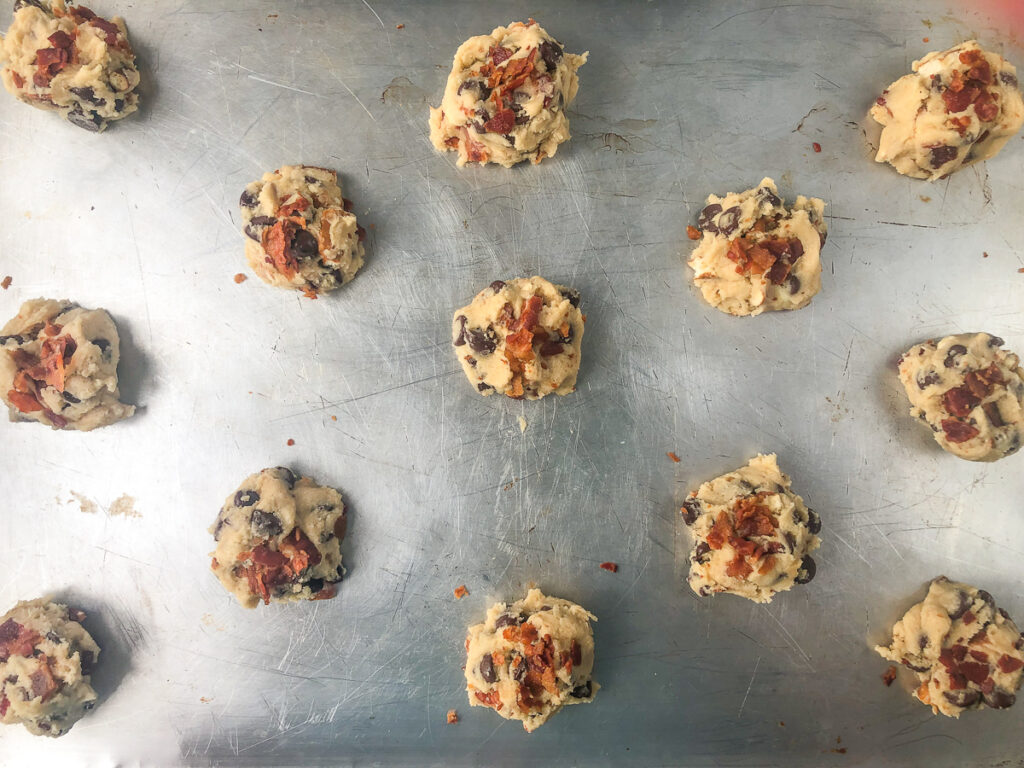 Step 6: Bake for about 10-12 minutes until the edges are golden brown. I like to place two trays in at a time and switch them half way through.
Step 7: Let cool completely before eating. (Please scroll down to view and print the recipe card.)
As you can see they are lovely and delicious looking and I may never make them again because they are so good!
Recipe Notes
If you want more pretzels/crunch in your cookie add a bit more pretzels. I think the ½ cup of bacon is plenty but if you want more bacon go for it.
I would just make sure to add a few bits to the top of each cookie to make sure each cookie has some bacon in it.
And that my friends is my bacon pretzel chocolate chip cookie recipe. I have a cookie exchange coming up in a week or so. So wish me luck! Enjoy! (And thank you Gayle for sharing your recipe! I still can't make them as pretty as you do.)
UPDATE: I did take this to my cookie exchange and I won a prize!
Try these other sweet recipes for holiday gifts.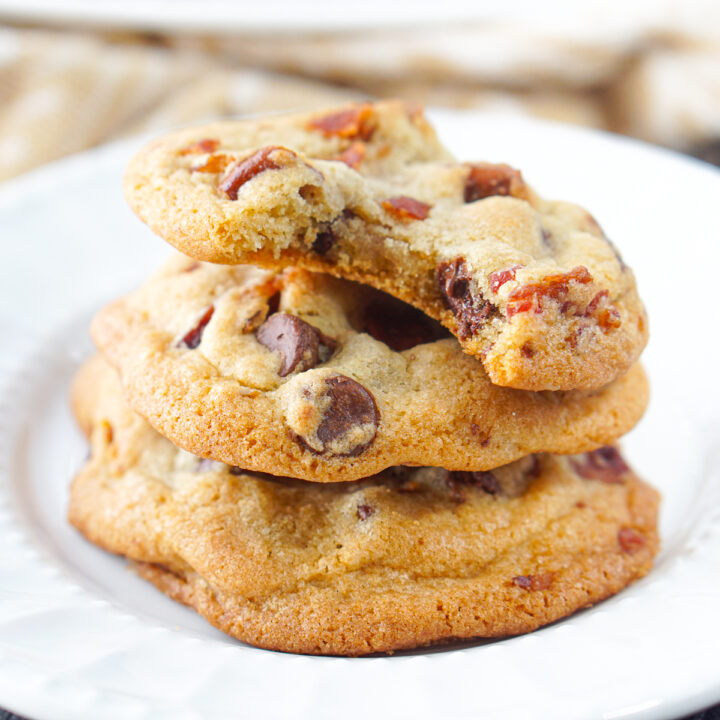 Bacon Pretzel Chocolate Chip Cookies
This bacon pretzel chocolate chip cookies recipe will blow the mind of any chocolate chip cookie lover. Grab a glass of milk and enjoy the addition of bacon and pretzels to this classic cookie recipe.
Ingredients
2 ¼ cups all purpose flour
1 teaspoon baking soda
1 teaspoon salt
½ cup unsalted butter
½ cup butter flavored Crisco
¾ granulated white sugar
¾ cup brown sugar, packed
1 teaspoon vanilla extract
2 large eggs, room temperature
2 cups semisweet chocolate chips
½ cup pretzels pieces, add more if you want them crunchier
½ cup cooked bacon broken into pieces
Instructions
Preheat oven to 375°F.
In a medium bowl mix flour, salt and baking soda and set aside.
With your mixer cream butter and Crisco in a large mixer bowl. Then add the sugar, brown sugar, eggs and vanilla extract and beat until creamy.
Slowly add your flour mixture until everything is well combined. May have to scrap down the sides to get everything mixed.
Take your bowl out of the mixer and add your chips and pretzels and stir by hand to incorporate.
Add ½ of the bacon bits and fold into mixture.
Place your cookies on a cookie sheet (not greased) and add few bacon bits on top of each cookie.
Bake for 10-12 minutes depending on the size of your cookies.
Check for doneness and desired color.
Let cool and server or store in an airtight container.
Can also freeze for a later date.
Nutrition Information:
Yield:

48
Serving Size:

1 grams
Amount Per Serving:
Unsaturated Fat:

0g