These healthy keto granola cookies are full of healthy ingredients like seeds, coconut and sugar free chocolate chips. They are super tasty and perfect for satisfying your sweet tooth in a healthy way. These crunchy sugar free cookies are low carb, gluten free and sugar free with just 0.9g net carbs per cookie!
You might also like these keto cream cheese brownie cookies!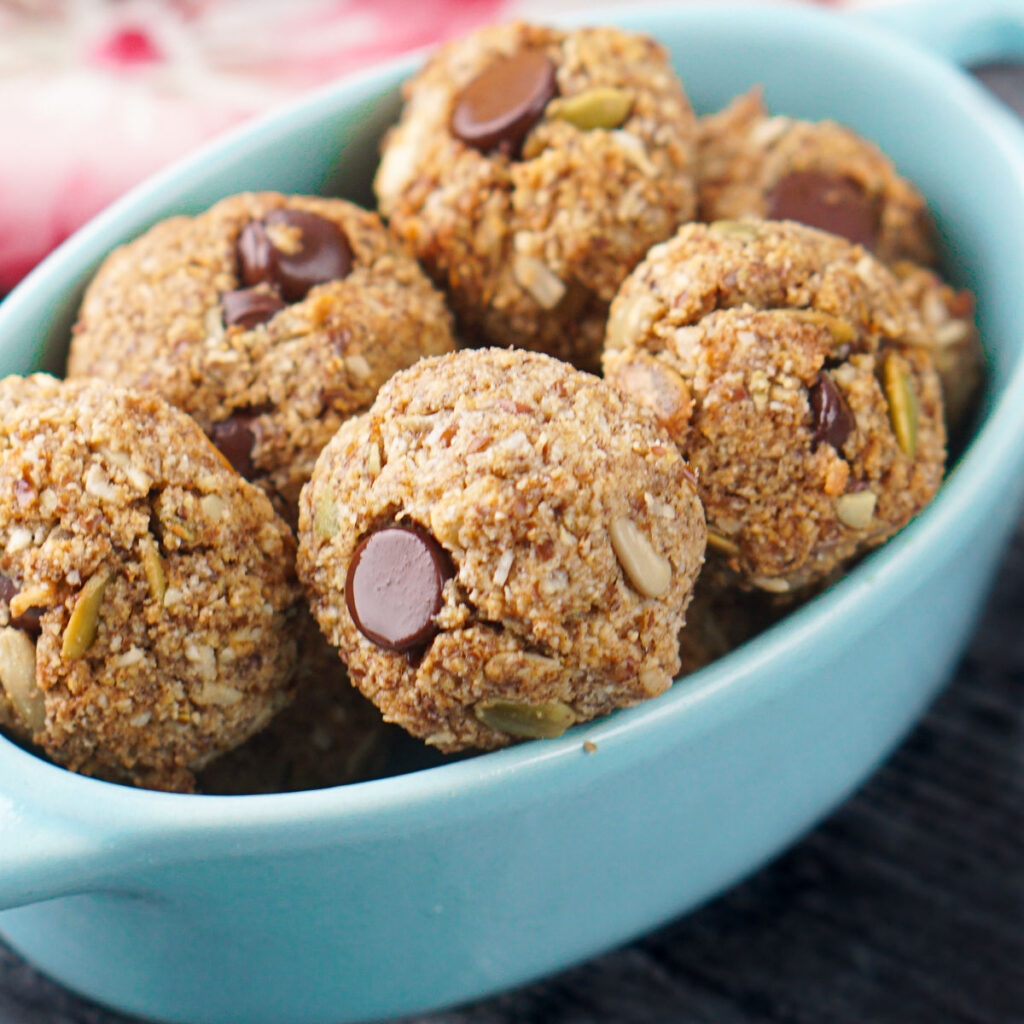 I'm always in the mood for a cookie but lately I've been trying to clean up my diet. I decided to make these healthy keto granola cookies and now I'm hooked on this yummy snack!
This chewy cookie is full of healthy ingredients like sunflower and pumpkins seeds, flaxseed, dark chocolate, cinnamon and more. They taste like crunchy granola rolled into a cookie ball!
These healthy low carb cookies are really filling and tasty. Even my husband liked them not knowing (but probably suspecting) that they were sugar free, low carb and gluten free! The net carb count for each cookie is just 0.9g!
I got the idea for this keto cookie from a book by Dr. Eric Berg called The Healthy Keto Plan. On a side note this book was really interesting. If you are on a keto diet for health reasons or even for losing weight you should check it out.
Recipe ingredients I used.
While there are quite a few healthy ingredients in these cookies, but they are simple ingredients to find.
I used almond flour, golden flax seed, shredded coconut, coconut oil, egg, vanilla extract, stevia, salt, baking soda, Swerve brown sugar sweetener, raw pumpkin and sunflower seeds, cinnamon and keto friendly chocolate chips (Lily's chocolate chips).
Note that I used raw pumpkin seeds which are the green kernels of white pumpkin seeds. They are sometimes referred to as pepitas. You could also use hemp seeds in this recipe or even nuts like pecans, almonds or walnuts.
Also I used coconut oil but you can use butter if you prefer. I wanted the health benefits of coconut oil.
I love Swerve brown sugar substitute but you could also use Lakanto golden or other brown sweetener. Or you can use your favorite sweetener but the brown sugar flavor really adds the the low carb cookie.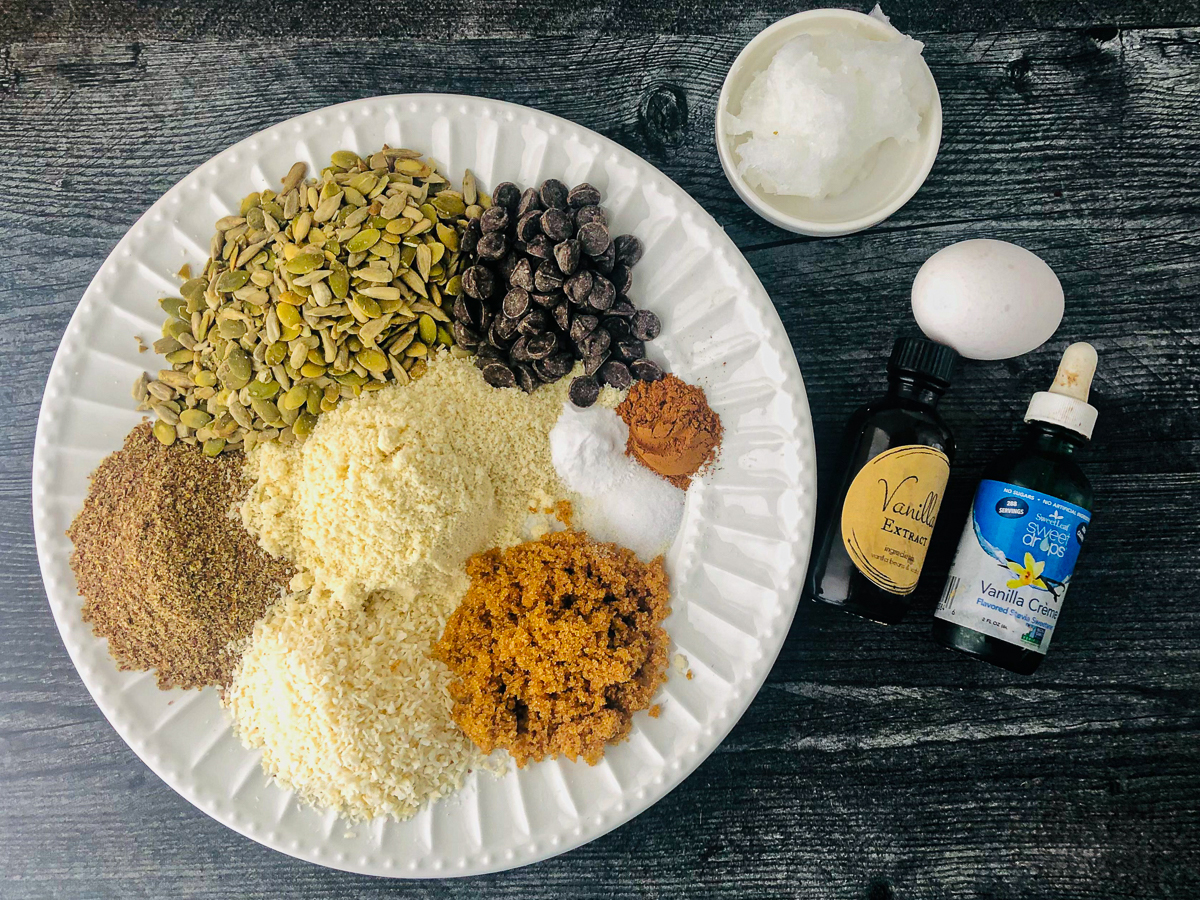 How to make healthy keto granola cookies.
Step 1: Preheat the oven to 325°F and cover a baking sheet with parchment paper or a silicone mat.
Step 2: In a large mixing bowl add all the dry ingredients and mix well. The brown sugar likes to clump so make sure it's mixed in well.
Step 3: Add a beaten egg, melted coconut oil, vanilla extract and liquid stevia. No need for a separate bowl. Mix well to form your batter. It might seem a bit dry but keep mixing until it gets sticky. If you have to, add a tablespoon of water to make it stickier.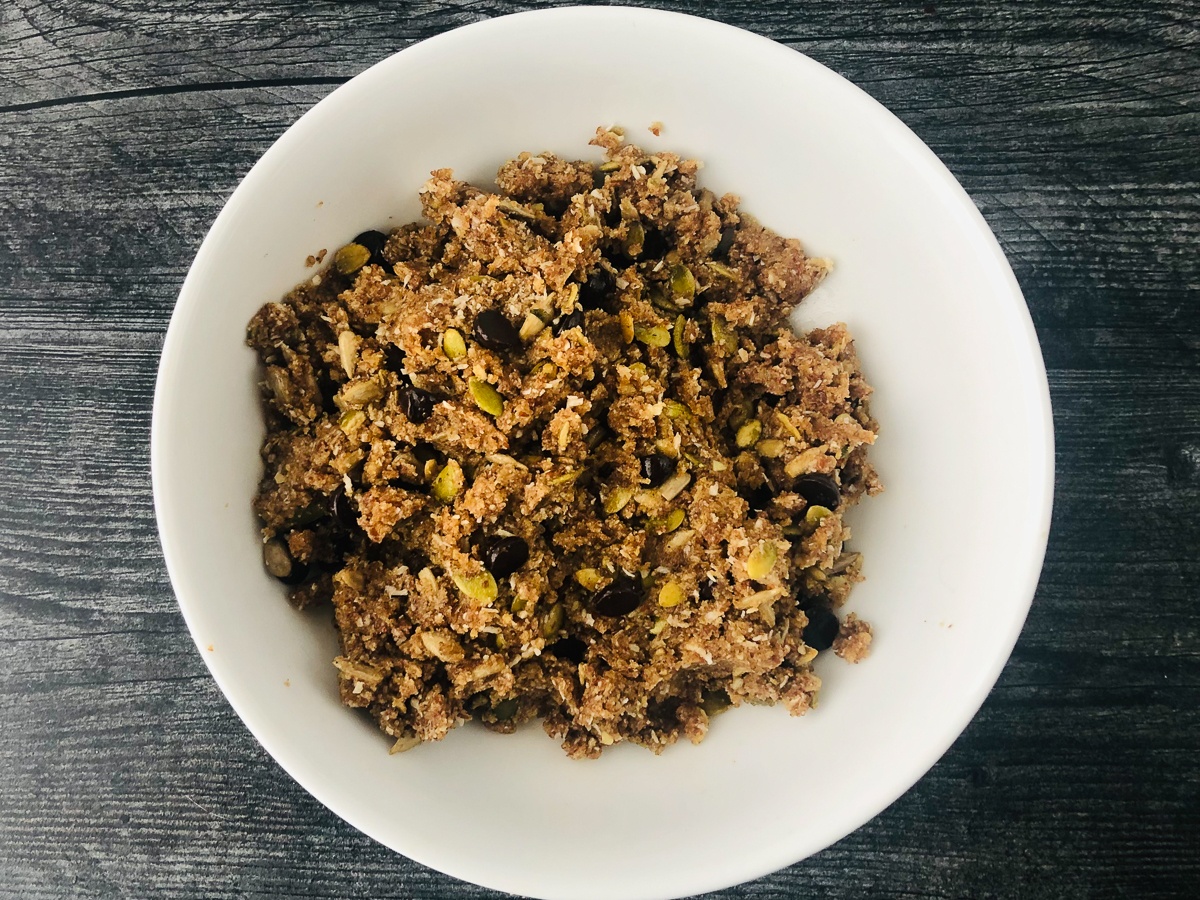 Step 4: Roll the cookies into 1 tablespoon size cookie dough balls. The dough has a bit of a crumbly texture but if you use your hands you can make them stick together. Place on the prepared baking sheet. They will not spread so you can fit all of them on the baking sheet.
You could probably make keto granola bars with this recipe but I have not tried it yet.
Step 5: Place the cookie sheet into the preheated oven and bake for 12-15 minutes golden brown. Let them cool completely before eating so that they firm up even more.
Store them in an air tight container or baggie. (Please scroll down to view the printable recipe card.)
This batch made 24 cookies and let me tell you they are filling. They have a crunchy and chewy texture and are sweet but not too sweet.
You could easily eat a couple of these for a healthy low carb breakfast on the go if you wanted. Or a healthy afternoon snack.
I store them in the freezer and grab 1 or 2 after dinner for a sweet keto treat and they totally satisfy me. This is a great recipe and the perfect snack for anyone on a keto or low carb diet.
Other healthy granola recipes to try.
I really like granola and so these cookies were right up my alley. Here are a few of my mostly keto friendly granola recipes to try.
And you want more keto recipes for cookies I have quite a few. This keto chocolate chip cookie recipe is awesome!
So if you are looking for a sweet keto treat give this recipe a try. It's one of my favorite recipes. And if you are looking for an informative and interesting diet book, check out Dr. Eric Berg's The Healthy Keto Plan.
The nutritional information for 1 cookie is 82 calories / 7.4g fat / 2.8g carbs / 1.9g fiber / 2.2g protein = 0.9g net carbs
Healthy Keto Granola Cookies Recipe
This healthy keto granola cookies recipe is full of healthy ingredients and are perfect for a keto sweet treat. Tastes like a granola rolled into a cookie ball! An easy, healthy, sugar free and gluten free cookie recipe.
Ingredients
1 cup almond flour
¼ cup flaxseed
¼ cup unsweetened coconut, shredded
½ teaspoon salt
½ teaspoon baking soda
¼ cup Swerve brown sugar sweetener
¼ cup raw sunflower seeds
¼ cup raw pumpkin seeds (pepitas - the kernels)
1 teaspoon ground cinnamon
¼ cup coconut oil, melted
1 egg, beaten
½ teaspoon vanilla extract
¼ teaspoon SweetLeaf vanilla cream stevia, liquid
72 Lily's mini dark chocolate baking chips (approximately ¼ cup)
Instructions
Preheat oven to 325°F and cover a baking sheet with parchment paper or a silicone mat.
In a large mixing bowl add all of the dry ingredinets (except chocolate chips). Make sure the brown sugar is mixed well with the other ingredients as it tends to clump.
Next add in all the rest of the ingredients (the wet ingredients) except the chocolate chips. Mix well until the liquids are absorbed by the dry ingredients and forms a cookie dough. Then fold in the chocolate chips.
Using a tablespoon of the dough and make a ball shape and place on the cookie sheet. These will not spread so you an fit all the cookies on the baking tray.
Bake for 15 minutes until they start to brown on top. Let them cool completely before removing from the tray.
Notes
The nutritional information for 1 of these keto cookies is 82 calories / 7.4g fat / 2.8g carbs / 1.9g fiber / 2.2g protein = 0.9g net carbs
Nutrition Information:
Yield:

24
Serving Size:

1 cookie
Amount Per Serving:
Calories:

82