This cinnamon pumpkin granola is both gluten free and Paleo. A delicious, healthy snack, topping or breakfast cereal.
I love granola. It's sweet, it's crunchy and there are a lot of different ways you can change it up. Lately I've been making my husband low carb breakfasts and my pina colada granola went really fast. He ate it as a cereal in the morning with almond milk. Well since it is the season for all things pumpkin (and because pumpkin is so good for you) I've made him this cinnamon pumpkin granola. It's slightly sweet but it's made with nuts, seeds, pumpkin and coconut. No oatmeal. It's pretty low carb as well as Paleo and gluten free.
Cinnamon Pumpkin Granola Recipe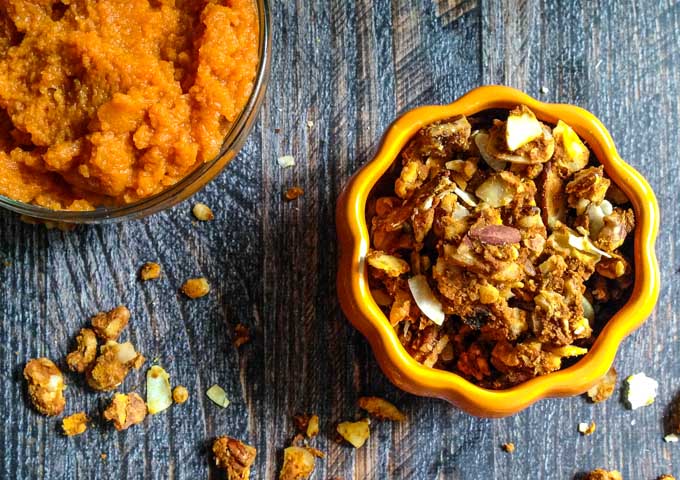 Granola isn't hard to make and when you make it yourself you can vary the ingredients and spices to make it your own. For this recipe I used a combination of raw nuts and seeds along with coconut flakes, pumpkin puree and cinnamon. It's not overly sweet but you can always add your favorite dried fruit such as golden raisins, apricots, cranberries, etc. I just didn't add them because I was keeping the carb count lower.
You make this granola, simply by mixing the sweetener (Swerve) into the pumpkin puree along with the vanilla, melted coconut oil and cinnamon. I used Swerve (affiliate link) because it has 0 net carbs, but if you want you can use coconut sugar, maple syrup or even honey. Mix these ingredients well and quickly coat the nuts, seeds and coconut. The coconut oil will start to harden as it cools. Spread it evenly on a parchment covered cookie sheet. It may take 2 cookie sheets. Bake at 200 degree F for 2 hours. You want the granola to be dried through.
As I mentioned above, my husband eats this as a cereal for breakfast. I have eaten it just as is for a snack and you could also eat it over yogurt or ice cream. And by the way, I just used cinnamon as my spice because I think I'm a bit sick of pumpkin spice. However it would also go great here. Just substitute a pumpkin spice blend for the cinnamon. I hope you enjoy this nutty, Paleo treat as much as we did.
The nutritional information below is based on the ingredients that I used but it will vary depending on what combination of nuts and seeds you use. So the approximate nutrition for the granola without dried fruit and for 1 serving is:
286 cals / 49.4g fat / 15.7g carbs/ 10.2g fiber / 6.7g protein = 5.5g net carbs
Cinnamon Pumpkin Granola (gluten free, Paleo)
This cinnamon pumpkin granola is both gluten free and Paleo. A delicious, healthy snack, topping or breakfast cereal.
Total Time
2
hours
10
minutes
Ingredients
4

cups

nuts & seeds

I used almonds, pecans, walnuts, pumpkin seeds, sunflower seeds*

1

cup

coconut flakes

unsweetened

1

15oz

can pumpkin puree

just pumpkin

¼

cup

coconut oil

melted

¼

cup

Swerve sweetener

can use coconut sugar if Paleo

1

teaspoon

vanilla extract

1

teaspoon

cinnamon

1

cup

dried fruit

optional
Instructions
Preheat oven to 250 degrees.

In a large bowl add your coconut, nuts and seeds.

In a separate bowl, add your pumpkin puree, Swerve sweetener, coconut oil, vanilla and cinnamon.

Mix well.

Add pumpkin mixture to nuts and seeds and mix well to coat everything.

Spread nut mixture on a parchment lined cookie sheet. Make sure to spread evenly as best you can. You can use 2 cookie trays if you need to.

Bake for 2 hours, checking every once in awhile to see when it's done.

Granola should have no moisture to it.

Let cool and store in an airtight container.

Can be used as a breakfast cereal, a topping for yogurt or just snack on it as is.

*Note* I used 1 ¼ cup almonds, 1 ¼ cup pecans, ½ cup walnuts, ¼ cup sunflower seeds, ¼ cup pumpkin seeds)