The weather is getting colder so you need these 11 hearty & easy low carb soup recipes to keep you warm and satisfied. Everything from vegetable soups to creamy chicken soups and all are low carb and delicious!
You might also like all these other delicious soup recipes !
Nothing warms you up in the fall and winter than a steaming bowl of soup. However it has to be good soup and today I give 11 of my absolutely favorite low carb soup recipes!
My husband says I have a talent for making good soup. Humbly I have to agree because these soups are full of flavor even if you are not on a low carb or keto diet. There is everything from vegetable soup to creamy soups to spicy soups. Let's go check them out!
Low Carb Soup Tips
Since I've been making these low carb soup recipes for years, here are some of my tips to make a flavorful and delicious soup.
I love Better than Bouillon soup bases. They add SO MUCH flavor to soup and they come in a variety of flavors. I highly recommend buying this product.
Buy rotisserie chicken, clean off all the meat and freeze in a couple baggies. This meat is great for adding to soup towards the end since it's already cooked.
Take the bones from the rotisserie chicken, put them in a slow cooker with water, garlic, bay leaf, salt, pepper, etc and cook on low for 24 hours to large batch of chicken broth. Freeze in containers and defrost when making soup.
You can also check out this post about making chicken cubes in the Instant Pot for easy meal prep. Great for having on hand for soup.
A few of these recipes use cauliflower cream to make a soup creamy. It's essentially cooking cauliflower in water and pureeing it in the blender with seasonings to make a thick sauce.
You can add heavy cream and cheese for flavor without adding many carbs.
Use flavored sausages in your vegetable soups to add another layer of flavor.
Play around with herbs and spices to add lots of flavor without many calories or carbs.
Parmesan cheese is a good way to add a salty component as well as cheesy flavor to tomato soup based soups.
A high speed blender like a Vitamix will make a deliciously smooth and creamy pureed soup.
This low calorie and low carb vegetable soup is my super tasty version of that cabbage soup everyone makes. It's full of flavor, healthy vegetables and easy to freeze. Each serving has only 70 calories and 5.1g net carbs. I like to freeze small containers of this soup for a warming lunch or snack since it has such few calories.
This creamy sun dried tomato chicken soup is so rich and delicious. If you are looking for a very satisfying low carb or keto soup, you've got to try this one. Each serving is only 6.6g net carbs! This soup is a like a meal in a bowl. It's very decadent and you won't need to eat a lot to feel satiated.
This tasty low carb taco soup is great to have on hand when dieting. Easy to make in just 30 minutes and freezes great! Only 5.4g net carbs per serving. I make this all the time with whatever veggies I have on hand in the refrigerator or freezer along with ground beef. It's really delicious and easy.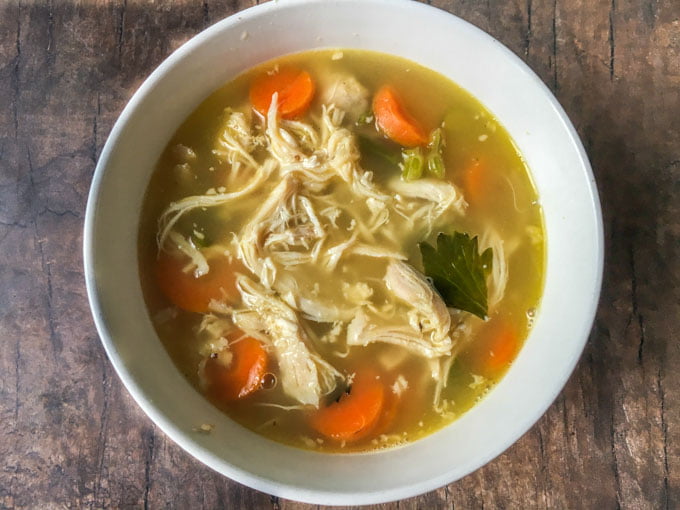 This chunky chicken soup in the Instant Pot is so full of flavor it is sure to be a family favorite. It's easy to make a big batch and then freeze for cold winter days. There is a regular and low carb version of this soup. The low carb version has only 2.9g net carbs and you won't miss the noodles. Honestly.
If you like stuffed banana peppers you will love this sausage & peppers soup! It's so easy to make and VERY flavorful. A tasty, warming low carb and Paleo soup. Only 5.3g net carbs per serving! This is one of those soups where the sausage adds so much flavor and it's very simple to make.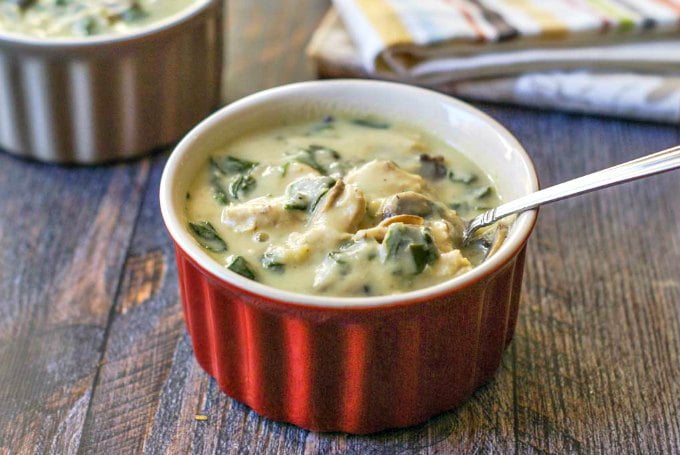 Try this delicious, low carb creamy chicken & spinach soup, that uses cauliflower cream sauce so it's dairy free, Paleo and keto too! Only 135 calories and 4.0g net carbs. This was such a popular recipe a few years back because it's so healthy too.
What do you make with those huge zucchini from the garden? Thai curry zucchini soup is a breeze in the Instant Pot and so very tasty! You can make it in the slow cooker too. Best of all you only need 5 ingredients to make this rich and flavorful low carb soup Only 5.9g net carbs per serving. This soup really is super easy to make and really flavorful.
This easy shredded beef chili in the Instant Pot recipe is not only super tasty but very versatile. Eat like you would a bowl of chili or use for quesadillas or burritos. Also tastes great over rice or cauliflower rice. Only 7.1g net carbs and you can also make it in the slow cooker. While this is really a chili and not a soup, it's so good and hearty that I think you can easily eat this as a meal.
This low carb creamy broccoli cauliflower soup can be made quickly in the Instant Pot. Cheesy and creamy, this low carb soup is full of flavor and a bowl has only 4.7g carbs per bowl. While this might not be pretty to look at, it is very tasty!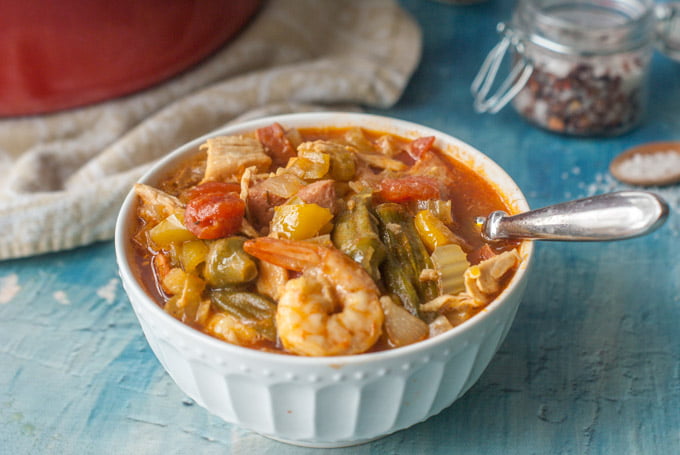 This low carb Jambalaya soup is a delicious combination of shrimp, chicken, sausage and vegetables in a spicy tomato based broth. Eat as is for a low carb, Paleo soup or over rice for a tasty meal. Only 6.2g net carbs per serving. This soup, like the chili above, is definitely a meal in and of itself.
This delicious creamy pumpkin soup gets it's creaminess from a cauliflower puree and pumpkin. The sausage and kale make for a delicious, low carb comforting soup. Only 6.4g net carbs or 7g net carbs if using butter and cauliflower cream. This is an oldie but goodie. Perfect for fall!
Using an Instant Pot or Slow Cooker to make soup
Some of the recipes above are done in the slow cooker or Instant Pot but that doesn't mean you have to use them. You can easily make these soup recipes on the stove if you don't have one these devices.
Well I hope you give a few of these a try. Whether or not you follow a low carb diet, I think you will love these low carb soup recipes. Soup is a very healthy and satisfying dish that everyone loves and once you make a few easy recipes like these, you will be able to make your own effortlessly.
Add a salad or crusty bread and you have a meal! Enjoy.