This easy shredded beef chili recipe is so easy in the Instant Pot. It's very versatile. You can eat it like you would a bowl of chili or use for quesadillas or burritos. This low carb chili recipe doesn't use beans and tastes great on white rice or cauliflower rice. It only has 7.1g net carbs and you can also make it in the slow cooker too.
You might also love this low carb Mexican meatloaf!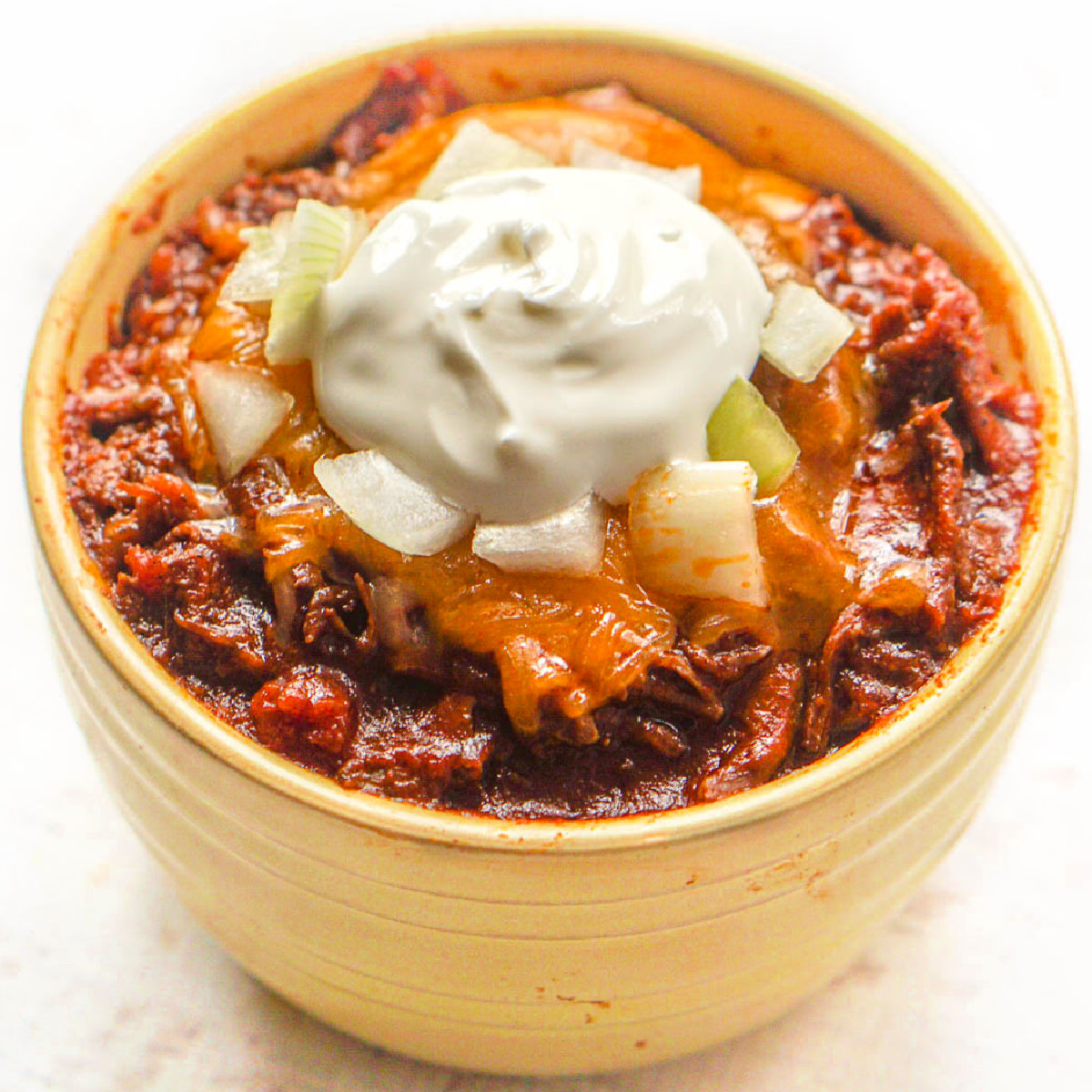 I've had this low carb recipe in my head for quite awhile and finally decided to give it a try. This easy shredded beef chili was super easy to make in the Instant Pot but you can also make it in the slow cooker.
Pressure cooking makes the beef very tender and when mixed with the spices it has tons of flavor. When eaten as a bowl of chili it is super tasty and very meaty but doesn't have any beans. 
However if you miss the beans I even have a low carb recommendation for that. Scroll down to learn more.It's low carb and you can it over cauliflower rice or use in a burrito or quesadilla if you are not on a low carb diet.
What kind of beef to use in this low carb chili.
In my regular chili recipe I use ground beef but since this is a shredded beef version I wanted to use a roast. Specifically a boneless beef chuck roast because it's very easy to shred and the fat content adds to the flavor.
Recipe ingredients I used.
The simple ingredients I used were a homemade spice rub, olive oil, chuck roast, bell peppers, yellow onion, ancho powder, crushed tomatoes and tomato paste.
The spice rub consisted of ground cumin, chili powder, cinnamon, salt, paprika, garlic powder and onion powder.
What is ancho powder and can I substitute?
I used the ancho chili powder because my husband made it and it is delicious! You can see it pictured below. I realize that most people don't have this so here is what you can do to substitute.
You could go to a Mexican store and find dry ancho chiles and grind them into a powder. Or they might even have the ancho chili powder there.
You can look for fresh poblano peppers (when dried they are called anchos) and use that instead of the bell peppers listed in the recipe. Walmart often carries them.
You can just omit it from the recipe if you want. It will still taste delicious.
What if I want to use beans and keep this low carb?
Beans as you may know are very high in carbs so they are not recommended for a low carb diet. However you can use black soy beans in this recipe if you want to keep it low carb but miss the beans. They look and taste similar to black beans. 
They have only 1g net carbs in a half cup. So if you want to add beans use soy beans like I have pictured above and adjust the carb count accordingly. I would use the whole can in this recipe.
Of course if you don't care about carbs you can add a can of black beans or kidney beans when you add the rest of the ingredients after sear the meat.
How to make Instant Pot shredded beef chili.
Step 1: Get out the Instant Pot and choose the saute setting. Adjust the heat to high heat.
Step 2: Make the spice rub by adding all the spices to a little mixing bowl and mix together. Then rub the spices all over the chuck roast.
Below you can see how I rubbed the spices all over the roast. However to speed up the process you could cut it up into big chunks first and then rub the spices in. This will make it cook quicker.
Step 3: Add the oil and let it heat for a minute or two then add the roast (or large chunks) in and sear for about 5 minutes on both sides. Then hit the cancel button.
Step 4: Take out the roast and set aside. Add the rest of the ingredients and mix in the pot to get the brown bits off the bottom if there are any. Then add back the roast.
Step 5: Secure the lid and turn the pressure valve to the back. Hit the manual button and set it for 50 minutes. When cooking time is up, let the pressure come down naturally before opening it up.
Step 6: Shredd the beef with two forks. Try to do a good job of making small pieces so it's easier to eat as a chili. 
Store leftovers in an airtight container. Please scroll down to view the printable recipe card.
How to make this in the slow cooker.
To make this low carb shredded beef chili in the slow cooker you want to basically do everything the same.
Mix the spices together and rub all over the roast. If you want to cut the roast up into very large chunks you can, then use the spices.
Heat up a large skillet to medium high heat and add the oil. Place the roast (or chunks) down and sear for about 3-5 minutes per side.
Place the seared meat into the slow cooker along with the rest of the ingredients and cook on low all day for about 6-8 hours until the meat is tender.
Low carb toppings and ways to eat this dish.
You can top this dish with sour cream, shredded cheddar cheese or even a little diced white onions. In small amounts all of these toppings are pretty low carb.
You can also add more heat with hot pepper flakes, hot sauce or cayenne pepper.
I like to eat this chili as is or over cauliflower rice as a low carb option. However my family doesn't care about carbs and eats it over white rice. Sometimes they like to eat it over macaroni.
Because the is so meaty and thick you can also use it in quesadillas or burritos.
I hope you enjoy this easy shredded beef chili in the Instant Pot as much as we did. This recipe makes a lot but as I mentioned above it's very versatile. You could probably make this and freeze half of it for another meal.
The nutritional information for 1 serving is: 354cals / 19.3g fat / 9.9g carbs / 2.8g fiber / 37.7g protein = 7.1g net carbs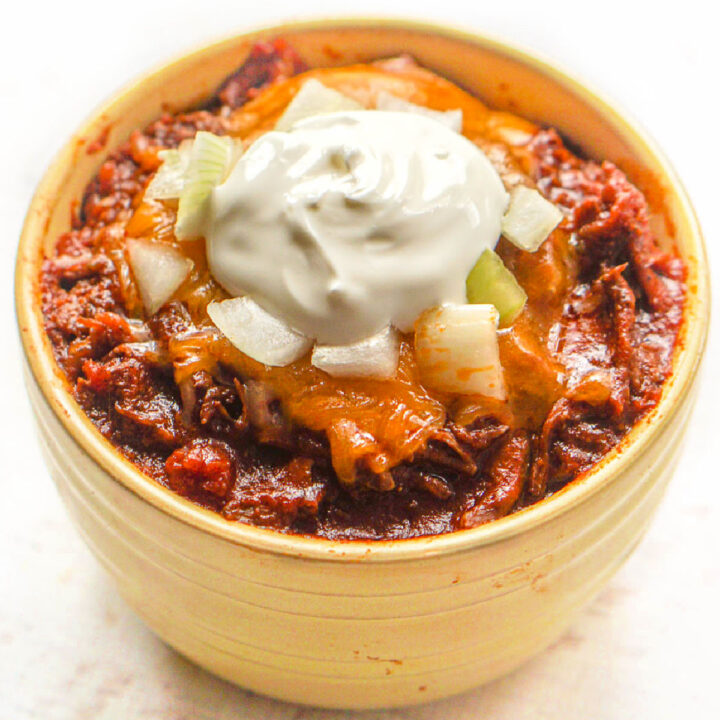 Easy Shredded Beef Chili in the Instant Pot or Slow Cooker
Total Time:
1 hour
10 minutes
This easy shredded beef chili in the Instant Pot recipe is not only super tasty but very versatile. Eat like you would a bowl of chili or use for quesadillas or burritos. Also tastes great over rice or cauliflower rice. Only 7.1g net carbs. You can also make in the slow cooker
Ingredients
Mexican Spice Rub
2 tablespoons cumin
2 tablespoons chili powder
½ teaspoon cinnamon
2 teaspoons salt
1 tablespoon paprika
1 teaspoons garlic powder
1 teaspoon onion powder
Chili recipe
1 tablespoon olive oil
3 pounds chunk roast
1 cup water (or beef stock or beef broth)
1 cup bell peppers, chopped*
½ onion, chopped
1 teaspoon ancho Chile powder*
28 ounce can of crushed tomatoes
6 tablespoons tomato paste (or 1 small can)
Instructions
Chop the roast into big chunks and half of the spices into the meat.
Hit the saute button and adjust the heat to high. Brown the meat on all sides for about 10 minutes.
Cancel the sauteeing function and add the rest of the ingredients including the remaining spices into the pot. Mix well and then secure the lid. Push the pressure release button to the back and manually cook for 50 minutes.
Let the pressure come down naturally, then take off the lid and start shredding the beef with two forks. Try to do a good job of making small pieces so it's easier to eat as a chili.
*Notes* If you don't have ancho chili powder you can use a pobablano pepper instead of bell peppers in the recipe. If you don't have a poblano pepper you can eliminate the ancho chili pepper all together.
*To make in the Slow Cooker*. Chop the meat and season with half of the spices. Brown the pieces in the skillet and then add everything to a slow cooker. Cook on low all day then shredded the meat when it's soft and falling apart.
Nutrition Information:
Yield:

10
Serving Size:

1
Amount Per Serving:
Calories:

354
Unsaturated Fat:

0g
You might want to also check out my story for this post!