This chunky beef chili without beans is super easy in the Instant Pot but can also be made in the slow cooker. A great dish for those on a Paleo diet or for those who can't tolerate beans. Almost like a spicy Mexican stew, this no bean chili is an easy dinner idea the family will love.
You might also like this shredded beef chili or my Mom's turkey chili recipe!
I really love chili but I don't always love the beans. Actually they don't always love me and give me a stomachache … sometimes. Well recently I wasn't feeling the beans and decided to make this chunky beef chili without beans and make it in the Instant Pot.
The result was a thick, spicy stew-like beef chili that tastes great as is or even over a bowl of rice if you prefer.You could easily make this in the slow cooker too, if you don't have an Instant Pot. And while it's not what I consider low carb, it is lower than chili with beans.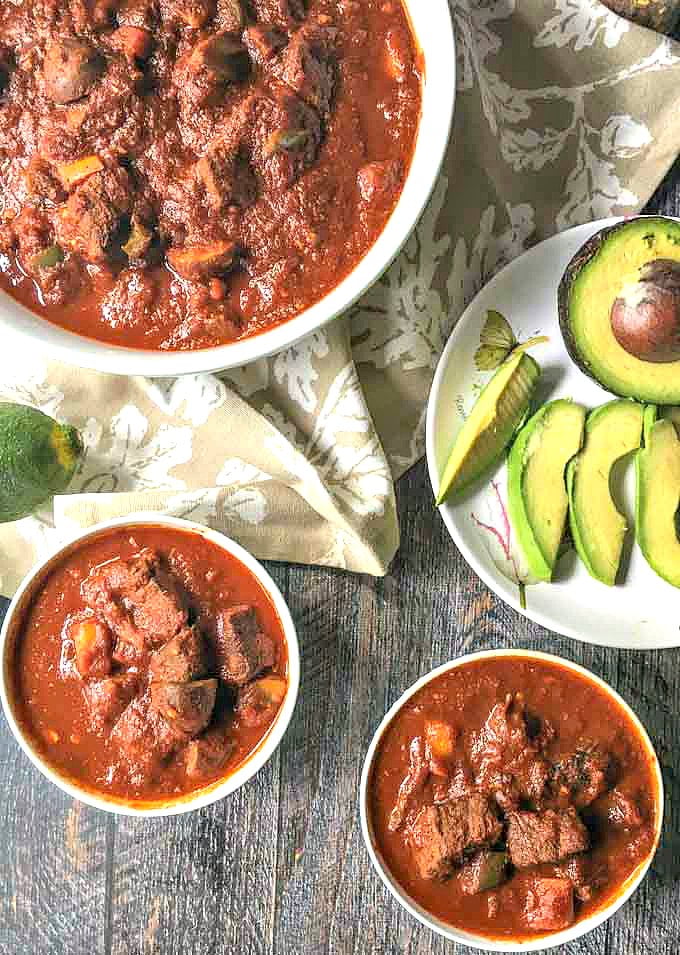 The nice thing about making this in the Instant Pot is that it was so easy and only took about an hour. I used mushrooms and lots of peppers to give it extra bulk. You could also try some sweet potatoes or other starchy veggie if you miss the beans, but we did not.
Tips For Making This Chili Without Beans
I guess some people never eat chili with beans but I grew up that way and hey Wendy's puts beans in their chili. Regardless here is how I maximized the flavor of this bean-less chili.
I used chopped portobello mushrooms to mimic both meat and beans. Portobellos are a pretty meaty vegetable and they add texture without many calories.
There are 2 lbs of chuck roast in this chili recipe. I usually only use a pound of beef but today I double the meat.
I've added a lot of flavor with all the spices in this recipe plus added onions and peppers and two kinds of tomato products. And let's not forget the Better than Bouillon that adds lots of flavor to both soups and stews.
Cooking the meat in the Instant Pot makes it nice and tender not to mention dinner is done in about an hour.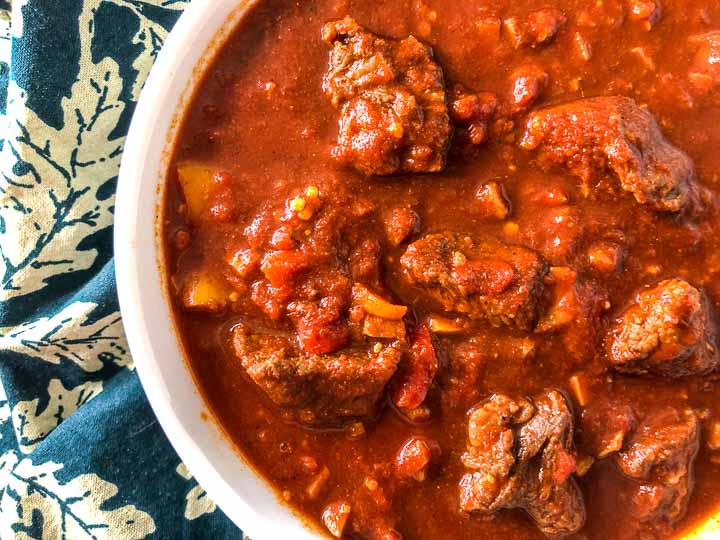 Let's Make Our Instant Pot No Bean Chili
To make this chili, start by browning the meat in the Instant Pot using the saute function. Add a little oil, heat it up and then add the beef, salt & pepper. Meanwhile mix the Better than Bouillon with water and pour over the meat once it's browned a little.
Hit the manual pressure button and cook for 2o minutes. This makes the meat melt in your mouth tender!
Then with a quick pressure release, you add in your veggies, tomato products and spices. As you can see above it doesn't look all that great but boy it's flavorful!
Mix well and pressure cook for 5 more minutes and that's it. In my opinion the Instant Pot is the way to go if your want that fall apart meat effect but don't have all day for a slow cooker.
Chunky Beef Chili Without Beans
Making This Chili In The Slow Cooker
To make this in the slow cooker you could brown the meat in a skillet and then add everything to the slow cooker, but you could also skip that step if you don't have the time.
Cook on low to get maximum flavor and for the meat to be tender. For my slow cooker this would be low temps for about 8 hours.
If You Want To Eat This With Beans
Just add your favorite beans at the end and let them cook for about 5 minutes with the saute function. We usually use black beans in our chili but for a low carb bean try Eden black soy beans. They are very low carb and perfect for dishes like this.
In the slow cooker you can add them at the beginning.
I ate this as is but my hubby and son ate it over rice which is how we usually eat our chili. However I was watching the carbs as usual. You can top with any toppings you normally use. We tried some avocado, sour cream, cheese and cilantro and it was delicious!
The nutritional information for 1 serving is:
444 cals / 17.8g fat / 18.7g carbs / 4.1g fiber / 48.6g protein = 14.7g net carbs

Chunky Beef Chili without Beans in the Instant Pot or Slow Cooker
Total Time:
1 hour
15 minutes
This chunky beef chili without beans is super easy in the Instant Pot but can also be made in the slow cooker. A great dish for those on a Paleo diet or for those who can't tolerate beans.
Ingredients
1 tablespoon of oil
2 lbs of beef chuck roast, cut into big cubes
salt and pepper to taste
1 tablespoon chili powder
2 tablespoons of cumin powder
1 tablespoon of paprika
1 cup water
2 teaspoons Better than Bouillon (beef or vegetable)
8 oz of baby portobello mushrooms, chopped
1 tablespoons of onion powder
6 oz can of tomato paste
1 cup sweet bell peppers, chopped
1 teaspoon of crushed garlic
14 oz crushed tomatoes (½ of 28oz can)
Instructions
Press the saute button on the Instant Pot and adjust heat to high.
Add oil to the pan and let heat up. Then add the meat and saute until browned.
Next mix the water and Better than Bouillon to make the broth and pour it into the pot. Secure the lid of the pot and turn the quick release button to the back to create pressure.
Press the manual button for 20 minutes. When finish, use the quick release method to release pressure.
Take off lid and add the rest of the ingredients and mix well.
Secure lid again and turn the quick release button to the back. Press manual button for 5 minutes.
Let the pressure come down naturally if you can.
To cook in the slow cooker, you can brown the meat on the stove and then set everything in the slow cooker. Mix well and cook on low for 8 hours.
Nutrition Information:
Yield:

6
Serving Size:

1 Servings
Amount Per Serving:
Calories:

444