My mom's turkey chili is more like a hearty stew and perfect over rice or macaroni. It's a recipe my mom always used to make and one that we still love today. Her chili uses both beans and meat and lots of flavorful spices.
You might also like this low carb chunky beef chili without beans.
I think I've mentioned this before but my mom was a really good cook. I never really thought about it much but I've noticed lately that a lot of my go to dinners are things she used to make for us, like this turkey chili.
Now I like all kinds of chili but this is the kind I am used to and that which I like the best. It's thick and hearty and you can eat it on it's own but it's not a soup like you find at Wendy's. And my mom always put beans in hers which to me is what chili is all about.
Some people don't like beans but it makes it more of a meal to me. We usually eat it over rice or just plain with cheddar cheese on top. My mom used to serve it over elbow macaroni because I think that is something that my brother liked??? (She always catered to my little brother, but now that I have a boy of my own, I get it. 😉 )
This Hearty Turkey Chili Freezes Well
This turkey chili recipe is a staple in my house. Max is not a big fan….he hasn't acquired a taste for any type of chili but I'm working on it. He at least ate it tonight.
My DH on the other hand LOVES my chili. I often make a big batch and freeze half so I can give it to him for dinner on those nights I don't have time to cook. So yes I can tell you it freezes well because I do it all the time.
You Can Also Use Ground Beef Instead Of Turkey
Actually my mom used ground beef, but once I tried ground turkey because that's all I had in the freezer and really liked it.
To me it doesn't really matter which you use because when making this chili, you add the seasonings to the meat while it's browning. That way the meat absorbs all the flavoring and to me, it's very difficult to tell the difference between the ground turkey or ground beef.
Mom's Turkey Chili Recipe
First you add a little olive oil to your pan and let it heat up.
Next you put in your onion and green pepper and sauté until they start to get soft. Add your meat and break it up into little pieces.
Just as it starts to brown, add your spices.
Once the meat is cooked you add your tomato products, water, beans and garlic. Now all you have to do is let it cook down a bit.
In the meantime you can make your macaroni or rice if you are having it and by the time it's done, the chili should be done.
Mom's Turkey Chili
Most of the time I eat this plain with just the cheese in hopes to keep the carb count lower, but my DH and son like it with rice. As I said earlier, it does freeze well and this makes a big batch so you can eat it for lunch the next day or freeze half for another meal. Hope you like it as much as we do!
Other Chili Recipes To Try
I really like chili so here are few more chili recipes to try if you like like I do.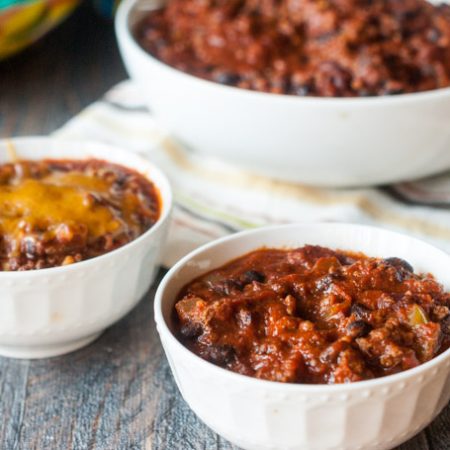 Mom's Turkey Chili
This chili is thick and hearty...more like a stew than a soup. You can eat it as is or on top of rice or macaroni. Enjoy!
Ingredients
1

lb

ground turkey or beef

1-2

Tablespoons

olive oil

½

large green pepper, diced

1

small onion, diced

1

Tablespoon

cumin

½

Tablespoon

chili powder

½

Tablespoon

paprika

1

teaspoon

salt

½

teaspoon

pepper

28oz

can crushed tomatoes

6oz

can tomato paste

1

can kidney beans

1

can black beans

6oz

water

1

teaspoon

crushed garlic
Instructions
First add your olive oil to a pot and let heat up. Add your onion and green pepper and cook until they start to soften.

Add your meat and as it starts to brown, add the cumin, chili powder, paprika, salt and pepper.

Mix well and continue to brown.

Lastly add your tomato products, beans and garlic. Make sure to drain and rinse the beans first.

After adding the tomato paste, fill the 6oz can with water and add to the pot.

Let cook over medium heat for 20 minutes to let the flavors meld.

Can be served as is, over rice or macaroni.

Enjoy!