This vegetable beef noodle soup recipe is made up of tender chunks of beef, vegetables, egg noodles all swimming in a super savory tomato broth. It's hearty and filling so you can eat this a light meal. This family friendly beef noodle soup will keep you warm on a cold winter night.
You might also like this healthy Instant Pot stew recipe.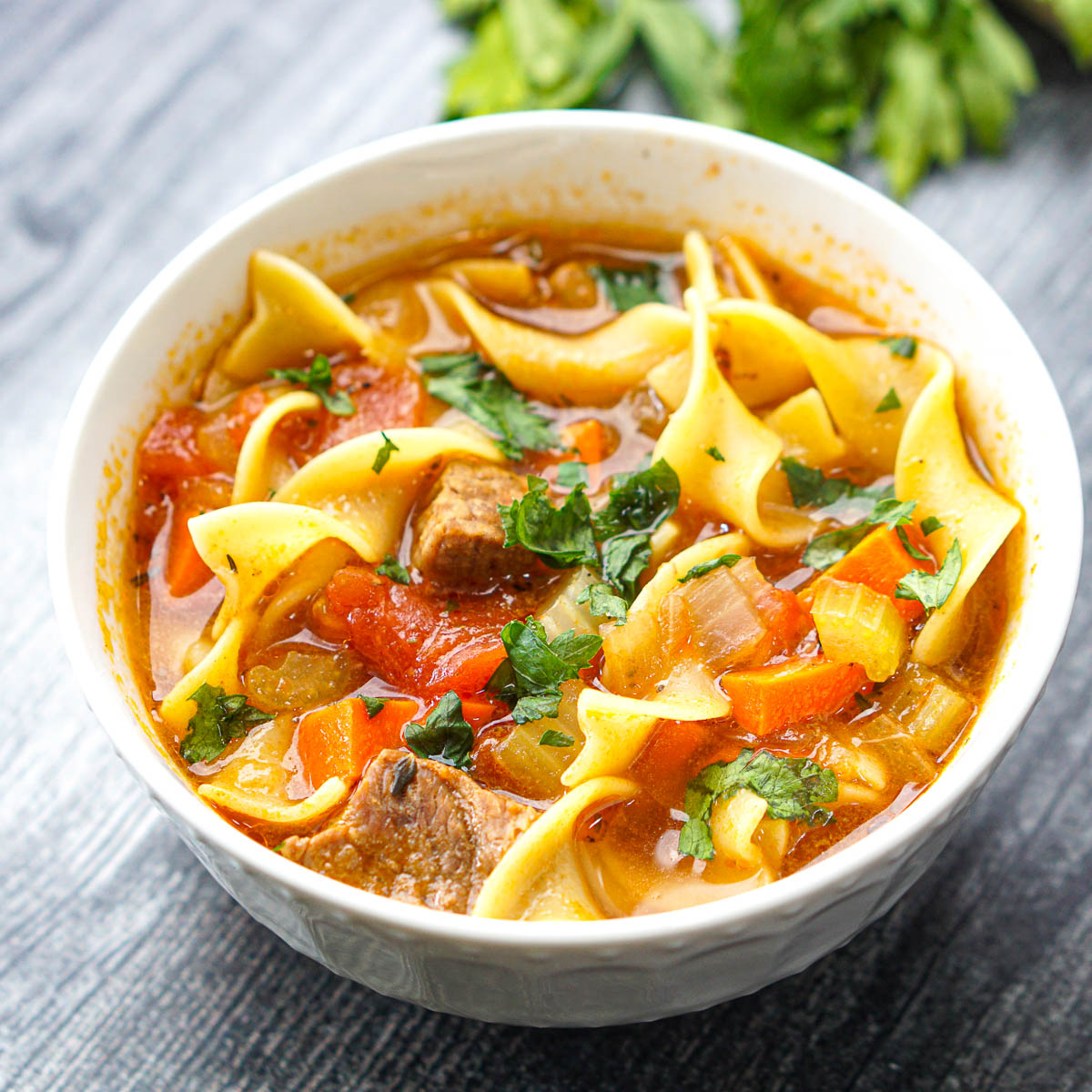 My family loves homemade soup so I make it quite a bit in the cold weather. Today I was in the mood for a beef vegetable soup but wanted some noodles to make it more like a meal so I came up with the vegetable beef noodle soup recipe.
It came out so good that I am definitely keep this one in the rotation. It's much like my beef barley that my hubby loves and my chicken noodle that my son loves.
Regardless it's full of tender bites of beef, noodles and veggies but the savory broth is really tasty on it's own. Nothing is worse that watery broth in my opinion. This is a family friendly dish that I think just about anyone would love.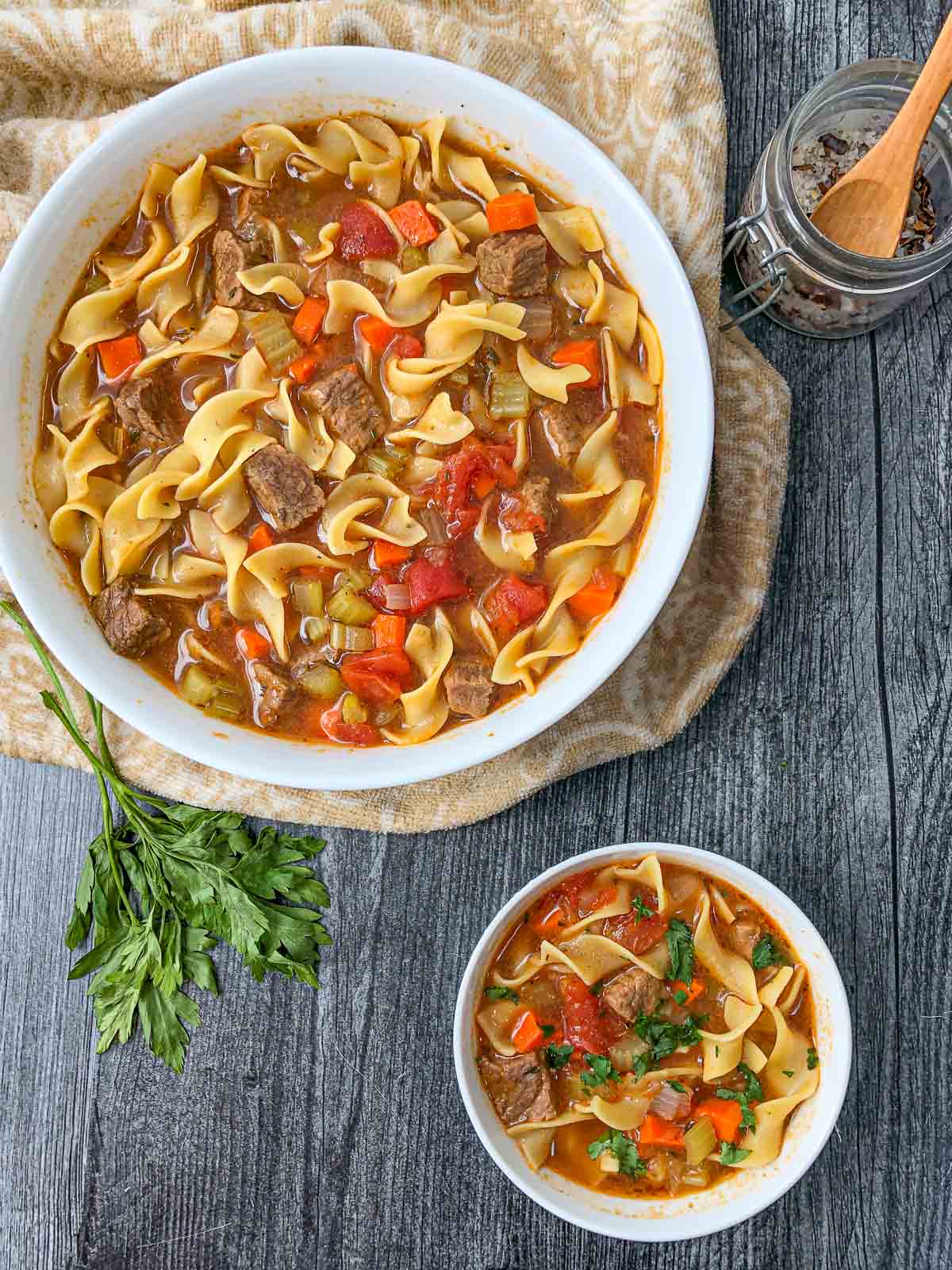 Recipe ingredients I used.
You can make this flavorful soup using simple ingredients like those pictured below. I used beef cubes, beef stock, olive oil, canned diced tomatoes, egg noodles, fresh garlic, dried thyme, salt, black pepper, celery, carrots and yellow onion.
For the bite sized pieces of beef I used a round steak that I cut into cubes. I often use stew meat too. You can use a chuck roast, eye of the round, London broil, etc.
Note since I cook the meat first, the leaner cuts of meat will take longer to get it nice and tender. If you want to cut back on time you can try using lean ground beef instead of the beef cubes.
While I prefer egg noodles in a beef soup like this, you can use any kind of pasta you want. Macaroni, orzo, ditalini, or any type of small pasta would work here.
And lastly you can use different vegetables if you prefer like green beans, mushrooms, peppers, corn, peas, etc. You can even use frozen veggies but I would keep the carrots, onions and celery as well though. I would keep the carrots, onions and celery as well though.
How to make vegetable beef noodle soup.
To me it's important that the meat is tender in a beef soup. To do this my method is to cook the meat first for quite some time so that it's pretty tender before making the soup.
Step 1: Get out a large soup pot or dutch oven, add the olive oil and heat to medium high heat. Once the oil is hot, add the beef cubes and diced onion. Turn the heat down and brown the meat a little.
Step 2: Once the meat has browned a bit, add water to the pot to just about cover the meat, bring it to simmer then cover and cook the meat until tender. This may take between 30-40 minutes.
Another method is to use the pressure cooker (Instant Pot). To learn how to pressure cook meat for soups check out this post and follow the directions for the meat only.
If you cut your meat into small pieces it will take less time. Make sure to check every once in awhile and make sure there is still some liquid in the pan. If not add a bit more so the meat doesn't burn.
Once the meat is fork tender it should look like the pan below.
Step 3: Add in the thyme, canned tomatoes, chopped vegetables, bring the mixture to a simmer then cover and cook for 15 minutes until the vegetables get tender. Taste the soup and season with more salt and pepper if you think it needs it.
Step 4: Take off the lid and add in the uncooked pasta and garlic. Mix well and cook for 5 minutes more until the noodles are cooked. Take off the stove and let cool before serving.
Garnish with some fresh parsley if you want. Please scroll down to view the printable recipe card.
Store leftover soup in an airtight container or freeze for another day. Note that as the soup sits in the refrigerator the noodles will absorb more of the broth. You could also add a bit more beef broth or beef stock if you want when you reheat it.
This is a very hearty soup and you can eat it as meal if you want. I would serve it with some crusty bread or a green salad for a light meal.
Other delicious and easy soup recipes to try.
My family loves to eat soup and I have over 40 different soup recipes on this blog. Here are a few of my favorite recipes. They all are packed with flavor and easy to make.
I hope you give this delicious and comforting soup a try. There is nothing like hot soup on a cold day. My family loved it and that always makes me happy. Plus it's a pretty easy dinner to make and there should be lots of leftovers for lunch the next day. Enjoy!
Vegetable Beef Noodle Soup Recipe
Total Time:
1 hour
10 minutes
These delicious vegetable beef noodle soup has it all - tender beef chunks, veggies, pasta and flavorful tomato based broth. This is a great soup for dinner kind of recipe as it's hearty and filling. Definitely a family friendly soup.
Ingredients
1 pound beef cut into small pieces (stew meat, round steak, etc)
1 tablespoon olive oil
½ teaspoon salt
½ teaspoon black pepper
½ onion, chopped
1 cup carrots, diced
1 cup celery, chopped
½ teaspoon dried thyme
4 cups beef broth or stock
14.5 ounces diced tomatoes
2 cloves garlic, crushed
2 cups egg noodles (uncooked)
Instructions
Get out a large soup pot and heat to medium high heat. Add the olive oil and when it's hot add the onion and beef cubes then turn the heat down to medium heat. Cook the beef for a few minutes to brown it, then add water to almost cover the beef. Bring it to a simmer then cover and cook for 30-40 minunutes until the beef is tender.
Next add the salt, pepper, thyme, celery, carrots, tomatoes and broth. Mix and bring to a simmer. Cover and cook for 15 minutes to cook the vegetables. Taste and add additional salt and pepper if you think it needs it.
Lastly add the uncooked egg noodles and crushed garlic. Mix well and cook for 5 minutes until the noodles are cooked through. Take off the heat and let rest for a few minutes to cool before serving.
Garnish with fresh parsley if you wish. Store leftovers in an airtight container or freeze for later. Note that the noodles will absorb the broth if it's in the refrigerator for a day or so. You can add extra broth if before reheating if that bothers you.