This smoked pork loin is marinated with a citrusy, green mojo sauce that you can also use as a marinade and a dipping sauce. This lean and inexpensive cut of meat is super easy to make on a smoker and you can whip up the marinade and dipping sauce in 5 minutes. This is a also a naturally low carb dinner and smoke flavor of the pork goes perfect with the bright mojo sauce.
Try this popular keto stuffed pork tenderloin with mushroom sauce too!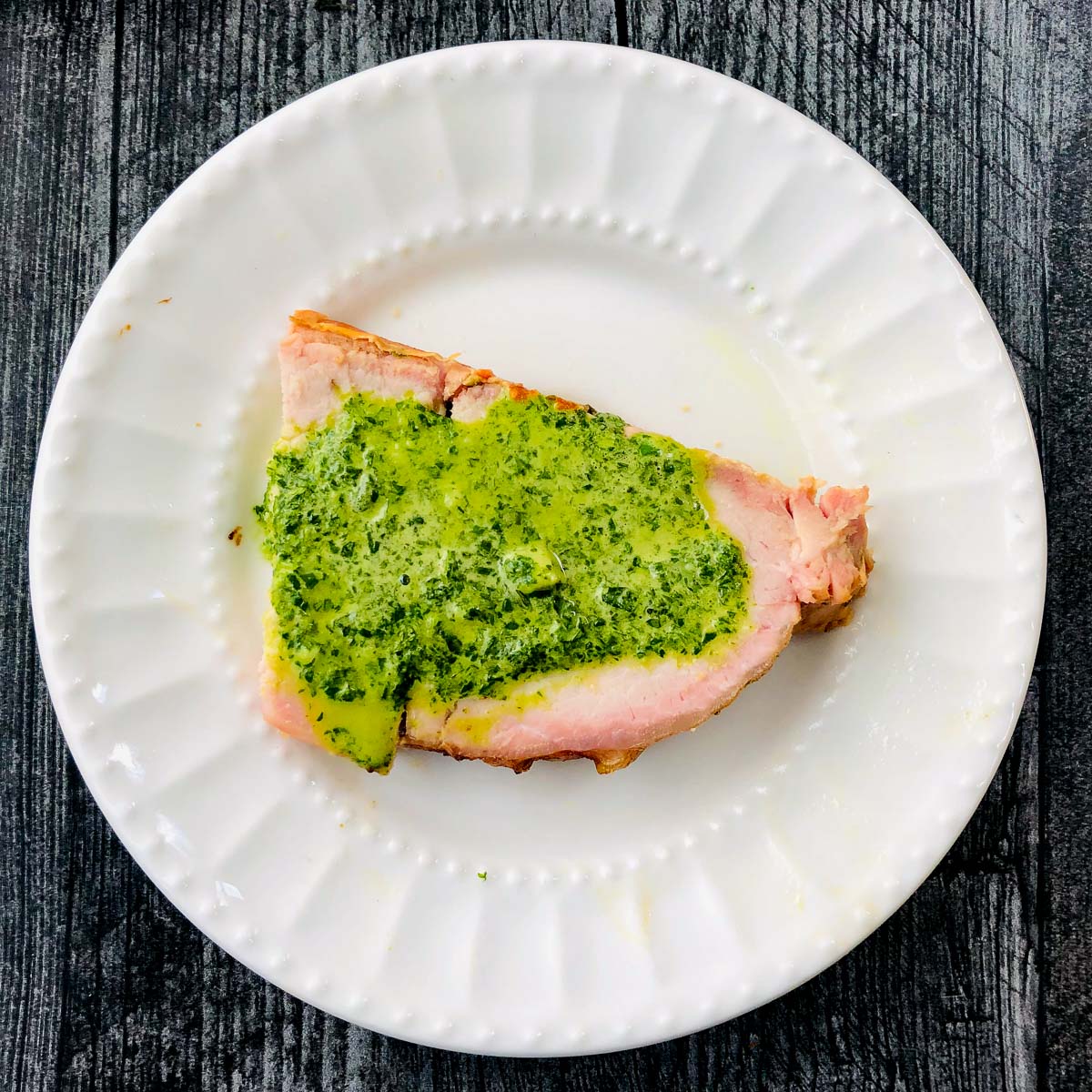 I always see these big and inexpensive pork loin roasts at Aldi but never know what to do with them. So today I thought I'd marinate the lean meat and got my husband to smoke it. It was delicious!
I marinated this smoked pork loin with a mojo sauce which has so much flavor on it's own. It is a combination of garlic, citrus juice and hot peppers and was the perfect dipping sauce to go with the smoky flavor of this lean pork roast.
Best of all this didn't take much time at all. Just about 2-3 hours on the smoker and 5 minutes for the sauce. It's a delicious recipe and a naturally low carb and low calorie dinner. It would be great to cook for a dinner party or crowd but I have some ideas for you to use the leftovers.
Recipe ingredients I used
Normally when we smoke a roast, we use a bunch of seasonings to make a rub or simply season with salt and black pepper. But today I wanted to use a marinade instead.
Below you can see the simple ingredients I used – boneless pork loin roast, fresh lime and orange juice, chili pepper, salt, fresh garlic cloves, sweetener (or white sugar), olive oil and fresh cilantro leaves.
For more citrus flavor you could also use lime zest or even the orange zest to the marinade or dipping sauce.
What is Mojo sauce?
Mojo sauce is a garlic and herb sauce that adds zest and spice to many dishes. I can be used as a marinade or as a condiment and there are many variations. You can use it with chicken, fish, pork, potatoes, etc. (learn more)
A green mojo sauce like I used today as a marinade and a condiment is usually made with olive oil, acids like vinegar or citrus (lemon, orange or lime juice), peppers or chiles, garlic and fresh herbs like cilantro or fresh parsley).
Sometimes spices like paprika, cumin, coriander and other spices are used. My simple green mojo sauce uses a red serrano chile pepper but more green mojo recipes would use green peppers like a jalapeno . However you can use whatever kind of chile pepper you want or even hot pepper flakes
The difference between pork loin and pork tenderloin cuts of meat.
Sometimes it's confusing with these two cuts of pork but they are different. The tenderloin is a more expensive cut of meat because it's like the filet mignon of pork. Also it is always boneless.
Pork loin is usually less expensive and can be boneless or bone-in. It is usually more dense and drier than the tenderloin. (Learn more.)
How to make a smoked pork loin roast.
Step 1: Prepare the pork loin the night before. First make the mojo sauce by adding the garlic, chili pepper and cilantro in a food processor. Blend until everything is finely chopped. Then add the juices, salt, olive oil and sugar and blend once more until combined.
Step 2: Slice the roast in a diagonal pattern going both ways to look like a diamond pattern. Do this on both sides but don't cut too deeply.
Place the piece of meat in a large baggie or in a marinating container and pour ½ of the mojo sauce over top. Save the rest in the refrigerator to use as a zesty topping for meat.
Make sure the marinade gets into the entire pork roast and then set into the refrigerator to marinate for 12-24 hours. I like to do it overnight.
Step 3: Take out the roast from the refrigerator about ½ hour before you are ready to cook. You want it to come to room temperature.
Place on the grill of the smoker with the fat cap on top. Set the smoker temperature to 225°F. You want to cook the pork until the internal temperature is 145°F when using a meat thermometer.
This took about 2 ½ hours for my 4 pound roast but cooking time my vary depending on the size of your roast.
Step 4: When the roast is almost done, heat a large skillet to high heat. Spray with nonstick cooking spray and then sear both sides of the roast for 1-2 minutes.
Step 5: Take it out of the pan and place on a platter. Place a piece of aluminum foil loosely over the platter and let it rest for 10-15 minutes then slice. Serve with the mojo dipping sauce alongside this juice pork. Or you can pour it over the roast.
Store leftovers in an airtight container in the refrigerator. (Please scroll down to view the printable recipe card.)
Keto meal ideas for using leftover pork roast.
The pork roast I used was rather large and so I have quite a few keto meal ideas for you to use is you have leftover pork. Try one of these keto pork recipes.
Make a keto Cuban sandwich with keto bread, ham, roasted, pork, Swiss cheese, pickles (use dill) and mustard.
Cut into strips and make an Chinese stir fry. Double or triple this simple Asian sauce and add your favorite steamed veggies.
Use in quesadillas and to keep it low carb use these awesome low carb tortillas.
Chop and add to this simple keto fried rice recipe (using cauliflower rice) or make egg roll in a bowl.
Thinly slice or chop the meat and heat up with a little low carb bbq sauce.
Other smoker recipes to try!
My husband has had many smokers over the years and today he used a pellet smoker. While this brined smoked salmon is a family favorite (we make it twice a month) you might also like these other smoker recipes.
Note that sometimes with the smoking process we used brines and sometimes we use a dry rub. Today was the first time that I marinated the pork.
Well I hope you give this smoked pork loin and the mojo sauce a try. Even if you don't smoke the roast you can still use the simple recipe for mojo sauce and you will love it! The sauce has amazing flavors on it's own.
The nutritional information for 1 tablespoon of mojo green sauce is 37 calories / 3.7g fat / 1.2g carbs / 0.1g protein = 1.2g net carbs
The nutritional information for 1 slice of marinated pork (based on 16 pieces of a 4lb roast and ½ of the mojo sauce as a marinade) is 277 calories / 15.3g fat /1.6g carbs / 0.1g fiber / 31.4g protein = 1.5g net carbs
Smoked Pork Loin with Mojo Sauce Recipe
Cook Time:
2 hours
30 minutes
For an easy and delcious keto dinner, try this smoked pork loin with a green mojo sauce and marinade. The bright citrus sauce is full of flavor and goes well with the smoke pork roast.
Ingredients
4 pound boneless pork loin
Mojo Sauce
1 cup fresh orange juice
1 cup fresh lime juice
4 garlic cloves
4 teaspoon sweetener or sugar
1 cup cilantro leaves
2 serrano chiles
⅔ cup olive oil
1 teaspoon salt
Instructions
Prepare the roast the night befor preferrably. Make the mojo sauce by adding the garlic, chile and cilantro to a food processor and pulse until finely chopped. Add in the juices, sweetener, salt and olive oil. Blend until well combined. Use ½ for the marinade and save half in the refrigerator for a dipping sauce.
Score the roast by slicing diagonally lines going both ways to make a diamond pattern. Do this on both sides of the meat. Make sure not to slice too deeply you just want to help the marinade absorb in the meat better. Place the meat into a large baggie or marinating container. Pour the mojo sauce and try to get all over the entire surface of the meat. Refrigerate overnight or at least 4-6 hours.
Take out the meat ½ hour before smoking it to come to room temperature. Set the smoker to 225°F and then place the meat fat side up on the grill. If you have a digital meat thermometer cook until the internal temperature is 145°F. Note smoking time may vary depending on the size of your piece of meat. Mine took about 2 ½ hours for 4 pounds.
Get out a large skillet and heat to high heat. Spray with nonstick cooking spray. Place the meat down and sear for 1 minute then flip and do the other side for 1 minutes. Take out and place on a platter. Let rest for 10-15 minutes then slice.
Serve with the remaining mojo sauce. Either pour over the roast or serve as a dipping sauce.
Notes
The nutritional information for 1 tablespoon of mojo sauce is 37 calories / 3.7g fat / 1.2g carbs / 0.1g protein = 1.2g net carbs
The nutritional information for 1 slice of marinated pork (based on 16 pieces of a 4lb roast and ½ of the mojo sauce as a marinade) is 277 calories / 15.3g fat /1.6g carbs / 0.1g fiber / 31.4g protein = 1.5g net carbs
Nutrition Information:
Yield:

16
Serving Size:

1
Amount Per Serving:
Calories:

217