If you have a smoker, you will have to try this very tasty smoked rib roast recipe. It's very simple and the end result is juicy and tender beef with a bit of smoky flavor mixed with herbs and spices. This smoked rib roast is naturally low carb and great for a Sunday dinner or special occasion.
You might also like this smoked leg of lamb recipe.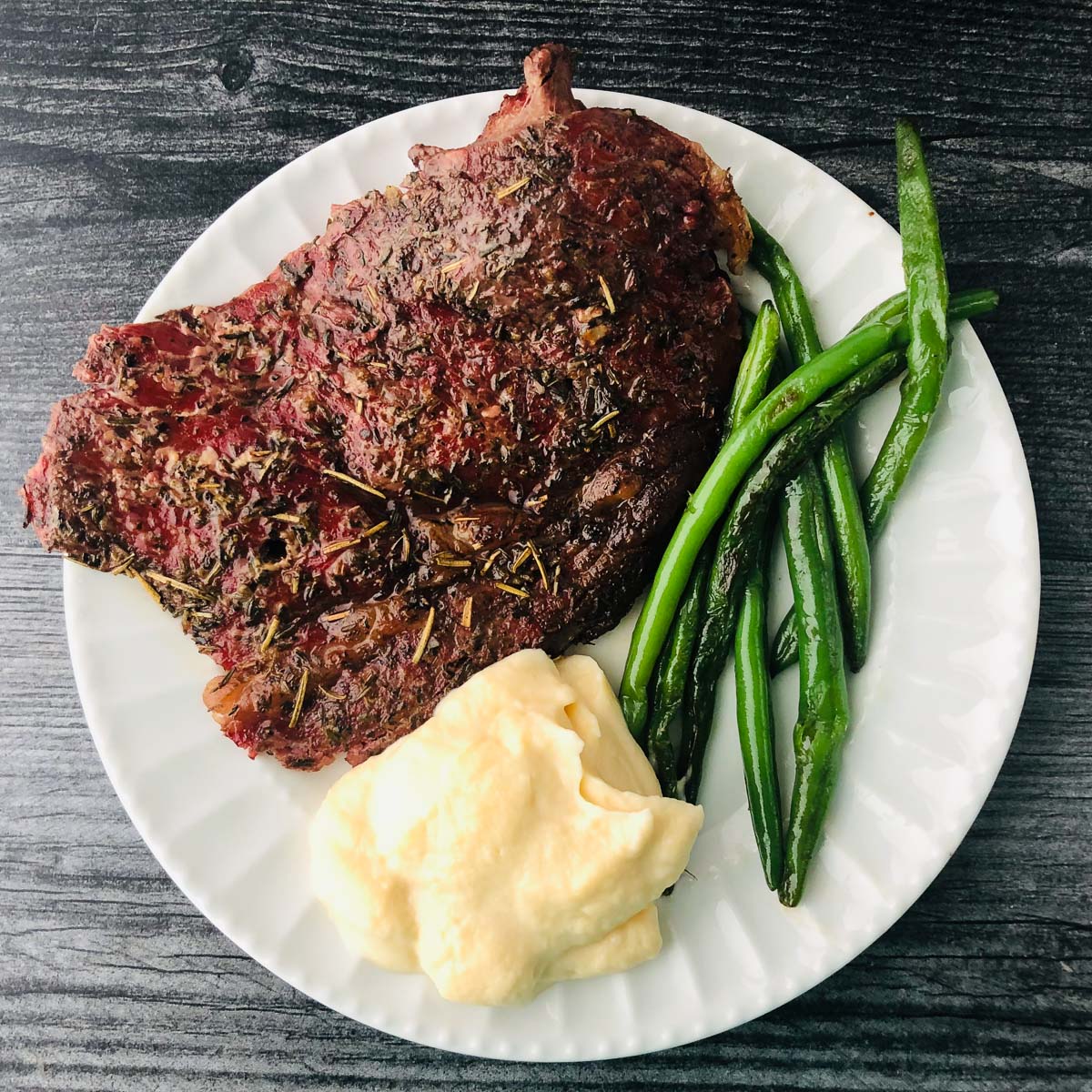 We recently got a new pellet smoker and oh the delicious things we have been making. When I saw rib roasts on sale at Aldi I new this keto smoked rib roast was going to be our next project.
It was very easy to make and the result was a juicy, tender beef roast with a smoky layer of flavor on the crusty outside. It was truly the most delicious meat and we paired it with low carb side dishes for a wonderful low carb dinner.
The smoker we used and other smoker recipes.
My hubby's new smoker is an electric wood pellet smoker which is a different type of smoker that his old propane gas smoker that used water and wood chunks and wood chips.
Unfortunately our old smoker died and it is what we used on many of the other recipes below. However what is nice about this new pellet smoker is that it was able to maintain a consistent temperature more accurately than the old one.
We've used a few different types and cuts of meat on our smoker and here a few easy smoker recipes to try:
Recipe ingredients I used.
I was able to find this 5 pound standing rib roast at Aldi on sale for Easter. When choosing a piece of meat look for lots of marbling with is the white flecks and streaks of fat within the meat. The marbling makes the meat softer and easier to chew as well as add lots of flavor. (learn more)
I also used a seasoning rub of salt, thyme, basil, oregano and rosemary with a little olive oil. You can also add some coarse ground pepper if you want.
The meat had rib bones with it but you can use a boneless roast if you want. Since you are gauging the doneness by the internal temperature it won't matter much.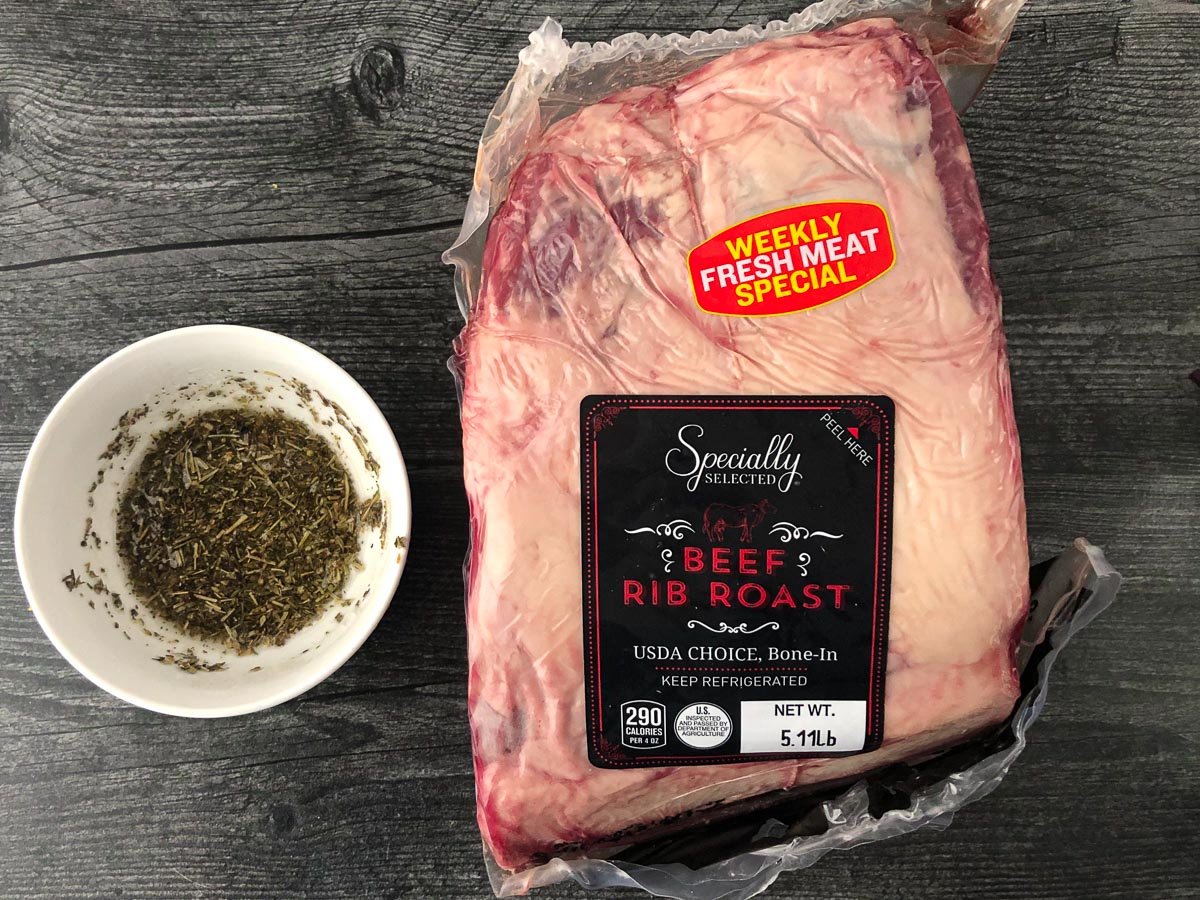 How to make a keto smoked prime rib roast.
This recipe took us about 3 ½ hours to cook. The rule of thumb is roughly 30 minutes per pound of meat at 250°F. If you watch the internal temperatures you will be sure to cook it properly.
I highly recommend a digital meat thermometer that have a probe you can keep in the meat will grilling or smoking so you can see the temperature without lifting the lid and letting some of the heat escape.
Step 1: Get out the roast and if there is any butchers twine or netting, you can cut that off and discard. Then in a small mixing bowl add the spices and oil. Mix the marinade well and then rub al over the entire roast. Place the piece of meat in a large ziplock bag and refrigerate over night or at least for a few hours.
Step 2: Take out the ribeye roast and let it come to room temperature if possible. This will help speed up the smoking process. Set your smoker to 250°F and place the roast with the bones down on the hot grill.
Step 3: Cook for about 3-4 hours until the internal temperature is 120°F using a meat thermometer. Note cooking times may vary.
Step 4: Then raise the temperature on the smoker to 450°F to reverse sear the roast. Do this until it reaches 130°F.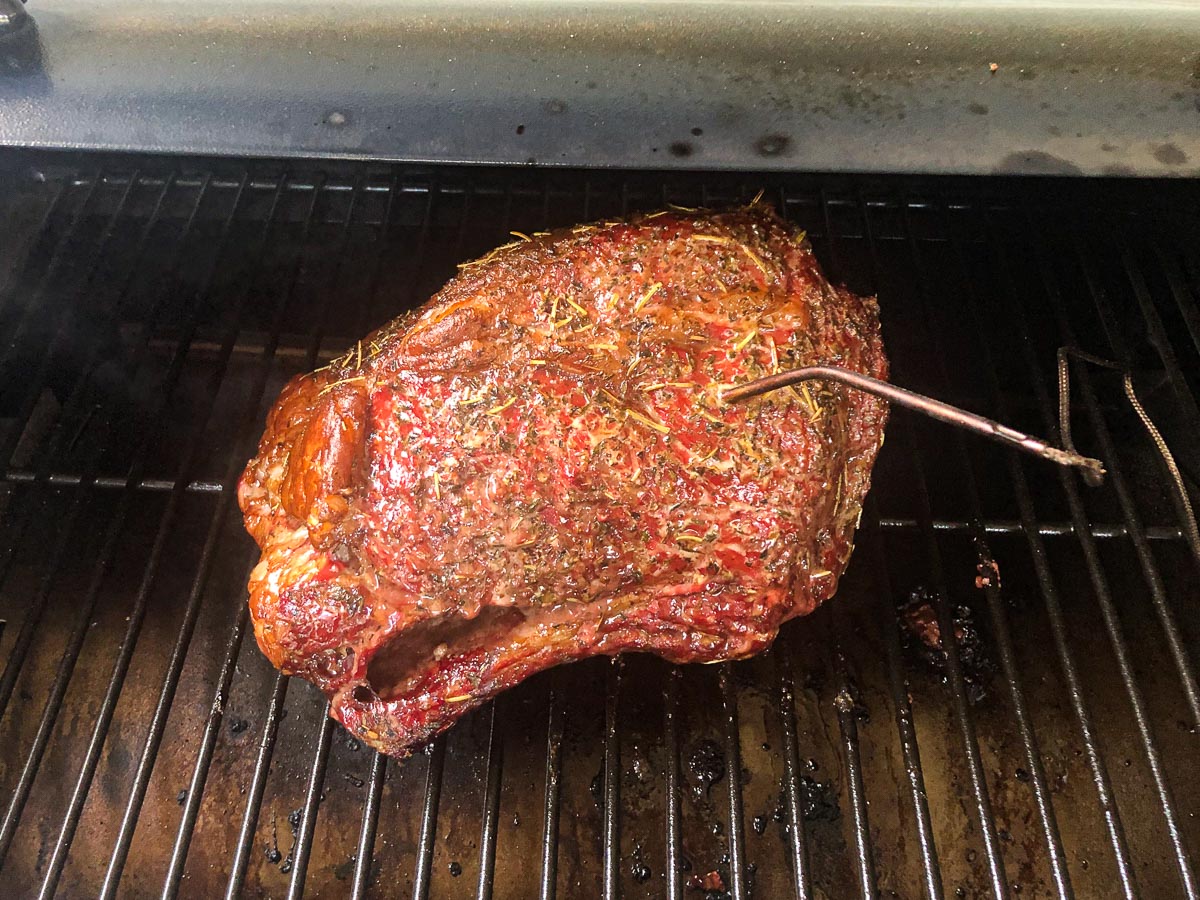 Step 5: Take off the smoker and let rest for 20-30 minutes or until the final temperature is 135°F. It will continue to cook after you take it off the smoker.
Slice and enjoy. If you have leftovers, slice the roast and store in an airtight container. This will make excellent sandwiches the next day. I have a delicious beet horseradish recipe that would go great with this.
Please scroll down to view the printable recipe card.
Keto side dished to serve with this rib roast.
Below you can see that I used a simple salted green beans and my cheddar keto cauliflower mash. Below are a few other keto side dishes that you might like as well.
We LOVED this smoked rib roast and can't wait to make it again. Of course we might have to wait until they are sale again but the wait will be worth it because the smoker gave the meat amazing! Enjoy!
By the way if you are wondering if there are any carbs in this recipe there are 0g net carbs per serving.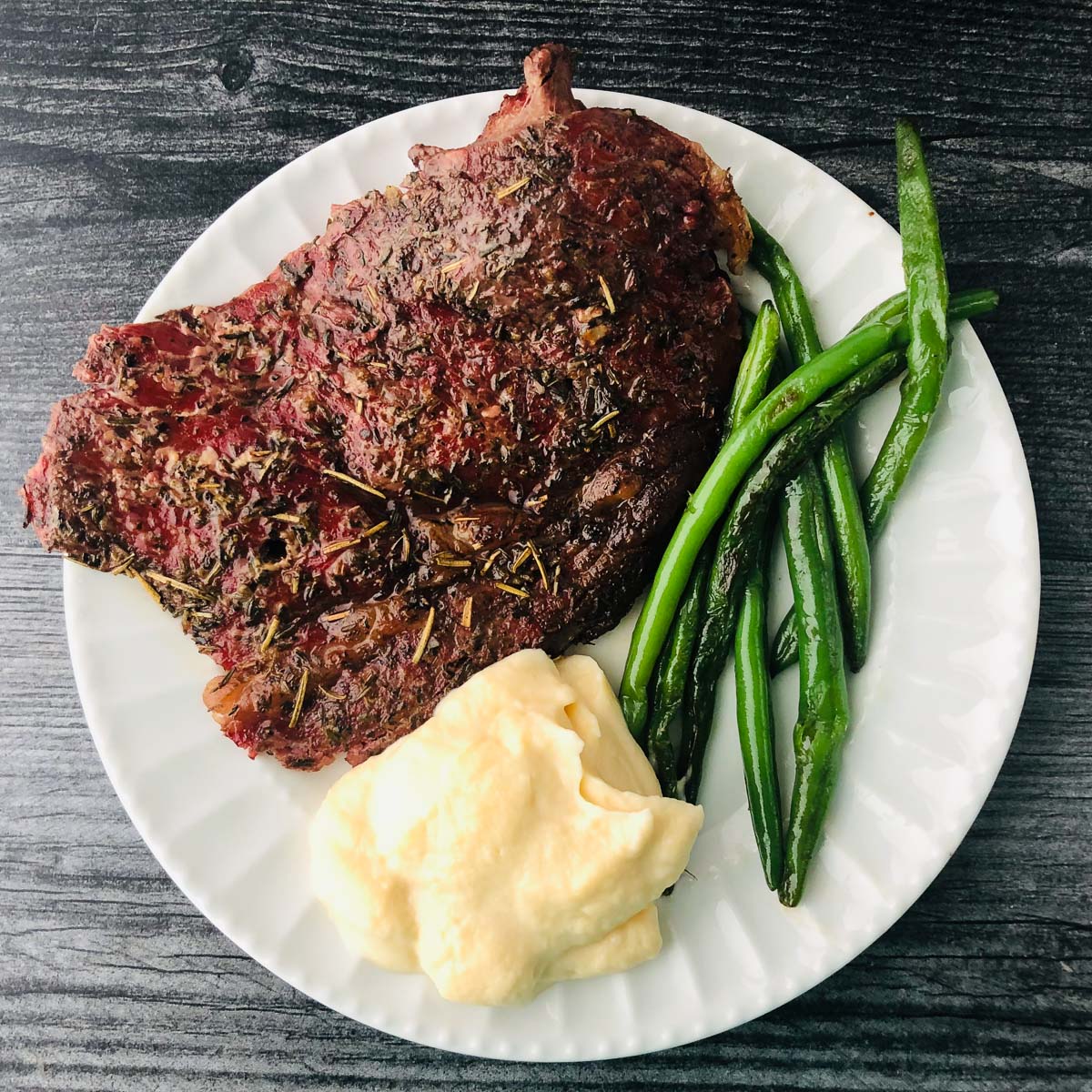 Easy Keto Smoked Rib Roast Recipe
Total Time:
4 hours
5 minutes
This easy keto smoked prime rib recipe makes for tender, juicy and flavorful beef. Just a couple of hours in the smoker and you get a mouth watering roast beef that would be perfect for a Sunday dinner or special occasion.
Ingredients
5 pound beef rib roast
2 teaspoons salt
1 teaspoon basil
1 teaspoon oregano
1 teaspoon thyme
1 teaspoon rosemary
1 tablespoon olive oil
Instructions
Prepare the rib roast by mixing the spices together with the olive and then rubbing the mixture over the entire surface of the prime rib. Place in a large ziplock bag and place in the refrigerator overnight if possible or for a few hours to marinate the roast.
Take out the seasoned rib roast and let come to room temperature and then place on the smoker grill. Set the heat to 250°F and cook until the internal temperature of the roast is 120°F. This will take around 3-4 hours. Rotate the roast half way through the cooking if possible. Note cooking times may vary. (I highly recommend using a digital thermometer that has a probe in the meat but sits outside the smoker. That way you can see the temperature without opening the smoker which will let some of the heat out.)
Turn the heat up on the smoker to 450°F to reverse sear the roast and cook until the internatl temperature is 130°F.
Take off the smoker and let rest for about 20-30 minutes or until the internal temperature is 135°F. This will give you a medium rare roast. If you want it more well done keep it on a bit longer or less timem for more rare.

Note the time per pound of meat is roughly 30 minutes when smoking at 250°F.
Nutrition Information:
Yield:

10
Serving Size:

1
Amount Per Serving:
Calories:

786
Total Fat:

63g
Saturated Fat:

25g
Trans Fat:

0g
Unsaturated Fat:

30g
Cholesterol:

188mg
Sodium:

566mg
Carbohydrates:

0g
Fiber:

0g
Sugar:

0g
Protein:

51g