If you are looking for an easy and tasty low carb snack, try making your own smoked beef jerky! With a simple spicy marinade and flank steak you can make a big batch of jerky that only has 0.4g net carbs per piece! This post is sponsored by the Certified Angus Beef ® brand in conjunction with a social media campaign through Sunday Supper LLC. All opinions are my own.
You might also like these low carb gyro meat crackers.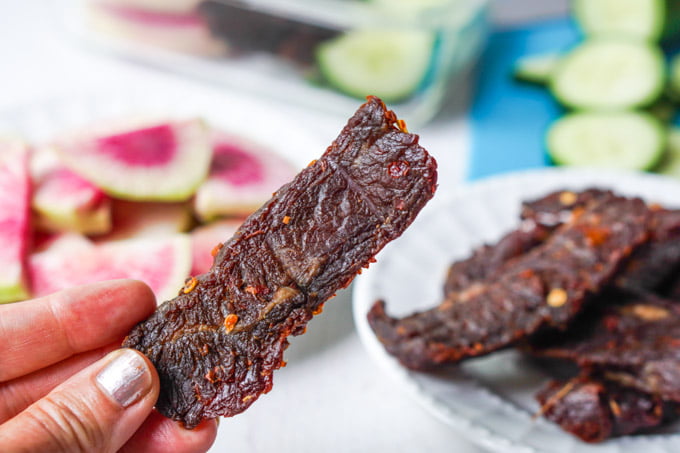 Growing up I was never one to eat beef jerky but now that I eat a low carb diet, it's one of my favorite keto snacks! It helps that there are SO many different brands and varieties out there however it can be rather expensive or hard to find. So why not make your own?!
Today I have for you a simple low carb smoked beef jerky recipe that is so easy, you many never buy jerky again. And if you don't have a smoker, I'll tell you how to make it in the oven. So let's get cooking!
What Type Of Beef To Use?
This is beef jerky so you have to start with a good quality piece of meat. And if you follow this blog you know I highly recommend that you use Certified Angus Beef®. I buy mine at Giant Eagle because they have the biggest selection in my area and I often stock up when they have it on sale.
Secondly you want to buy a lean piece of beef because the fat may spoil the jerky. A few different economical cuts that you can use are an eye of the round, bottom round, top round or sirloin tip. Flank steak is also a great cut for this recipe which is what I used and it turned out great!
How To Cut Meat For Beef Jerky
First thing you want to do is cut off any excess fat. If you are using those lean cuts of beef there should be very little but if there are large pieces cut it off. Next you want to cut the steak against the grain.
How to cut against the grain.
Just like grain in a piece of wood, on the flank steak you will see lines the muscle make and that is "the grain". To make the meat tender, cut against or perpendicular to those lines.
So if the lines or grain are going from east to west (left to right), you want to cut north to south (up and down) which is against it. Below the flank steak grain was going from left to right, so I cut the meat from top to bottom (see below).
TIP: To make it easier to cut, freeze the piece of meat for ½ hour so it will be easier to slice through.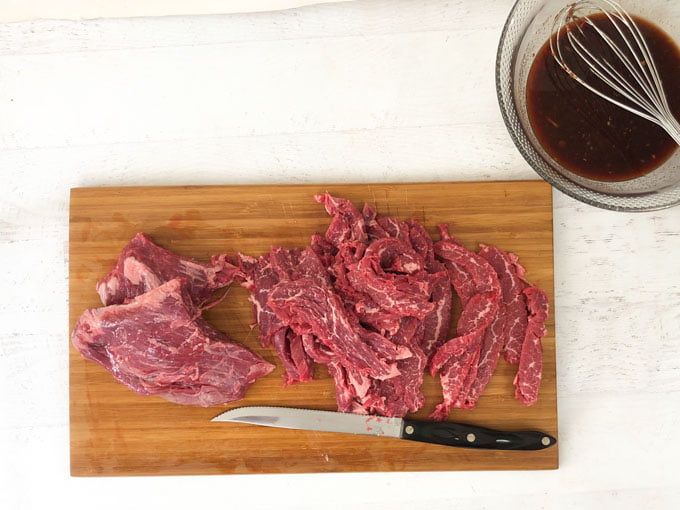 Low Carb Marinade Ingredients & Recipe
I made a good marinade that I've used on both chicken and salmon. There are only 4 ingredients in this marinade and they are soy sauce, grated raw ginger, chili garlic sauce and brown sugar sweetener. If you don't care about carbs, go ahead and use regular brown sugar.
Just whisk the ingredients together and set aside. Cut your beef against the grain into uniform pieces. The thinner you make them the quicker they will cook. I made mine roughly ¼″ thick.
Place the beef strips into a large baggie or marinating container and pour the marinade over them. Refrigerate over night.
The next day lay the strips on a pieces of paper towel and dab dry. Then place them on the grill racks of the smoker. Keep them evenly spaced and don't over crowd.
Make Beef Jerky In The Smoker
I have made many batches of this jerky and I want to let you know the times have varied for every batch. Our smoker has trouble getting down to a low temperature and I found it ended up around 200°F – 250° F. Thinner cuts of beef took only 2-3 hours and thicker cuts took up to 5 hours.
If your smoker goes lower, try to keep it around 170°F and smoke for 3-4 hours. Check it and see if it's done and if not keep it going and check every half hour. There are so many components that effect time that it's hard to be more specific.
Below I tell you how you know if it is done.
Make Beef Jerky In The Oven
Making beef jerky in the oven is much easier. Prepare the beef strips just like above and dab them dry. Then place on a foil lined cookie sheet. Place in a 170 °F oven for 4 – 5 hours. Check to see if done, and if not place back in oven and check every half hour.
How Do You Know When It's Done
Whether you make your beef jerky in the smoker or oven, here is how you can tell if it's done. First look to see if it looks like jerky. Is it dry and darker in color? Take a piece out and let it sit for 10 minutes. Bend it and see if it's fibrous and frayed like a piece of leather. if so it's done. If it breaks it is overdone. If it's not done, it will seem like a cooked piece of meat, not jerky.
Other Keto Or Low Carb Snacks To Go With Jerky
Below is a snack box I like to make sometimes. It's like a Thai beef salad! The jerky has an Asian flavor and the watermelon radishes and cucumbers are often in a Thai beef salad.
Because jerky is so dense, I like something with moisture like fresh veggies, olives, pickles or avocados. Of course cheeses of any sort are nice and berries (blueberries, strawberries, raspberries) go well with jerky.
Low Carb Smoked Beef Jerky Tips
Here are a few tips I've learned making this low carb beef jerky:
Use a good piece of lean meat (like Certified Angus Beef®). Cut off any excess fat before cooking.
Freeze your meat for about a half hour before cutting. It makes it so much easier to slice.
Cut against the grain and try to keep your pieces uniform so they all finish cooking at the same time.
Marinade over night and dab the excess off the next morning. The wetter the meat the longer it takes to cook.
No matter if you smoke at a higher temperature for a shorter time or a lower temperature for a longer time, constantly check the meat to see if it's done.
If your meat is thicker it will take longer to cook than if it's thinner.
Because the meat shrinks a lot, 1 lb of meat may produce only ½ pound of jerky.
Not matter if your meat cooks too longer or not … it's still delicious!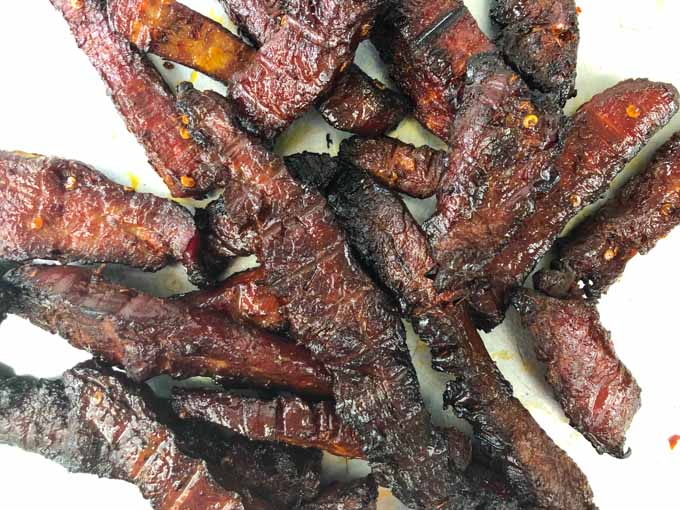 How To Store The Jerky
I like to keep mine in a baggie in the refrigerator. I've read where it can be kept refrigerated for a few months but to be honest it hasn't lasted a week in our house. We all love it so it goes fast.
If you made the dried jerky correctly, it will keep for two weeks in a sealed container at room temperature. However I recommend storing in the refrigerator to be on the safe side. Read more here.
Well I hope you love this low carb smoked beef jerky as much as my family did. We have made 3 batches in the last 2 weeks and goes quickly. My son especially loves it and if I don't hide it, it's gone by the next day! The nutritional information for 1 piece of jerky is:
66 cals / 2.6g fat / 0.4g carbs / 8.8g protein = 0.4g net carbs
By the way check out the Certified Angus Beef® Kitchen Facebook group to learn some great beef tips and recipes. It really helped me to make my first prime rib! For more information about Certified Angus Beef ® brand follow them on their Social Media Platforms: Facebook | Pinterest | Instagram | YouTube | Twitter #SteakHolder #BestAngusBeef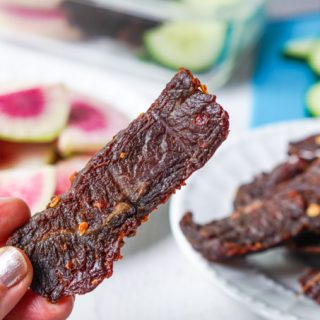 Make Your Own Smoked Beef Jerky – low carb snack!
If you are looking for an easy and tasty low carb snack, try making your own smoked beef jerky! With a simple spicy marinade and flank steak you can make a big batch of jerky that only has 0.4g net carbs per piece!
Total Time
6
hours
10
minutes
Ingredients
¾

cup

soy sauce

2

teaspoons

grated fresh ginger

⅓

cup

chili garlic sauce

¼

cup

brown sugar sweetener or regular brown sugar if not low carb

1 ½

lb

Certified Angus Beef® flank steak
Instructions
The night before, cut the flank steak into strips approximately ¼ inch thick. You can freeze the flank steak for a ½ hour before cutting to make it easier to slice.

Place the flank steak into a large ziplock bag or marinating container.

Whisk the rest of the ingredients and pour over the beef strips.

Place in the refrigerator over night.

The next day, lay your strips of beef on a few paper towels. Dab dry with another piece of paper towel to get rid of any excess moisture.

Prepare your smoker according to manufacturers instructions. Place the strips evenly right on the grill racks. Smoke for 4 -6 hours.

TIPS: If your strips are thicker they may take longer. Subsequently if they are thinner they may take less time. Start checking after 2 hours to make sure they don't burn.

To test them, take a piece out and set aside for 10 minutes.

You know they are done, when you can bend them and they look fiberous. If you bend them and they break they are too well done. You can still eat them but they will be dry.

When done, they should be pliable and like a piece of leather. Take a piece out and chew it to see. If it's not done, place back in the smoker and check often.