If you like crusty, morsels of smoked meat, you will love this low carb smoked chuck roast burnt ends recipe. Each piece of meat has a spicy layer of rich flavor that will make your mouth water. A serving is just 2.5g net carbs.
I might also like this smoked brisket recipe.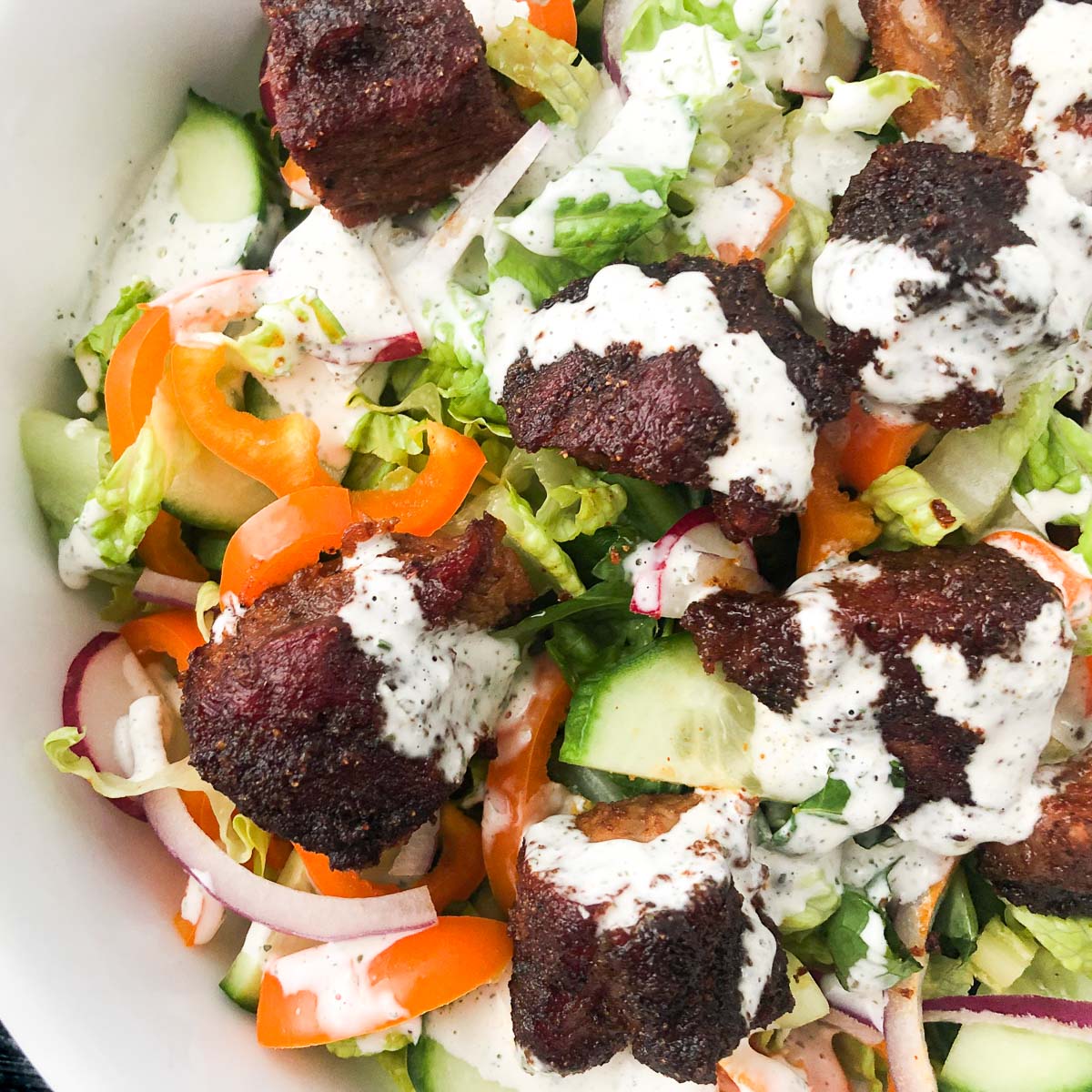 Last summer my friend Lisa took me to this fabulous restaurant that served burnt brisket ends. I had never heard of those but I was in heaven. I love when meat gets that caramelized crusty layer of goodness.
Since my hubby has become a master smoker, I decided to try to recreate it and keep it low carb so I ended up with this chuck roast smoked burnt ends recipe.
Some people refer to chuck roast burnt ends as poor man's burnt ends because it's a less expensive cut of meat and was easier for me to find than a brisket.
We LOVED it! My husband was mad we only made one roast. Even as I type this I am craving it again.
Can you make these burnt ends without a smoker?
I have never tried this but I think you can achieve this if you cook the meat at a very low temperature (250 degrees F) for 4 to 5 hours. I would also use a bit of liquid smoke to get that smokey flavor.
Or you can cook it in the oven and then throw it on the grill to get that smokey flavor. Here is an article to give you some ideas.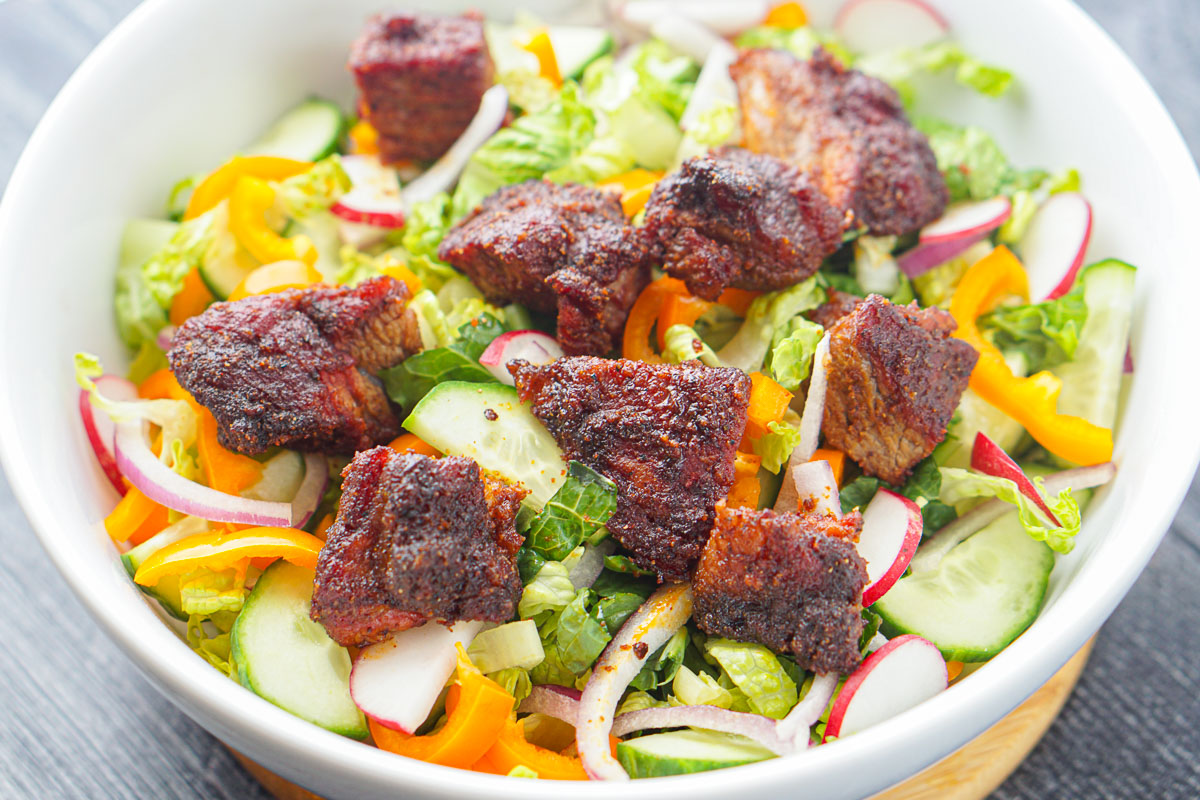 Low carb rub I used on the chuck roast.
I used a simple rub I like to use beef and it was a mixture of onion powder, garlic powder, salt, Swerve brown sugar sweetener, black pepper, chili powder, cumin and paprika.
If you are not on a low carb or keto diet you can substitute regular brown sugar for the sweetener.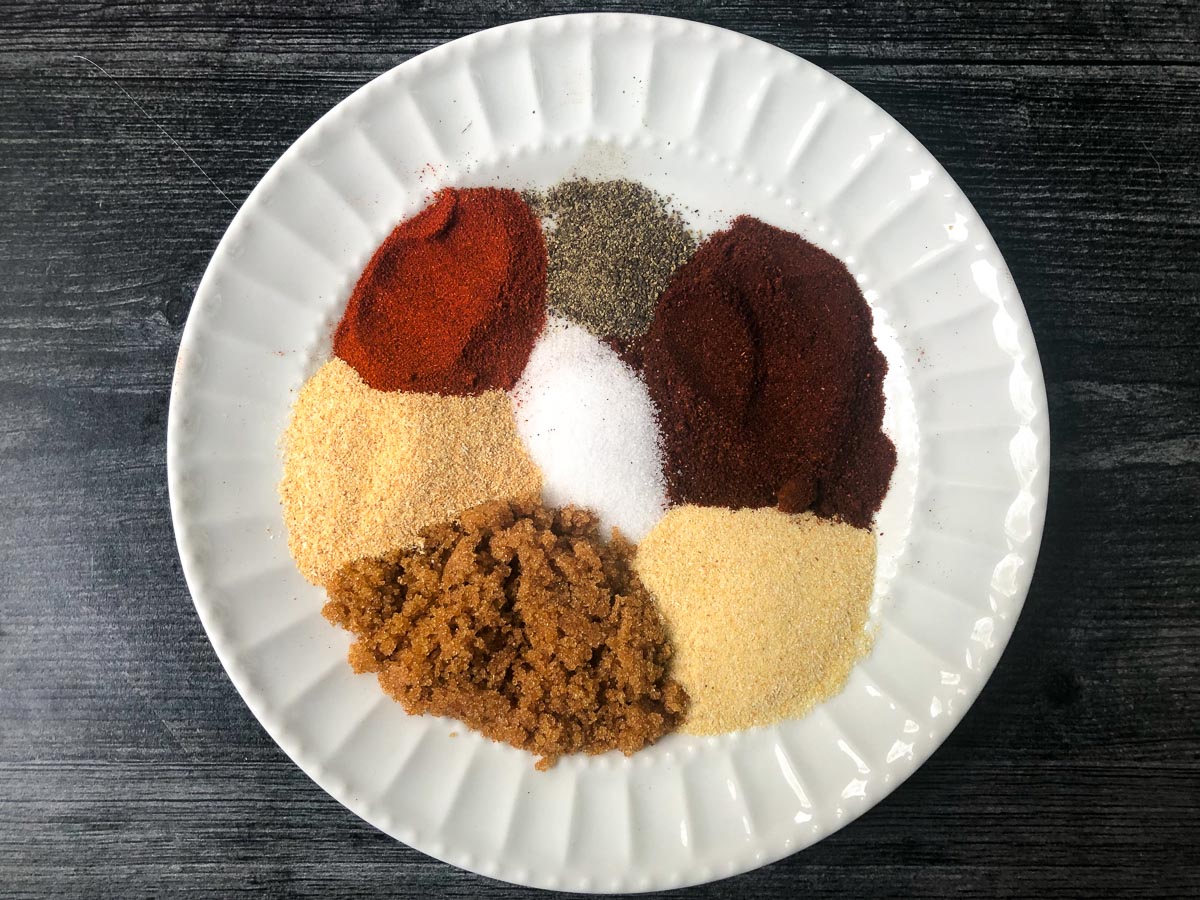 How to make smoked chuck roast burnt ends.
Below you can see the steps to make this smoked roast. The basics of the recipe are:
Step 1: Mix the spices and rub into a chuck roast. Get all the nooks and crannies but only use half of the rub.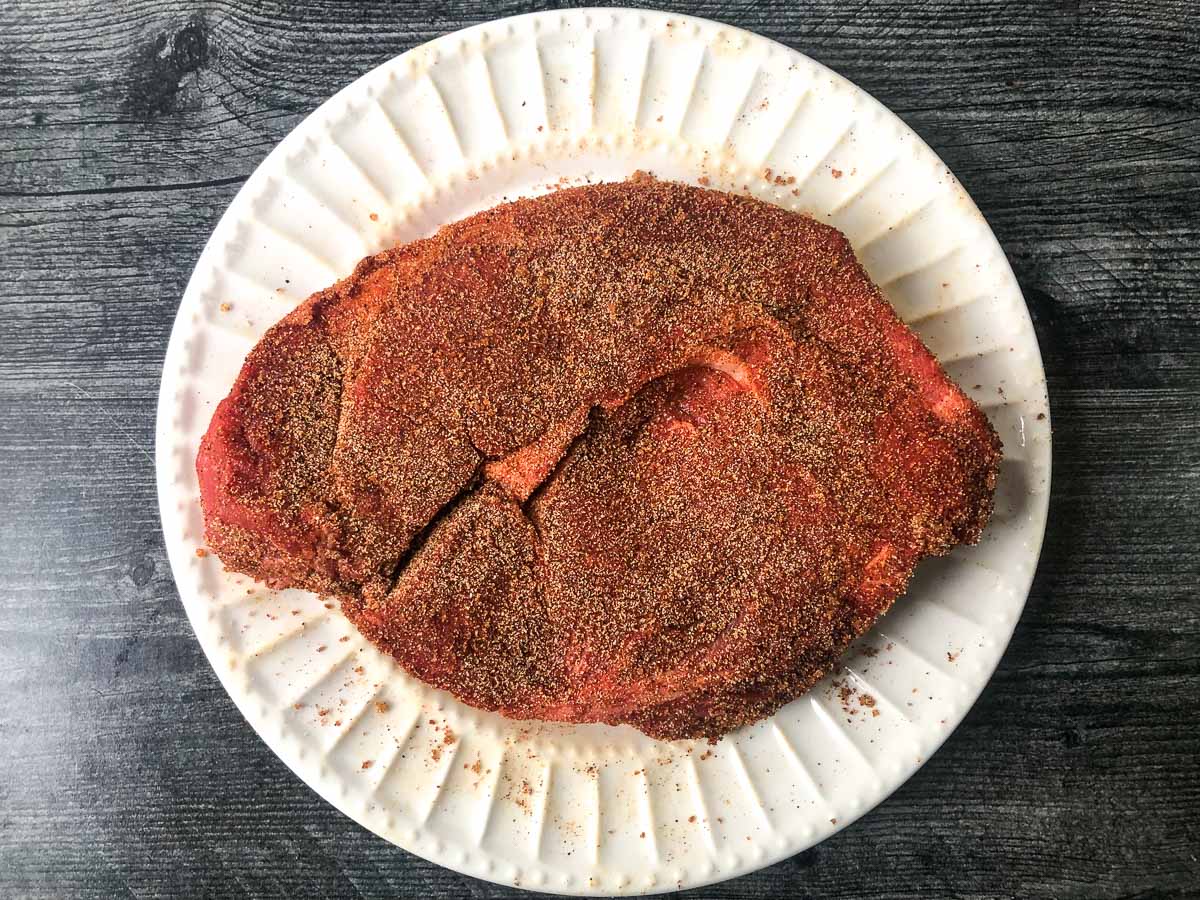 Step 2: Place on your smoker and set the temperature to 225°F. Smoke until the internal temperature is 165° F. This took us about 5 hours. Cooking time may vary depending on your smoker and roast size.
Step 3: Once the meat has reached 160°F to 165°F take it off the smoker and let it cool off enough to touch.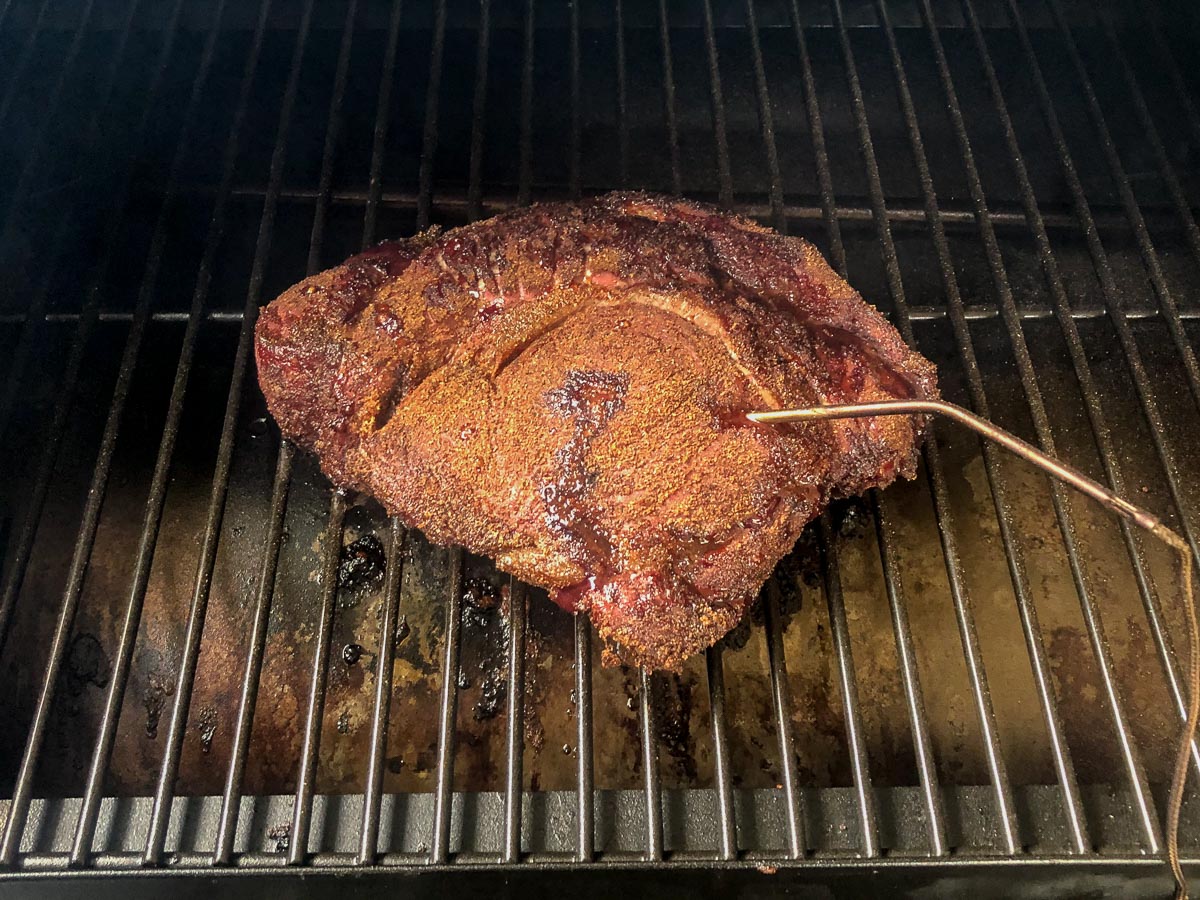 Step 4: Cut the roast up into 1 inch pieces of meat. Add it to an aluminum disposable pan and mix in the the rest of the spices.
Step 5: Add two pats of butter on top and place on the grill of the smoker for another hour or so. Give it a good mix and take off the smoker and serve. Store leftover burnt ends in an airtight container.
These morsels were so tasty! The meat was tender with a subtle smoked flavor and a nice crusty exterior. (Please scroll down for the printable recipe card.)
What to serve burnt ends with.
When I originally had this at the restaurant, it was a smoked brisket and they served on a salad with homemade potato like croutons. I used a chuck roast obviously.
That was an awesome salad but the potato croutons were not low carb obviously. So I just ate this meat on top of a garden salad and topped it with some creamy keto ranch dressing. Seriously good stuff here.
You can also just eat it as is with a vegetable side dish and green salad for a healthy and low carb dinner too.
You can also serve these with a low carb bbq sauce if you like and maybe a coleslaw for dinner. These would make a great appetizer too I think. I'm going to have to try that for football season!
The bad thing about this recipe is that everyone picks at them while you are getting dinner on the table because they are so easy to grab and pop in your mouth.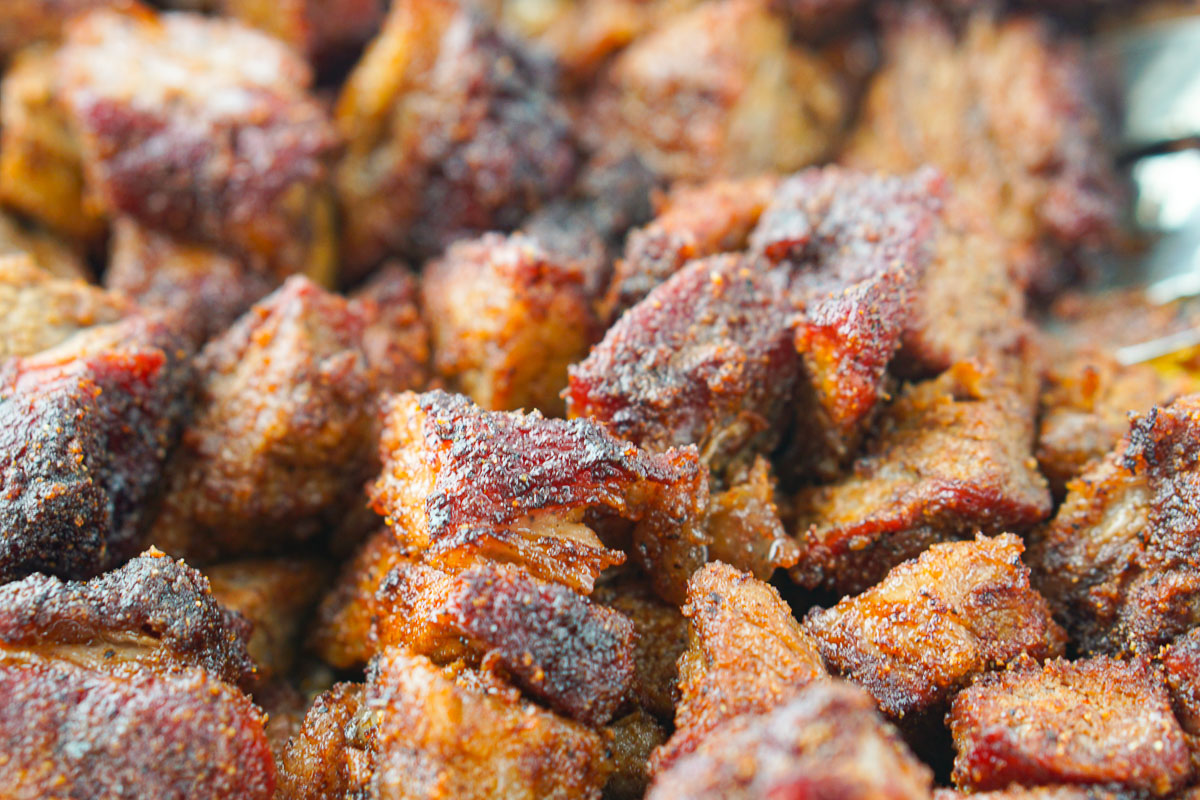 Well I hope you like these smoked burnt ends as much as my family did. I wish we would have made 2 roasts but I'm not sure how it would taste the next day since we didn't have any leftovers.
I'll pop back in to this post and let you know the next time we make it. The nutritional information for one serving is:*
625 cals / 37.2g fat / 9g carbs / 6.5g fiber / 74.8g protein = 2.5g net carbs
*Note this is a very large serving. We just really liked it so we got 4 portions per 2.6lb roast.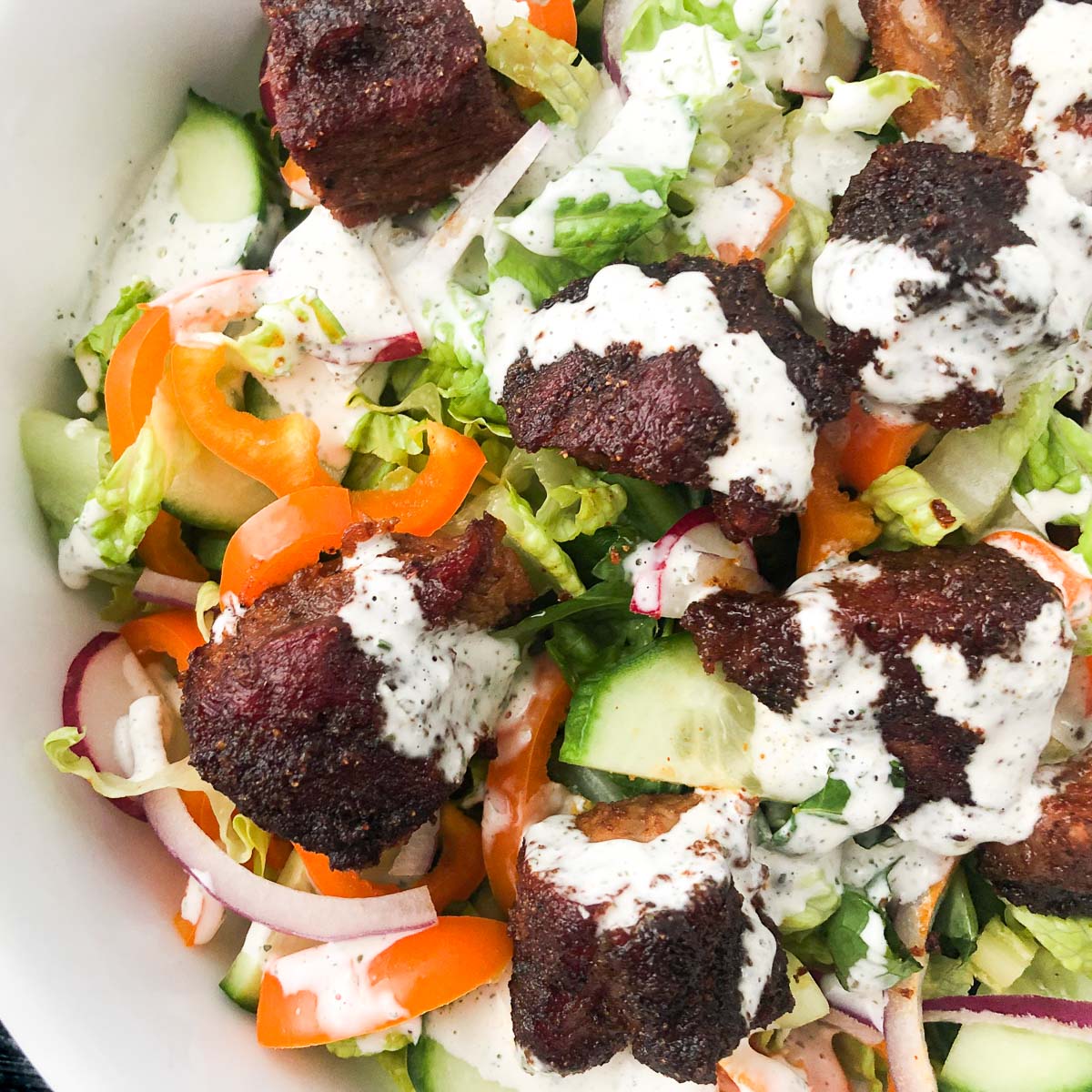 Keto Smoked Chuck Roast Burnt Ends
Total Time:
6 hours
5 minutes
If you like crusty, morsels of smoked meat, you will love this low carb smoked chuck roast burnt ends recipe. Each piece of meat has a spicy layer of rich flavor that will make your mouth water. A serving is just 2.5g net carbs.
Ingredients
2-3 lb chuck roast
1 tablespoon onion powder
1 tablespoon garlic powder
2 tablespoons Swerve brown sugar sweetener
1 teaspoon paprika
2 teaspoons chili powder
2 teaspoons salt
1 teaspoon cumin
½ teaspoon black pepper
Instructions
Pour the spices into a small bowl and mix it well. Rub ½ of the mixture into the roast.
Take the remaining rub and set aside for later.
Place the roast on the grill of your smoker and set the temperagture to 225°F . Smoke the roast until the internal temperature is 160° F - 165° F.
Take out the roast and when it's cool enough to handle, cut into 1 inch pieces. Toss with the spices and place in an aluminum pan.
Put the pan back into the smoker and cook for another hour to get a nice caramelized crust on the meat.
Nutrition Information:
Yield:

4
Serving Size:

1 serving
Amount Per Serving:
Calories:

625
Unsaturated Fat:

0g