This delicious smoked barbecue brisket is full of flavor. The barbecue rub is easy to make and complements the smokey flavor of slow cooking in the smoker. Makes a great barbecue brisket sandwich the next day and only 2.4g net carbs!
You might also like this easy smoked turkey breast recipe!
We bought my hubby a smoker a few years ago and he has become a smoker master. I think he's had at least 3 or 4 smokers since then and we've been enjoying the fruits of his work.
Today he made a brisket at the request of my son and I decided to get in on the action and share it with you all today. I put together the dry rub and took a few pictures so if you have a smoker you can check out how to make this delicious smoked barbecue brisket.
A Smoker is a great Gift for a man
If the man in your life loves to barbecue, a smoker makes a great present. They are not too expensive and I you can even buy them on Amazon or Home Depot. We even gave my brother a smoker for his birthday, because IMO it's hard to buy men presents. Am I wrong?
Right now Rick is using a Masterbuilt, 2 door, propane smoker. His thoughts on smokers:
Propane offers better control of temperature. But electric is also nice because you don't have to deal with your propane running out.
A 2 door model is nice because you don't lose the heat when adding more wood chips to the smoker.
The cheaper bullet smokers are great for fish (here's our smoked salmon recipe) but harder to keep heat in the winter. (At least here in PA.)
BBQ Rub for this smoked brisket
The rub is a menagerie of spices rubbed on the roast and left to sit. The spices are garlic powder, onion powder, cayenne, cumin, chili, paprika, salt, pepper and brown sugar. If you want to make this low carb, use Lakanto golden or Swerve brown sugar sweetener. To make it Paleo you can use coconut sugar.
This is a great rub and we use it on ribs and pulled pork or even chicken. So mix the spices and rub all over the roast and let it sit while you prepare your smoker and to bring it to room temperature. When you go to place it on the smoker, make sure the fat side is up so as it melts it bastes the meat.
Wood chips used in smoker add flavor
Another cool thing about smokers is that you can buy a variety of wood chips to give it flavor. The have apple, maple, hickory, mesquite, you name it. They add a special something to that smokey flavor.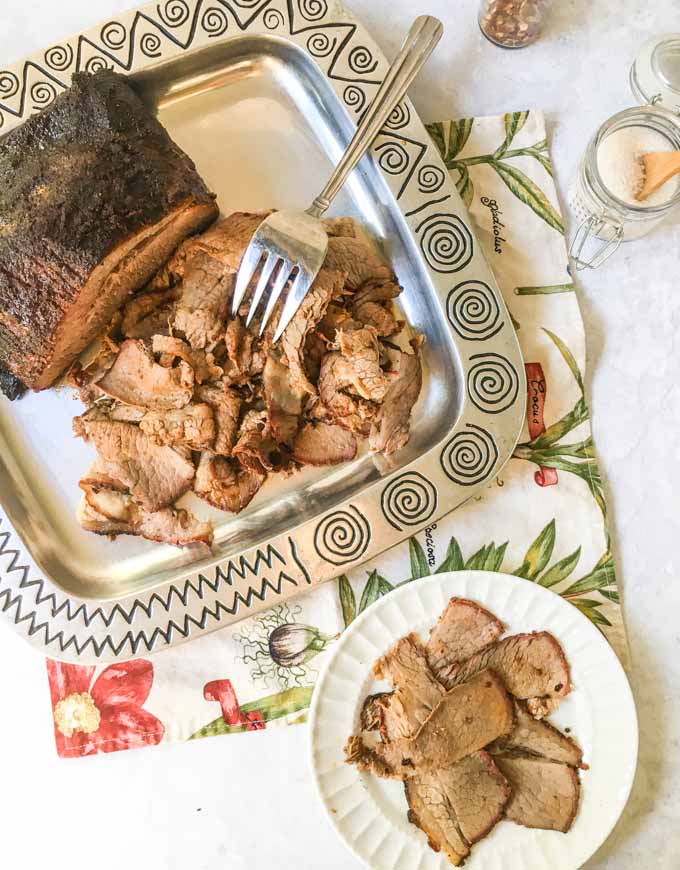 How Long to Smoke Barbecue Brisket
Now to make this 4 1/2 lb brisket, the rule of thumb is 1 – 1 1/2 hours per pound and keep your temperatures between 200 – 225 degrees F. So we ended up cooking this at 200 degrees F for about 5 hours.
If you have a meat thermometer you can make sure it's done. Then let it sit for about 15 minutes to rest and gather the juices.
How to slice the smoked brisket
The last thing I want to mention is that we sliced the meat very thing and against the grain because brisket is a tough cut of meat. We had some help because we used our new toy, a meat slicer like this! This is one of the craziest kitchen gadgets I have but it's come in handy.
Actually my hubby bought it so he can't make fun of me for all the rest of my gadgets. I'm doing a post on homemade lunch meats soon so you can see how cool it really is.
Delicious Smoked barbecue Brisket
So with this roast we sliced it thin and ate it for dinner the first night and had barbecue brisket sandwiches the next night. The crustiness from the rub and the smoker was soooo good.
If you are looking for a new toy for your father, husband, brother or friend I can't recommend getting a smoker enough. I love it because now Rick is starting to enjoy cooking like I do. Enjoy! The nutritional information for 1 serving is:
524 cals / 19.3g fat / 2.7g carbs / 0.3g fiber / 38.6g protein = 2.4g net carbs.
Delicious Smoked Barbecue Brisket
This delicious smoked barbecue brisket is full of flavor. The barbecue rub is easy to make and complements the smokey flavor of the slow cooking in the smoker. Makes a great barbecue brisket sandwich the next day!
Total Time
5
hours
5
minutes
Ingredients
4 1/2

lb

brisket

1

tablespoons

garlic powder

1

tablespoon

onion powder

1/4

teaspoon

cayenne powder

2

teaspoon

chili powder

1

teaspoon

paprika

1/2

teaspoon

pepper

2

teaspoons

salt

t

teaspoon cumin

1

tablespoons

brown sugar

use coconut sugar if Paleo
Instructions
Mix all the spices and rub on roast

Add to a smoker fat side up.

Cook 1 - 1 1/2 hours per pound of meat between 200 - 225 degrees.

Slice thinly against the grain.

Serve as is or with barbecue sauce if you want. Makes great sandwiches too!