This keto pot roast is made with onion soup mix and 3 other ingredients to make a savory beef roast. Making keto pot roast in the slow cooker creates tender meat with little effort. And I have a delicious keto mashed cauliflower dish to go with it if you are on a low carb diet to create the perfect keto comfort meal. Each serving has only 4.4g net carbs!
You might also like this keto Instant Pot (pressure cooker) chuck roast.
I'm sure you have all made that classic pot roast in the crockpot along with onion soup mix and canned soup. It's so easy to basically mix dump and set it on low and slow for a hearty and comforting dinner.
Well today I decided to make this keto pot roast in a similar way. I used onion soup mix but I didn't use any canned soups which tend to be higher in carb. I put it in the slow cooker and the result was tender, juicy and super flavorful beef roast with rich gravy.
I also made some mashed cauliflower to take the place of regular mashed potatoes and covered it with the gravy from the roast. It was an awesome keto dinner and my family loved it.
Recipe ingredients I used.
Below you can see the simple ingredients I used for this recipe. I had a boneless beef chuck roast on hand, butter, balsamic vinegar, onion soup mix and Better than Bouillon beef base. That's all you need.
You can use different cuts of meat for this recipe like round or rump roasts but chuck roasts have a lot of marbling of fat and that really adds to the flavor to the meat.
I am constantly singing the praises of Better than Bouillon bases because they are fantastic for soup, casseroles and dishes like this. They add so much flavor so I high recommend you buy some.
But if you don't have any you can use regular beef bouillon or beef broth. You can also add some beef stock or broth instead of the water for more flavor.
Also if you don't care about carbs feel free to add some chopped carrots, celery, yellow onion, potatoes or whatever you would regularly cook along side the roast for a one dish meal.
How to make a keto pot roast in the slow cooker.
Step 1: Spray the crockpot with nonstick cooking spray and set aside. Heat up the butter in the microwave then pour it into a mixing bowl along with the soup mix, water, vinegar and Better than Bouillon. Mix well.
Step 2: Place the chuck beef roast into the crockpot and pour the soup mixture over top. Place the lid on a cook for 6-8 hours on low or 4-6 hours on high. The meat with be nice and tender when it's done. Cooking time may vary.
I used a 3 pound roast and it took me 4-5 hours on high. Normally I would have cooked it on low all day but I needed to take pictures of it for this post.
Step 3: When the meat is done, slice it and place in a large serving bowl. Pour the gravy over top and serve.
If you want a thicker gravy you can use a keto thickener like xanthan gum. If you are not on a low carb diet you can use traditional flour. I thought it was fine as it was.
Store leftovers in an airtight container. Please scroll down to view the printable recipe card.
Below you can see what it looks like just before serving. You can eat it as is with a green salad and vegetable side dish for a low carb dinner.
You can also serve this low carb pot roast with mashed potatoes if you don't care about carbs. Use the cooking juice as a keto gravy to top your potatoes.
I made cauliflower mash for me and regular mashed potatoes for my family to make this more of a complete meal.
How to make keto cauliflower mash to go with the roast.
You can easily make cauliflower mash in the blender. All you need is a head of cauliflower, butter, salt and black pepper. So about 15 minutes before dinner time make the cauliflower mash.
Cut up your cauliflower into florets and place in a microwaveable bowl. Rinse with water and drain the extra water out. Add the butter and microwave for up to 10 minutes until fork tender.
Check on it half way and stir to get the butter all through it. Test the florets to see if a fork can easily pierce them. If not cook for a few more minutes.
Once the cauliflower is cooked, add to a high speed blender or food processor and blend on high until you reach a mashed potato consistency.
Season with salt and pepper if you wish. If it is thick you can thin with a tablespoon of water, heavy cream or almond milk.
If it's too thin you can try adding a bit of cream cheese or shredded cheese to thicken it. The cheese will change the flavor a bit and I just like to keep it simple because I used the gravy on top to add flavor.
More keto comfort food to try.
Below are some of my favorite recipes when I am craving comfort food. All are low carb and easy to make.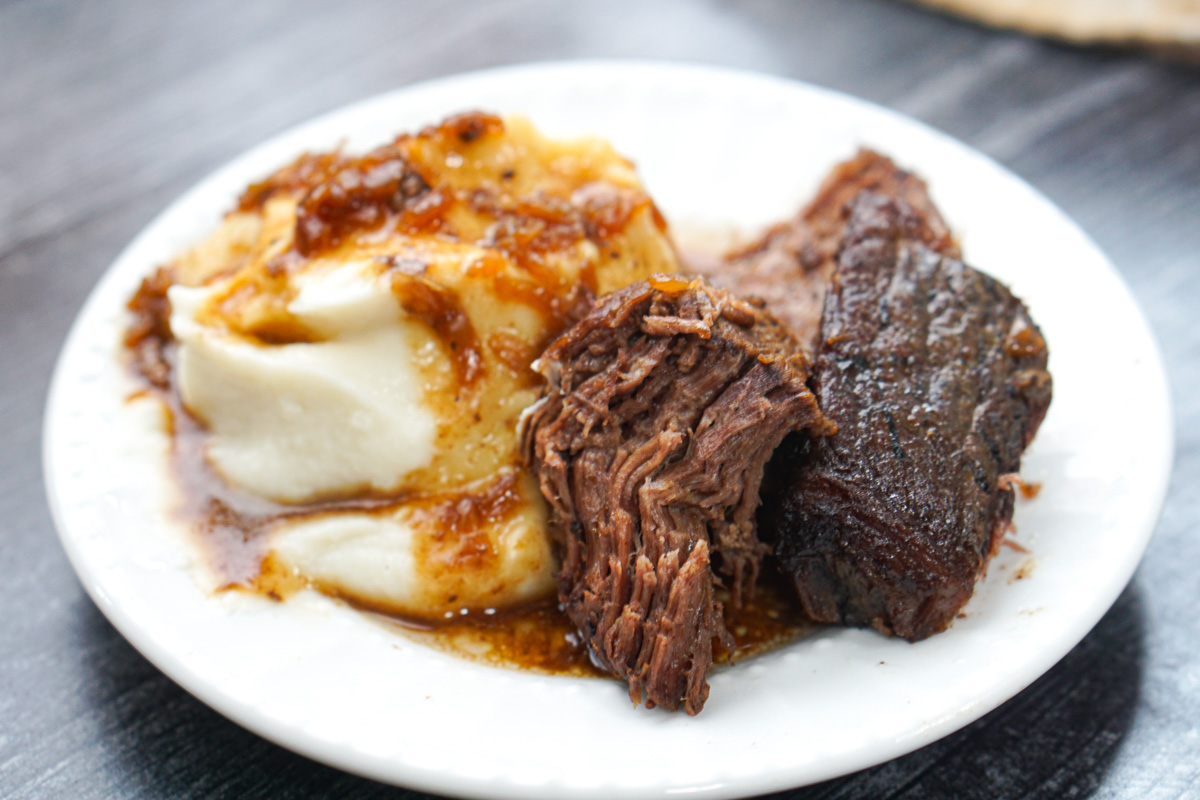 Well if you are one of the many people who make slow cooker roasts with cans of soup, give this keto pot roast a try. Especially if you are on a low carb diet, slow cooking beef this way just gets it so tender. And with just a few ingredients you can make a really flavorful piece of meat that your family will just love.
The nutritional information for 1 serving is 524 calories / 31.8g fat / 4.4g carbs / 59.6g protein – 4.4g net carbs.
Slow Cooker Keto Pot Roast Recipe
Total Time:
6 hours
5 minutes
This slow cooker recipe of keto pot roast is made with onion soup mix and a few other ingredients to create flavorful and tender chunks of beef. This low carb recipe goes great with cauliflower mash for a keto comfort meal.
Ingredients
3 pounds beef chuck roast
1 envelope dried onion soup mix
1 teaspoon Better than Bouillon beef base
2 tablespoons balsamic vinegar
1 tablespoon butter, melted
¼ cup water
Instructions
Prepare the crockpot by spraying with nonstick cooking spray. Place the chuck roast in the crock and set aside.
In a mixing bowl place the rest of the ingredients and mix well to combine. Pour over the chuck roast and place the lid on top.
Cook on low for 6-8 hours or on high for 4-6 hours until the roast is nice and tender. Slice and place in a serving bowl or platter and pour the sauce from the crock over the meat.
Serve with mashed cauliflower if you want a low carb meal or with regular mashed potatoes if you are not. Store leftovers in an airtight container.
Notes
The nutritional information for 1 serving is 524 calories / 31.8g fat / 4.4g carbs / 59.6g protein - 4.4g net carbs.
Nutrition Information:
Yield:

6
Serving Size:

1
Amount Per Serving:
Calories:

524