We are on week 3 of these simple low carb meal plans and this week we have a few keto pizza flavored dishes as well as ice cream! All of these recipes are easy and delicious. Many of which you can freeze portions for other meals. I also share with you my favorite low carb breads to buy.
You might also like these other low carb meal plans!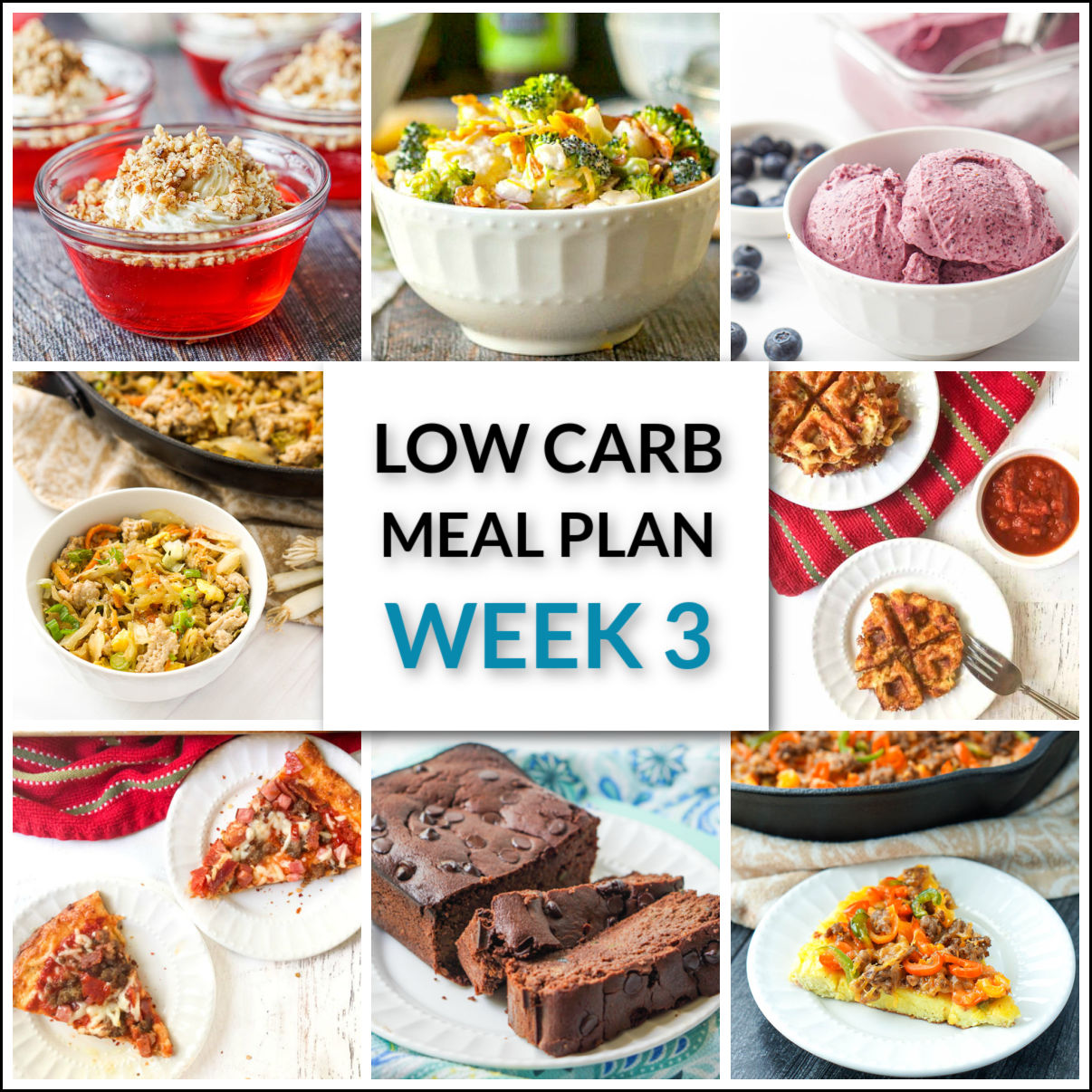 So we are now on week 3 of the simple low carb meal plans. Here is week 1 and week 2 if you missed them. This week has a few keto bread-like meals you might like. I have a breakfast pizza, meat pizza and chocolate breakfast bread.
So if you miss bread on a low carb diet here are some keto substitutions for bread. I also have some suggestions for other simple foods you can add to your meals if you feel you want more food. Let's go check them out.
Simple low carb foods to eat with your meals if you want to fill up.
When I'm really watching what I eat as far as portions go I have days when I'm really hungry. Usually I will have a large salad with just greens, cucumbers, peppers and red onions and a simple vinaigrette. This will usually fill me up.
Or I sometimes I eat steamed veggies such as broccoli, green beans or asparagus with a bit of butter and salt. I eat these first and then my main meal. Both are very filling.
Lastly this keto cabbage soup is good to have on hand. Or even seasoned bone broth. Both are good to eat before dinner or for a snack and really fills you up.
hard boiled eggs
cooked veggies like broccoli, asparagus, zucchini, spinach, mushrooms etc
sliced avocados, pickles or olives
raspberries, strawberries, blueberries, blackberries
cheese, pepperoni, sliced turkey or other lunch meat
simple green salad
protein such as chicken breast, tuna, hamburger, pork with simple seasonings
beef jerky
fresh sliced cucumbers, radishes, celery, zucchini
Remember to take into account the calories and carbs associate with these extra foods. Check the labels when eating packaged food like jerky and pork rinds.
My favorite keto bread products you can buy.
I am constant buying keto bread products online in hopes of finding one I like. So far very few are good to me.
However these Carb Counter street taco keto tortillas are the best tortillas I've tasted! I bought 6 packs on Amazon and froze them. I take a pack out of the freezer the night before I want to use them.
They taste just like regular tortillas but they have 0g net carbs! It's crazy.
Plus the size (4 inches) is perfect for things like fish tacos or mini quesadillas.
I also can vouch for most of Aldi's keto bread products. I've had their hamburger buns, low carb tortillas and sliced breads. They all taste better than any that I have found online and they are less expensive so check those out if you have an Aldi near you.
Also note that Aldi has LOTS of keto products. It's a little hit or miss on taste but for the most part they are really good. Check both the aisles and in the refrigerator section where they have cheese wraps and egg crepes.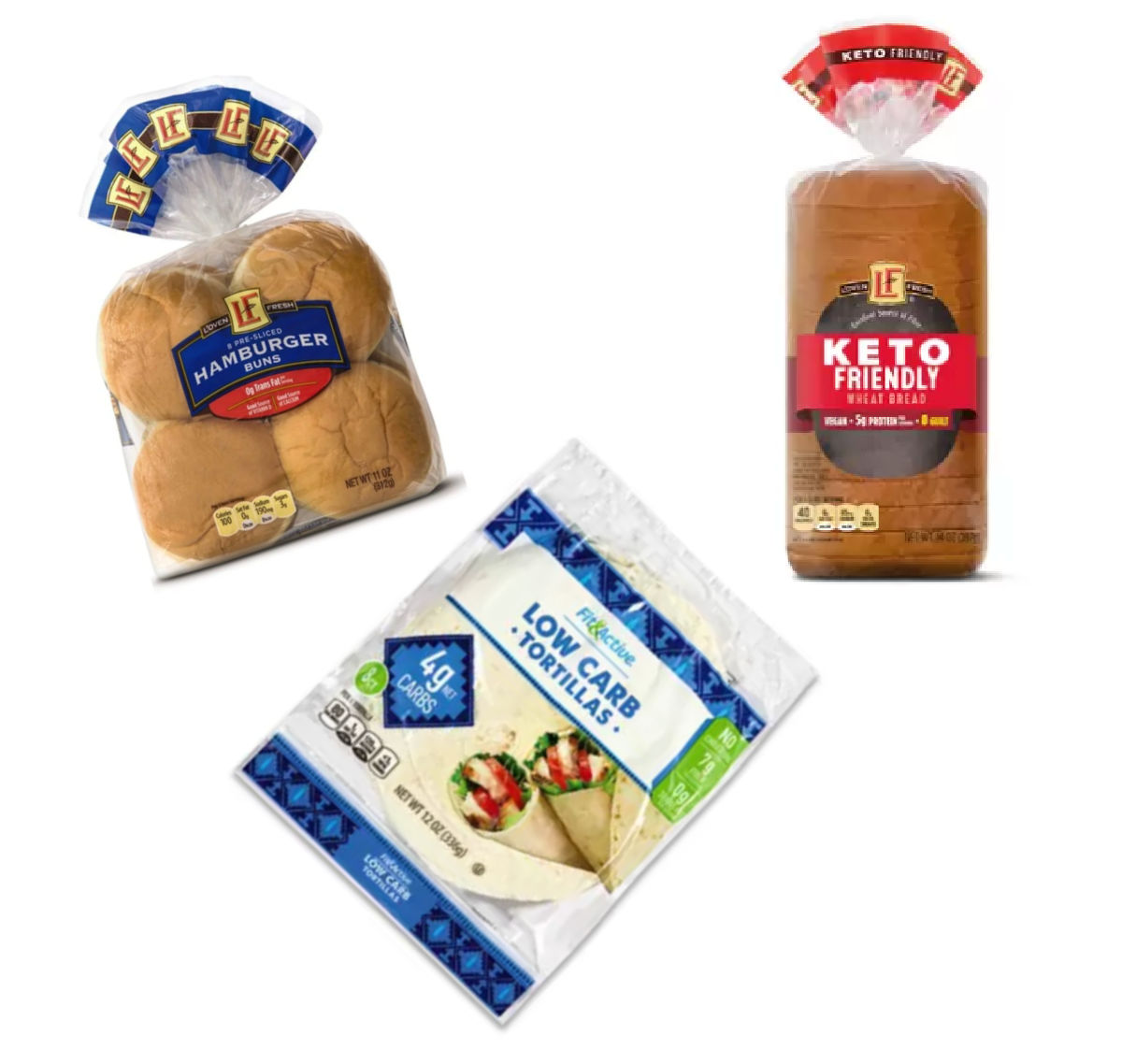 They also have cauliflower crust pizzas in the refrigerator and freezer sections. I really liked their refrigerator cauliflower crust pizza but it's high in carbs. So check the labels first.
This week's low carb recipes.
Chocolate Zucchini Bread (3.6g per serving) – makes 8 slices (eat 4 slices this week and freeze 4 slices)
Breakfast Pizza (2.1g per serving) – makes 8 slices ( eat 3 slices this week and freeze 5 slices)
Meat Lover's Pizza (3.7g per serving) – makes 6 pieces ( eat 3 slices this week and freeze 3 slices)
Loaded Broccoli Cauliflower Salad (1.9g per serving) – makes 12 servings (eat 8 servings this week and eat with other meals as this won't freeze)
Pizza Waffles (0.9 per serving) – 4 servings (eat 4 servings this week)
Eggroll in a Bowl (6.2g per serving) – makes 4 servings (eat 2 this week and freeze 2 servings)
Blueberry Blender Ice Cream (6.5g per serving) – 4 servings (eat 1 serving and freeze the rest to eat this weekend)
Mini Strawberry Jello Pretzel Desserts (2.4g per serving) – 4 servings (eat 3 servings and eat the 4th this weekend)
Below is a suggested menu this week. You can make all these recipes and freeze extra servings for other meals next week or later. Or you can eat them on the weekend.
Feel free to change things around to your liking or even make substittutions.
Monday
Tuesday
Wednesday
Thursday
Friday
Well that is all I have for you this week. Next week is our last menu so please let me know if you have any questions or suggests in the comments area.