This keto fruity chia tea recipe is a healthy and tasty drink you can make at home instead of buying an expensive one at the store. Using fruity herbal tea you can make any variety of flavors of this sugar free homemade chia seed drink!
You might also like this keto chia seed drinks!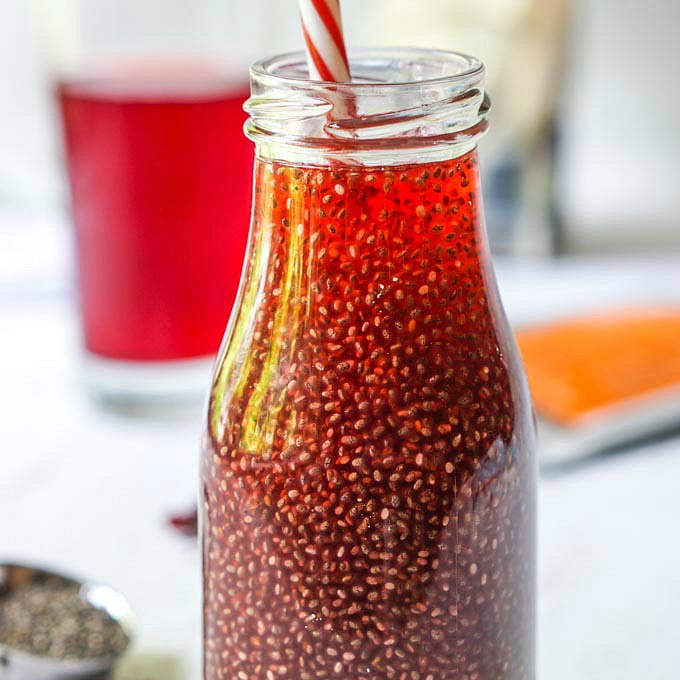 So rumor has it that a chia seed drink is expensive. I can't say that I've ever bought one seeing as they seem so easy to make yourself.
I thought I'd try some chia seeds in tea and so I made this fruity chia tea. I used one of my many Steeped Teas I bought from my friend Debbie.
There are so many things you can do with tea. Now a days there are a wide range of flavors to try out, they have no carbs or calories and just take minutes to make. So tea is great for a keto or low carb diet!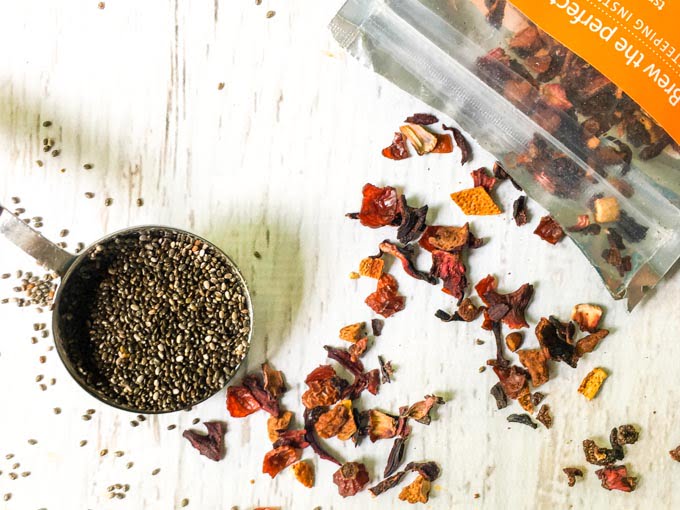 What kind of tea to use?
You can use any kind of tea you want in this chia seed tea drink. However this is a great opportunity to use something really flavorful instead of regular black tea.
The tea I choose was called Berry Mania Fruit Tea. It contains elderberries, currants (currants, sunflower oil), hibiscus, beetroot dices and natural flavors.
It looks, smells and tastes great. Plus it has no caffeine so I can drink it all day and not worry about it affecting my sleep. So I make it often.
I have a lot of Steep tea and if you like loose leaf teas, you should check them out.
This is not a sponsored post, nor do I get any commission if you buy some but I truly believe in the product. I currently have over 10 bags of teas and have bought numerous bags over the years. They have some really unique flavors!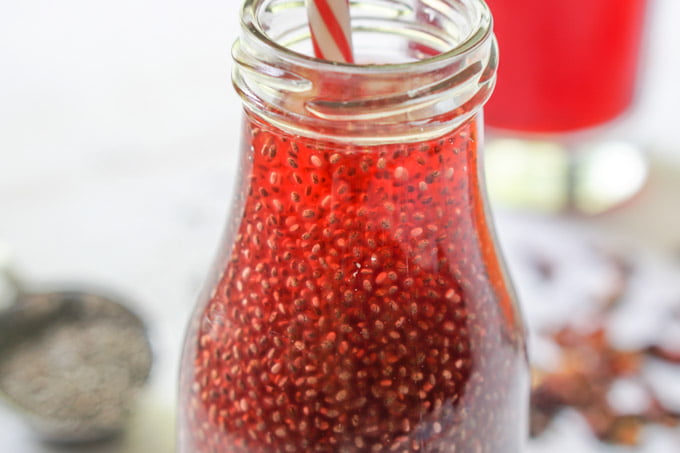 How to make this chia seed tea drink.
The recipe is quite simple and all you need is water, sweetener, tea and chia seeds!
First mix the seeds with water. Add 3 tablespoons of chia seeds to 1 cup water.
Mix and refrigerate till the seeds start to gel and absorb the water. This should take about an hour.
Next mix 2 cups of fruit flavored tea with the chia mixture and add a little sweetener to taste. I like to use Torani sugar free syrups but you can use stevia, Splenda or whatever you like to use.
Shake it well before drinking and keep refrigerated.
This should make 2 drinks. You can play around with different teas to make different flavors of chia tea drinks.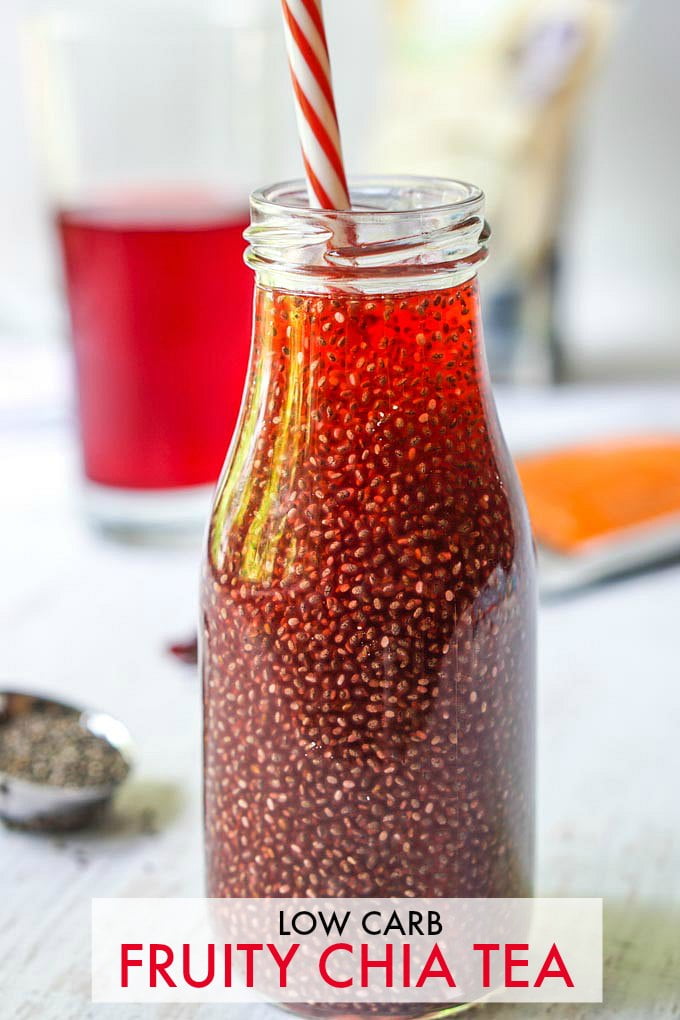 How much does this recipe make?
This recipe makes at least 2 big glasses of tea but you could probably stretch the chia seeds and make the drink thinner if you wish.
Note: You could make this with any kind drink such as tea or fruit juice. It simple, delicious and has the health benefits of a good dose of fiber and a rich source of omega 3's!
Other healthy keto chia seed recipes to try.
I have a lot of chia seed recipes on this blog and they are all low carb. Try one of these with those healthy chia seeds.
So next time you want a refreshing and healthy drink, try one of these fruity chia tea drinks. They taste great, fill you up and you can feel good about your health drinking it!
The nutrition for 1 drink is: 120 cals
7.5g fat / 9g carbs / 6g fiber / 4.5g protein = 3g net carb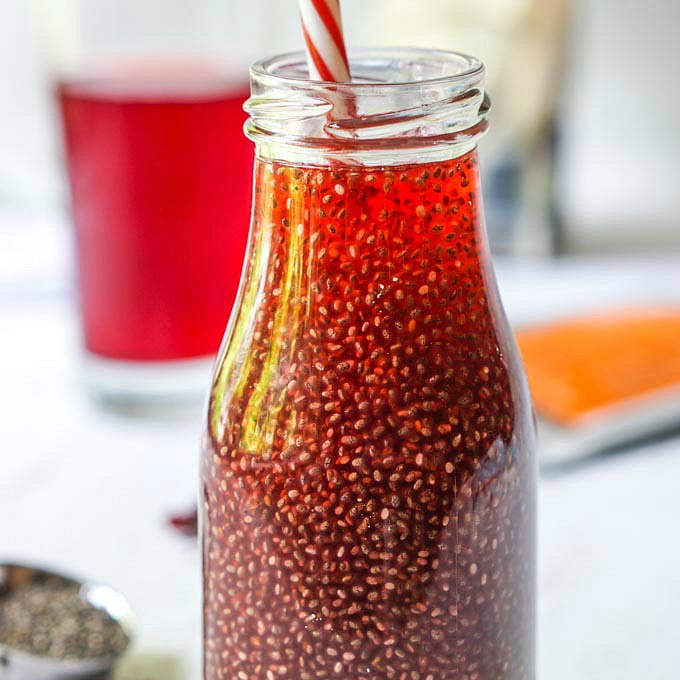 Low Carb Fruity Chia Tea
Prep Time:
1 hour
5 minutes
Total Time:
1 hour
5 minutes
This keto fruit chia seed tea drink is healthy and tasty. You can easily make chia tea at home instead of buying expensive ones at the store. Using fruity herbal tea you can make any variety of flavor!
Ingredients
3 tablespoons chia seeds
1 cup water
2 cups brewed fruity tea of choice
sweetener of choice (I like Torani Sugar Free Raspberry Syrup)
Instructions
Mix chia seeds in water then refrigerate for 1 hour.
Next mix chia mixture with 2 cups of brewed tea.
Mix well and refrigerate for another hour and it's ready to go!
Notes
The nutrition for 1 drink is: 120 cals / 7.5g fat / 9g carbs / 6g fiber / 4.5g protein = 3g net carb
Recommended Products
As an Amazon Associate and member of other affiliate programs, I earn from qualifying purchases.
Nutrition Information:
Yield:

2
Serving Size:

1 drink
Amount Per Serving:
Calories:

120
Unsaturated Fat:

0g