This pasta with brown butter and spinach recipe is a super easy dinner for busy weeknights. With just 4 ingredients you can make this pasta dish and I'll give you ways to change it up. The nutty flavorful brown butter sauce will be your new favorite way to eat pasta.
You might also like butternut squash tots with brown butter sauce.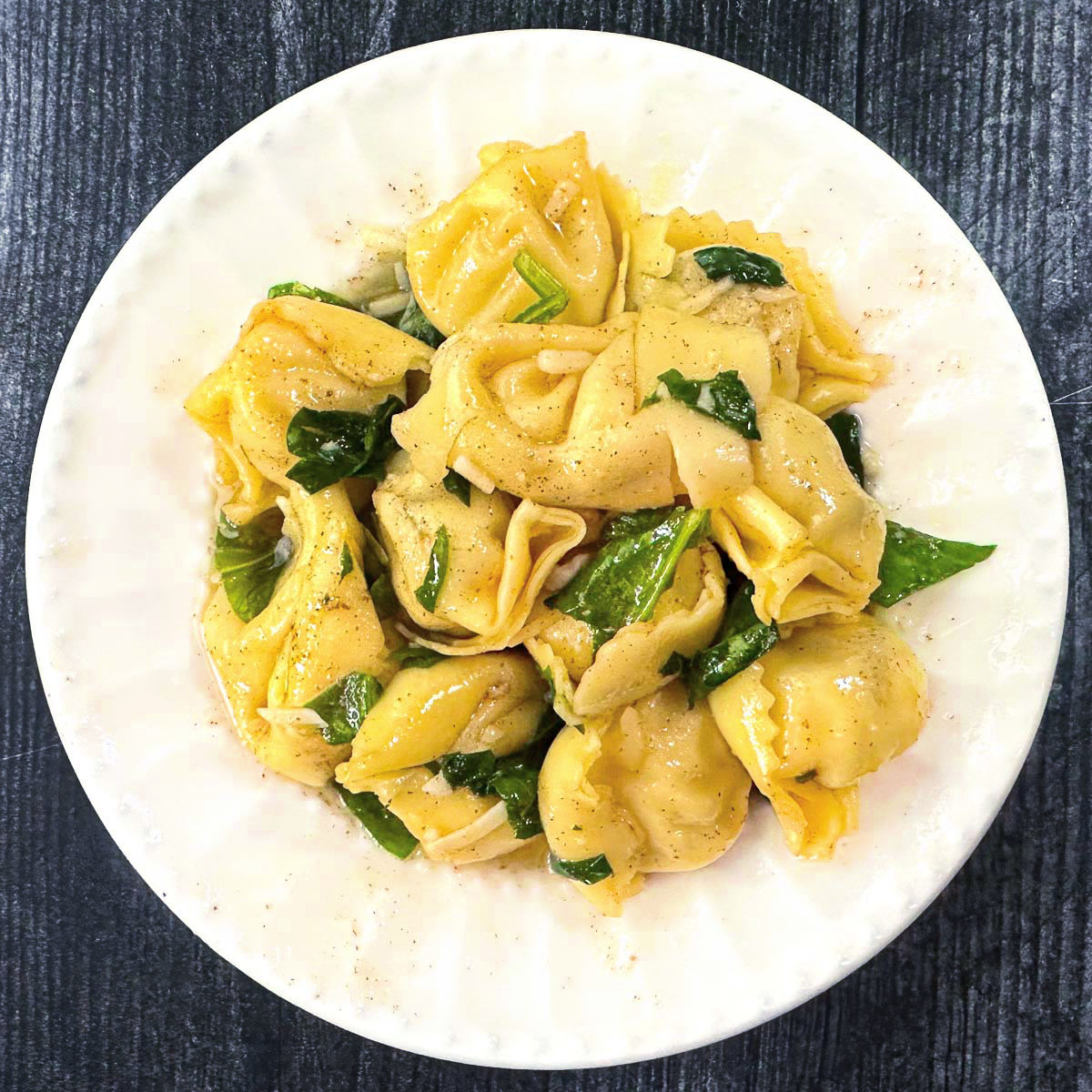 I had never had brown butter sauce until I met my husband. His mother was 100% Italian and her family's as from northern Italy where brown butter is more popular than red sauces.
She would make homemade ravioli which were delicious and then serve them with brown butter. I have not learned to make the raviolis yet so today I made this pasta with brown butter and spinach using store bought tortellini instead.
Regardless this is one of my families favorite recipes and it's also a great recipe to make in large quantities for parties and celebrations. Especially when you buy the tortellini from Costco!
What is brown butter and how do you make it?
Brown butter is just butter that is heated until the milk solids caramelize and give it a golden brown color and adds a depth of flavor to regular butter. The taste is rich and nutty and all you use is butter!
Below I show you and easy way to brown butter.
Get out a saucepan and heat to medium heat.
Add the butter to the pan and slowly melt it.
Stir the butter as it continues to cook and it will start to foam like the second picture below.
Eventually it will start get a toasty brown color like the last picture below. Then you take it off the heat and pour over your pasta.
Recipe ingredients I used.
The simple ingredients I used for this pasta dish was – salted butter, cheese tortellini, fresh spinach and a little Parmesan cheese for garnish.
Fresh Tortellini
You can really use just about any pasta you want for this dish but I really liked the cheese tortellini I bought at Costco. It comes in two packages so I often make one and freeze the other. However you can use a fresh pasta from the store or even dried tortellini.
Butter
I also buy salted butter so if you use unsalted butter you might want to season this dish with additional salt.
Spinach
Fresh spinach is the best in this recipe. It's so easy to cook and tastes better than frozen spinach.
Parmesan Cheese
This is optional but it does taste good at the end of the dish. You can serve alongside the pasta or add it at the end.
How to make tortellini with brown butter.
Bring a large pot of water to a boil and make your pasta according to the instructions on the package. I made these fresh tortellini which only take 2-3 minutes to make but you can use any kind of pasta you want.
In the meantime heat up a medium saucepan and make your brown butter.
Once the pasta is done, drain the water and pour the pasta into a large serving bowl.
Chop the spinach and add to the bowl with the cooked pasta then pour over the finished brown butter. The heat from the butter sauce will wilt the spinach.
Give it a little toss and serve with parmesan cheese. You can also sprinkle the parmesan on all of the tortellini after adding the sauce. Try a little hot pepper flakes or even fresh grown black pepper for add spice.
Serve with a green salad to make it more of a complete meal. Store leftovers in an airtight container. Please scroll down to view the printable recipe card.
Ways to change up this dish.
As I mentioned above you can change this up by using different pastas. Even plain spaghetti tastes great with brown butter.
You can also add different vegetables like broccoli florets, asparagus, zucchini, bell peppers, arugula, snow peas, etc. If you do use one of these veggies you might want to precook them in the microwave for about 4 minutes and add them at the end.
If you want to add some type of protein try shrimp, crab, or chicken breast.
Other things to try are nuts like walnuts, pecans or pine nuts. Sun dried tomatoes, lemon zest and roasted peppers would be delicious too as well as fresh herbs like basil or parsley.
More easy pasta recipes to try.
My family loves pasta, especially my son so we eat it often. These dishes are also very easy to make and so I can always whip one up for a weeknight meal.
And if you have extra tortellini try them to make these air fried tortellini as an appetizer or snack.
Well I hope you give this pasta with brown butter and spinach recipe a try. If you've never tried brown butter I'm sure you will love it. Even young children in my family love it. Enjoy!
Pasta with Brown Butter and Spinach Recipe
This pasta with brown butter and spinach is an easy recipe to make on busy weeknights. The rich and nutty flavor of the brown butter sauce will work well with any kind of pasta!
Ingredients
1 pound of tortellini (or other pasta)
1 ½ sticks of butter
2 cup fresh baby spinach
½ cup parmesan cheese
Instructions
Get out a large pot of water and bring to a boil. Make your tortellini or pasta according to the package directions.
In the meantime get out a medium sauce pan and heat to medium heat. Add the stick of butter and cook it until it starts to foam. Continue to cook, stirring occaisionally so it doesn't burn.
Whne the foam start to turn a golden brown color and there are little flecks of brown in the foam it is done. Turn off the heat.
When the pasta is done, drain and pour into a large pasta bowl. Add the chopped spinach and then pour the browned butter over top. Gently stir until the tortellin and spinach are mixed well and coated with the sauce.
Either sprinkle the grated parmesan cheese over all the tortellini or serve it on the side. Store leftovers in an airtight container.
afs
fds
fds