This red pepper shrimp pasta is a simple and tasty dinner that uses red peppers to create a creamy "tomato-like" sauce. The red peppers sauce goes great with tender shrimp and fresh snow peas for a healthy weeknight dinner. You can also use zucchini noodles for a low carb or Paleo dinner.
You might also like this healthy low carb roasted peppers sauce!
This red pepper shrimp pasta is a healthy and tasty dish that my mom used to make back in the day. It's quite an easy recipe and one that we have often because it tastes so good, it's quick to get on the table and it's relatively healthy.
The simplicity of the red pepper sauce does not mean that it lacks in flavor and it's a great change from tomato sauce. The snow peas add some crunch and color to the creamy sauce and juicy shrimp.
If you want a gluten free or low carb option, just use zucchini or palmini noodles instead of regular penne noodles.
Recipe ingredients I used.
The red pepper sauce for this pasta dish is pretty simple but full of flavor. All you need are red or other colored sweet peppers, yellow onion, butter, Better than Bouillon chicken base, salt and black pepper. Note that green bell peppers would be not be a good substitute for the bell peppers.
For the rest of dish I used penne pasta, fresh snow peas and large or medium shrimp. I like to use raw shrimp instead of already cooked because they just taste better in my opinion but if you have already cooked shrimp that is fine. Also you can use frozen or fresh shrimp.
Also you can use your favorite pasta noodles. Sometimes I like to use fettuccine or linguine but I had the penne on hand. You can substitute baby spinach, broccoli, asparagus, snap peas or other green vegetables if you don't like snow peas.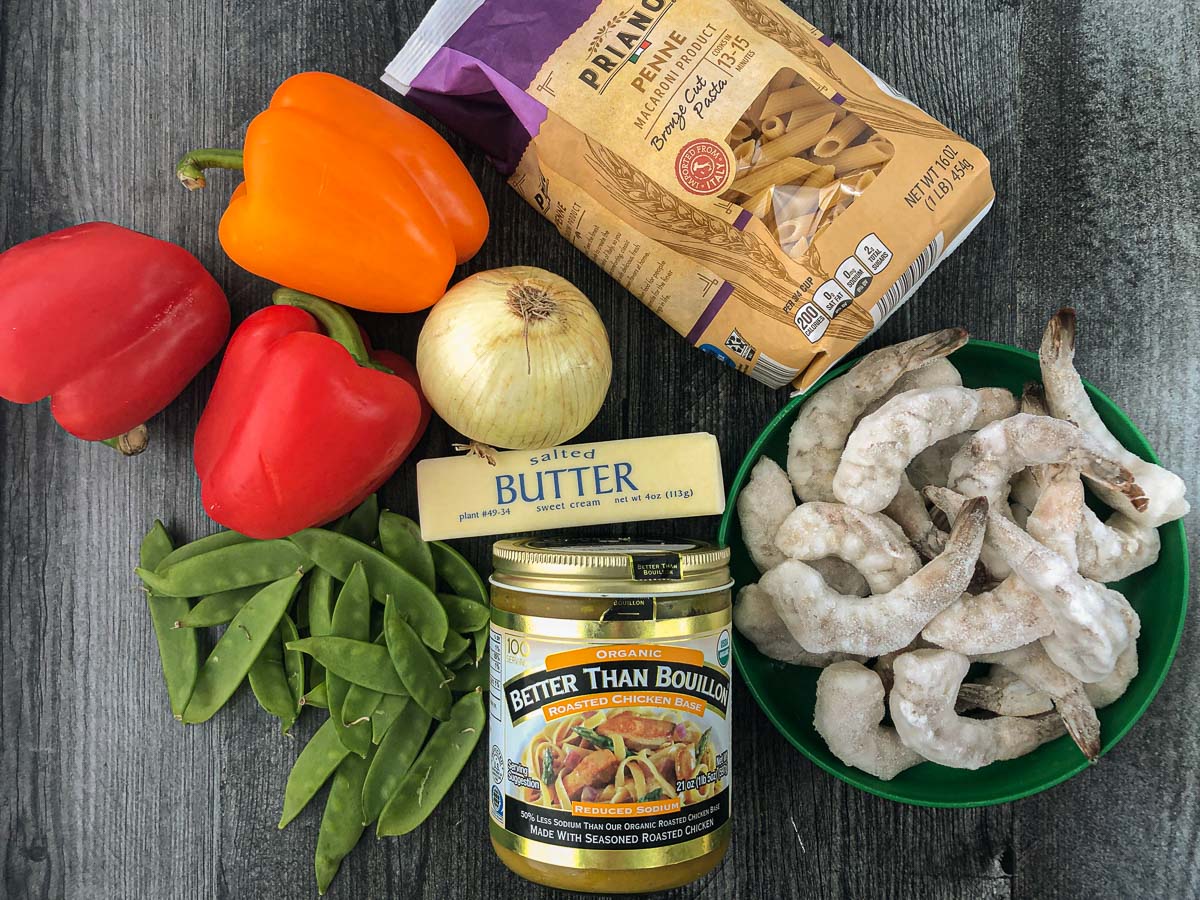 How to make red pepper pasta with shrimp.
Step 1: To make the red pepper sauce, get out a large nonstick skillet and heat to medium high heat. Add the butter and onions then turn the heat down to medium. Saute the onion until it's starting to be translucent – about 3-4 minutes.
Step 2: Add in the chopped peppers, chicken base, water, salt and pepper. Bring it to a simmer until the peppers are fork tender. This should take about 5-10 minutes.
Step 3: Pour the pepper mixture into a high speed blender like a Vitamix or a food processor and blend until you have a smooth and creamy sauce. You might have to do this in batches. Just make sure to be careful with the hot liquid in a blend so that it doesn't fly out and burn you.
Below you can see what the peppers look like once they are cooked and pureed. Almost looks llike you put cream in it! Taste and adjust the seasoning if it needles it. You can a bit of salt and pepper.
Step 4: In the meantime you can cook your noodles according to the directions on the package. When it has just 3 minutes left to cook, add the snow peas to the pot with the noodles. When it's all done, take it off the stove, run cold water over the noodles and drain. Place into a large bowl.
Step 5: Take the red pepper sauce and pour back into the pan. Pat the thawed shrimp dry with paper towels and add to the pan. Let the shrimp cook for a few minutes over medium low heat until it turns pink and is cooked through.
Step 6: Pour the shrimp mixture over the cooked pasta and mix well and plate. Store leftover in an airtight container. Please scroll down for the printable recipe card.
My son likes to add grated parmesan cheese to every noodle dish and my husband loves hot pepper flakes. Sometimes I add toasted pine nuts as well. Again these are all optional.
To make it an even richer sauce you can add heavy cream. We have done this before but tonight I wanted a healthy dish. Healthy garnishes you can add or fresh parsley or fresh basil.
Options for a low carb version of red pepper shrimp pasta.
I often like to use zucchini noodles for gluten free option. However there are many different kinds of keto noodles on the market if you are interested in them.
Some low carb pasta alternatives are Palmini (palm noodles), spaghetti squash or zucchini noodles or Wonder noodles (made from konjac root). So if you are looking for a Paleo meal or low carb dinner try one of these options.
Other healthy pasta recipes to try.
My son loves pasta so I make it quite frequently for weeknight meal but I do try to keep it as healthy as possible. Some other healthy pasta recipes you might like are:
I hope you like this quick and easy shrimp red pepper pasta. And as I have said before, just because it's simple doesn't mean that it's not packed with flavor. I hope you enjoy this delicious as much as we do.
The nutritional information 1 serving without pasta is 130 calories / 4.9g fat / 8.4g carbs / 2.4g fiber / 13.7g protein = 6g net carbs
With the pasta it is 413 calories / 6.2g fat / 65.1g carbs / 5.1g fiber / 23.2g protein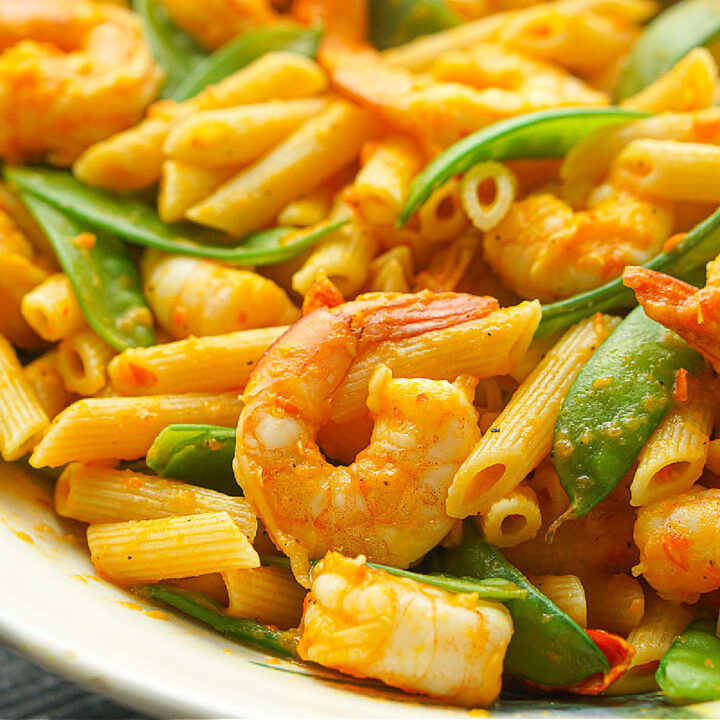 Shrimp Pasta with Red Pepper Sauce (low carb & Paleo version too)
This red pepper shrimp pasta is a simple and tasty dinner using red peppers to create a "tomato-like" sauce. You can also eat this sauce with zucchini noodles for a low carb or Paleo dinner.
Ingredients
2 tablespoons butter
1 cup onion, diced
3 red bell peppers chopped
½ teaspoon salt
¼ teaspoon black pepper
1 teaspoon Better than Bouillon chicken base
1 cup water
¾ pound raw shrimp, peeled
6 ounces snow peas
1 pound pasta
toasted pine nuts and grated cheese, optional as garnish
Instructions
If using frozen shrimp, make sure your shrimp are thawed.
Cook your pasta according to the directions. Add the fresh snow peas to the pasta and water, 3 minutes before the pasta is done. Drain and set aside.
In a large saute pan, add butter and onions. Saute 3-5 minutes until the onions are translucent.
Add your red peppers, salt, pepper, bouillon and water and bring to a simmer. Cover and cook until the peppers and soft, about 5-10 minutes.
Add pepper mixture to a high speed blender and puree until smooth and creamy. You may have to do this in batches. Be careful when blending the hot liquids. Taste and adjust seasoning by adding a bit more salt and pepper if it needs it.
Pour the pureed sauce back in the pan and add your raw shrimp. Cook over medium heat unit the shrimp turns pina and is cooked through. This should take less than 5 minutes.
Pour the red pepper sauce over the pasta and mix through and serve. Add toasted pine nuts, hot pepper flakes or grated cheese as toppings if using.
Notes
For a low carb and Paleo version use zucchini noodles or other keto noodles.
To make it an even richer sauce you can add heavy cream and healthy garnishes are fresh parsley or fresh basil.
The nutritional information 1 serving withou the pasta is 130 calories / 4.9g fat / 8.4g carbs / 2.4g fiber / 13.7g protein = 6g net carbs
With the pasta it is 413 calories / 6.2g fat / 65.1g carbs / 5.1g fiber / 23.2g protein
Nutrition Information:
Yield:

6
Serving Size:

1
Amount Per Serving:
Calories:

413
Unsaturated Fat:

0g
---