This sausage & peppers pasta dish is a quick and easy meal that you can use on pasta or zucchini noodles. It's low carb (using the zoodles) and delicious!
I used to make this sausage & peppers pasta dish a lot for my hubby. Partly because he likes it and mostly because it's easy and I know it's tasty. And as I'm typing this up I realized that I use to make this dish differently. Oh well I'll explain that later in post. Some days I truly think I am losing it. 😉 Anyway when I made this the other day I decide to make zoodles for myself to keep it lower carb and it was just as good if not better than the one made with pasta. My husband would not agree but what does he know! haha. I used paparadelle noodles I got at, where else but Trader Joes.
First you want to brown your sausage in a large sauté pan. You can either take it out of the casings (which I did) or you can chop it up and brown it with the casings on. Once it's cooked take it out of the pan and set aside. Next put a little olive oil in your pan and heat to a medium high. Add your onions and cook until they turn translucent and then you can toss in your peppers, garlic and tomatoes. Season with salt and pepper too.
Once the veggies have softened add back your cooked sausage.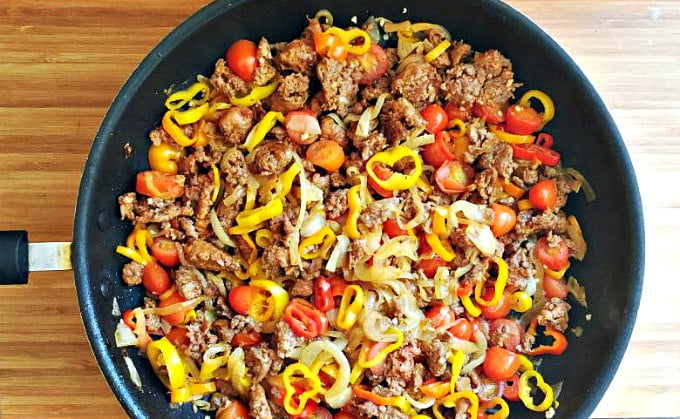 Cook for a little while to let the flavors meld. If you feel it needs a bit more olive oil add it now and cook for a minute or two. Lastly take your cooked pasta and add it to the pan. Mix everything up and heat through. Now your are ready to plate.
Sausage & Peppers Pasta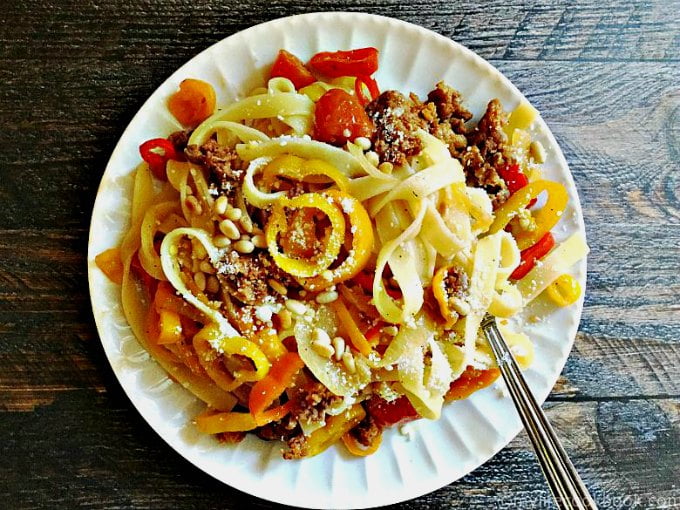 We like to serve with freshly grated cheese and toasted pine nuts. I've said it before but everything tastes great with pine nuts in my opinion but they are sometimes hard to find and expensive so you don't really need them.
How to cook the zoodles
And here are my zoodles. I just used my special peeler to make my zucchini noodles. Then I added them to a dry, heated sauté pan (high heat). I added a tablespoon of water and let the steam cook the zucchini for a few minutes. Then I plated them and added some of the pepper mixture on top. Delicious!
The other way to make this dish.
As I mentioned earlier I used to make this recipe differently. In the past I would roast all the ingredients. In a nutshell I would add the olive oil, onions, peppers, tomatoes and garlic in a large baking dish. Roast in a 400 degree oven for about 40 minutes. Then add your cut up sausage and roast for 20 more minutes or until the sausage is cooked through. Toss your cooked pasta in the dish or in a separate pasta bowl. Both ways are pretty easy but in this method you can basically set it in the oven and walk away. Enjoy!
Sausage & Peppers Pasta
This sausage & peppers pasta dish is a quick and easy meal that you can use on pasta or zucchini noodles. It's low carb (using the zoodles) and delicious!
Ingredients
1

lb

Italian sausage

hot or sweet

1

onion

thinly sliced

2

Tablespoons

olive oil

2

cups

assort colored peppers

sliced

1/2

pint

grape tomatoes

sliced in half

1

teaspoon

chopped garlic

1

lb

of pasta

cooked. (Use whatever type of pasta noodle you like)

toasted pine nuts and grate cheese to top

optional

1

zucchini julienned

if you using instead of the pasta

extra olive oil to taste
Instructions
If you sausage is in casings, either take off the casings or chop into bite size pieces.

In a large sauté pan brown your sausage and then remove from pan.

Add your olive oil and onions.

As the onions start to get translucent, add your peppers and tomatoes and garlic.

Cook for about 5 minutes so that peppers and tender.

If you feel it needs more olive oil, add it now. Maybe a tablespoon or two.

Add back your sausage and cook for about 5 more minutes.

Stir in your cooked pasta or if it doesn't fit in pan, add the pasta and sausage mixture to a large serving bowl.

Top with toasted pine nuts and grated cheese if using.
This post may contain affiliate links. For more information please visit our policies page.
---
More delicious zoodle dishes!