If you are looking for new pasta recipe for summer, try this garlic veggie pasta with chicken. It's the perfect way to use fresh veggies from the garden and put together a one pan dinner your family will love. Full of healthy vegetables in a fresh garlic and butter sauce that's tossed with your favorite pasta!
You might also like this spaghetti squash shrimp primavera recipe!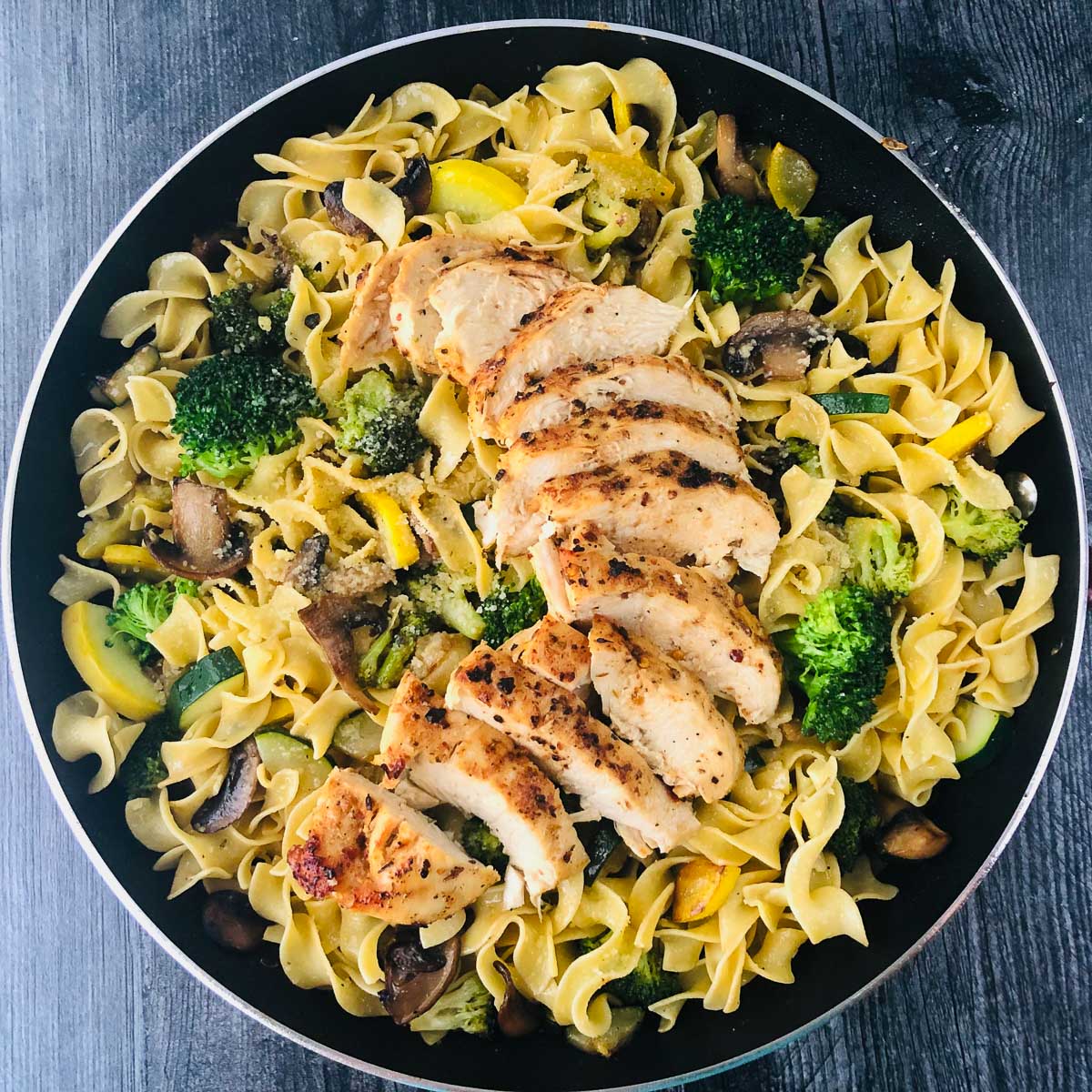 I have been making my version of pasta primavera ever since I learned to cook. My version involved lots of garlic, butter and veggies with any kind of noodles. For some reason I never made it for my family?
So recently I did and I add some roasted chicken and came up with this garlic veggie pasta with chicken recipe. They loved it and it was so easy and basically had everything in it – starch, veggie and meat – to make a complete meal.
Now this deliciously easy pasta is on our meal rotation and is perfect for busy weeknight dinners. You can eat it with our without chicken to have a meatless or vegetarian dinner.
Veggie pasta ingredients I used.
The very simple ingredients I used were veggies (yellow and green zucchini, mushrooms and broccoli), fresh cloves of garlic, butter, olive oil, egg noodles and boneless skinless chicken breast. I also like to add some grated parmesan at the end but that is optional too.
As I mentioned above the chicken is optional. I never used to add meat when I made it all those years ago. You can also use shrimp or even some type of sausage if you want.
While I used mushrooms, zucchini and broccoli you can use your choice of veggies including carrots, cherry tomatoes, green beans, asparagus, cauliflower, snap peas, sweet bell peppers, etc. You can also add some fresh herbs like fresh basil, parsley, etc.
Tip: Garlic, butter and salt adds tons of flavor to any vegetable
As for noodles, I've just be enjoying using egg noodles. You can use any kind of noodle you want like penne, rotini, linguine, etc. I used to use regular spaghetti or fettuccine when I made it for myself.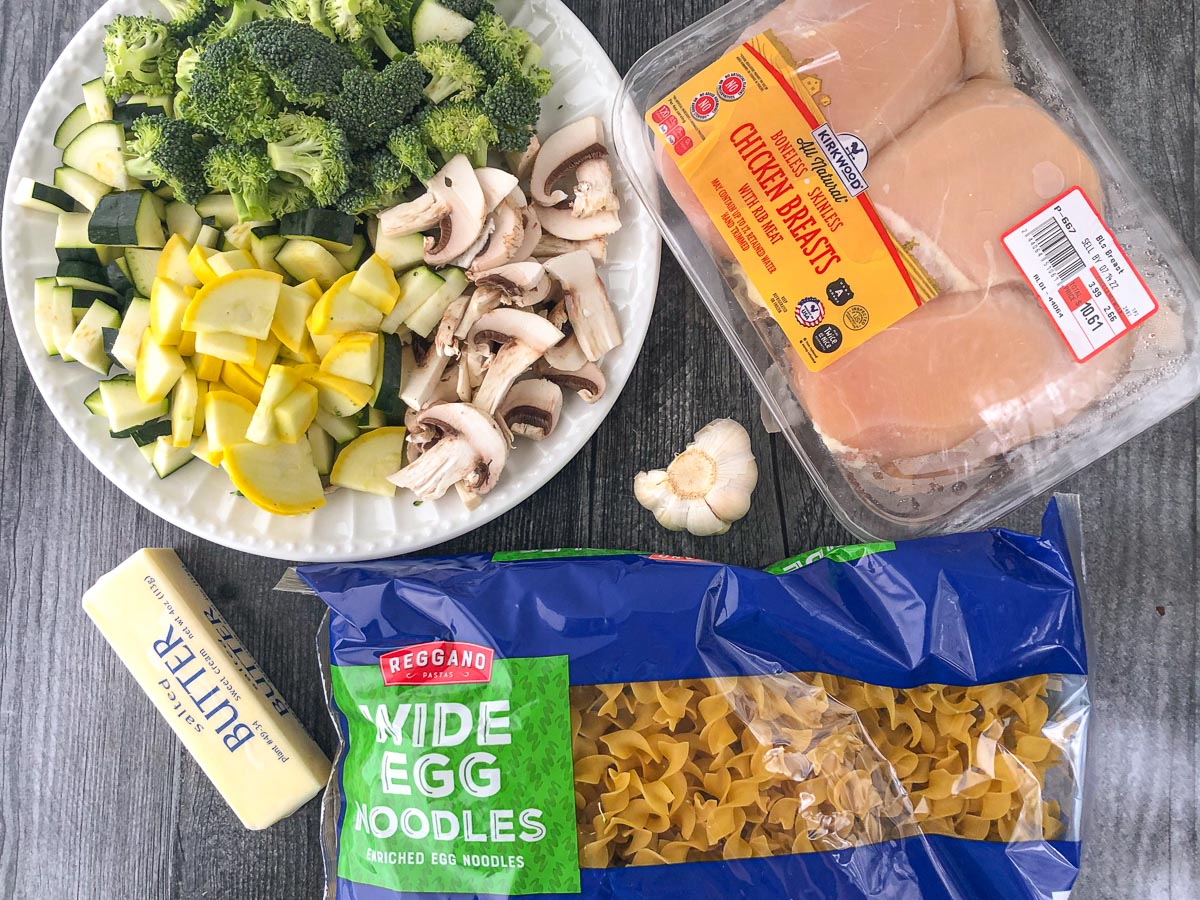 How to make garlic veggie pasta with chicken.
Step 1: Get a big pot of water going to make your pasta. When the water is boiling make the noodles according to the package instructions.
Step 2: While that is heating up, get out a large skillet and heat to medium high heat. Add a little butter and turn the heat down to medium heat.
Step 3: Add the sliced mushrooms and saute them until they are nice and brown like those below. This should take 5-7 minutes. Take them out of the pan and set aside.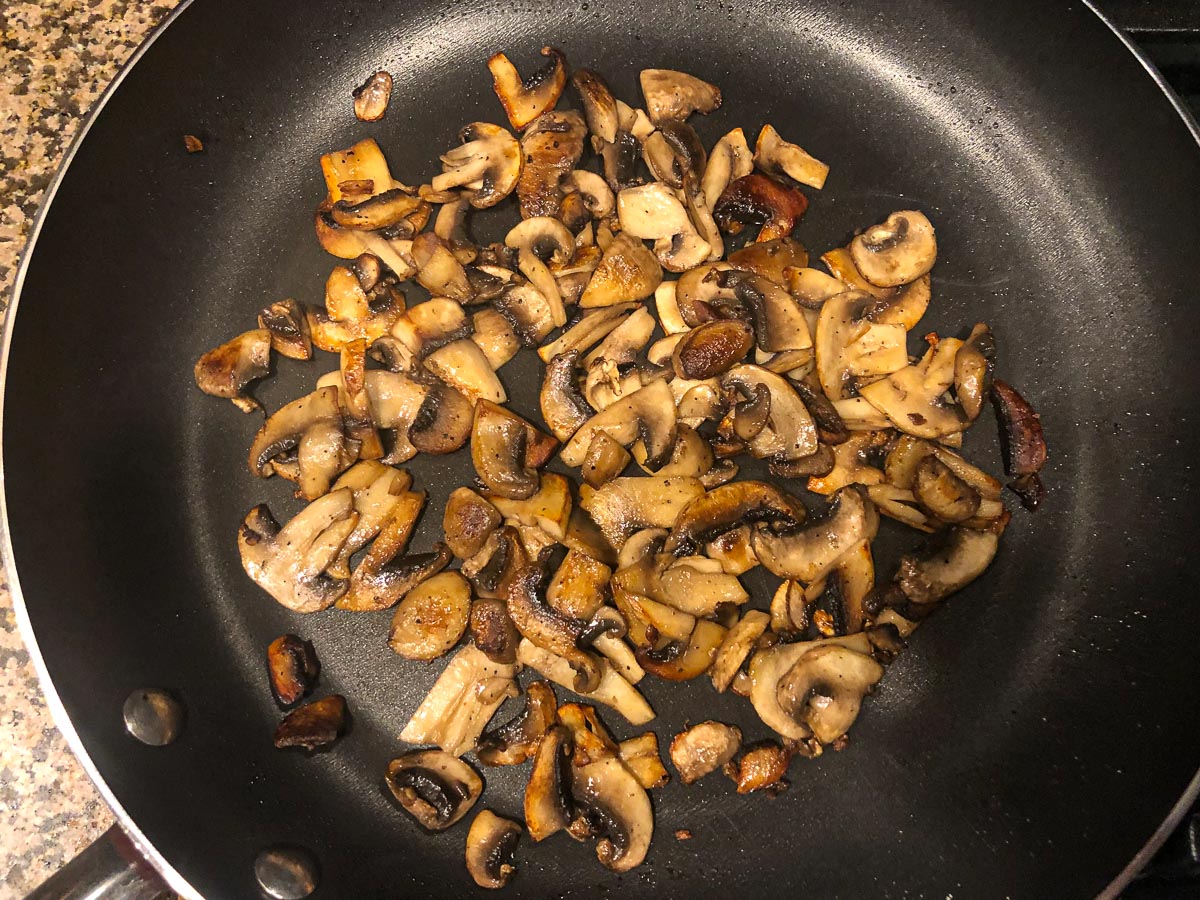 Step 4: While the mushrooms are browning, chop the zucchini and broccoli into bite sized pieces and add them to a big microwave safe bowl. Rinse them in the bowl and drain the excess water. It's alright to a bit of water in the bowl because it will help steam the veggies in the microwave. Cook for 5 minutes in the microwave.
Step 5: Using the same pan add both butter and olive oil and heat to medium heat. Add in the veggies, salt and black pepper and saute for 5 more minutes.
Step 6: Then add in the rest of the butter, crushed garlic cloves and the cooked mushrooms and saute for another 2-3 minutes and you are done.
If you want a little more sauce, you can add a bit more butter, chicken broth or use a little of the pasta water. Don't add too much though. Just a couple tablespoons.
Step 7: Add the cooked pasta to the vegetable mixture and mix well. You can then serve the Vegetable pasta as is because it's so full of flavor. It is what I used to make as my pasta primavera. You can serve this with a little grated parmesan cheese or even a little hot pepper flakes for extra flavor.
To add the chicken see below. Store leftovers in an airtight container. (Please scroll down to view the printable recipe card.)
If you want to add chicken to this pasta dinner.
If you want to add chicken to this pasta dish, you can either buy a rotisserie chicken and slice up the chicken breast. You can use leftover chicken breasts. Or you can cook it in a pan before you make everything else and let it rest while you cook the pasta.
To pan fry a chicken breast, use salt or pepper or if you have a chicken spice blend, liberally sprinkle over both sides of the chicken breast. I like to use a combination of garlic powder, onion powder, salt, black pepper and paprika.
Heat up a large skillet with a little olive oil. Add the chicken breast to the hot pan and let cook for 5-7 minutes, then flip for another 5-7 minutes. You want the internal temperature to be 165°F. Let it rest while you cook everything else.
Note cooking time may vary depending on the thickness of the meat.
Other tasty family skillet dinners to try.
I love easy skillet dinners for weeknight dinners. These are a few of my family's favorite skillet dinner recipes to try.
Well it took me long enough to introduce this garlic veggie pasta to my family but boy am I glad I did. The bad thing is that I mostly eat low carb and this is too much of a temptation to resist.
Luckily I have a low carb version using spaghetti squash so check that out if you are on a low carb or keto diet. I hope you enjoy this simple but tasty meal as much as my family did.
Garlic Veggie Pasta with Chicken Recipe
For an easy and delicious family dinner try this garlic veggie pasta with chicken. It's also delicious without the chicken for a delicious vegetarian dinner. Full of buttery garlic sauce and healthy veggies.
Ingredients
½ pound egg noodles
4 tablespoons butter, divided
1 tablespoon olive oil
2 cloves garlic, crushed
2 cups zucchini, chopped
2 cups broccoli florets
8 oz white mushrooms, sliced
salt and black pepper to season
1 boneless, skinless chicken breast, cooked (optional)
parmesan cheese (optional)
Instructions
Get out a large pot of water going and make your pasta according to the directions on the package. If you are going to use chicken in this dish, you can use rotisserie chicken or even leftovers. To make pan fried chicken breast, see the notes below and make it first and set aside to rest while you make the rest of the dish.
Heat up a large skillet to medium high heat and add 1 tablespoon of butter to it. Once it's sizzling turn the heat down to medium and add mushroom slices and season with salt and pepper. Saute until browned well and the place the mushrooms in a bowl and set aside.
While the mushrooms are cooking, add the zucchini and broccoli to a microwave safe bowl and rinse them in the bowl. You want a little water to be left in the bowl to steam the veggies. Microwave for 5 minutes to precook them.
Once the mushrooms are done, add 1 tablespoon of olive oil and butter to the same large pan and add the cooked vegetables. Season with salt and pepper and cook for 5 minutes on medium high heat to give them a bit of color.
Next add the remaining 2 tablespoons of butter and the crushed garlic to the pan. Mix in the cooked mushrooms and combine all the ingredients well. Cook for 2 more minutes and it's done.
Add in the cooked, drained pasta and mix well. Top wtih sliced chicken if using and you can also serve with grated parmesan cheese.
Notes
To pan fry chicken breast
Season boneless, skinless chicken breast with seasoning. You can just salt and black pepper if you wish but use it liberally and on both sides. I like a combination of onion powder, garlic powder, salt, pepper and paprika.
Heat up a large skillet with a little oil. Add the chicken breast to the hot pan and let cook for 5-7 minutes, then flip for another 5-7 minutes. You want the internal temperature to be 165°F. Let it rest while you cook everything else.
Nutrition Information:
Yield:

4
Serving Size:

1
Amount Per Serving:
Calories:

327
Total Fat:

18g
Saturated Fat:

9g
Trans Fat:

0g
Unsaturated Fat:

8g
Cholesterol:

74mg
Sodium:

321mg
Carbohydrates:

27g
Fiber:

6g
Sugar:

4g
Protein:

17g