Pasta primavera simply means pasta with fresh vegetables and it's a dish I used to make all the time when I was younger. Mostly just for myself because I loved to use a lot of garlic and not everyone is fond of it as me. Now that I'm eating more low carb, I've been using a lot of zucchini noodles and spaghetti squash instead of traditional pasta. If you have a good sauce or topping, you don't really miss the pasta. At least I don't. On this particular night I was cooking for myself and remembered that garlicky pasta primavera from my past and thought I'd whip up a lower carb rendition. It was fabulous! I hadn't planned on making this dish for a post but liked it so much I thought I should share it with you. So unfortunately I don't have many photos of the steps but it's pretty easy so I think you will live with out a lot of photos on this post.
You can cook the spaghetti squash either in the oven or microwave. I think the microwave is fine for this recipe because it's not the star of the dish. Keep in mind that the oven will give it a bit more flavor and would be better if you were highlighting the squash. Just cut it lengthwise, clean out the seeds and microwave for about 12-15 minutes or until you can pierce it with a fork. When it's cooled, just scrape out the insides and there is your "pasta".
The rest of the recipe is pretty straight forward. I like to use broccoli, mushrooms and squash in my primavera but you can use any vegetables that you like. Also the pine nuts on top (as well as the shrimp) are optional but oh how I love pine nuts with my pasta. I hope you get a chance to try this one. I wish I had grown some spaghetti squash this year in my garden so I can have this whenever I want. Enjoy!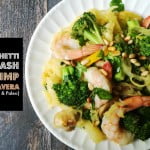 Spaghetti Squash Shrimp Prima Vera (low carb, Paleo)
Using spaghetti squash instead of pasta makes this Shrimp Prima Vera recipes both low carb and delicious! A fabulous Paleo dinner.
Ingredients
½

lb

of cooked large shrimp

peeled

2

cups

of cooked spaghetti squash

2

Tablespoons

of butter

ghee if strict Paleo

2

Tablespoons

of olive oil

8

oz

mushrooms

½

zucchini

sliced

2

cups

of broccoli florets

1

teaspoon

of crushed garlic

¼

cup

fo pine nuts

toasted

salt and pepper to taste
Instructions
Heat 2 Tablespoons of butter in a large sauté pan.

Slice your mushrooms in half and add to pan. Cook on medium high until browned a bit.

Mean while add sliced zucchini and broccoli to a microwave safe bowl and cook fr 5 minutes in the microwave.

When mushrooms are browned, add zucchini, broccoli and olive oil. Add salt and pepper to taste.

Saute for 2-3 minutes and then add your garlic, shrimp and last tablespoon of butter.

Saute for another 2-3 minutes until shrimp is warmed through.

Add your spaghetti squash and sauté for another 5 minutes.

Top with pine nuts and serve.

Enjoy!