This creamy low carb pork tenderloin recipe is an easy and delicious fall meal your family will love. Tender pork in a creamy sauce with sliced apples and it's low carb! So if you are looking for a fall pork recipe, try this low carb dinner. Each serving has only 4.6g net carbs!
You might also like this delicious stuffed keto pork tenderloin recipe!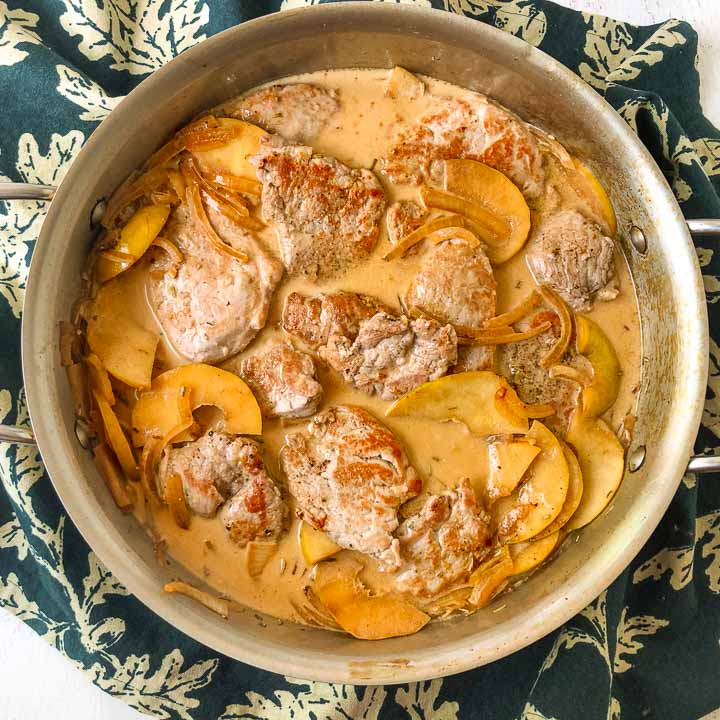 This is one of those recipes I tend to make more often in the fall. I guess it has to do with the apple fever that comes about at this time of the year. My husband's mom always used to make fried apples with her pork roasts so he really loves this creamy low carb pork tenderloin recipe.
I like that these pork medallions have a creamy sauce and I made the recipe low carb by using Granny Smith apples instead of high sugar apples. This is a comforting fall dinner that I'm sure your family will love and 1 serving has only 4.6g net carbs.

What Type Of Apples To Use?
I love apples. I like that they are sweet, but not too sweet, crunchy and juicy and best of all they are good for you. These days there are many different types of apples to pick from. Usually I buy Fuji apples because they are my favorite but if you are not counting carbs use whatever variety of apples you want.
Today I wanted to lower the carbs and so I used Granny Smith apples and left the skin on for it's fiber content. Granny Smith apples have the lowest net carb count of all the varieties. For more information check out this article on apples on a low carb diet.
Net Carbs In Common Apple Varieties
Granny Smith 16 grams of net carbs
Gala and Red Delicious: 18 grams of net carbs
Fuji: 21 grams net carbs
Creamy Pork Tenderloin & Apples Recipe
On to the recipe. I started with 1 lb of pork tenderloin, that I cut into ½ inch pieces and pounded into thin medallions. To do this, I placed the pieces in a plastic baggie and used a meat mallet to pound them thinner.
Then I browned them in a skillet with a little oil. When browned on both sides, take them out and add the onions. You want the onions almost browned and then you add your apples and saute for a few minutes.
Lastly add in your vinegar, broth and rosemary and cook for a few minutes so the apples are soft.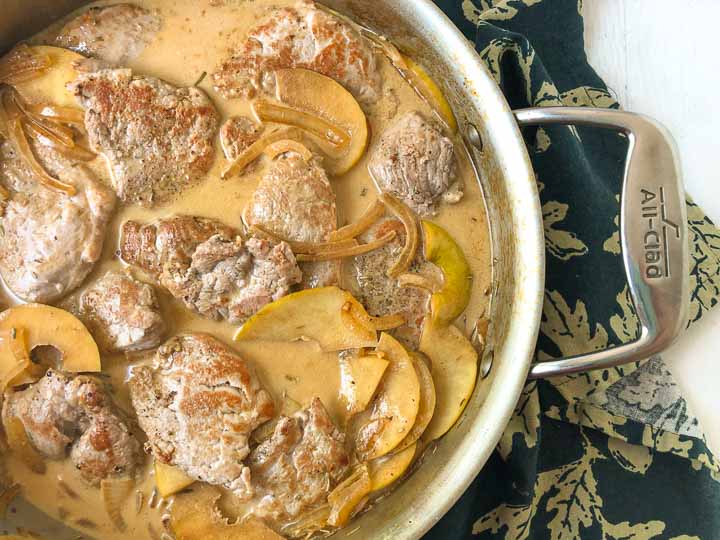 Now all you have to do is pour in the cream, mix well and add back the pork. Cook that for a few more minutes and you are done. Easy peasy.
What To Do With This Recipe
This dish would be good over egg noodles or rice however today my family ate it with some quinoa and broccoli. I just ate it as is because I'm watching my carbs.
I hope you like this creamy pork and apples skillet dinner. It is a delicious, hearty fall dinner and a good way to use all those wonderful apples that are in season this time of year.
The nutrition for one serving using Granny Smith apples is:
288 cals / 19.2g fat /5.6g carbs / 1g fiber / 20.1g protein = 4.6g net carbs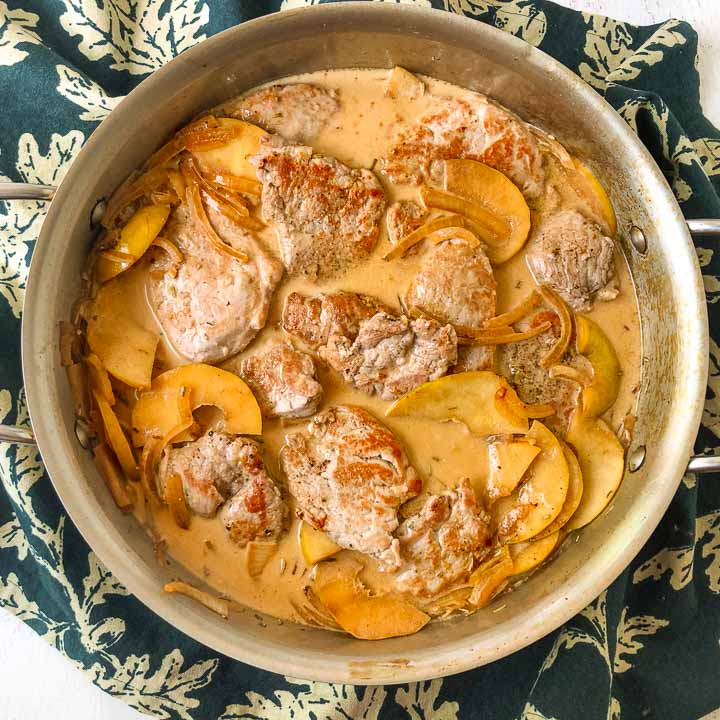 Creamy Low Carb Pork Tenderloin & Apples
This creamy pork & apples skillet dinner is a delicious combination of flavors your family is sure to love.
Ingredients
1 tablespoon oil
1 lb pork tenderloin
salt and pepper
2 tablespoons butter
½ cup onion, thinly sliced
1 Granny Smith apple, thinly sliced****
¾ cup chicken broth
¼ cup apple cider vinegar
¾ cup heavy cream
1 teaspoon rosemary
Instructions
Cut the pork tenderloin into ½ inch pieces.
Place inside a plastic baggie and pound to make a thin pork medallion using a meat tenderizer.
Season with salt and pepper.
In a large saute pan, heat the oil and then brown the pork on both sides. About 3 minutes per side.
When finished browning the meat, set aside and the butter to the pan.
Once the butter is melted, add the onions and saute until starting to brown. About 5 minutes.
Add the apples and continue cooking for a few minutes.
Meanwhile, mix your chicken broth, vinegar and rosemary and then add to apples.
Cover and lower to medium low for 5 minutes.
Add the cream and mix well. Place the pork medallions into the pan and cook for 5-7 more minutes.
Serve with rice, noodles or as is.
*** If you are counting carbs, you can use Granny Smith apples which are less sweet otherwise use your favorite apple variety.
Notes
Nutrition Information:
Yield:

6
Serving Size:

1
Amount Per Serving:
Calories:

288
Net Carbohydrates:

4.6g