This sausage stuffed banana pepper pasta is an easy and tasty recipe that is perfect for busy weeknight dinners. If you have a lot of hot peppers from the garden this is the recipe to use them with. Can eat this as just roasted sausage and peppers or with pasta, rice or zucchini noodles.
You might also like this low carb sausage and zucchini noodles recipe.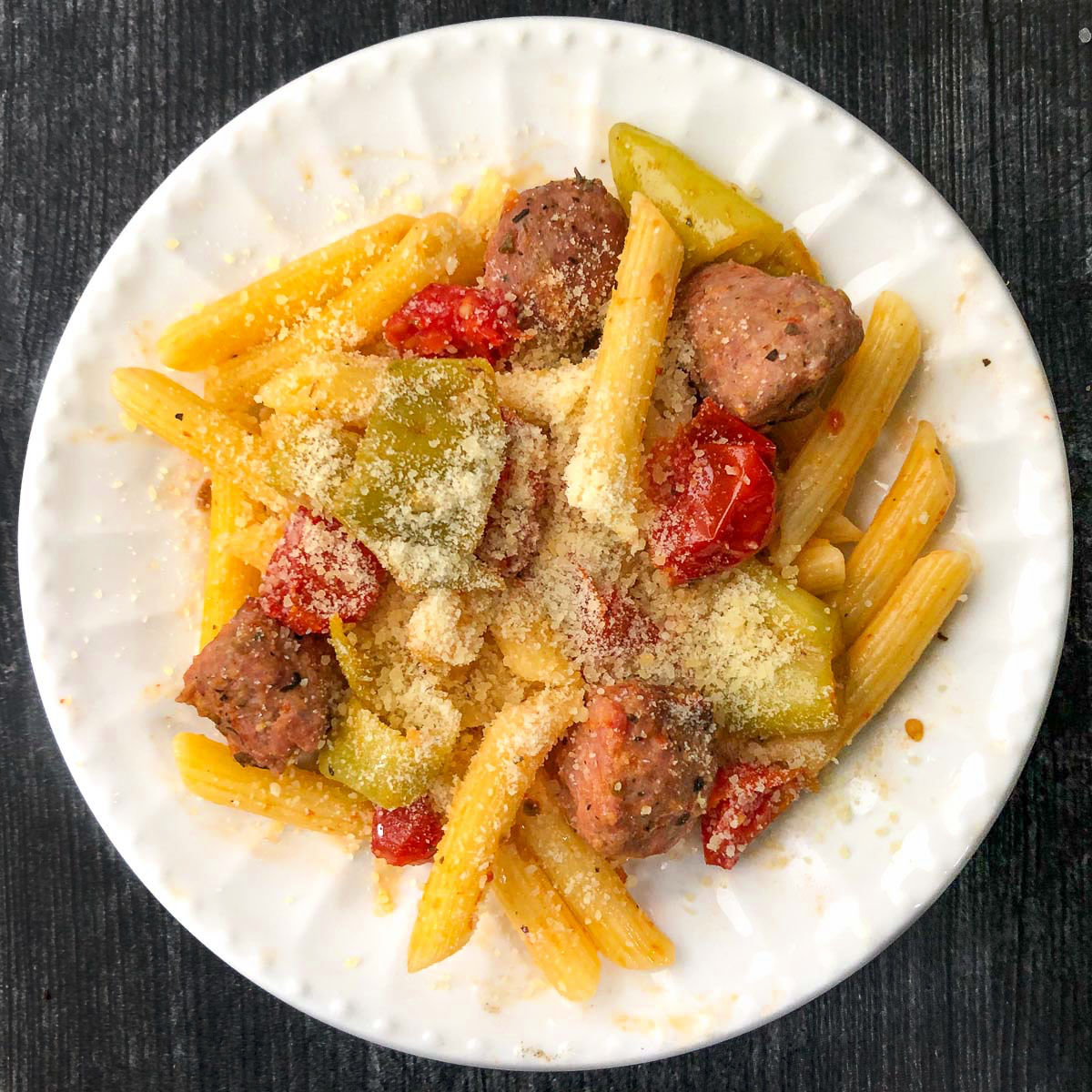 My husband is the pepper king when it comes to gardening. He has grown so many varieties over the years and hot banana peppers are one of his favorites. So we have plenty to play around with for meals.
This sausage stuffed banana pepper pasta is one of our favorite ways to eat them. It's like a deconstructed stuffed pepper roasted in olive oil, garlic and spices. And then you serve it with any kind of noodle you want to use.
It's a really easy weeknight dinner and you can eat it as is without pasta too. I like to eat zucchini noodles with it or just as is because I like to eat less carbs. Any way you eat it, it has amazing flavor and is sure to be a family favorite.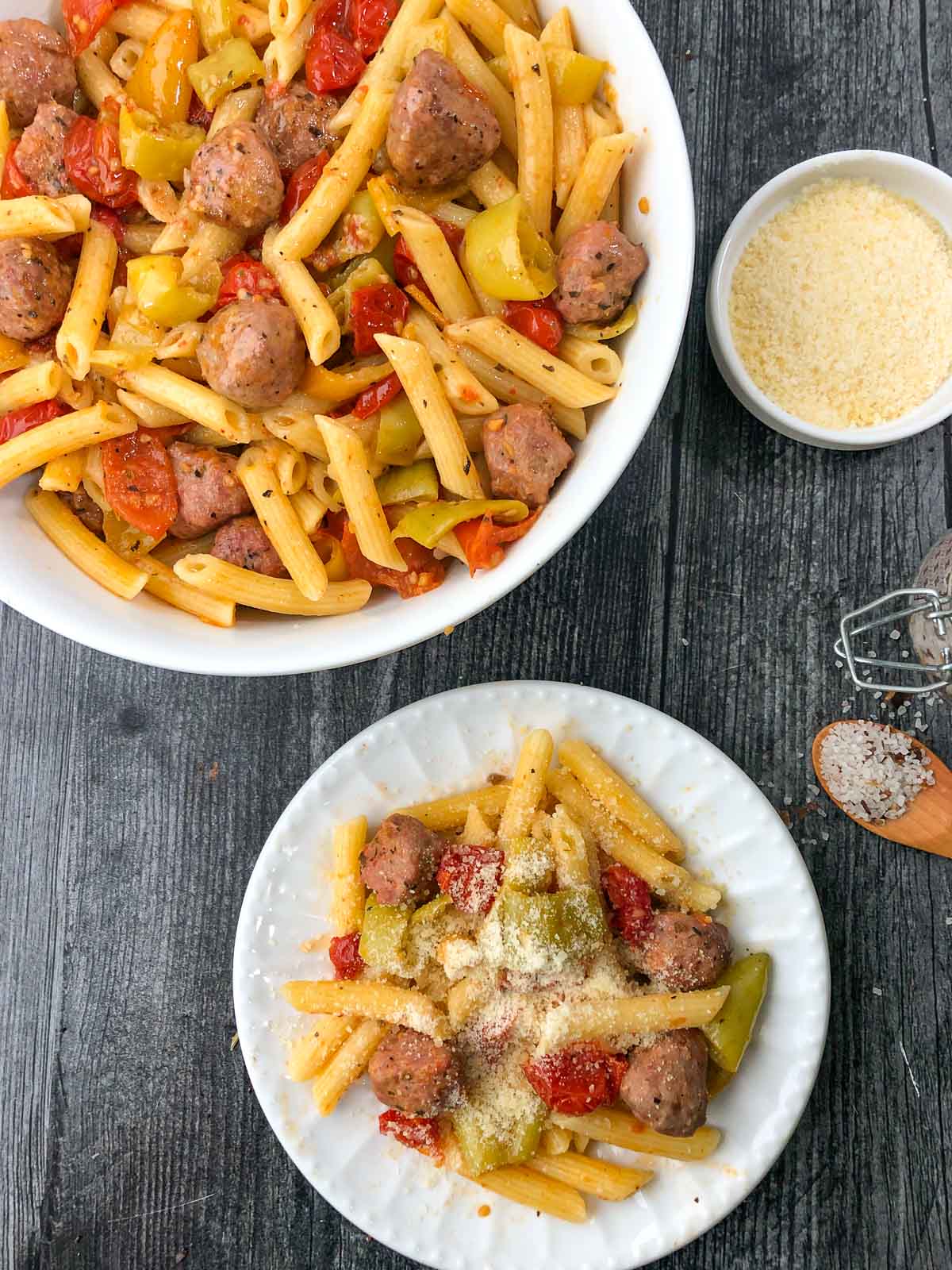 Recipe ingredients I used.
The simple ingredients I used for the meal are Italian sausage meatballs, olive oil, grape tomatoes, fresh banana peppers, oregano, basil, fresh garlic cloves, salt, black pepper and penne pasta. Also we like to sprinkle parmesan cheese on top but that is optional.
A note about the sausage meatballs; I found these at Aldi in the fresh meat section and my family loves them. They taste just like Italian sausage so I used them and made smaller meatballs from them.
Originally I just used links of Italian sausage, took off the casings and rolled meatballs from them. If I was being lazy, I just chop up the sausage with the casing. Any of these ways will work and you can use either sweet or hot sausage.
About the heat in the banana peppers; if you don't want them to be too hot, clean out the seeds and ribs as that is where all the heat comes from. If you like it spicy, keep the ribs intact but clean out the seeds.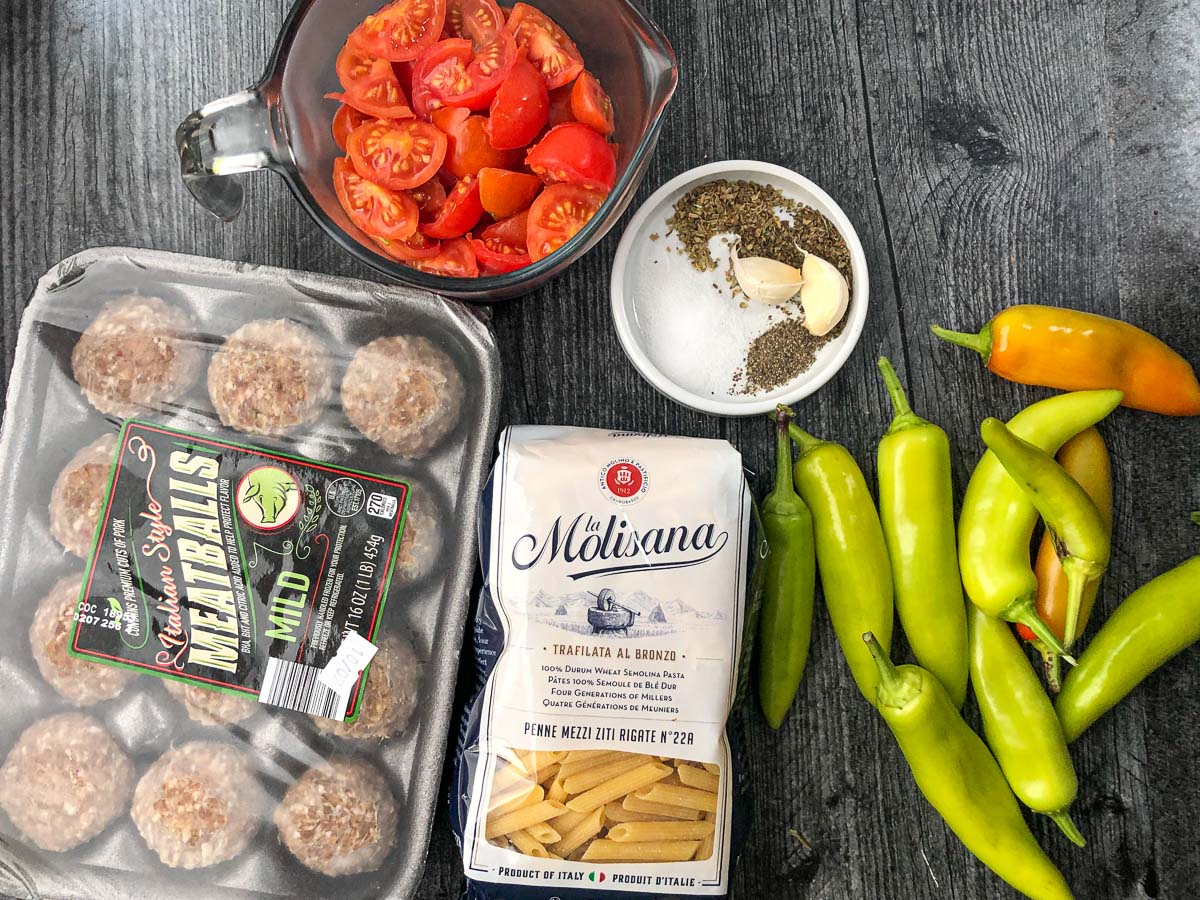 How to make sausage stuffed banana pepper pasta.
Step 1: Preheat oven to 400°F. Prepare a baking dish by spraying nonstick cooking spray all over it.
Step 2: To make the Italian sausage meatballs, either use the pre-made meatballs as show above and cut into 4 pieces then roll each piece into a meatball.
If you are use Italian sausage in casing, take it off and roll the links into small round meatballs. Do the same thing if using ground Italian sausage.
NOTE: Originally I used to stuff the peppers with the sausage and cut them into large pieces and then roasted them. This new way is much easier and taste the same but that is an option if you want.
Step 3: Get out a large mixing bowl and add the chopped banana peppers, tomatoes, crushed garlic, olive oil and spices. Mix everything together and then spread out in a prepared baking dish.
If you want to eliminate some of the washing up you can mix everything together in the prepared baking dish.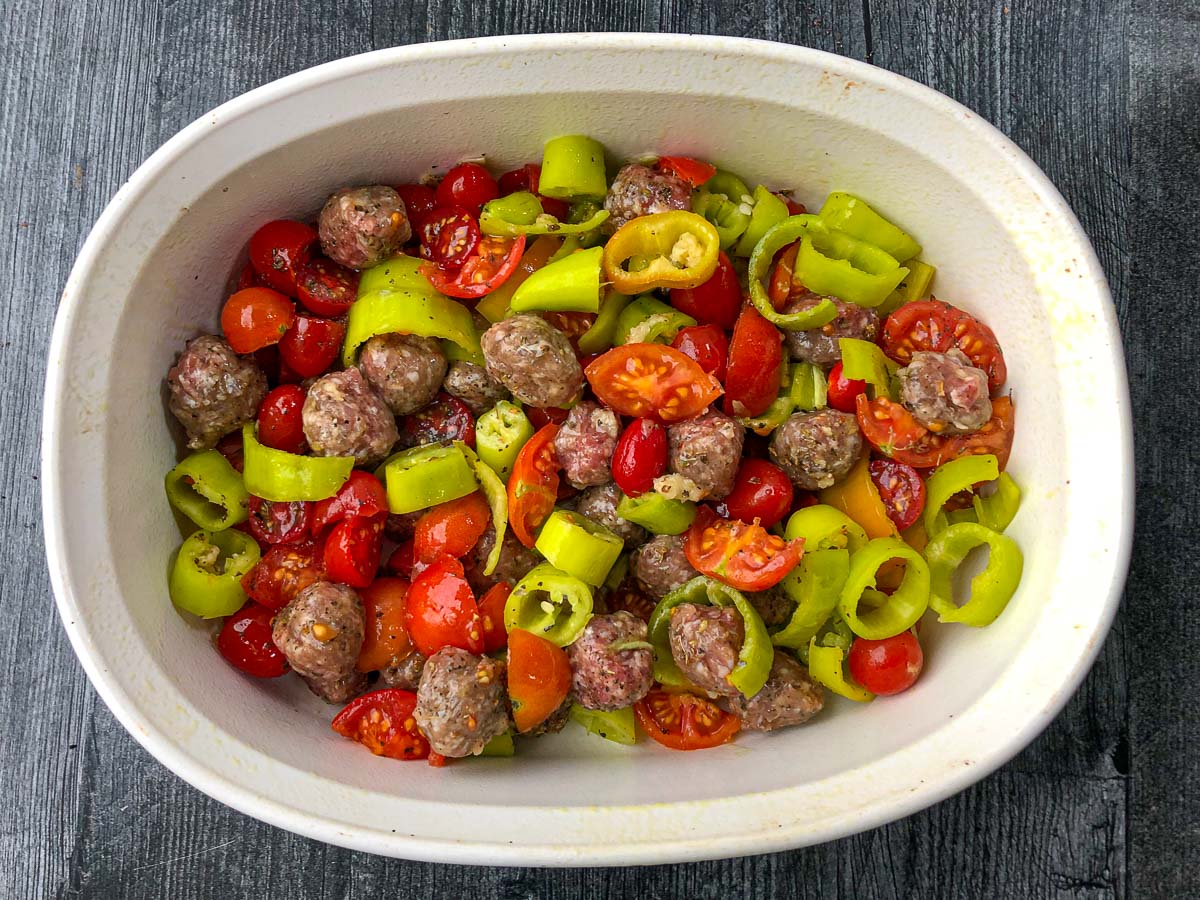 Step 4: Place baking dish into the preheated oven for 30 minutes. Bake until peppers are soft and at the meatballs are cooked through.
In the meantime, make the pasta and have it ready to go.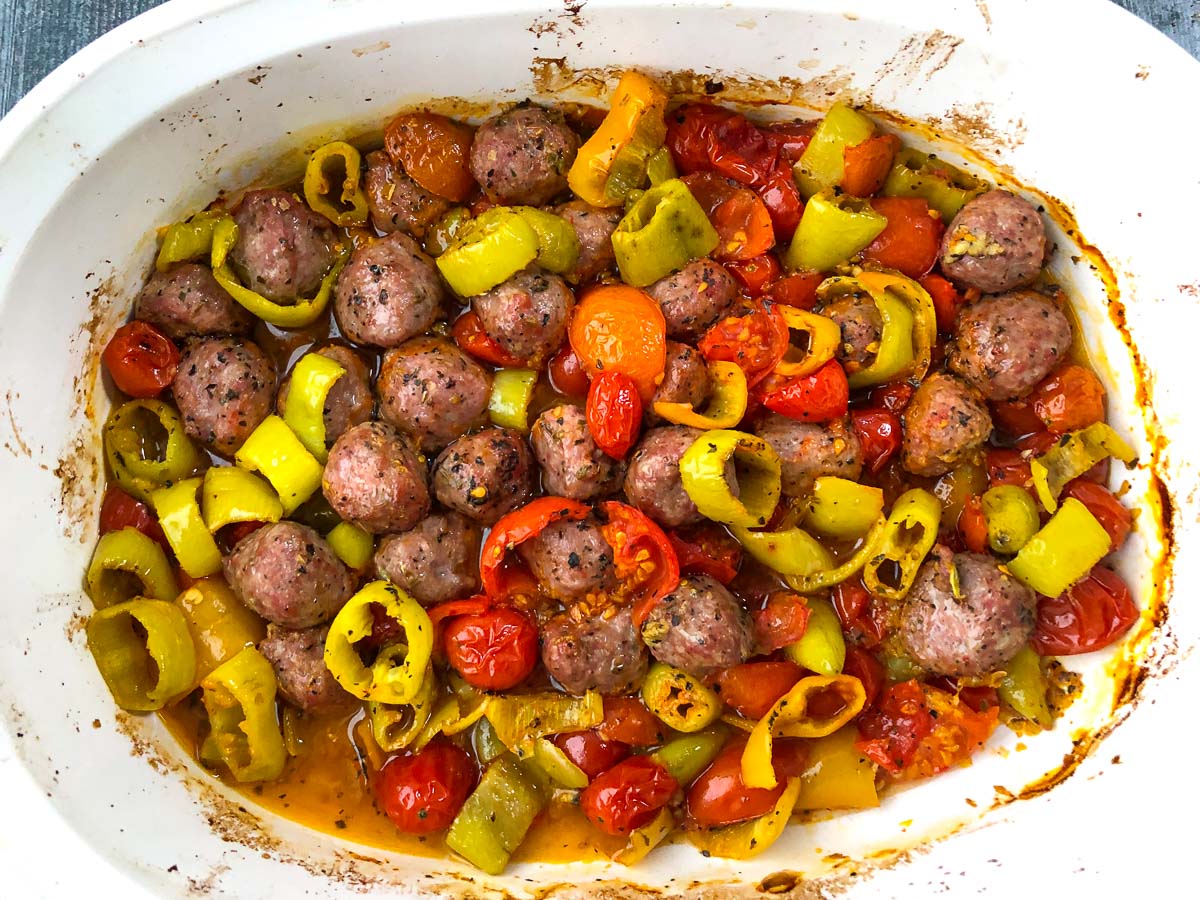 Step 5: When the mixture is done baking, pour your pasta in and mix well so that the noodles absorb some of the sauce, oil and spices in the baking dish.
You can serve like this or add everything to a large pasta bowl. Serve with grated parmesan and that is it!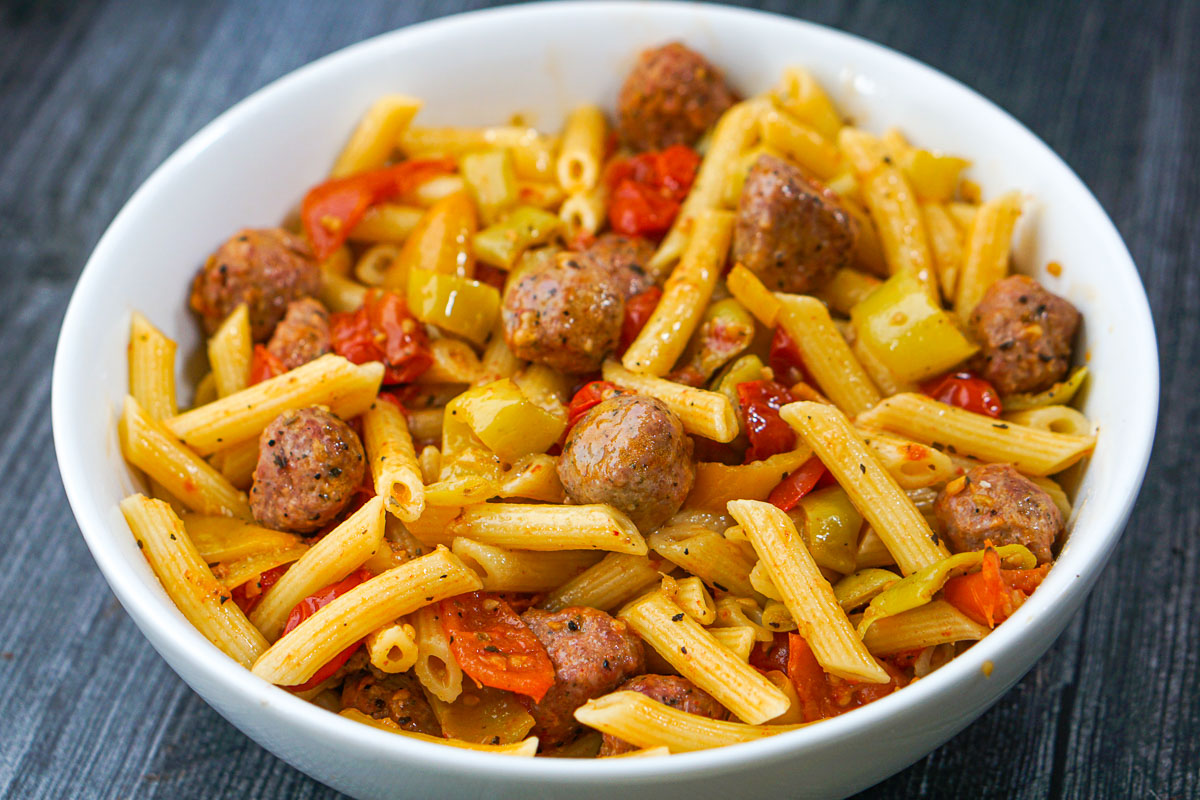 Store leftover in an airtight container. Please scroll down for the printable recipe card.
Other variations of this banana pepper recipe.
If you want you can just eat this right out of the oven. Sometimes we top it with shredded mozzarella cheese, bake and serve as an appetizer for parties or just eat it like that for lunch. You can serve it with crusty slices of bread.
You can also eat this with rice, zucchini noodles or even potatoes. For the potato you would add them to pan and bake. Cut them in small pieces or microwave for a 5 minutes before adding the pan.For the rice or zucchini noodles just cook them while the rest is baking.
If you prefer marinara sauce, you can just add your favorite pasta sauce at the very end when you are tossing everything together or you can add the tomato sauce before baking the sausage and peppers. We like the garlic and olive oil but both ways are delicious.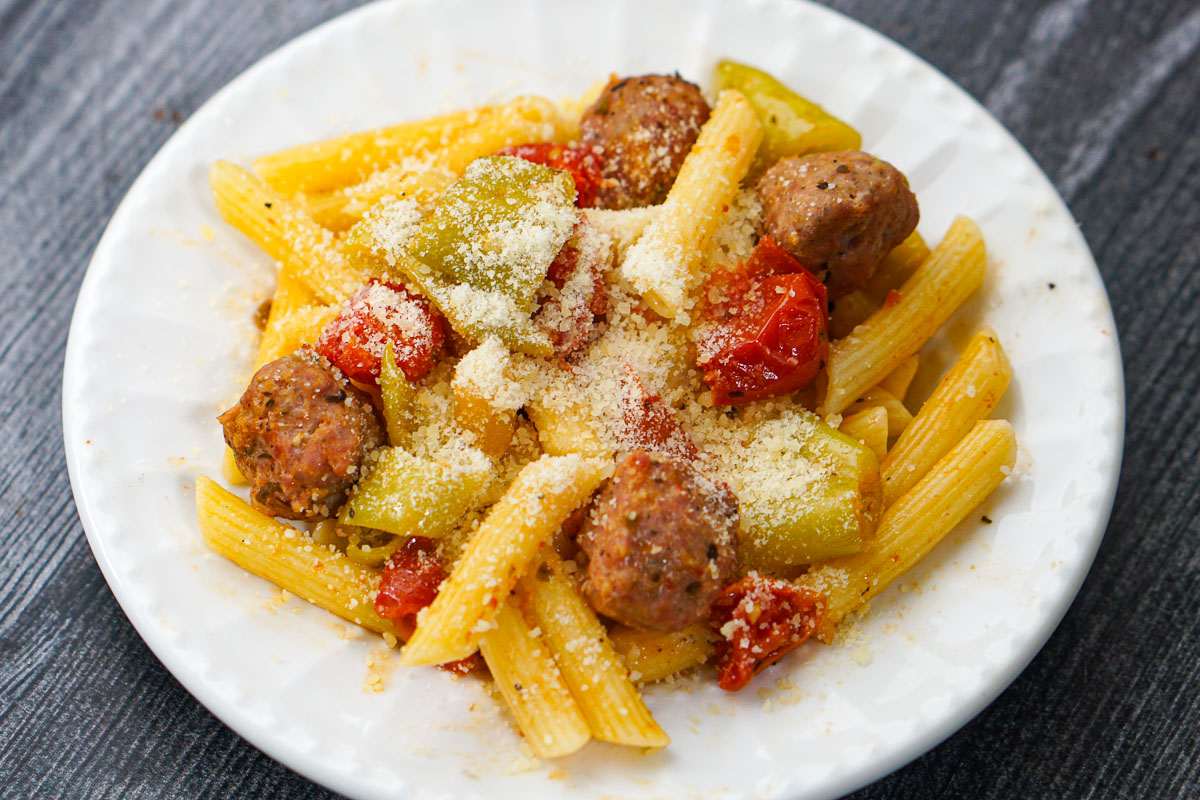 More easy pasta recipes to try.
My son and husband love pasta. I eat more low carb but sometimes I just substitute zucchini noodles for regular pasta. Here are few pasta recipes we love.
This sausage stuffed banana pepper pasta is a good way to use veggies from the garden. Well I hope you enjoy this simple but tasty meal that we love so much.
Sausage Stuffed Banana Pepper Pasta Recipe
This is another great recipe to make with banana peppers from your garden. This sausage stuffed banana pepper pasta is full of flavor from garlic and spices. You can also eat this over zucchini noodles for a gluten free option.
Ingredients
1 pound sweet Italian sausage links or meatballs
2 tablespoons olive oil
2 cups grape tomatoes, halved
12 fresh banana peppers, cleaned of seeds and ribs and chopped
½ teaspoon salt
¼ teaspoon black pepper
¼ teaspoon dried oregano
¼ teaspoon dried basil
2 cloves garlic, crushed
½ pound pasta
grated cheese, optional
Instructions
Preheat oven to 400°F ad spray a baking dish with non stick cooking spray.
If the sausage is in casings, take them off and chop into bite sized pieces. You can use the sausage like this or roll them into small meatballs.
Slice the banana peppers and tomatoes and place in a large mixing bowl.
Add sausage, spices and olive oil to the mixing bowl and toss so that everything is mixed well. Spread evenly in the prepared baking dish and place in the oven. If you want less dishes to clean, you can mix everything in the prepared baking dish.
Bake for 30 minutes or until the sausage is full cooked and the peppers soft.
In the meantime cook your pasta. Once the peppers are baked, add to your cooked pasta and serve with grated cheese if you wish.
Also delicious over rice or zucchini noodles if you are gluten free or Paleo. You can also eat the roasted banana peppers as is.
Nutrition Information:
Yield:

4
Serving Size:

1 grams
Amount Per Serving:
Calories:

576
Total Fat:

30g
Saturated Fat:

9g
Trans Fat:

0g
Unsaturated Fat:

17g
Cholesterol:

69mg
Sodium:

1207mg
Carbohydrates:

46g
Fiber:

15g
Sugar:

11g
Protein:

36g