If you have a lot of hard boiled eggs from Easter or anytime of the year you will love this loaded keto egg salad. It only needs 5 ingredients and takes a few minutes to make. Like a loaded potato this low carb spread is full of flavor and you can eat it as a spread as well. The carb count for each serving is just 1.8g net carbs.
You might also like this low carb loaded broccoli salad.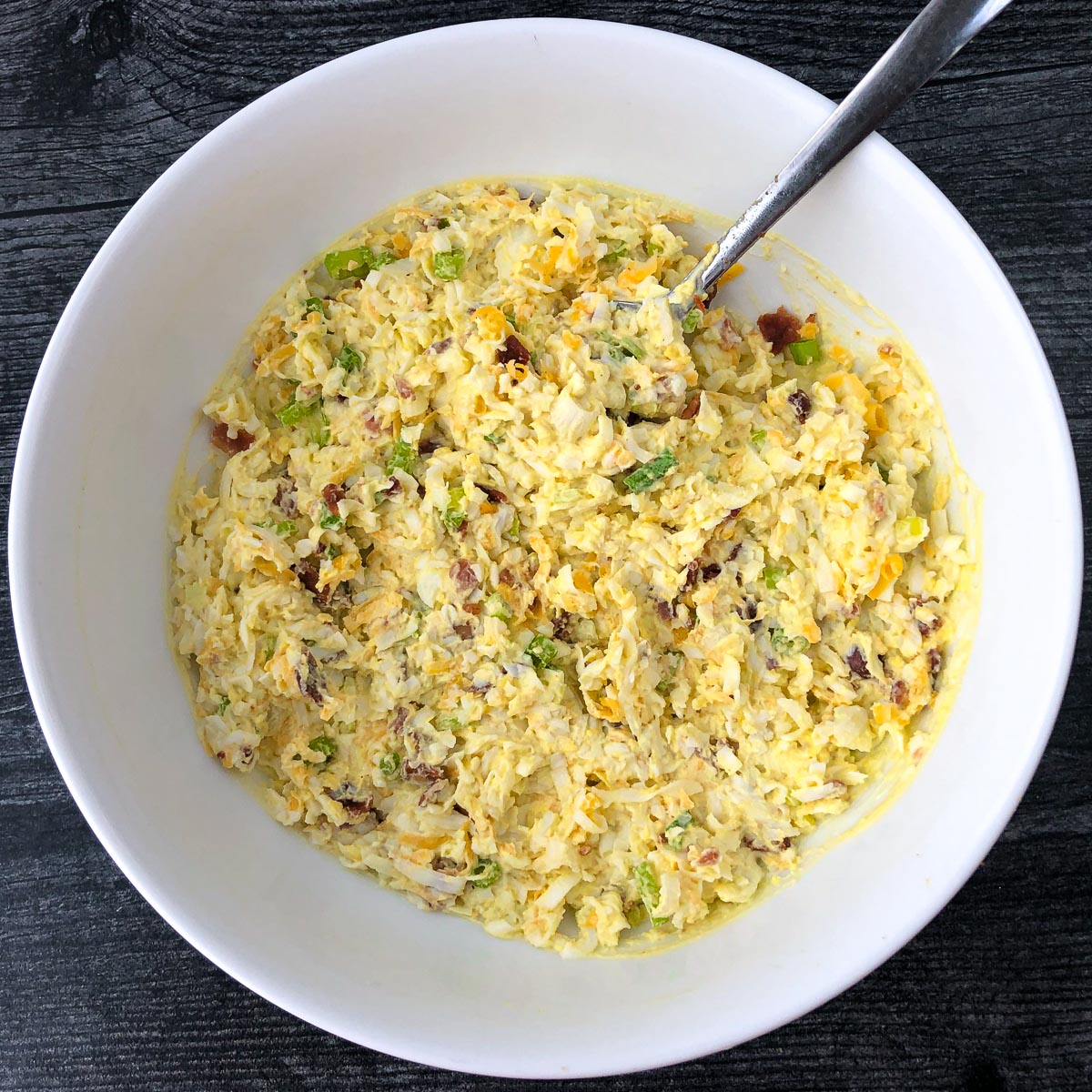 I love hard boiled eggs but seeing as how I am the only one in my family that does, Easter presents an overload for us. So today I thought I'd make this loaded keto egg salad.
To be honest this is the first time I've made and eaten egg salad and it's awesome! I wanted to make something just a step up from the classic egg salad recipe so I added my favorite "loaded" ingredients which were crunchy bacon, cheese and green onions.
It turned out great but one of the things I did that I think added to the taste was to grate the eggs. It was much easier than chopping them and insured equals sized pieces.
The 5 ingredients I used.
I used simple ingredients that I would use in any "loaded" recipe such as crumbled crispy bacon slices, green onion, mayonnaise, sharp cheddar cheese and of course hard boiled eggs.
As I'm writing this I'm thinking I could also use sour cream instead of mayo for the full loaded experience but mayo worked well so maybe next time I'll try that.
How to make loaded keto egg salad.
Step 1: Peel your hard boiled eggs and gather the ingredients. Chop the green onions very finely, crumble the bacon and shred the cheddar cheese.
Step 2: Using a hand grater, grate the eggs into a medium sized mixing bowl. The grating makes sure the yolk and white of the egg gets cut into equal pieces and makes for a creamy egg salad.
Step 3: Add the rest of the ingredients and mix well. Taste it and if you think it needs a bit of salt add a bit and the refrigerate for 20 minutes to let the flavors meld together.
Store leftovers in an airtight container in the refrigerator for a few days. (Please scroll down to view the printable recipe card.)
Ways to eat this hard boiled egg recipe.
You of course can eat this plain with just a fork because it's really flavorful light meal. But I personally love it on my low carb Crispbread crackers. These crackers are super easy to make and really tasty.
You can also eat this low carb salad in a lettuce wrap or with low carb tortillas or on a slice of bread (keto bread).
Other keto recipes for leftover Easter eggs.
Here are few more simple recipes to use those leftover Easter eggs. Of course on their own they are a great snack on a keto diet with 6 grams of protein and 5 grams of healthy fats! Learn more about the health benefits of eggs.
Well I hope you get a chance to try this keto egg salad recipe as it's a yummy and easy dish. It's great as a keto snack, breakfast, lunch or as a low carb spread. It only needs 5 ingredients and takes minutes to make!
The nutritional information for 1 serving out of 4 is 192 calories / 16g fat / 2.1g carbs / 0.3g fiber / 9.5g protein = 1.8g net carbs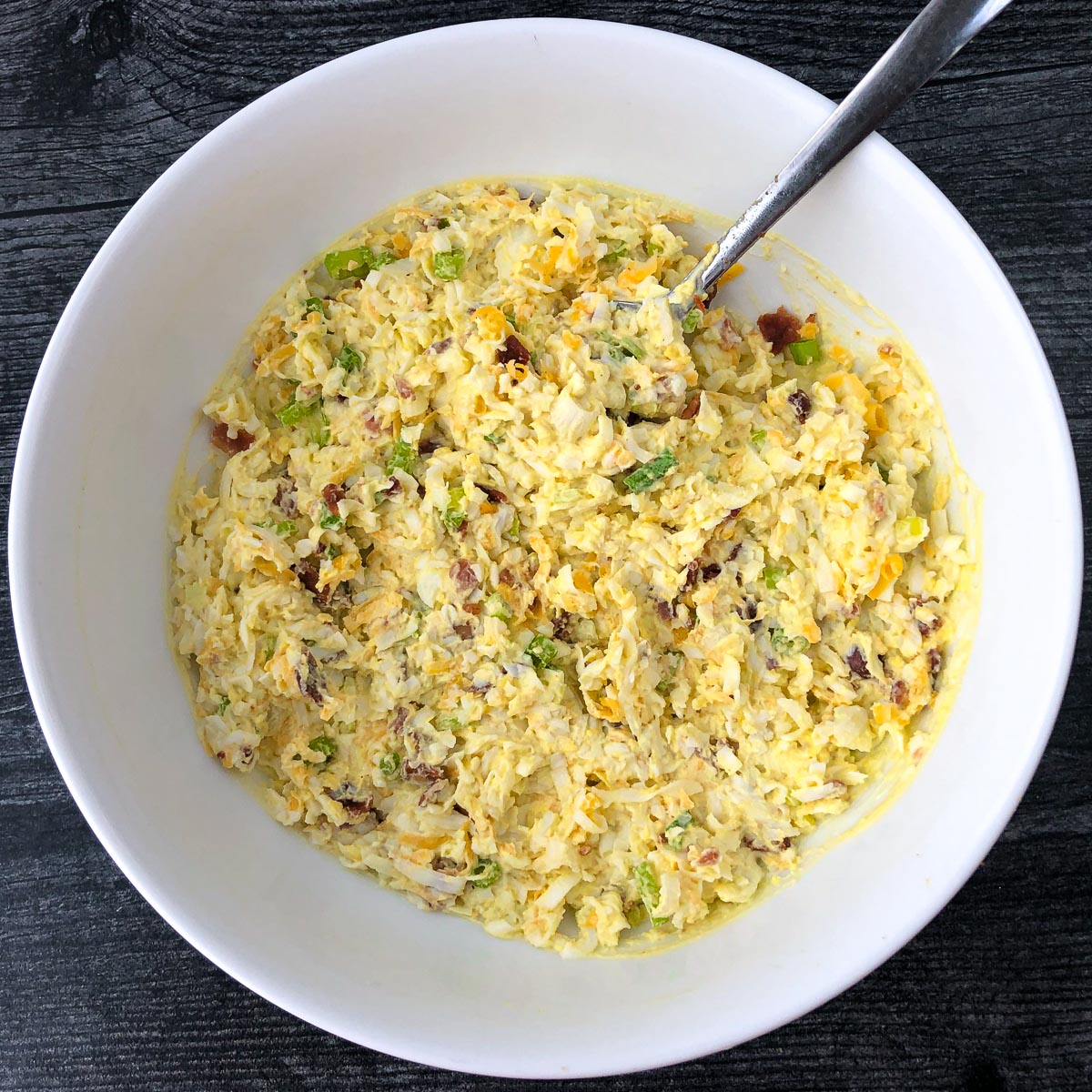 Loaded Keto Egg Salad Recipe
This loaded keto egg salad recipe only needs a few ingredients and takes a minutes to make. It's full of flavor and perfect keto snack using leftover hardboiled eggs from Easter!
Ingredients
4 hardboiled eggs
3 tablespoons mayonnaise
2 pieces of cooked bacon, crumbled
2 green onions, finely chopped
¼ cup cheddar cheese, shredded
Instructions
Peel eggs and then get out a hand grater and grate them into a medium sized mixing bowl.
Chop the green onion as finely as you can and mix them along with the rest of the ingredients in the bowl.
Taste and season with salt and black pepper if you feel it needs it. The bacon has a lot of salt so I didn't use any.
Refrigerate for a while to let the flavors meld together.
Nutrition Information:
Yield:

4
Serving Size:

1
Amount Per Serving:
Calories:

192