If you are looking for an easy keto appetizer for the holidays or any kind of party, try these keto mini crab cakes. They are gluten free and low carb but most importantly these mini crab cakes are delicious. You just need a few simple ingredients to make them and I have an easy roasted garlic aioli to dip them in! There are only 2g net carbs for 10 mini cakes.
You might also like these keto coconut shrimp for an appetizer.
When I saw lump crab meat on sale at the grocery store I knew I wanted to make a mini version of my jalapeño keto crab cakes that are always such a hit. I had to make them a little differently because when you make them so small you need a bit more binder.
So o these keto mini crab cakes came out great. They are gluten free because I didn't use any bread crumbs but instead used a little almond flour. I also added a super easy roasted garlic aioli to dip them in.
We ate a batch of them for dinner as I was making this post and my family loved them. They would be perfect for a holiday party and they are really quite easy to make. You can make and bake them in about 20-25 minutes!
Recipe ingredients I used.
The simple ingredients I used for this recipe are canned lump crabmeat, fresh lemon zest, fresh parsley, green onion, egg, almond flour, parmesan cheese, salt, black pepper and dried mustard.
A note about the crabmeat. Though I used canned crab, it's the kind you would find at the seafood counter in a grocery store. Not the kind you find in the aisle along with canned tuna. Fresh crab meat is very hard and expensive to come by this kind is much more obtainable and even on sale during the holidays.
For the roasted garlic aioli dip I just used mayonnaise, olive oil, fresh garlic cloves, lemon juice, dijon or yellow mustard and parmesan cheese. This takes just about 3 minutes to whip up so I highly recommend it.
However you can use any dipping sauce you want, homemade tartar sauce, or just eat them plain.
How to make keto mini crab cakes.
Step 1: Preheat the oven to 400°F. Get out a baking sheet and spray with nonstick cooking spray. Set aside until ready to use.
Step 2: In a medium size mixing bowl beat the egg. Then add to that the mayonnaise, salt, pepper, dried mustard, parsley, chopped green onion, lemon zest, almond flour and parmesan cheese. Mix well then fold in the lump crabmeat.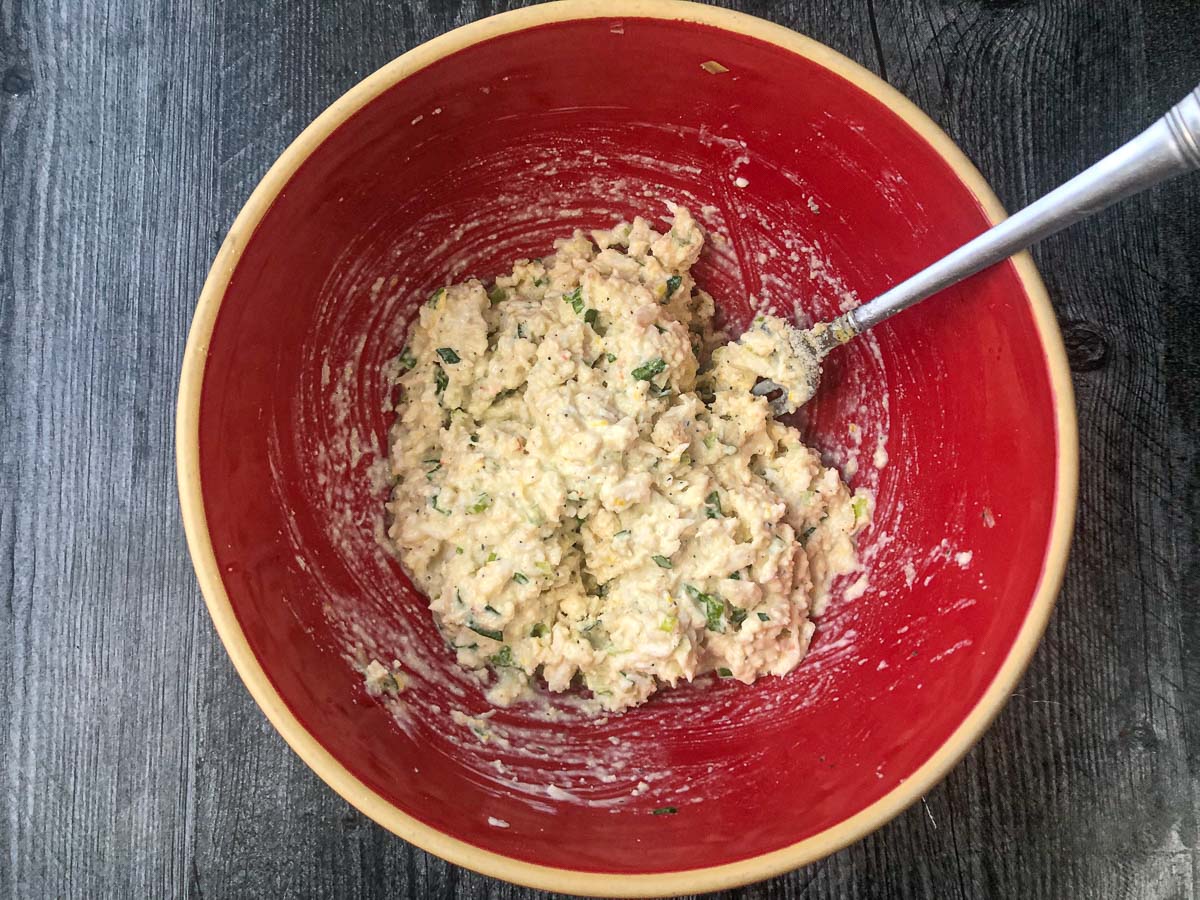 Step 3: Get out the prepared baking dish and very carefully spoon about a heaping teaspoon portion of the crab mixture onto it. Spacing them nicely though they will not spread.
Note that these are a bit hard to handle. I would scoop up a heaping teaspoon into my hand and gently try to form a ball by tossing it back and forth in my hands once or twice than gently placing them down on the baking sheet.
Step 4: Place the baking tray into the oven and cook for 15 minutes or until it is lightly brown or golden brown around the edges. You don't want to cook them too much or they will get dried out.
So once you notice they are browning around the bottom edges take them out If you want them browner on the top just stick them under broiler for a few minutes.
Let them cool for a minute or two then serve. Store leftovers in an airtight container. Please scroll down to view the printable recipe card.
If you want to make bigger crab cakes.
You can either make larger cakes and bake in the oven. They might take a few minutes more to cook.
What would be even better is to brown them in a skillet. Heat a skillet to medium heat and add 1 tablespoon of butter and 1 of olive oil. Let that heat up then add the bigger cakes. Let them sit there for 3-4 minutes until the brown on the bottom then flip them (carefully) and cook for another 3-4 minutes.
Note that you can really do this with the mini cakes because they are too small to flip over and will fall apart. They work better in the oven where you can set them down and forget them so to speak.
How to make the easy roasted garlic dipping sauce.
While the crab cakes are cooling make the roasted garlic aioli if using. Get out a small microwave safe bowl. Add the crushed garlic and olive oil to the bowl and mix. Cook in the microwave for 30 seconds or until the garlic browns but not burns.
Them add this garlic mixture to a small mixing bowl and add the mayonnaise, lemon juice, dijon mustard and parmesan cheese. Spoon into a dipping bowl and serve with the mini crab cakes.
More holiday keto appetizers to try.
These are a few of my favorite keto appetizers that you can give a try for the holidays or just any kind of party.
Well if you looking for an easy but delicious keto appetizer, these keto mini crab cakes are the one. And try the roasted garlic dipping sauce as it has lots of flavor and only takes a couple minutes to make. Enjoy!
The nutritional information for 1 mini crab cake has just 21 calories / 1.4g fat / 0.4g carbs / 0.2g fiber / 1.5g protein = 0.2g net carbs
1 tablespoon roasted garlic aioli 81 cals / 8.8g fat / 0.1g carbs / 0.2g protein = 0.1g net carbs
Keto Mini Crab Cakes Recipe
These keto mini crab cakes make a great appetizer for holiday parties. Made with simple ingredients they are full of flavor and super easy to make. The easy roasted garlic aioli dip is the perfect accompaniment.
Ingredients
8 ounces lump crab meat
3 tablespoons mayonnaise
1 egg, beaten
2 tablespoons green onion, minced
1 tablespoon parsley, minced
zest of ½ lemon
½ teaspoon salt
¼ teaspoon black pepper
¼ teaspoon dried mustard
2 tablespoons parmesan cheese
6 tablespoons almond flour
Instructions
Preheat oven to 400°F. Get out a baking sheet and spray with nonstick cooking spray.
In a mixing bowl, add the egg and beat it. Then add in the rest of the ingredients except the crab.
Once mixed then fold in the crabmeat gently.
Use a heaping tablespoon of the crab mixture and place on the baking sheet. They are fragile but when they bake they will be more sturdy so gently just place on the cookie sheet.
Place the baking sheet into the preheated oven and bake for 15 minutes or until the are gold brown around the bottom. You don't want to over cook these or they will get dry. If you want them to be browner on top just place them under the broiler for a few minutes.
If using the roasted garlic dip see the recipe in the notes section below. Store leftovers in an airtight container.
Notes
Easy Roasted Garlic Dipping Sauce (20 servings 1T each)
1 cup mayonnaise
1 tablespoon olive oil
2 cloves garlic
1 tablespoon fresh lemon juice
1 teaspoon dijon mustard
2 tablespoons Parmesan cheese, grated
Just add the crushed garlic and olive oil to a small ramekin and microwave for 1 minute. It should look browned but not burnt. Then mix it with the rest of the ingredients to make the dip.
1 tablespoon roasted garlic aioli
81 cals / 8.8g fat / 0.1g carbs / 0.2g protein = 0.1g net carbs
The nutritional information for 1 mini crab cake has just 21 calories / 1.4g fat / 0.4g carbs / 0.2g fiber / 1.5g protein = 0.2g net carbs
Nutrition Information:
Yield:

40
Serving Size:

1
Amount Per Serving:
Calories:

81