This easy curry cauliflower salad is packed with healthy ingredients like yogurt, goji berries, cashews and more. This vegetable side dish is packed with flavor with the creamy curry dressing and the sweet and crunchy ingredients. This hearty salad is great for lunch or as a side dish.
You might also like these roasted curry carrots recipe!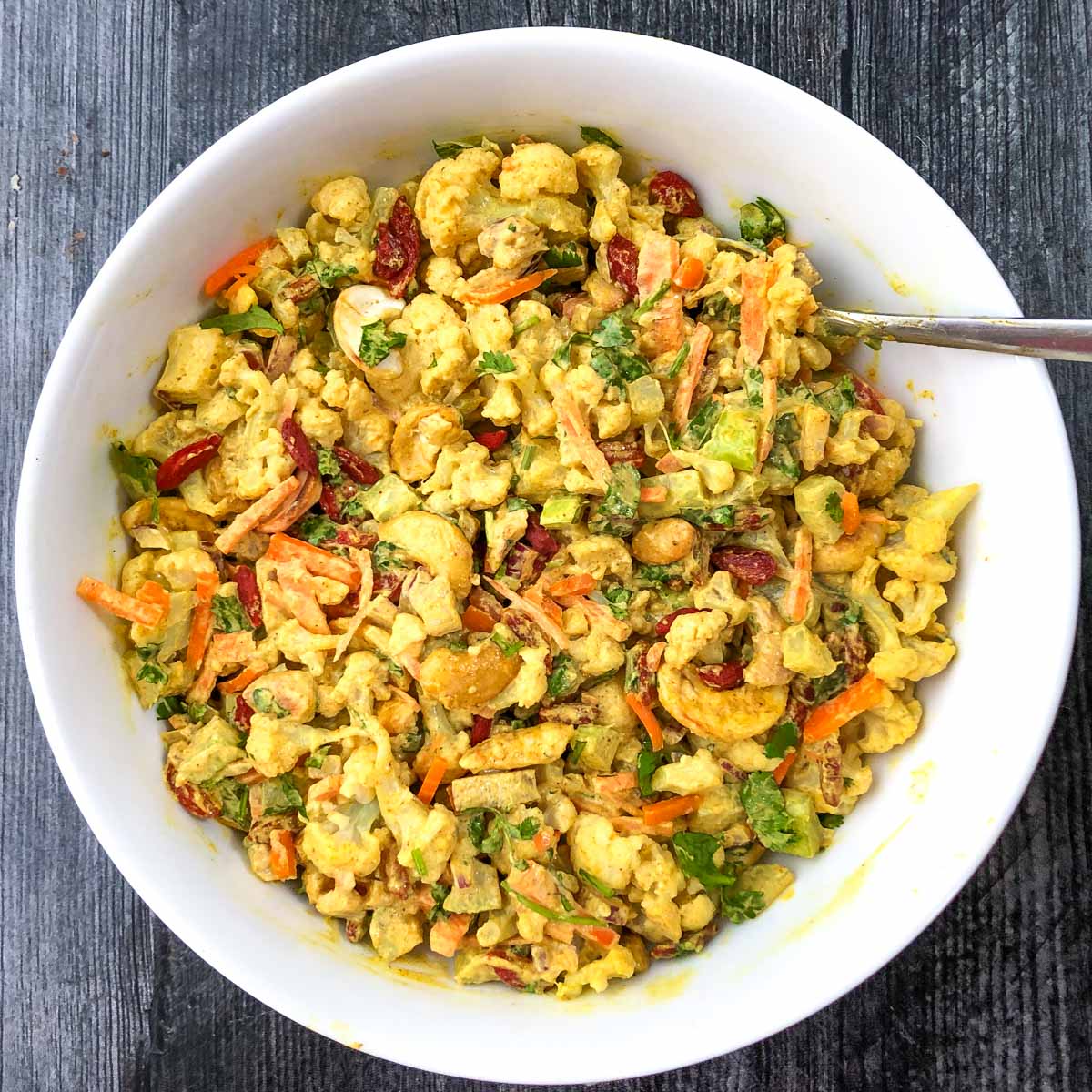 When I was in college I had a curried chicken salad that I will never forget. Today I'm using a lot of those flavors to make this delicious curry cauliflower salad and OMG it is so good.
There is so much color and flavor in this hearty salad that you will be satisfying many different tastes. You have the sweetness of the cashews, carrots and goji berries. You have the fresh green of cilantro and of course the tangy spiciness of the curry yogurt dressing.
If you like crunchy salads that are packed with flavor then this is the one for you. It would be great for a quick and healthy meal like a lunch or even as a side salad. Best of all it only takes about 10 minutes to make!!
Recipe ingredients I used.
There are a quick of few simple ingredients in this recipe but they work together to make it have awesome flavor. I used cauliflower florets, goji berries, cashews, celery, carrots, cilantro, Greek yogurt, curry powder, red onion slices and mayonnaise.
Sometimes if I'm out of yogurt I use sour cream and it works just as well. Yogurt has a lot of health benefits though so try to use that if you have it.
I'm not much of a raisin fan so I bought some goji berries because they are colorful and good for you. However I realize not everyone will have them. You can easily substitute with golden raisins or even dried cranberries.
How to make curry cauliflower salad with cashews.
Note I didn't use roasted cauliflower for this recipe but if you wanted you could. Just toss the cauliflower with olive oil, place on a rimmed baking sheet and roast in the oven. Then let it cool. I personally like the crunchiness of the partially cooked cauliflower
Step 1: Cut the head of cauliflower into florets. Then cook the cauliflower florets in the microwave for about 5 minutes to get it softer but not mushy. Set it aside to cool before mixing it with the other ingredients.
Step 2: While the cauliflower is cooking, get out a large mixing bowl and start adding the celery, onions, carrots and goji berries.
Step 3: In a medium bowl mix together the yogurt, mayonnaise and curry powder to make the dressing. If you think it is too thick you can add a tablespoon of water to thin it a bit.
Step 4: Once the cauliflower has cooled, add it to the other ingredients in the bowl and mix with the dressing. Make sure to coat all of the cauliflower mixture.
Step 5: Lastly fold in the fresh cilantro leaves and cashews and refrigerate until ready to eat. Store leftovers in an airtight container. Please scroll down to view the printable recipe card.
This salad tastes better once it's refrigerated for a while but you can eat it right away if you want.
Also I made a note in the recipe that if you want a bit more sweetness you can add 2 teaspoons of whatever sugar you like (white, coconut, Splenda, etc.). A little bit of orange juice would work too. I liked having just the sweetness of the berries but some might like it a bit sweeter.
Other crunchy salad recipes you might like.
I have quite a few salad recipes on this blog. Actually I have over 50! Here are some of my favorite crunchy salads to try.
Well I hope you like this curry cauliflower salad recipe as much as I did. I was surprised at how tasty it came out to be honest. The curry flavor and crunchiness were right up my alley but it was also very colorful. That is very appealing to me. I hope you give this one a try and enjoy it as much as I do.
Curried Cauliflower Salad with Cashews
This curried cauliflower salad is packed with fabulous flavors and healthy ingredients like yogurt, goji berries, cashews, etc. & full of flavor for the perfect Paleo side dish.
Ingredients
½ red onion, thinly sliced
½ head cauliflower cut into bite size pieces
½ cup celery and celery leaves chopped
¼ cup grated or julienned carrots
¼ cup dried goji berries, can use raisins
⅓ cup cashews
¼ cup mayonnaise
¼ cup Greek yogurt or sour cream
2 tablespoons curry powder
¼ cup cilantro leaves
Instructions
Add your cauliflower pieces to a microwave safe dish and cook for 5 minutes. Let cool.
In the meantime mix your dressing by combining the mayo, yogurt and curry powder in a medium mixing bowl.
Add cooled cauliflower, onion, berries, carrots and celery to a large bowl. Add dressing and cilantro leaves and mix well.
Add cashews and mix through. Refrigerate until ready to eat.
Note: If you desire a sweeter dressing, add 2 teaspoons of sweetener (such as coconut sugar, white sugar, Splenda, etc.)
Store leftovers in an airtight container.
Nutrition Information:
Yield:

4
Serving Size:

1 grams
Amount Per Serving:
Calories:

273
Total Fat:

17g
Saturated Fat:

3g
Trans Fat:

0g
Unsaturated Fat:

13g
Cholesterol:

8mg
Sodium:

237mg
Carbohydrates:

27g
Fiber:

6g
Sugar:

14g
Protein:

7g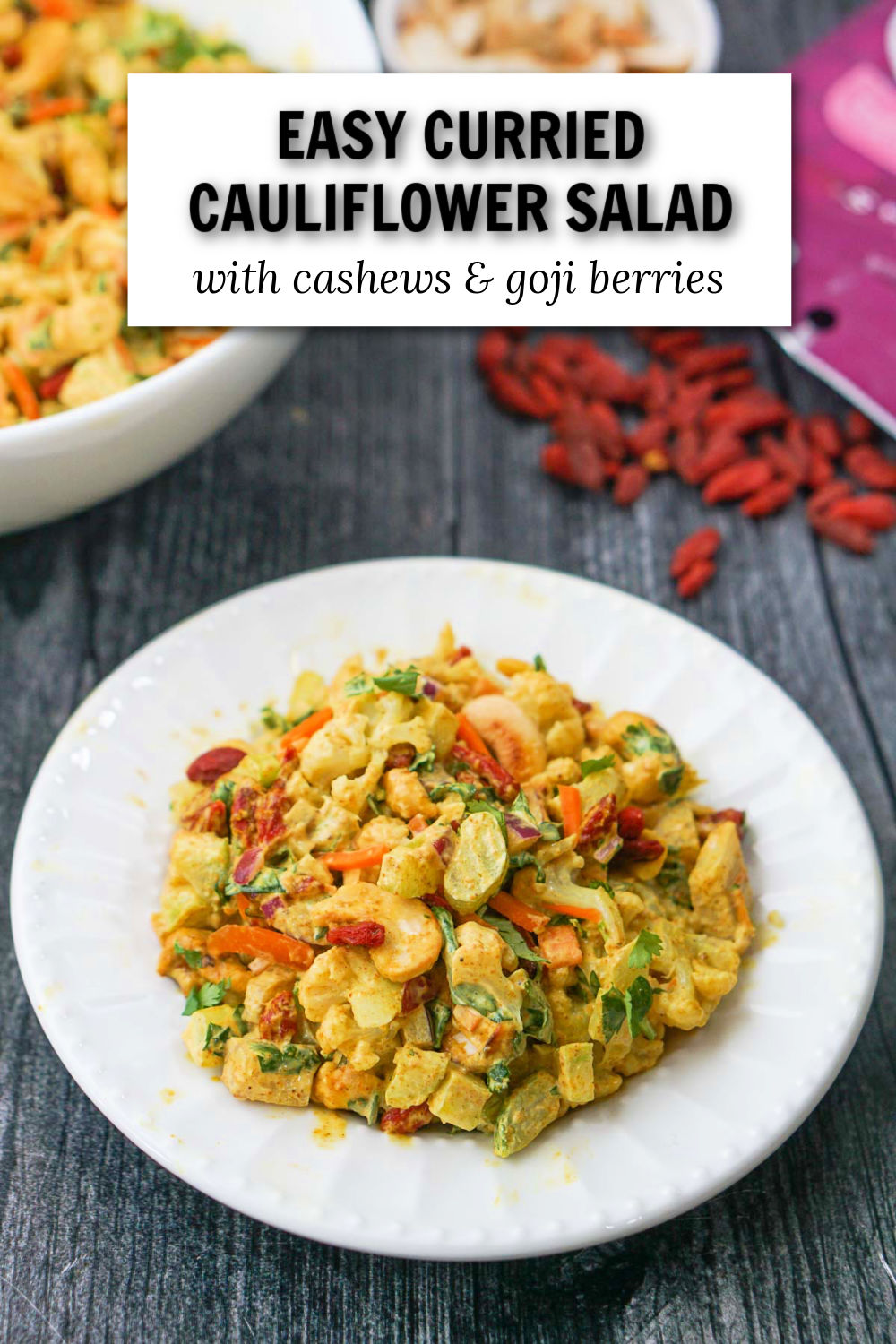 * The Paleo diet does not include dairy products and I do in many of my recipes. I tend to follow a modified Paleo / Primal /Low Carb diet and use the principles of all three. Dairy is a high protein food group with plenty of nutrition that I feel is valuable in our families' diet not to mention that it tastes great. Here is an interesting article about full fat dairy products from Mark Sisson who started the whole Primal movement. So if you can not tolerate dairy products or you are a strict Paleo enthusiast, my apologies. Going forward I will be more cautious with how I label my recipes.
---