These cheesy meatball stuffed peppers are perfect for the meat lover. Mozzarella stuffed inside a huge tasty meatball that's stuffed in a sweet bell pepper. This stuffed pepper recipe is definitely a family favorite even for those who don't like peppers.
You might also like these keto classic stuffed peppers in the air fryer.
Peppers are the perfect vehicle to stuff with just about anything you want. The other day I thought I would like to stuffed them with a big meatball. I had intended to make these low carb but decided to make a traditional meatball in the end.
I thought this was a sure way to get my son to eat stuffed peppers as he loves Italian food but not peppers so much. However it was my hubby who liked these cheesy meatball stuffed peppers the most.
Recipe ingredients I used.
The simple ingredients I used in this recipe were:
ground beef and ground pork
eggs
fresh garlic
grated cheese Romano or Parmesan
Italian bread crumbs
salt & black peppers
shredded mozzarella & mozzarella sticks
marinara sauce (I used Rao's marinara in a jar)
4 sweet bell peppers
My sister made this for her blog and she made her stuffed peppers in the slow cooker. I used a variation of her husband's famous Italian meatballs recipe and stuffed the middle with cheese.
How to make cheesy meatball stuffed peppers.
Step 1: First you want to cut the bell peppers in half and clean them out. They should look like cups since they will hold the giant meatball. Place them in a large casserole dish. Preheat oven to 400°F.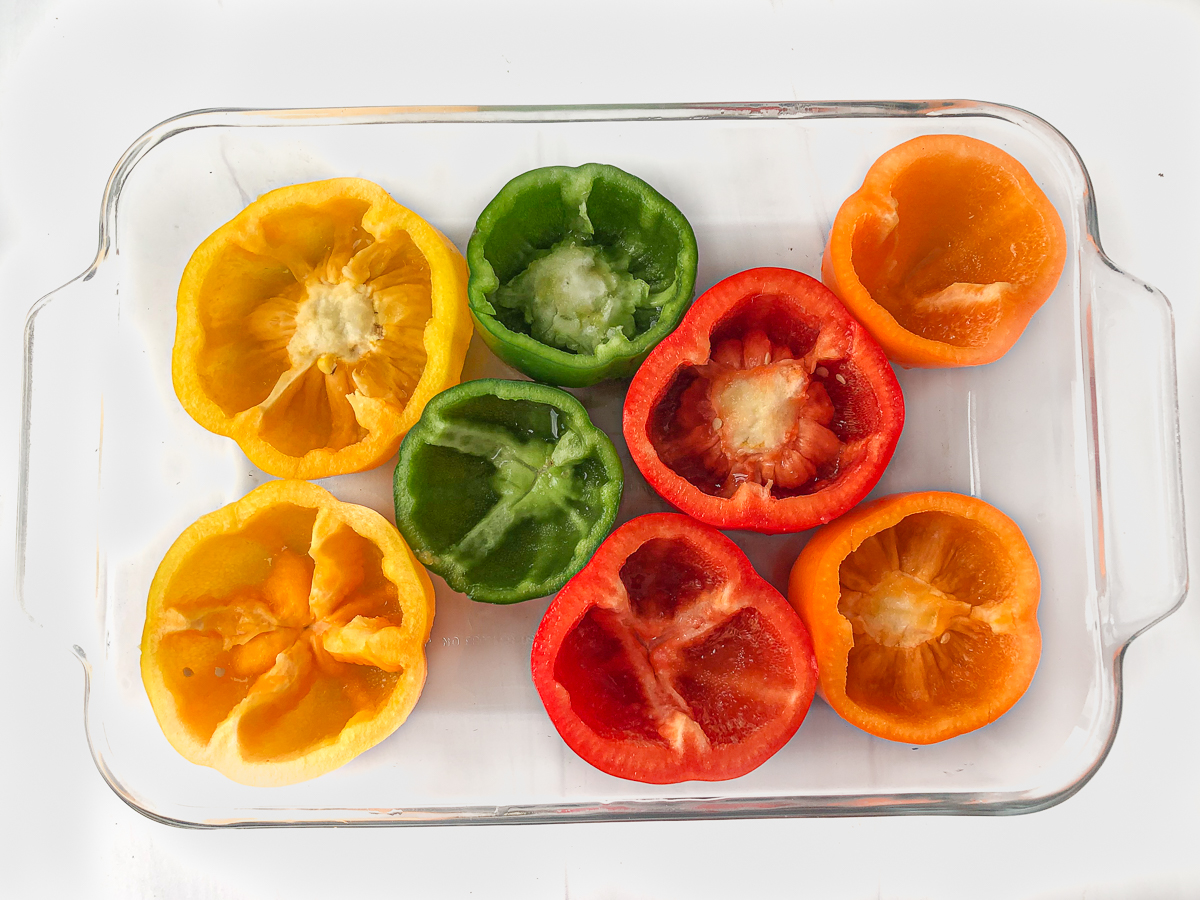 Step 2: To make the meatballs, get out a large mixing bowl and place the ground beef, ground pork, garlic, egg, parmesan cheese, salt, black pepper and Italian bread crumbs in it. Gently mix them together and then divide the meat mixture into 8 portions.
Rolled the portions into a ball and flattened it a bit. Cut the mozzarella sticks into fourths. Place 2 pieces of cheese (half a stick) in the middle and formed the meatball around it.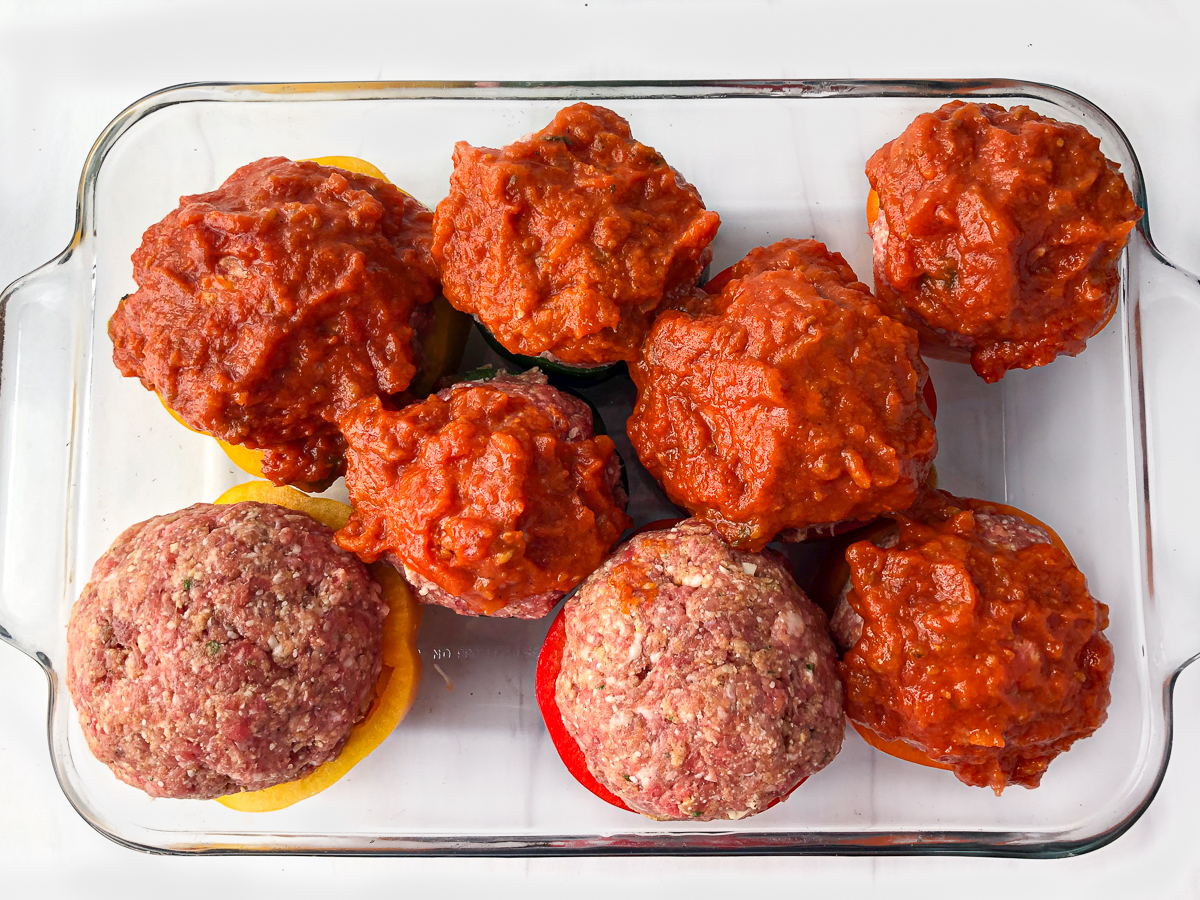 Step 3: Once all the meatballs are rolled, gently place them in the bell pepper halves. Pour your favorite tomato sauce over the top. I used Rao's jar marinara sauce but I also really like Trader Joe's Tuscano marinara in a can.
Place in the oven and bake for about 30 minutes. You want to make sure the peppers are cooked through. Cooking time may vary. Peppers today have very thick walls so you want to make sure you can pierce them with a fork.
Step 4: When they are finished baking, pull them out of the oven and sprinkle the shredded cheese on top and bake for about 5-10 minutes until the cheese is melted.
Step 5: Let them cool down before serving. Store leftovers in an air tight container or you can freeze them for a quick lunch. (Please scroll down to view and print the recipe card.)
If you want to make these low carb.
If you want to make them low carb, just substitute the bread crumbs with almond flour, or use a bit more parmesan cheese or just leave it out completely.
You would also want to make sure that you use a low carb pasta sauce. and use a low carb sauce. Aldi's Specialty Select Marinara is pretty low carb and so is Rao's Marinara. You have to read the labels but they are out there.
What to serve with these stuffed peppers.
I just made these as our dinner and included a big green salad. However you could also make some pasta for those who are not a fan of peppers. Or try some rice to make it more of a meal.
Garlic bread is also a good side dish that would go great with this recipe.
Other stuffed pepper recipes to try.
Below are some of the stuffed pepper recipes I have on this blog and they are all low carb. I have quite a few more like my hubby's favorite buffalo chicken stuffed chiles but they use hot peppers while the ones below use bell peppers.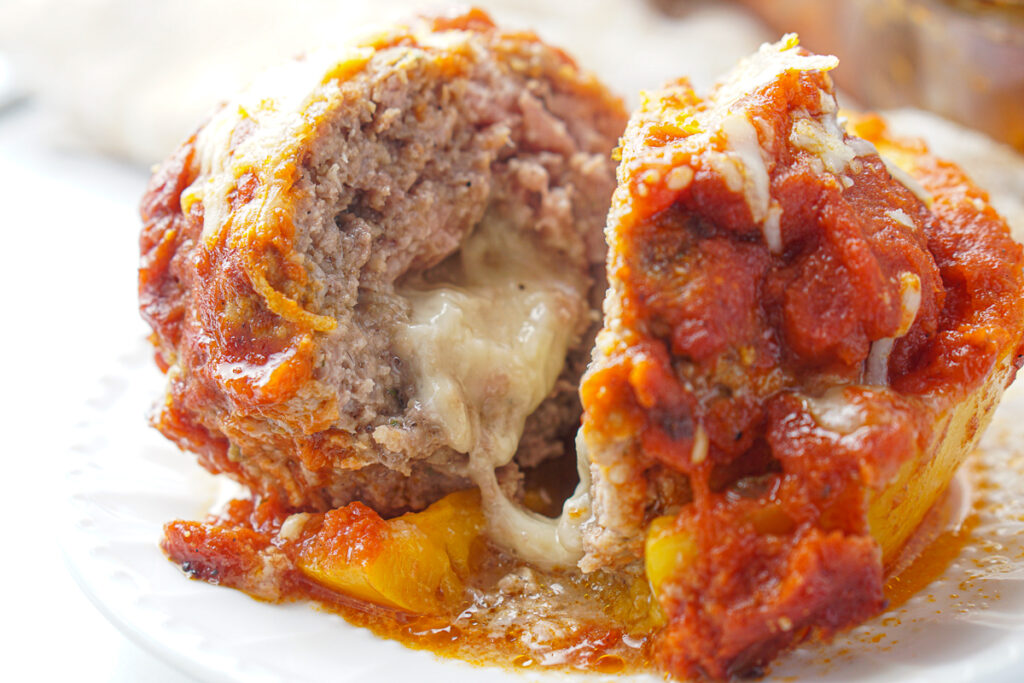 So that's it for these super easy but oh so tasty stuffed peppers. Since this made 8 huge portions I froze a couple for my hubby.
I hope you like these as much as we do and it becomes a family favorite recipe. Enjoy!
Stuffed Meatballs Stuffed Peppers
These cheesy meatball stuffed peppers are perfect for the meat lover. Mozzarella stuffed inside a huge meatball that's stuffed in a sweet bell pepper. Perfection!
Ingredients
1 lb of ground beef
1 lb of ground pork
3 eggs
2 teaspoons crushed garlic
½ cup grated cheese, Romano or Parmesan
1 cup Italian bread crumbs
½ teaspoon black pepper
½ teaspoon salt
1 cup mozzarella, shredded 
3 cups Rao's Marinara Sauce, or use your favorite marinara sauce
4 bell peppers, halved and cleaned.
4 mozzarella cheese sticks, cut in 4 pieces each
Instructions
Preheat oven to 400°F.
Cut each bell pepper in half across the middle. Clean out the insides and remove the stems to make little cups and place in a baking dish.
Mix the meat, eggs, garlic, breadcrumbs, salt and pepper together and divide into 8 portions.
Take each portion and roll into a ball and then flatten. Add 2 pieces of string cheese (equal to half a string cheese) in the middle and then close the meat over it and form into a meatball. Continue with the rest of the meatballs
Gently place the meatballs into the pepper cups and then pour the marinara sauce over them.
Bake for 30 minutes and then take them out and make sure the peppers are fork tender. If not put them back in for 5 minutes. Then take them out, sprinkle the the mozzarella on top and bake for another 5-10 minutes until the cheese is melted.
Nutrition Information:
Yield:

8
Serving Size:

1
Amount Per Serving:
Calories:

614
Total Fat:

39g
Saturated Fat:

15g
Trans Fat:

1g
Unsaturated Fat:

20g
Cholesterol:

203mg
Sodium:

1048mg
Carbohydrates:

21g
Fiber:

2g
Sugar:

5g
Protein:

44g