These 11 low carb stuffed pepper recipes will cover you for many weeknight keto dinners! Everything from Mexican and Greek stuffed peppers to breakfast stuffed peppers and they are all low carb recipes!
You might also like these 11 easy & hearty low carb soup recipes!
Growing up my mom only seemed to make those classic meat and rice stuffed peppers. Now that I am a low carb blogger I have found many ways to stuff a pepper as well as many different peppers to stuff. So that is why today I give you 11 low carb stuffed pepper recipes!
There is everything from Mexican flavors to Greek flavors to breakfast peppers or appetizers. All of these low carb stuffed pepper recipes are of course low carb and very easy to make. They will help you out of your weeknight dinner slump!
A Note about these Stuffed Peppers
Below you will find that I used many different kinds of peppers for these stuffed pepper recipes. That doesn't mean that if you don't have poblano peppers or hatch chiles that you can't make them. These recipes will work with any kind of pepper.
If all you have are bell peppers that is fine too. However since bell peppers are often larger, there may be a need for more stuffing mixture. As always, please feel free to ask me if you have any questions about pepper choices. I'll be glad to help you!
Now let's check out those low carb recipes
These low carb taco stuffed peppers are a tasty keto dinner that you can make quickly and easily. Only 4.4g net carbs per serving and they freeze well too!
These low carb buffalo breakfast stuffed hatch chile peppers make for a delicious change from your standard eggs and bacon. A bit of spice along with cheese, chiles and bacon and you've got a low carb breakfast you can eat with your hands! Only 4.6g net carbs!
If you are in the mood for low carb stuffed peppers, try making them in the air fryer! You can have an easy, hearty and delicious dinner in less than 30 minutes! Only 4.3g net carbs per serving!
These low carb chicken stuffed poblanos are a breeze in the air fryer. With only 4 ingredients you an have this delicious keto snack or appetizer with only 4.7g net carbs!
These buffalo chicken stuffed chiles are a delicious low carb appetizer or dinner. Tastes like you are cheating but you're not!
These bbq pulled pork stuffed poblanos work as a low carb appetizer, snack or even dinner. The poblanos have bit of heat, while the bbq pork has sweetness and spice and the cheddar cheese pulls it all together. Only 4.3g net carbs per stuffed pepper.
These cheesy chorizo stuffed chiles are an easy and tasty appetizer that's fairly low carb too. The spicy chorizo and the melty cheese make these peppers a winner with only 5 ingredients!
If you want an low carb appetizer for your next party or keto snack, try these low carb sausage & cheese stuffed poblanos. They cook so quickly and easily in the air fryer but if you don't have one, you can make them in the oven. Each has 5.6g net carbs.
These Greek chicken stuffed peppers are an easy yet delicious meal that is low carb and Paleo too. A healthy meal under 30 minutes and with only 3.9g net carbs per pepper!
These cheesy chicken enchilada stuffed peppers make a delicious and easy low carb dinner that your family will love. They are a gluten free and fun way to get your Mexican food fix.
What's better than some buffalo blue cheese stuffed anaheim peppers using fresh peppers from the garden! This easy low carb appetizer will please all of the hot sauce lovers in your life.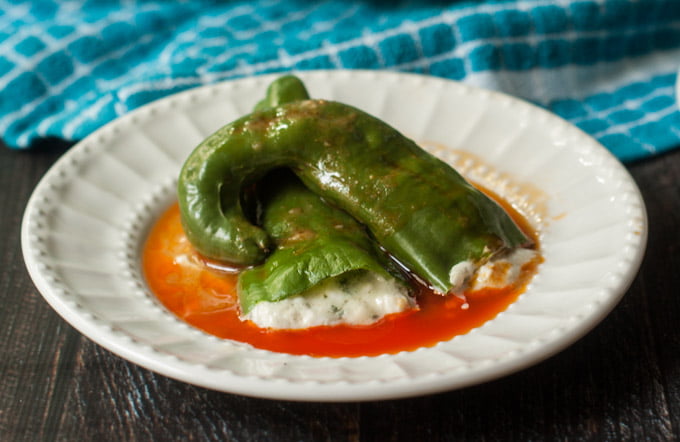 Well that it for you folks. I hope you give a few of these a try. I often make the poblano and chiles recipes in the summer because my husband grows a low of peppers in his garden and the bell pepper recipes in the winter. But you can make these all year round. Enjoy!!!