If you want a flavorful and easy recipe for your grill this summer, try this keto turkey pesto burgers recipe. Using fresh basil from the garden, garlic and other seasonings you can create a juicy and tasty turkey burger that is also low carb and gluten free. Each healthy turkey burger has just 0.5g net carbs and 24.1g protein!
You might also like this keto pesto turnip noodles!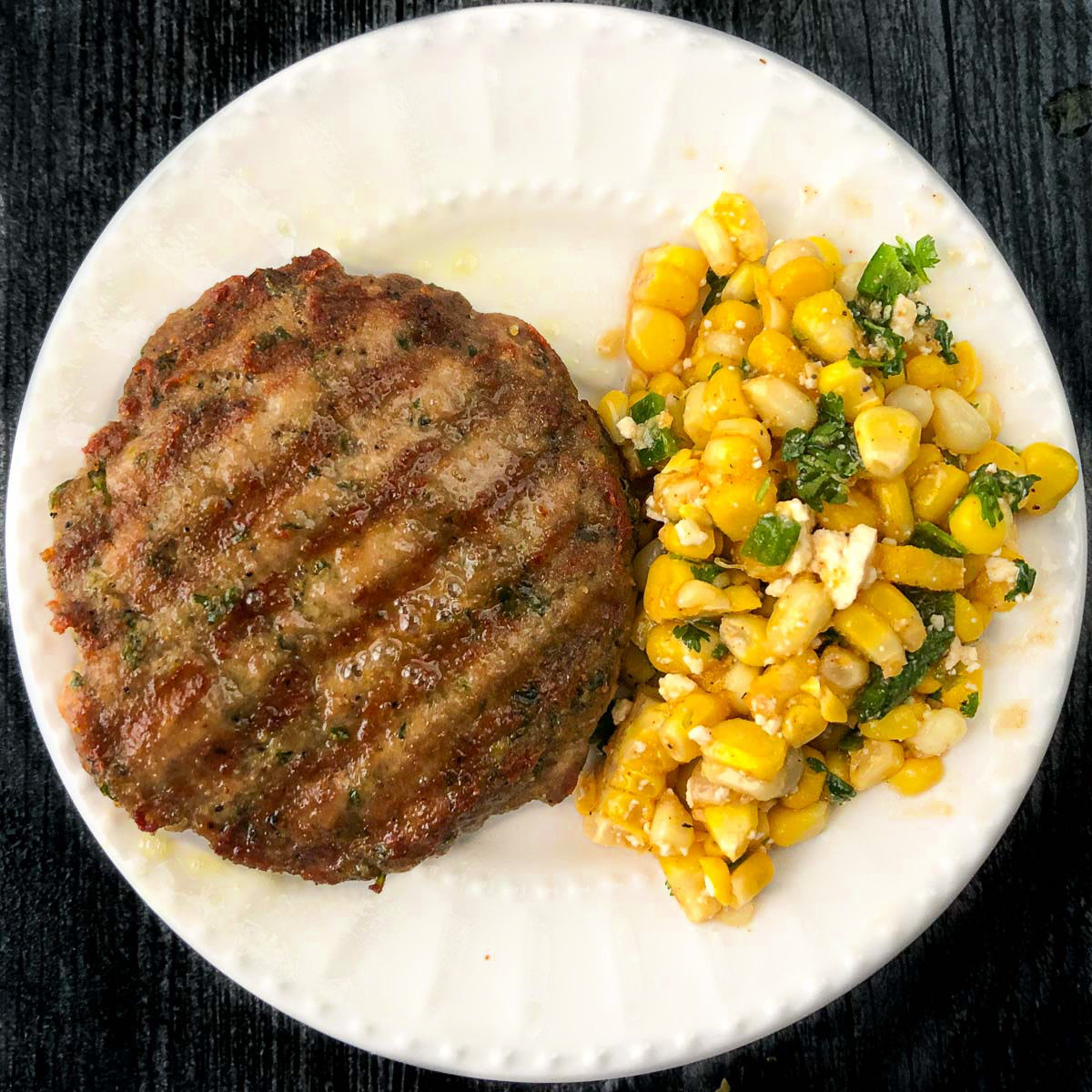 Recently I bought a big package of ground turkey and decided to make some turkey meatballs and these keto turkey pesto burgers. OMG they were so good! These turkey burgers were juicy and had amazing flavor with all the fresh basil and garlic.
These are the kind of burgers that do not need a bun at all. Seriously they are so tasty it doesn't have to compete with bread and it's great for any one on a low carb diet.
This was such an easy summer dinner using the grill that I can't wait to make it again. If you have a bunch of basil growing in your garden or just find a big bunch at the grocery store, give these pesto burgers a try.
Recipe ingredients I used.
The simple ingredients I used were ground turkey, fresh basil, fresh garlic, parmesan cheese grated, olive oil, salt and black pepper. If you want a little heat you can also add a bit of hot pepper flakes.
While I used lean ground turkey, you could also use ground beef or ground chicken. If you are using a high fat content meat like beef, you can probably use half of the olive oil.
How to make keto turkey pesto burgers.
Step 1: To a food processor bowl add the fresh basil and garlic cloves. Pulse until finely chopped. Then add in the parmesan cheese, salt, black pepper and olive oil. Blend until it makes a pesto sauce.
Step 2: In a large bowl add the ground meat and basil pesto sauce. Mix with a large fork or your hands. The mixture maybe we soft and a bit wet but they will set up fine.
Step 3: Divide the mixture into 4 pieces and make patties. Heat up a grill pan or nonstick pan to medium high heat. Place the burger patties in the hot skillet and turn down the heat to medium heat.
Step 4: Cook for 4-5 minutes then flip and cook for 4-5 more minutes on the other side until nice and browned. Take off the heat and let sit for a few minutes before serving. The internal temperature should be 165°F using meat thermometer.
Note cooking time may vary depending on the type of meat and size of your patties. Also you can easily make these on an outdoor grill.
Store leftovers in an airtight container. (Please scroll down to view the printable recipe card.)
These turkey burgers really don't need a bun and if you are on a low carb diet you won't want to use one. However Aldi makes some good keto hamburger buns if you are interested.
I usually like a few fresh tomato slices, red onions, and lettuce on my burger but I ate mine plain.
Keto side dishes to serve with these turkey burgers.
Below you can see that I served Mexican street corn salad which is not low carb however I have many keto side dish recipes that would go great with these delicious burgers to make a complete meal.
In the summertime I would try this keto zucchini pasta salad, green beans with bacon, avocado coleslaw, asiago asparagus fries (air fryer) or this feta zucchini side dish. A mixed greens salad is always nice too!
Other keto recipes using ground turkey.
I was surprised that I have so many keto ground turkey recipes on this site. However since I have over 1,000 low carb recipes I shouldn't be surprised LOL! Here are a few of my favorites.
Well I highly recommend these keto turkey pesto burgers. Even if you don't care about them being keto friendly you will love these burgers as they have amazing flavor.
Try one of those low carb side salads and you'll be set for an easy and delicious meal. Enjoy!
The nutritional information for 1 burger is 303 calories / 23g fat / 0.6g carbs / 0.1g fiber / 24.1g protein = 0.5g net carbs
Keto Turkey Pesto Burgers Recipe
For an easy keto summer dinner, try these keto turkey pesto burgers. They are so juicy and flavorful and take less than 15 minutes of cooking.
Ingredients
1 pound ground turkey
½ cup fresh basil leaves
1 clove garlic, crushed
¼ cup parmesan cheese, grated
¼ cup olive oil
½ teaspoon salt
½ teaspoon black pepper
Instructions
Add the garlic cloves and basil leaves to a food processor and pulse until well minced. Add in the parmesan cheese, salt and pepper and mix once again. Lastly add in the olive oil and blend until well mixed. If you are using a fattier meat you could probably use less olive oil.
In a large mixing bowl add the ground turkey and pesto sauce. Mix with a large spoon or use your hands to well combine. Split the meat mixture into 4 pieces and make 4 burgers.
Heat a grill pan or nonstick pan to medium high heat. Spray with nonstick cooking spray and add the burgers. Turn the heat down to medium heat and cook for about 4-5 minutes per side.
Take off the heat and let set for about 5 minutes before serving. These didn't need a bun in my opinion but you could add some tomato and onions and use a lettuce wrap. I enjoyed them just as they were though.
Notes
The nutritional information for 1 burger is 303 calories / 23g fat / 0.6g carbs / 0.1g fiber / 24.1g protein = 0.5g net carbs
Nutrition Information:
Yield:

4
Serving Size:

1
Amount Per Serving:
Calories:

303