These keto no bake cookies are a low carb dieters answer to those peanut butter oatmeal cookies you always see. But these sugar free cookies don't use any nuts or extra sugar so you can feel good about indulging. Full of healthy ingredients each of these no bake keto cookies have only 107 calories and 1.5 g net carbs as well as 3.8 g of protein!
You might also like this keto buckeye candy recipe without peanut butter!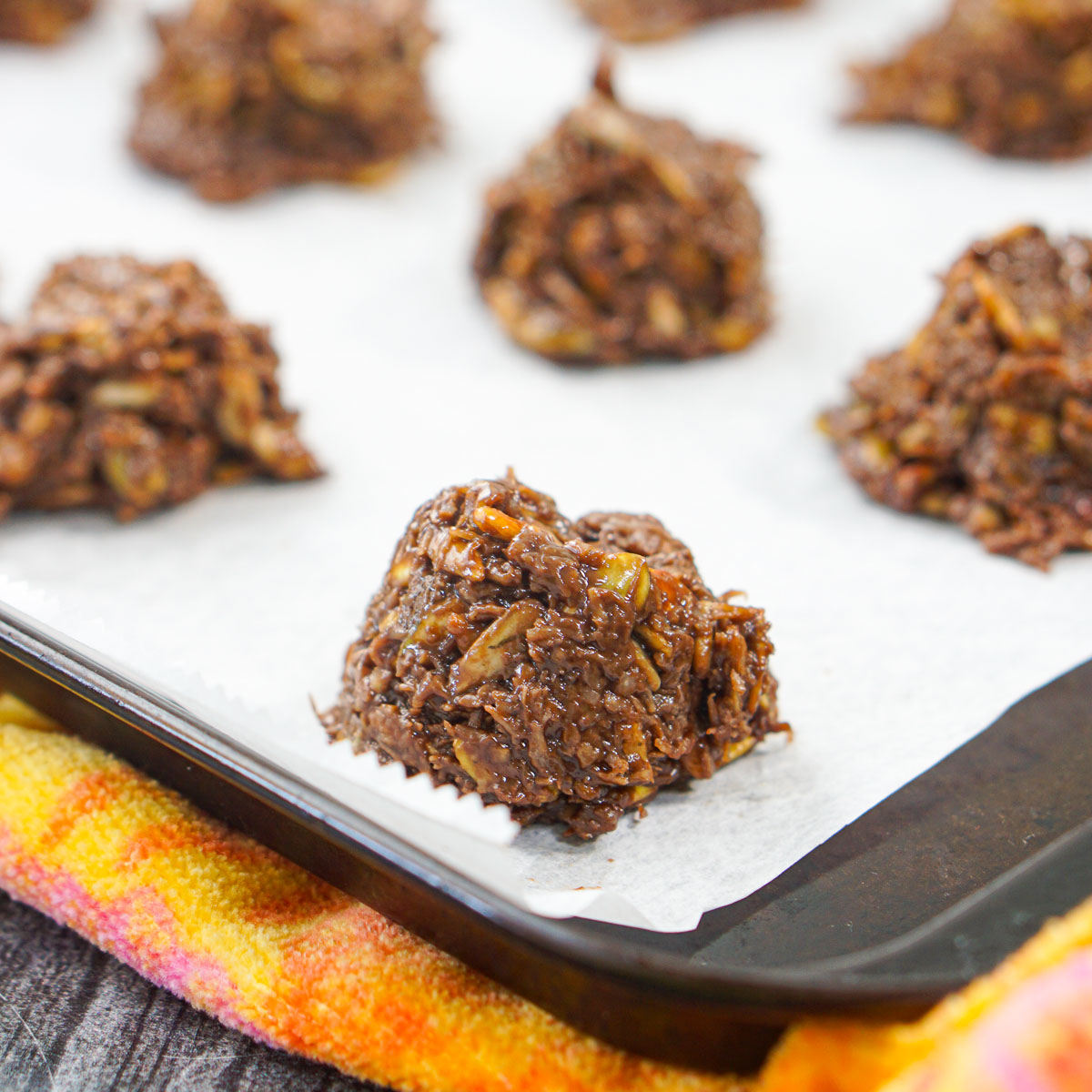 I have a big sweet tooth and I am constantly craving a sweet treat so today I made these keto no bake cookies because I wanted something that was simple to make but didn't involve peanut butter nor almond flour.
In other words no nuts or nut flours. Sometimes they don't agree with me. I did use almond milk but that doesn't bother me so much.
So I made these sugar free cookies to be similar to those popular chocolate peanut butter no bake cookies that use oatmeal but instead I used just seeds and coconut as the base. The texture was chewy and crunchy just like I wanted it to be.
Honestly they aren't much to look at but they taste great and take minutes to make! I store them in the freezer and grab just 1 of these delicious treats after dinner. They are filling and totally satisfy my sweet tooth. My husband loved them too surprisingly because he's not a cookie or desserts person like me.
Recipe ingredients I used.
You only need a few simple ingredients to make these keto cookies. I used a combination of pumpkin and sunflower seeds, coconut, butter, almond milk, sunflower seed butter, dark chocolate and sweetener.
Pumpkin and Sunflower Seeds
I've been buying this sprouted seed mixture only because I think they are easier to digest. However you can use any raw pumpkin seeds (pepitas) or sunflower seeds you want. Make sure you use the kernels of the pumpkin seeds that are green, not white.
Coconut
I used shredded unsweetened coconut. You don't want the sweetened stuff that is readily available in the grocery store. You can also use unsweetened coconut flakes instead of the shredded.
Sunflower Seed Butter
I bought this spread at Trader Joes. They might have this at Walmart if you don't have a Trader Joes, or you can make it yourself with this recipe. I used this instead of peanut butter so if you want to use natural peanut butter or any other nut butter like almond butter you can. Just make sure it doesn't have any additional sweeteners or sugar.
Sweetener
I used Swerve brown sugar sweetener. You can use any kind of low carb sweetener of choice but try to use a brown sugar sweetener. Lakanto has a golden sweetener and there are other brands. But if you don't have any regular granular sweetener will work.
Almond Milk
You can use any kind of non dairy milk you want like coconut milk, soy milk, cashew milk etc. I like unsweetened almond milk because it has very few carbs. If you don't care about carbs you can also use regular milk.
Dark Chocolate & Butter
I used unsalted butter but normally I use salted butter. You can also substitute the butter with coconut oil. Either will work. As for the dark chocolate you can use a dark chocolate bar, sugar free chocolate chips or any source of keto friendly chocolate.
I love Lily's chocolate chips, ChocZero keto chocolate chips but in a pinch I use these 85% cacao bars from Aldi. They have them all the time and I just use 1 small bar. They come in a package of 5. Each has just 6g net carbs per bar.
How to make keto no bake cookies with peanut butter or oatmeal.
Step 1: I like to toast the seeds and coconut to add extra flavor. Heat up a large skillet to medium heat. Add the nuts to a dry skillet and stir as they toast. Once they start to brown and become fragrant, take them off the stove and pour into a paper towel to cool. This should only take a few minutes.
Step 2: When the seeds are cooling, get out a medium saucepan and heat to medium heat. Add the butter, almond milk and chocolate bar. Stir as the butter and chocolate melt and once they do add the sunflower seed butter. Stir to combine and with the rest of the mixture then take off the heat.
Step 3: Once the seeds are cool, you can add half of the mixture to a food processor and pulse until it's finely chopped like a coarse flour. I like to have some whole seeds in mine but you can chop all of them if you want.
You want the texture of a quick cook oatmeal if you can.
Step 4: In a large mixing bowl, add the seed mixture and combine with the chocolate sauce.
Step 5: Cover a baking sheet with parchment paper or wax paper. Using a cookie scoop, drop mounds of the cookie dough onto the prepared baking sheet. Place in the freezer to harden.
Step 6: Freeze for a couple hours until they are completely harden. You can store them in an airtight container in the refrigerator but I prefer to add them to a ziplock bag in the freezer. I just grab one when I need a sweet tooth fix.
Please scroll down to view the printable recipe card.
Ways to play around with this recipe if you aren't low carb.
I was trying to keep the carbs and sugars out of this recipe. However if you just want to make this because you like the idea of not using oatmeal or peanut butter here are few options or changes you can make.
You can add more seeds or coconut based on your preference. You can also use chopped nuts. I love pecans or walnuts because they are crunchy but almond slices work too. And you can use any kind of nut butter you want like almond butter or cashew butter.
Lastly if you aren't concerned with sugar, try cookie butter (speculoos, Biscoff, etc.) or Nutella. I love the taste of both of these products but haven't found a sugar free version….yet!
More easy keto cookie recipes to try.
As I mentioned I love my sweets so here are few more low carb cookie recipes you might like if you are on a keto diet.
Well I hope you give these keto no bake cookies as much as we do. They are easy to make and easy to change up if the mood takes you. I personally love the taste and like using all the seeds instead of oatmeal or nuts and the fact that they are low carb. Enjoy!
The nutritional information for 1 cookie is 107 calories / 11.2g fat / 3.4g carbs / 1.9g fiber / 3.8g protein = 1.5g net carbs
Keto No Bake Cookies Recipe
These keto no bake cookies are perfect sweet snacks for those on a low carb diet that have a sweet tooth. They are healthy, nut free and easy to make. Only 1.5g net carbs per cookie.
Ingredients
¼ cup sunflower seed butter
¼ cup Swerve brown sugar sweetener
⅓ cup unsweetened almond milk
2 tablespoons butter
1 cup unsweetened shredded coconut
1 ½ cups sunflower and pumpkin seeds
25 g dark chocolate ( I used 1 Moser Roth 85% cacao chocolate bar from Aldi)
Instructions
Get out a large skillet and heat to medium heat. Add the seeds and coconut to a dry pan and toast until everything starts to turn golden brown. Take off the heat and pour mixuter on a paper towel to cool.
While that is cooling, get out a medium saucepan and heat to medium heat. Add the butter, chocolate, almond milk and stir until everything has melted. Then add in the sunflower seed butter and mix until well combined. Take off the heat and pour into a large mixing bowl.
Next take half of the seeds and place in a food processor. Pulse until you get a coarse flour consistency. It should look like quick oats or a little powdery than that. If you want you can do all of the seeds but I like to have some whole. It's up to you.
Pour the seeds into the chocolate sauce and mix well. Get out a baking sheet and cover with parchment or wax paper. Using cookie scoop make mounds of the cookie mixture onto the baking sheet. You could also press them down if you want but then you might need to cookie sheets.
Place in the freezer until they harden. Store in an air tight container in the refrigerator. I like to keep mine in a ziplock bag in the freezer as they keep longer in there.
Notes
I buy the chocoalte bars at Aldi. They come 5 small bars to a pack and I used 1 bar. The brand is Moser Roth and it is 85% dark chocolate. You can also substitute keto chocolate chips or a keto chocolate bar. You will have to use approximately 25 grams and you can probably figure that out by reading the nutrition label.
Nutrition Information:
Yield:

20
Serving Size:

1 cookie
Amount Per Serving:
Calories:

107