These keto chocolate coconut cookies are easy to make and taste delicious even if you are not on a low carb diet. The crunchy and chew coconut flakes mixed with chocolate chips make for a delicious and sweet keto treat. Each cookie has just 85 calories and 1g net carbs!
You might also like these keto brownie cookies.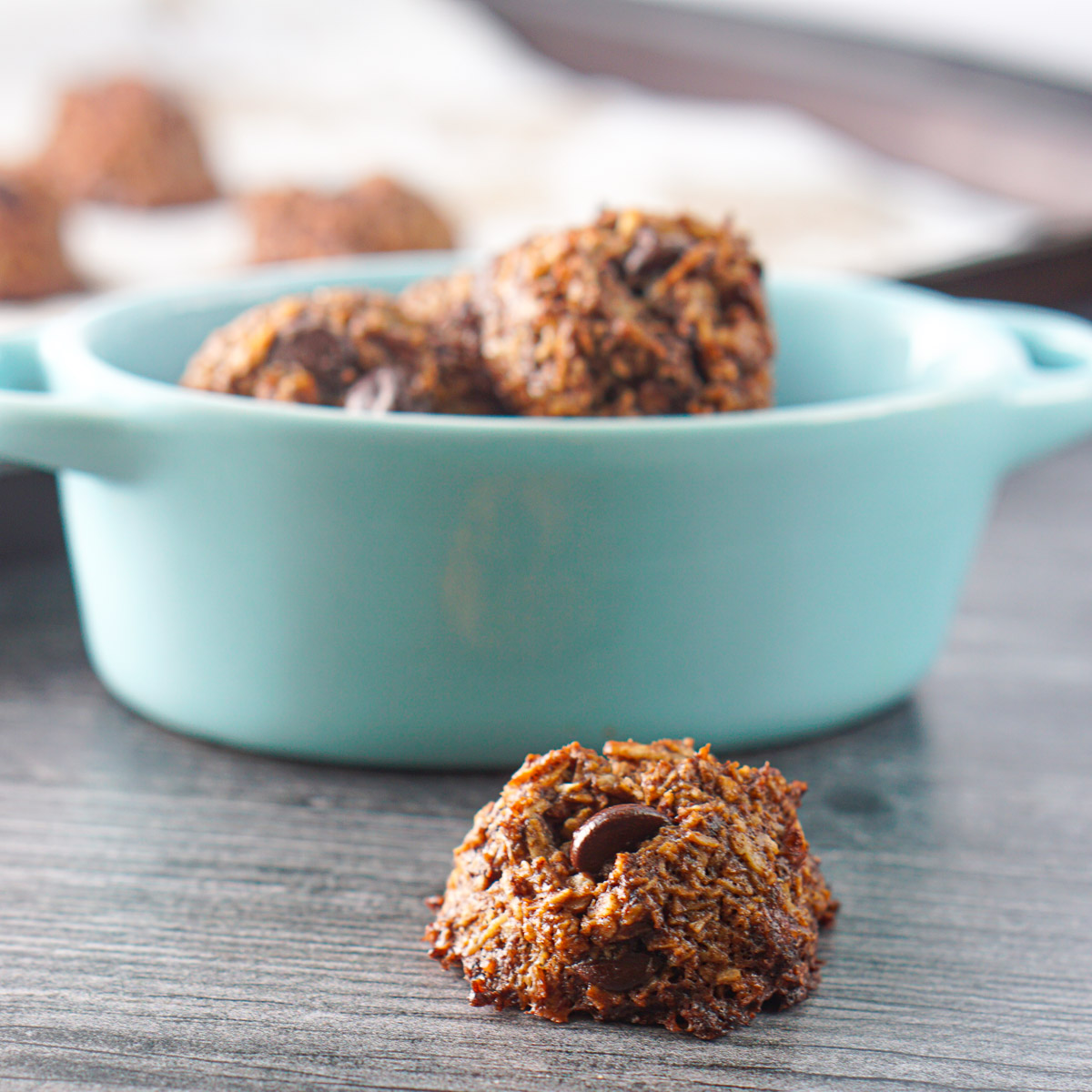 I don't know about you but a love a good cookie, especially one like this keto chocolate coconut cookie. I love it because it doesn't taste like a keto cookie. As a matter of fact my hubby loves them and doesn't really carb about carbs or sugar.
These are kind of a like a keto magic cookie or coconut macaroon. It has a flavor combination of coconut, chocolate, pecans and brown sugar. The amazing texture is both crunchy and chewy and this sugar free cookie only has 85 calories and 1g net carbs!
They are really easy to make too. Just mix, scoop and bake. You can make a batch in about 20 minutes! These coconut cookies are sugar free, low carb and gluten free too. And there is no flour – no almond flour or coconut flour needed!
Recipe ingredients I used.
All you need for these easy keto cookies are unsweetened cocoa powder, unsweetened shredded coconut, Swerve brown sugar sweetener, egg, butter (or coconut oil for more coconut flavor), pecans and sugar free chocolate chips. I like Lily's sugar free chocolate chips.
As for substitutions you can use another brown keto friendly sweetener like Lakanto golden or just use regular granulated sweetener of choice. I like the brown sugar flavor though.
You can also play around with the type of nuts and chocolate chips. Lily has a wide range of chocolate chips now as does ChocZero . They have salted caramel and mint chocolate chips!
How to make keto chocolate coconut cookies.
Step 1: Preheat the oven to 350°F. Cover a baking sheet with parchment paper or a silicone baking mat. Place butter in microwave for a few seconds to partially melt so it's easy to mix.
Step 2: In a medium bowl, beat an egg and then add the cocoa powder, Swerve brown sugar sweetener and coconut. Mix well and then add the melted butter and mix again.
Step 3: Now fold in the pecans and dark chocolate baking chips. Using a cookie scoop or just your hands, drop scoops of cookie dough on the prepared baking sheet. The dough with be on the drier side so form into a ball with your hand or a scoop.
These will not expand so you can fit quite a few on a cookie sheet. I used a cookie scoop and this made 15 cookies for me.
Step 4: Place in the oven and bake for 10-15 minutes until the coconut is toasted. Take out the baking sheet and let the coconut cookies cool completely before eating. (Please scroll down for the printable recipe care.)
Store these keto cookies in an airtight container. I like to keep them in the freezer so I can just grab one every once in awhile. If I leave them on the container I eat them all day! LOL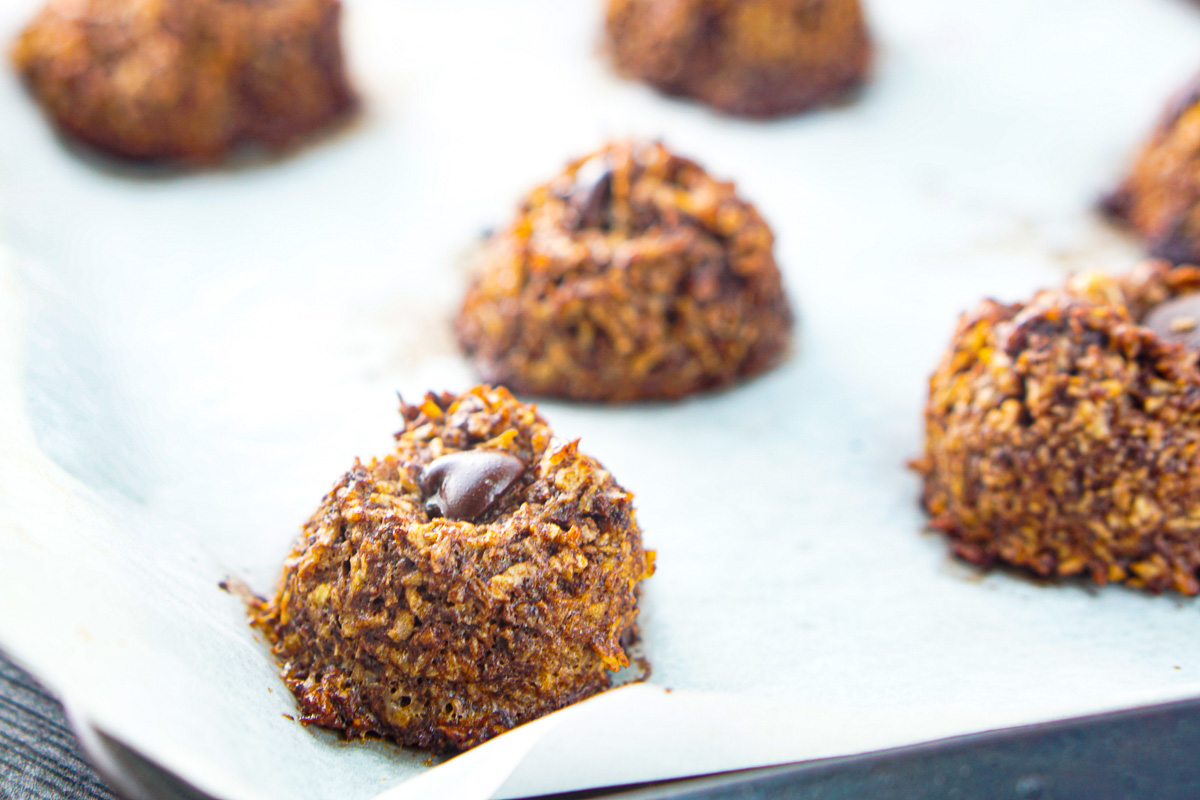 Other keto cookie recipes to try.
I LOVE cookies so I've come up with quite a few sugar free cookies on the blog. Here are my top 5 recipes for low carb cookies to try. They are all easy and yummy!
These keto coconut chocolate cookies were so tasty and easy to make. I've whipped up many batches to have on hand for a sweet keto treat. So you might want to make a double batch!
As I mentioned I store them in a ziplock bag in the freezer and just grab one after dinner.I have such a sweet tooth and if you do too you will love these cookies!
The nutritional information for 1 cookie is 85 calories / 8.7g fat / 2.6g carbs / 1.6g fiber / 1.2g protein = 1g net carbs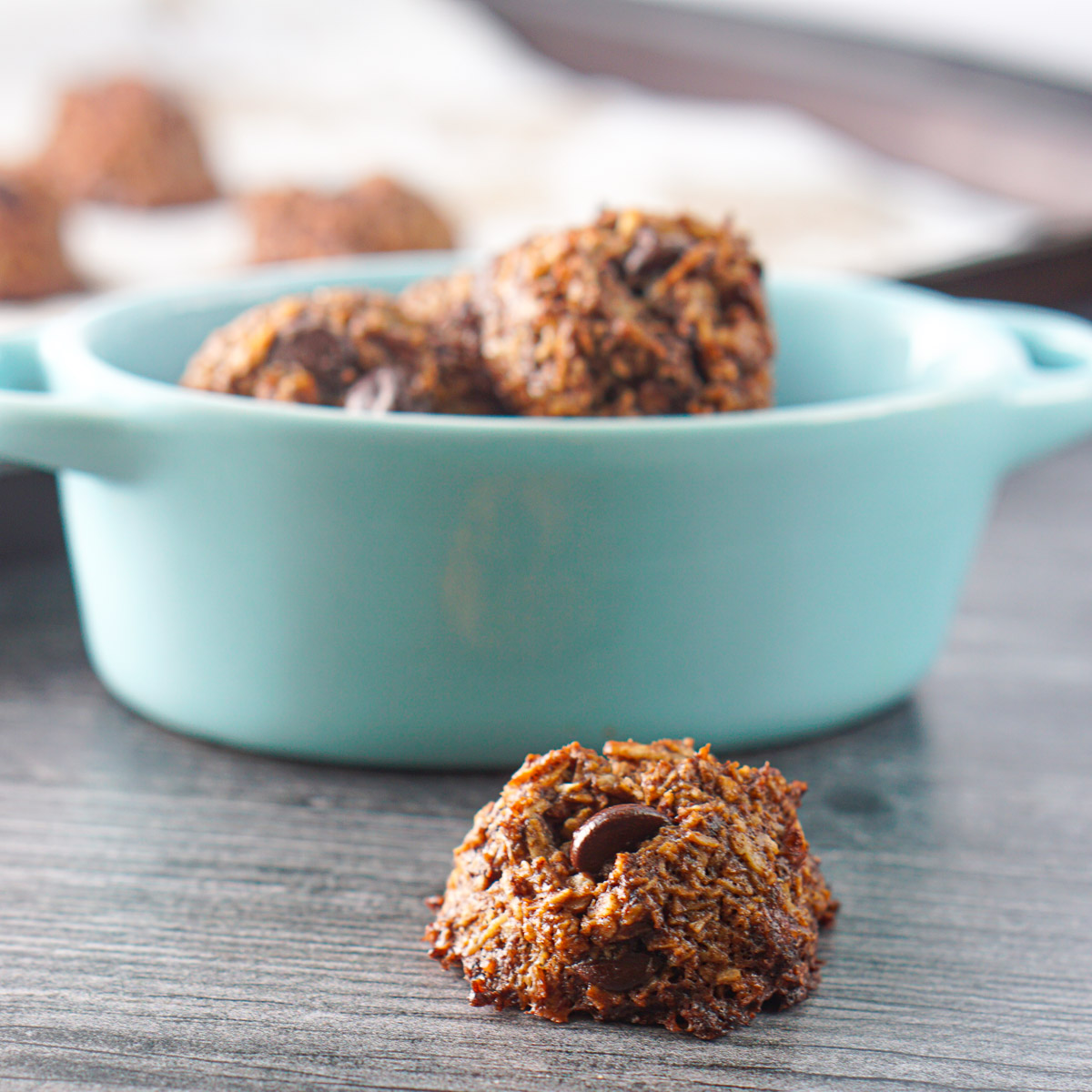 Keto Chocolate Coconut Cookies Recipe
These keto chocolate chip coconut cookies are a delicious sweet treat that takes less than 20 minutes to make. Full of tasty, toasted coconut, chocolate chips and pecans makes for a chewy crunchy and delicious sugar free snack.
Ingredients
1 cup unsweetened coconut flakes
¼ cup Swerve brown sugar sweetener
1 egg, beaten
4 tablespoons butter, melted slightly
¼ cup pecans, raw, chopped
2 tablespoons cocoa powder
54 keto Lily's dark chocolate chips
Instructions
Preheat oven to 350°F and prepare the cookie sheet by covering with a sheet of parchment paper or silicone mat.
In a mixing bowl add the beaten egg, coconut, Swerve brown sugar sweetener, cocoa powder and partially melted butter. Note: melt the butter in the microwave for just a few seconds. It doesn't have to be completely melted but good enough you can mix it easily into the other ingredients. Mix together well.
Fold in the chocolate chips and chopped pecans.
Using cookie scoop make a mound of the cookie batter and place on the baking sheet. These will not spread out so you should be able to fit all 12 cookies on the tray.
Bake for 10-15 minutes until the coconut is toasted. It's hard to tell if it's toasted but if you touch them they should be firm enough not to crumble. Let them cool completely before handling.
Store in an airtight container. I like to keep a ziplock bag of them in the freezer or refrigerator.
Notes
The nutritional information for 1 cookie is 85 calories / 8.7g fat / 2.6g carbs / 1.6g fiber / 1.2g protein = 1g net carbs
Nutrition Information:
Yield:

15
Serving Size:

1
Amount Per Serving:
Calories:

85