These keto breaded pork chops are so easy to make in the air fryer. The special low carb breading keeps these boneless pork chops moist and tender. The basic seasonings used add lots of flavor that is sure to please your family. Add some roasted veggies to air fryer and you have a delicious & quick low carb dinner with only 0.6g net carbs per serving!
You might also like these grilled keto glazed pork chops.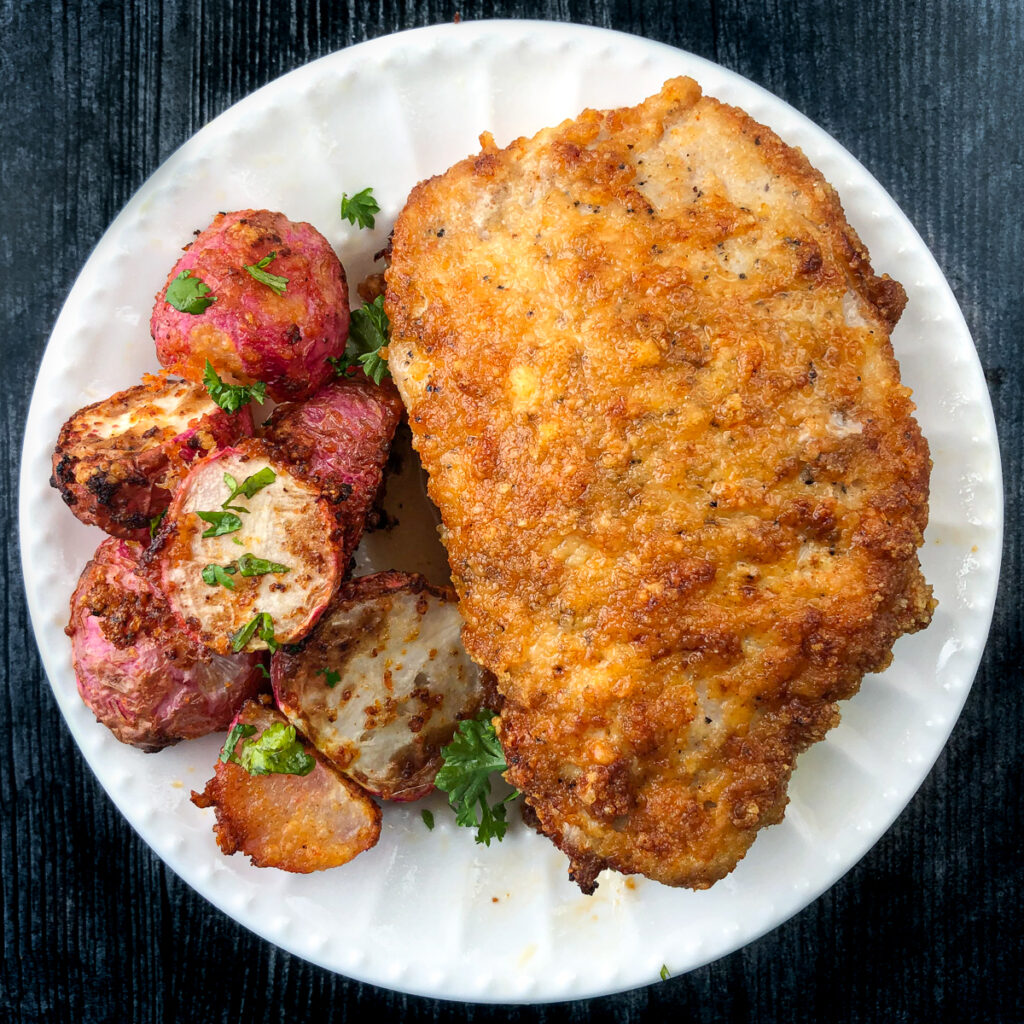 My family has been into pork chops lately and I so I bought a big boneless pork loin and decided to play around with it. I ended up with these keto breaded pork chops that I cooked in the air fryer instead of baking them in the oven. I just love that air fryer!
They came out nicely browned and cooked through in just 15 minutes. I used a parmesan and pork rind breading but first coated it in a spicy mayonnaise to keep them nice and juicy. This is definitely one of my family favorite recipes for a low carb dinner.
After the air fryer pork chops were done and I let them rest, I threw in some parmesan radishes and cooked them for a complete low carb meal. So easy and yummy!
What type of pork chops to use.
I find the boneless chops easier to bread, less expensive and easier to find at Aldi where I shop most of the time. I bought this whole roast and got at least 8 thick chops out of it. I made them 1 inch thick.
Last time I made pork chops in the air fryer I used a bone in pork chops which is like a T-bone steak because it has the tenderloin rib meat. I had to buy those at a butcher shop so that's why I wanted to play around with this roast.
Recipe Ingredients I used.
To make the breading I used basic ingredients of mayonnaise, garlic powder, onion powder and paprika and then I coated the mayo with a mixture of pork panko and grated parmesan cheese.
I bought the pork panko because it's easier than making your own pork rind crumbs. However all you need to do is buy a bag of pork rinds and chop them in the food processor.
I like these better than almond flour for breading because they seem to give you crispier breaded chops.I also use it for breading my air fryer chicken, shrimp, fish sticks, cauliflower and zucchini!
The mayonnaise and spices add another layer of flavor and keep the chops from drying out.
How to make keto breaded pork chops in the air fryer.
Step 1: First you want to preheat the air fryer at 360°F for 5 minutes. Then you want to cut your roast into 1 inch thick chops. Or if you have ones that are already cut gather a few paper towels and dry them off.. Then sprinkle salt and pepper over both sides.
Step 2: Then get a shallow bowl or plate and pour the parmesan cheese and pork rind crumbs in and mix. In the a separate bowl spoon in the mayonnaise and mix in the spices and a bit of water to thin it out. The mayonnaise tastes place of your normal egg mixture.
Step 3: Dip the chops into the mayo seasoning mixture to coat them on both sides, then place them in the pork rind mixture and get all sides covered.
Step 4: Spray the air fryer basket with nonstick cooking spray and place the chops in air fryer in a single layer. I just used two large ones (8 oz each) which fed 4 people.
Step 5: Set the air fryer temperature to 360°F and cook the pork chops for 10 minutes. Then turn the heat up to 400°F for the last 5 minutes to make them golden brown.
Air frying cooking time may vary depending on the thickness of your chops. Thinner chops will take less time. The internal temperature should be 145°F using a meat thermometer.
Step 6: Take out the juicy pork chops and let them rest for a 5-10 minutes. You can always add some type of vegetable and air fryer them while the meat is resting.
Store leftovers in an air tight container. (Please scroll down to view the printable recipe card.)
What to serve with these keto breaded pork chops.
If you want to make an easy keto side dish in the air fryer I can suggest this keto asiago asparagus dish or these low carb cheesy zucchini noodles.
Or try one of these easy keto cauliflower rice dishes: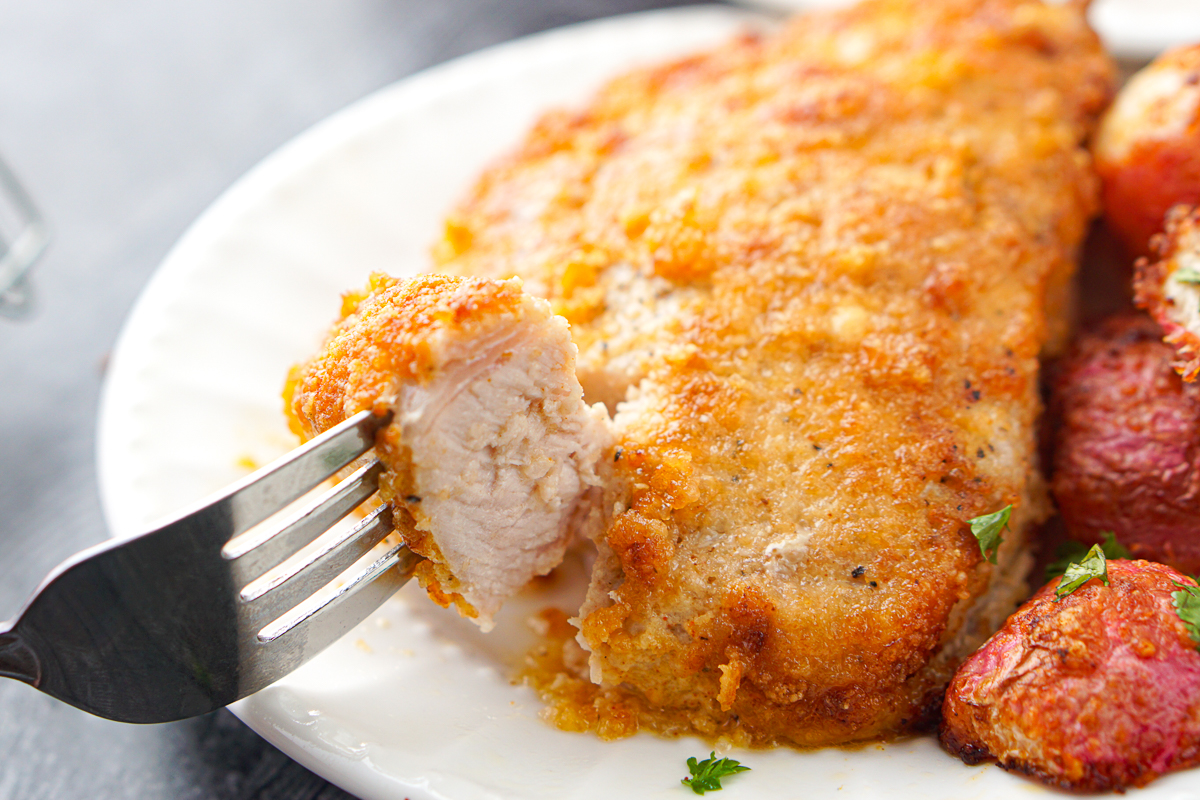 Well I hope you give this easy gluten free breaded pork chops recipe a try. They are moist and tender on the inside and crispy on the outside. They are great for those on a low carb diet. And the air fryer makes it all so easy for those busy weeknights.
Check out all of my low carb air fryer recipes. I have over 40 of them!
The nutrition info is 339 calories / 22.4g fat / 0.8g carbs / 0.2g fiber / 31.5g protein = 0.6g net carbs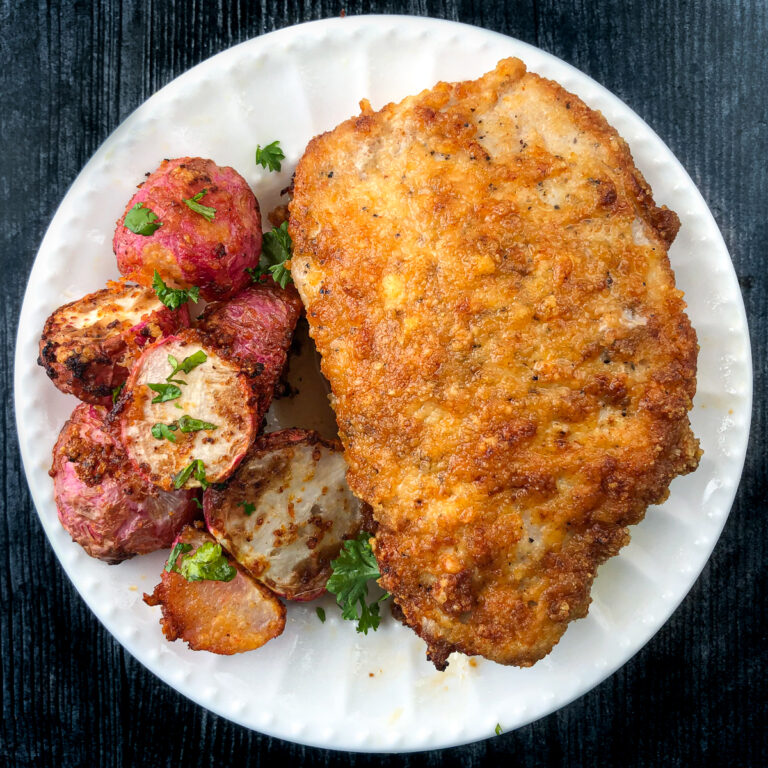 Keto Air Fryer Breaded Pork Chop
This keto breaded pork chop recipe is so easy to make in the air fryer. The gluten free and low carb breading is full of flavor and creates a juicy tender chop. And the carb count is only 0.6g per serving!
Ingredients
2 1 inch pork chops (boneless - about 16 oz total)
3 tablespoons mayonnaise
¼ cup pork rinds (crushed)
¼ cup parmesan cheese
½ teaspoon garlic powder
½ teaspoon onion powder
½ teaspoon paprika
Instructions
Preheat the air fryer for 5 minutes at 360°F.
Season pork chops with salt and pepper and set aside.
Gather 2 shallow bowls and mix the pork rinds and parmesan in one bowl. In the other mix the mayonnaise, spices and 1 tablespoon of water. Mix well.
Spray the air fryer basket with cooking spray and set aside.
Dip the pork chops first in the mayonnaise mixture and make sure to get the mayo all over the pork chop. Then place in the pork rind breadcrumb mixture and try to get the crumbs all over the meat.
Place in the air fryer and bake for 10 minutes at 360°F and then turn the heat upt to 400°F for 5 more minutes. The internal temperature should be 145°F. Let rest for 5 minutes before serving.
Notes
The nutrition info is 339 calories / 22.4g fat / 0.8g carbs / 0.2g fiber / 31.5g protein = 0.6g net carbs
Nutrition Information:
Yield:

4
Serving Size:

1
Amount Per Serving:
Calories:

339