This easy creamy butternut squash soup with fried onions is the perfect comfort food you can make in just 25 minutes. The smooth and tasty butternut soup has a hint of sweetness and is perfectly balanced with the fried onions topping. An healthy and comforting soup for fall.
You might really like this creamy curry carrot soup too!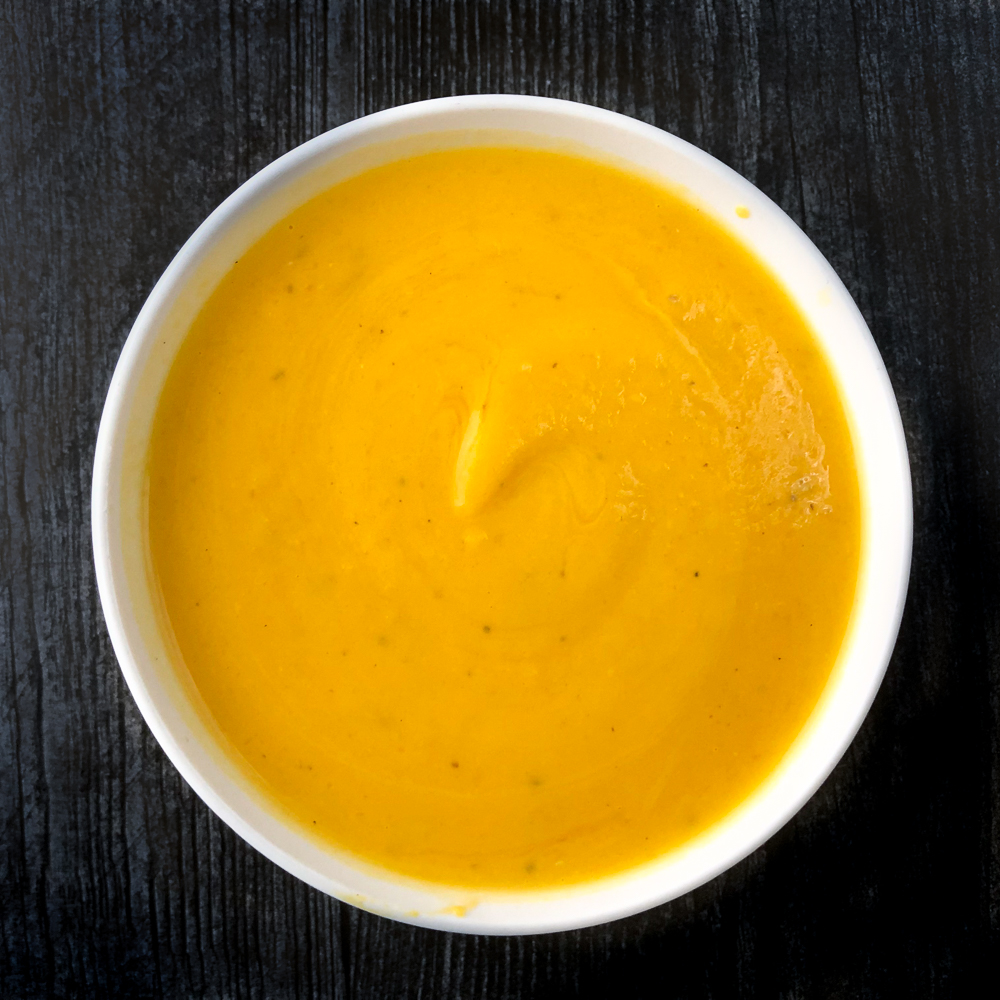 I love shopping at Costco, except that sometimes I end up with too much of one thing and I hate to waste food. So that means trying to find something new to make with said item and in this case, it's butternut squash.
I bought some to make my roasted vegetable with goat cheese salad but didn't need that much. So I decided to make this easy creamy butternut squash soup with fried onions.
This healthy and flavorful soup was the perfect comfort meal for me. The addition of the caramelized flavor of the onions on top ended up being the perfect touch! This recipe only takes 25 minutes to make and it's perfect for the fall season.
Recipe ingredients I used.
The simple ingredients I used were fresh butternut squash, olive oil, Better that Bouillon, garlic cloves, thyme, heavy cream, salt and black pepper.
Because butternut squash is naturally sweet, I tried to counteract that with the savory garlic, thyme and Better than Bouillon which I use in most of my soups. It's one of my favorite products as it adds so much flavor.
At the end of the recipe I used heavy cream to marry the savory and sweet flavors together to create a smooth texture and even creamier soup!
Should I roast the butternut squash first?
Roasting any vegetable will give it more flavor. However for this recipe I think it has plenty of flavor on it's own and I did not roasted it.
It takes much less time to boil it in the chicken broth than to roast it but if you want to take the extra time you can.
Just mix the butternut squash with a little oil and bake at 400° F for about 30 minutes.
How to make creamy butternut squash soup.
Step 1: Get the onions frying in a skillet. First slice the onions as thinly as you can. I like to use a mandoline for this and you can see how nice and thin they are in the pic below.
Add the butter and oil to a medium sized pan. Turn the heat up to get the pan real hot. Then add the sliced onions and fry them until they are nice and caramelized. This can take anywhere from 15-20 minutes.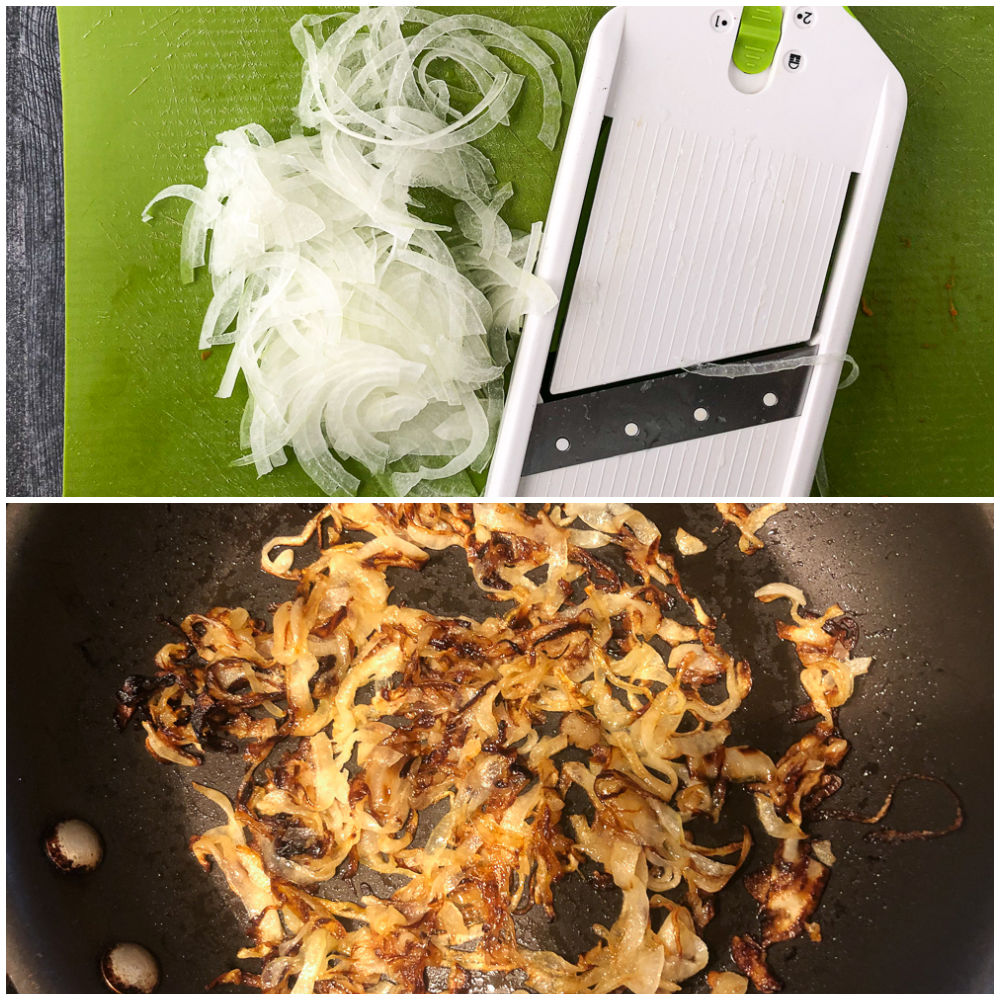 Step 2: Meanwhile add the butternut squash, broth(water and Better than Bouillon ) and spices in a soup pot and turn up the heat to medium heat and bring to a boil. Then turn it down and let it simmer until the squash was fork tender (about 5-10 minutes).
Step 3: When the squash is done, add everything to a high speed blender and process soup.You may have to do this in batches. Blend until nice and smooth. I love my Vitamix for things like this because it does an excellent job.
You can see above how velvety smooth the soup can get. However you can also use an immersion blender or a food processor though I prefer a blender.
Step 4: Return soup back into the pan and add your cream. Mix until it's well incorporated and warm through. Ladle into bowls and top with fried caramelized onions when they are done. This adds extra flavor.
Store leftovers in separate airtight containers in the refrigerator. (Please scroll down to view and print the recipe card.)
By the way if you want the onions a bit more crispy you can dredge them in flour first and then fry them but I was trying to keep this gluten free for me. Also I have since added a keto fried onion recipe I made in the air fryer!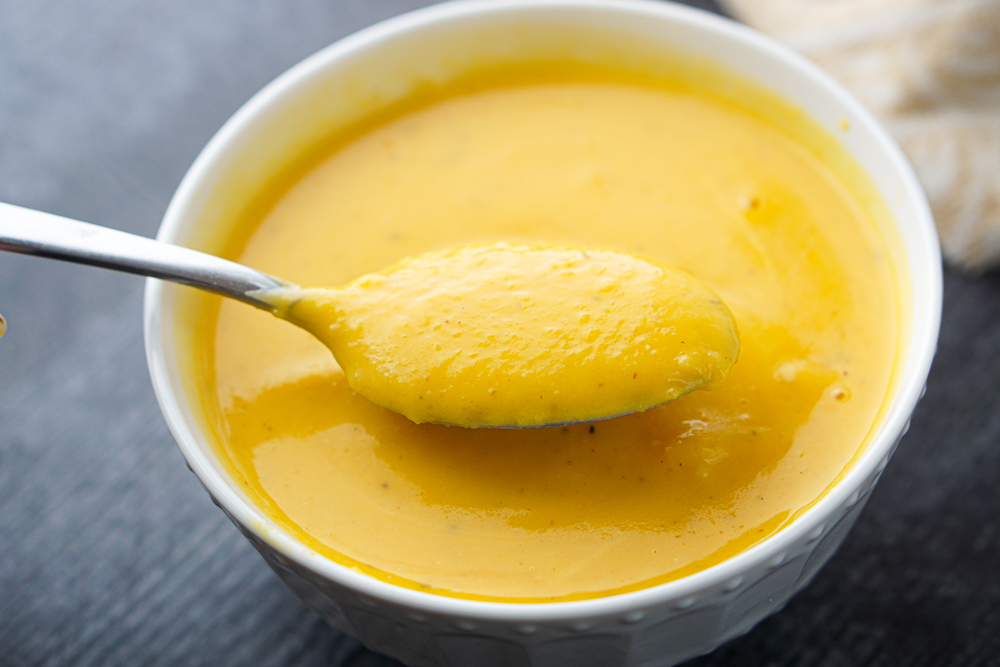 More creamy soup recipes to try.
The following creamy soup recipes are all very easy to make and mostly vegetable based. Most of them are also low carb as well. I have over 50 homemade soup recipes so check those out for more inspiration.
Well I hope you like this big bowl of comfort as much as I did. And next time you buy a huge container of peeled butternut squash from Costco, you have to try this amazing soup recipe. Enjoy!
Homemade Butternut Squash Soup Recipe with Caramelized Onions
This easy homemade butternut squash soup with crispy onions is the perfect comfort food you can make in just 25 minutes. The smooth and creamy butternut soup has a hint of sweetness and is balanced with the savory topping of caramelized onions.
Ingredients
1 tablespoon olive oil
5 cups butternut squash cubes
2 cups water
1 teaspoon Better than Bouillon
4 cloves garlic
¼ teaspoon thyme
¼ teaspoon salt
⅛ teaspoon black pepper
½ cup heavy cream
For the crispy onions
½ onion, thinly sliced
2 tablespoons olive oil
1 tablespoon butter
Instructions
Add 2 tablespoons of olive oil and 1 tablespoon of butter to a saute pan and turn up to medium heat.
Add the thinly sliced onions and fry until browned and caramelized.
In the meantime, get out a stock pot, add olive oil and butternut squash and saute for 1 minute.
Add the rest of the ingredients for the soup except the heavy cream and turn up to medium high heat. Once it boils, turn it down to meadium.
Let simmer for 10 - 15 minutes or until the squash is fork tender.
When the squash is done, blend in a high speed blender in batches. You can also use an immersion blender if you prefer.
Return to the pot and add the cream. Heat through for 1-2 minutes.
Ladle into bowls and top with fried onions.
Notes
You can use chicken broth or chicken stock instead of the Better than Bouillon.
If you want a vegetarian option use vegetable broth or vegetable stock.
Also if you would like crispier onions, dredge them in a bit of flour before frying.
Nutrition Information:
Yield:

4
Serving Size:

1
Amount Per Serving:
Calories:

330
Total Fat:

24g
Saturated Fat:

10g
Trans Fat:

0g
Unsaturated Fat:

13g
Cholesterol:

41mg
Sodium:

298mg
Carbohydrates:

30g
Fiber:

8g
Sugar:

7g
Protein:

4g