Air fryer diced sweet potatoes are very easy to make and are great for a healthy and tasty side dish. Flavored with a few herbs and spices, these air fried sweet potatoes taste great as is or use them in your meal planning. They go great with lots of foods to make a complete meal.
You might also like these roasted delicata fries.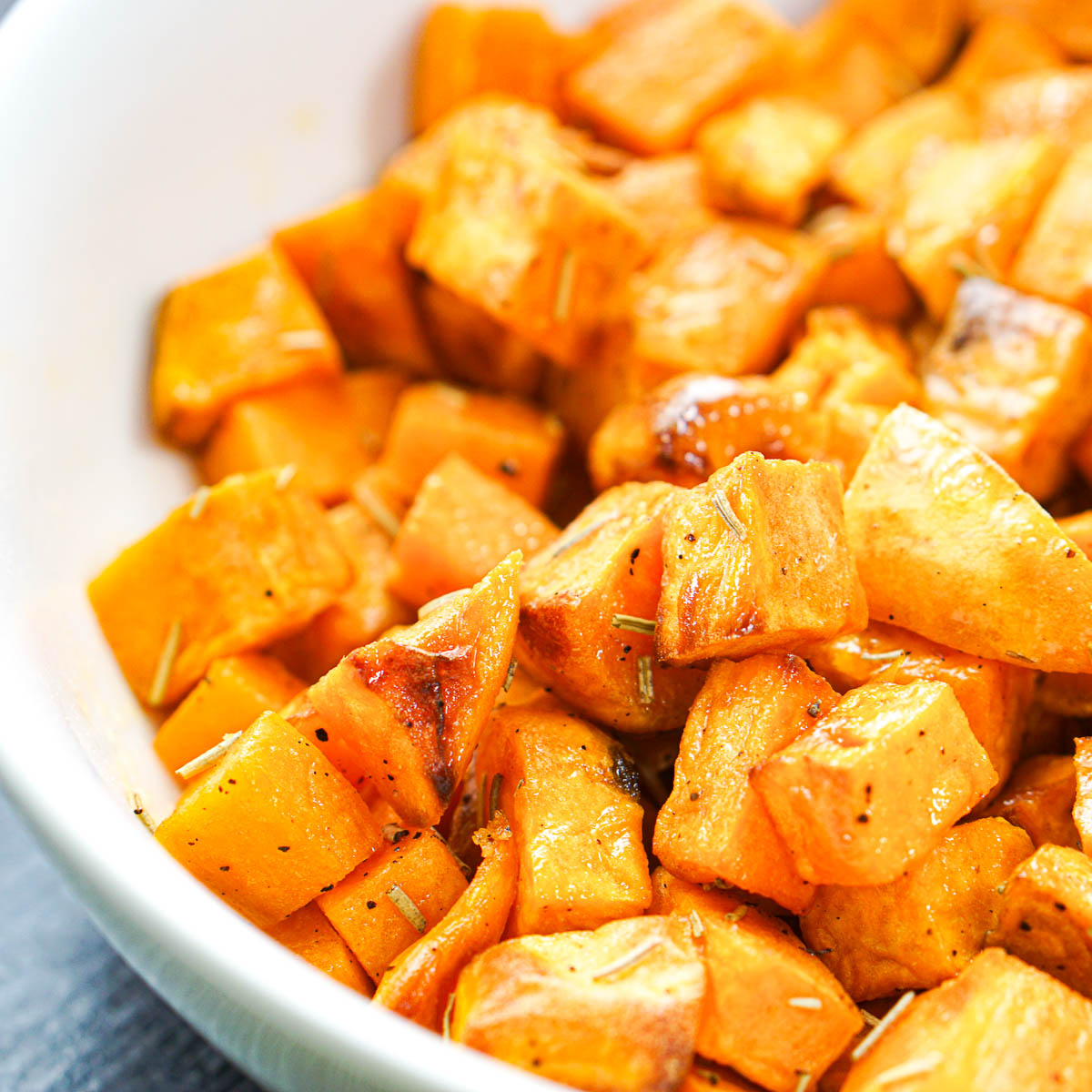 I recently bought a lot of sweet potatoes because we were having company and I knew they liked sweet potato fries better then regular potatoes. Plus they are so colorful and good for you so I wanted to have some extras for me.
So the other night I made these air fryer diced sweet potatoes instead of our usually air fryer parmesan white potatoes which I make quite often. They came out great and the best part of the recipe is that I found they are great for meal prep. I used them in some healthy frozen lunches that I've been making. More about that later in the post.
This vegetable is tasty and healthy and the perfect side dish for fall dinner. You can also eat them for breakfast, as a healthy snack or even treat your pup with them. See suggestions below.
Recipe ingredients I used and suggestions.
The simple ingredients I used for this recipe are olive oil, sweet potatoes, rosemary, salt and ground black pepper.
Sweet Potatoes
For this recipe you definitely want sweet potatoes which have an orange color flesh and orangish-red skin and not yams which are pale yellow and brown looking. They are both root vegetables but they have a much different taste and are not even related. (learn more)
When choosing sweet potatoes pick ones that are smooth and firm and I prefer smaller ones to the larger which are hard to chop. Looking at the photo below the one on the right was a nicer one because it didn't have that pitting the other one had but it's not a huge deal.
Dried Rosemary
You can use fresh or dried rosemary for this recipe. I used dried but if you have fresh rosemary leftover from your garden go ahead and use that. Remember 1 teaspoon of dried herbs equal 3 teaspoons of fresh herbs. The dried herbs are much more concentrated.
You can also substitute dried thyme for the rosemary as well as experimenting with other spices if you want. I've only used rosemary and thyme myself.
How to make air fryer diced sweet potatoes.
Step 1: Spray the air fryer basket with cooking spray and set aside.
Step 2: Peel and dice the sweet potatoes into bite sized cubes about ½ inch cubes. Place them in a bowl of cold water before air frying. Just for a few minutes. This keeps them from browning and it it removes some of the excess starch giving you a better texture.
Step 3: Drain the water from the bowl and towel dry the diced potatoes. Place them back in the mixing bowl and toss with the olive oil, salt, ground pepper and rosemary. Then spoon them into the air fryer basket.
Step 4: Roast the sweet potato cubes at 400°F for 15-17 minutes until golden brown and fork tender. Note cooking time may vary. If they are not soft or browned enough just put them back in and cook for a couple of minutes more until they are to your liking.
Step 5: Take the potatoes out and place in a serving bowl. Store leftovers in an airtight container. These also freeze well and are good for meal planning. Please scroll down to view the printable recipe card.
To make these in the oven, spray a rimmed baking sheet with cooking spray. Toss the sweet potato chunks with the oil and spices and spread on the tray in an even layer. Bake in a 450°F oven for 25-30 minutes until fork tender.
My husband is unfortunately not a sweet potato fan so I end up eating these myself but I'm not complaining. Below are some other foods and ways to eat this tasty vegetable.
What to eat with these roasted sweet potatoes.
Though this healthy side dish has a savory flavor it obviously has a lot of sweetness to it so I would eat it with a very meaty main dish. You can eat it with a roasted turkey, flank steak, burgers or pork tenderloin.
You could also add a simple green vegetable like spinach, asparagus, broccoli, green beans, snap peas, etc. Or just make a big green salad to make a complete meal.
Other ways to use this recipe.
As you can see above they go great with sautéed spinach and sausage. Above I had some leftover spinach stir fry and breakfast sausage so I add these and OMG it was great. The combination of sweet flavors with the savory flavors were perfect together. This would be a great breakfast bowl but I ate it for dinner one night.
I also use them in some healthy freezer lunches I have been making (see photo below). In this one I used a salmon patty I bought at Costco and use some more of the Asian spinach stir fry to make a colorful and healthy lunch. Each has just 374 calories and they were very nutritious!
Eat these instead of hash browns for a more nutritious breakfast. Pair it with eggs, bacon, ham, sausage or use it in a breakfast hash. They would also be good in an omelet.
Use as a vegetarian taco or toss on a salad. I even make a tasty Greek sweet potato salad with them. You can also use them in curries and veggie burgers.
BONUS Dog Treats: If you make these without the oil and spices – just plain sweet potatoes – you can give a few of them to your dog. Sweet potatoes are a healthy try for dogs and mine loves them. (learn more) I even make these sweet potato treats for her.
Different ways to flavor this dish.
I simply used rosemary to these potatoes but other seasonings to try are:
garlic and parmesan cheese
brown sugar and butter or maple syrup
hot pepper flakes or cayenne pepper for a spicy version and add some heat
Mexican spices like cumin, chili powder, paprika, garlic powder and onion powder
curry powder or other spice blend
mix with bacon grease and roast with onions similar to these German fried potatoes
Play around with different flavor combinations that would go with the sweetness of this vegetable.
Well I hope you give this air fryer diced sweet potatoes recipe a try next time you are looking for a quick vegetable side dish or try it with your meal plans. It's simple recipe that tastes great as it is but you can use it in so many different ways. You can also make these as an easy holiday side dish. Enjoy!
Air Fryer Diced Sweet Potatoes Recipe
This air fryer diced sweet potatoes recipe is a very healthy and versatile side dish. It's full of flavor and very easy to make. Use them in meal plans or eat them for breakfast.
Ingredients
4 cups diced sweet potatoes
2 tablespoons olive oil
2 teaspoons dried rosemary
½ teaspoon salt
¼ teaspoon black pepper
Instructions
Spray the air fryer basket with nonstick cooking spray and set aside.
Peel and dice sweet potatoes into ½ inch cubes or bite size pieces and soak in a bowl of cold water for 5 minutes. Drain the water and towel dry the pieces.
Place diced sweet potato chunks in a bowl and mix with olive oil, rosemary, salt and black pepper. Mix well and then spoon into prepared air fryer basket in a single layer. If you use fresh rosemary remember 1 teaspoon of dried herbs equal 3 teaspoons of fresh.
Set the temperature to 400°F and cook for 15-17 minutes until fork tender and they start to brown. Cooking times may vary. If not done to your liking place back in the air fryer and cook for a few minutes more.
Take out and serve. Store leftovers in an airtight container.
Nutrition Information:
Yield:

6
Serving Size:

1
Amount Per Serving:
Calories:

161
Total Fat:

5g
Saturated Fat:

1g
Trans Fat:

0g
Unsaturated Fat:

4g
Cholesterol:

0mg
Sodium:

225mg
Carbohydrates:

28g
Fiber:

5g
Sugar:

9g
Protein:

3g