This easy slow cooker pork tenderloin recipe is perfect for a busy weeknight or just for a healthy low carb dinner any time. Using a simple spice rub and few vegetables the pork roast comes out juicy and tender and full of flavor. Not only is it easy but 1 serving of this tasty meal has just 219 calories and 2.1g net carbs!
You might also like this easy slow cooker zesty garlic pork roast!
My brother Mark recently called, telling me how he made this roast and it was so good. My brother has good taste, so of course I had to make it myself and I concur. It was really good. And it was so simple too!
This slow cooker pork tenderloin recipe is simply made with an easy spice mixture using common spices along with a some of your favorite vegetables. You just add it to the crock pot and let it do its magic.
The slow cooking the pork tenderloin creates juicy and tender pieces of meat. I actually made 2 tenderloins and had a delicious meal. Then we ate the leftover pork tenderloin the next day in fried rice.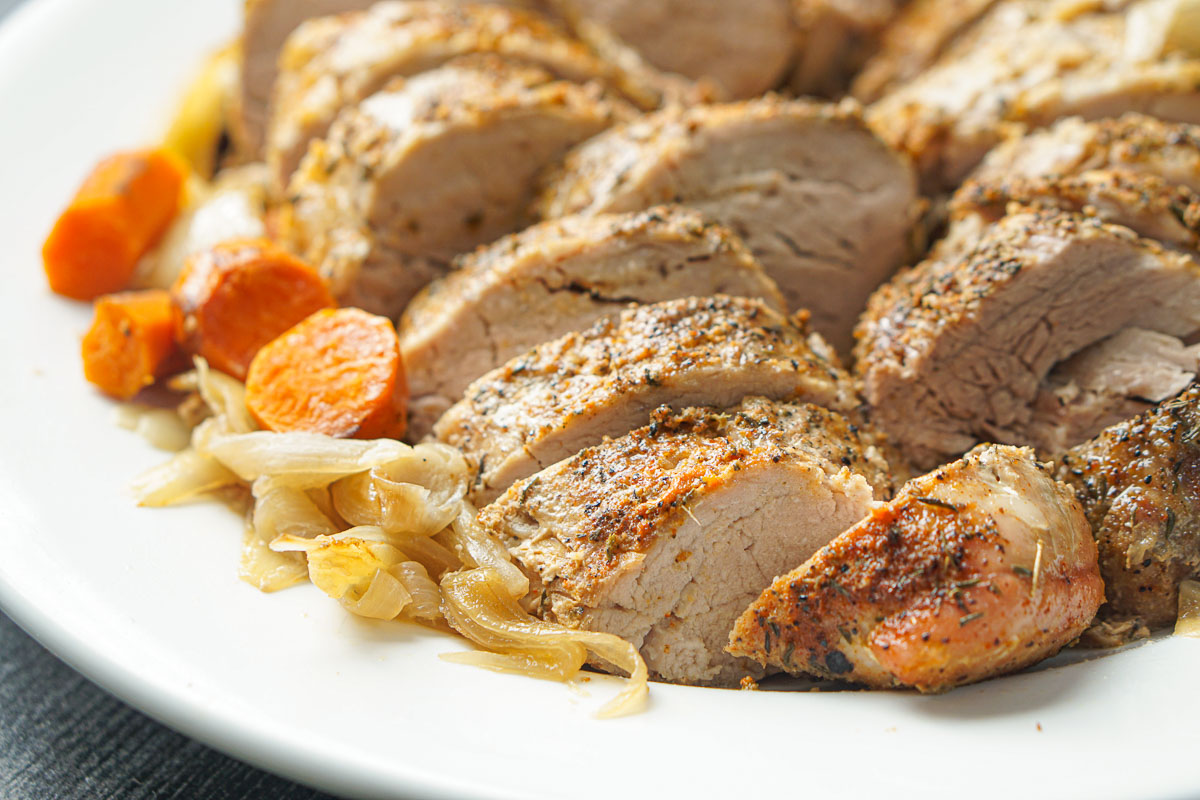 Can I use pork loin instead of tenderloin?
No. The difference between the two is that pork tenderloin is long, narrow and boneless cut of meat where as a pork loin roast is much bigger and wider and can be either a bone in or boneless cut of meat.
They both come from different parts of the animal and are not a substitute for one another.
While both are lean cuts of meat, the tenderloin is has more flavor and is much more tender than the loin. It's the filet mignon of pork. It tends to be a bit more expensive but to me it's worth it.
Recipe ingredients I used.
This is a very easy recipe that uses simple ingredients. I used a pork tenderloin roast and the following seasoning blend – onion powder, garlic powder, salt, black pepper, paprika and thyme.
I added just a fresh onion and a carrot or two for the vegetables but you could use any roast vegetables you want to make it more of a complete meal. Most people would add cubed potatoes but I was trying to keep the carbs down.
However the yellow onion is important because it will cook and caramelize and go great with the meat.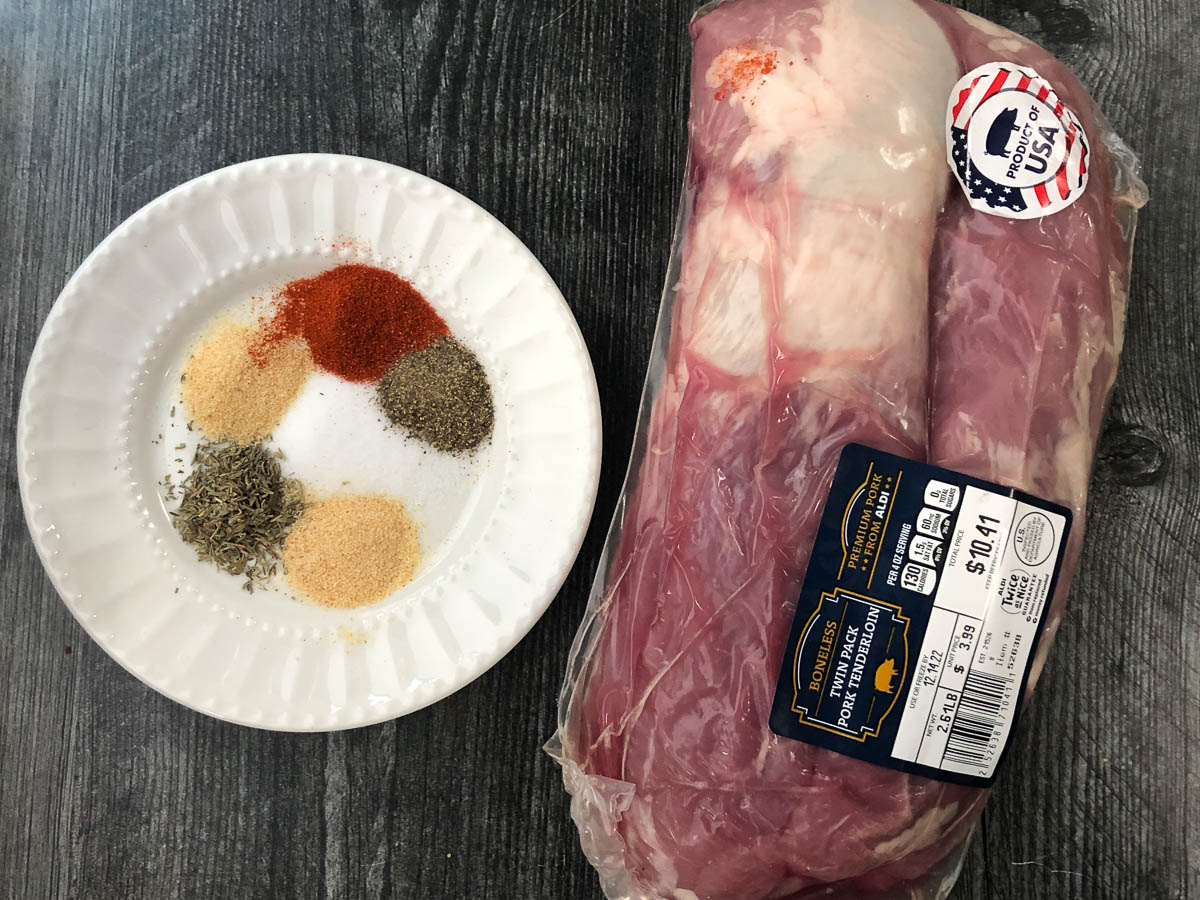 How to make this simple slow cooker pork tenderloin recipe.
Step 1: Spray the slow cooker with cooking spray and then hop the onions into large pieces or thick slices. Lay on the bottom of the slow cooker.
Step 2: Mix the seasonings (salt, black pepper, garlic powder, onion powder, thyme and paprika). Rub all over the pork roast. Then set it in the crockpot on top of the onions. Add the chopped carrots or whatever veggies you want on top.
The cooked onion is important to give the meat additional flavor but the other veggies are not. Make sure the vegetables are in big pieces so they don't get too mushy.
Note: I don't add any liquid like chicken broth for example because I didn't want the meat or the veggies to get soggy. Some people add a bit of liquid so the meat won't dry out but I found that only happens if you cook it too long.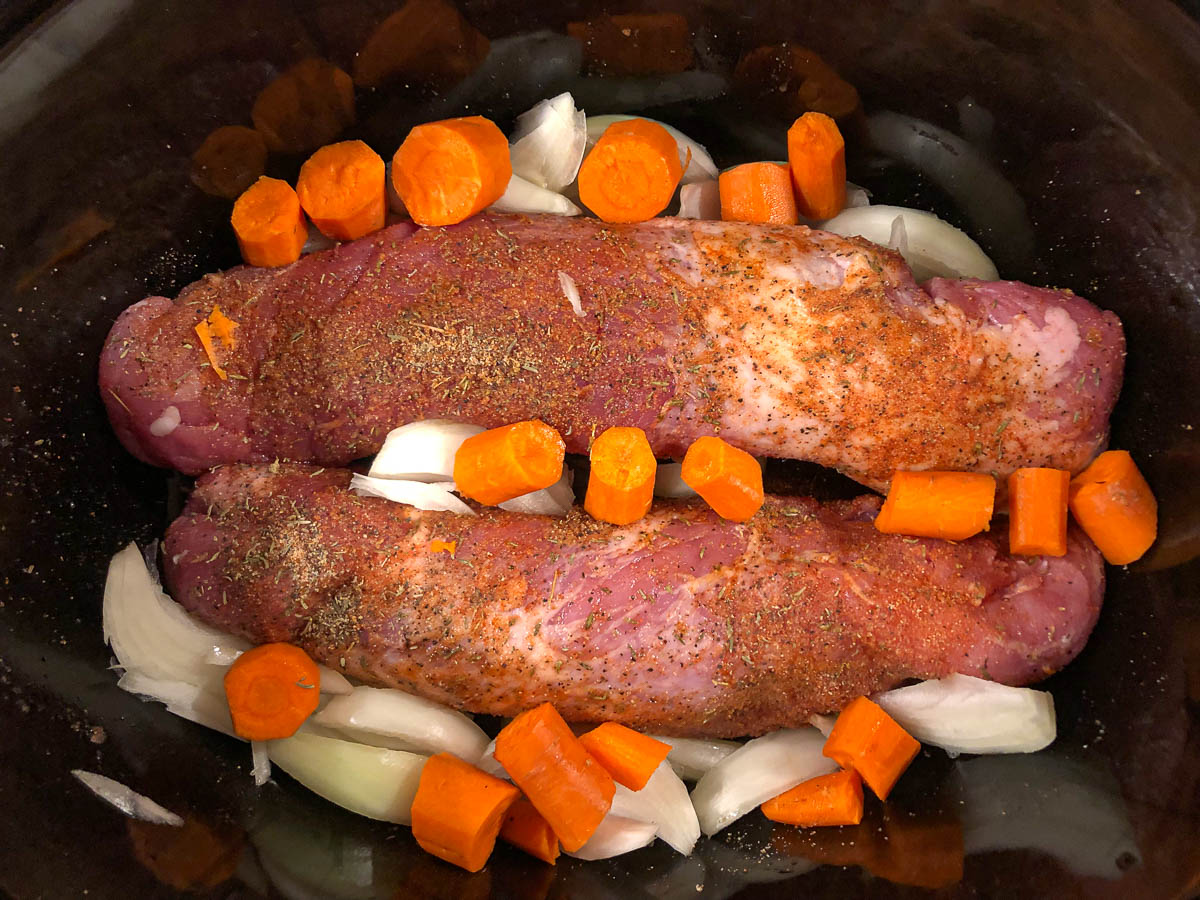 Step 3: Place the lid on the slow cooker and cook on high 3 and half hours or until the roast is done. The internal temperature should be 145 degrees F. Note cooking time may vary depending on the size of your roast.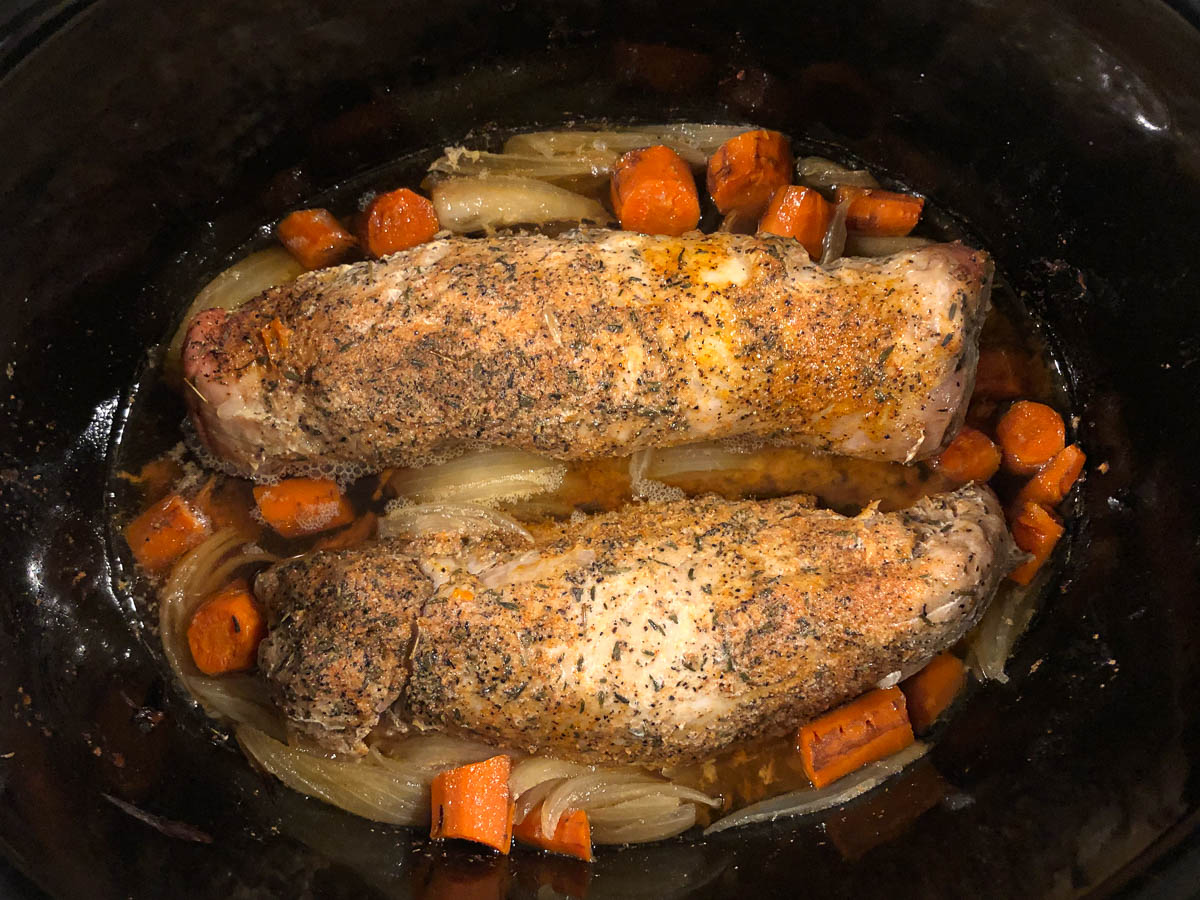 Step 4: Place the roast on a platter and cover with a piece of foil. Let rest for 10 minutes then slice and spoon the veggies around the meat. If you have any juices in the crockpot, spoon them over the meat slices.
Store leftovers in an airtight container. Please scroll down to view the printable recipe card.
More delicious pork recipes to try.
Pork is a great type of meat to use when on a low carb diet. There are many lean cuts of this meat and so many ways you can flavor it. Here are some of my favorite recipes using pork tenderloin specifically.
Well I hope you enjoyed this slow cooker pork tenderloin recipe. It really is quite easy and would for a busy weeknight dinner or even a Sunday dinner. The tender meat also tastes great the next day. Check out all of my slow cooker meals.
The nutritional information for 1 serving with just onions (based on 8) is 219 calories / 5.2g fat / 2.6g carbs / 0.5g fiber / 38.4g protein = 2.1g net carbs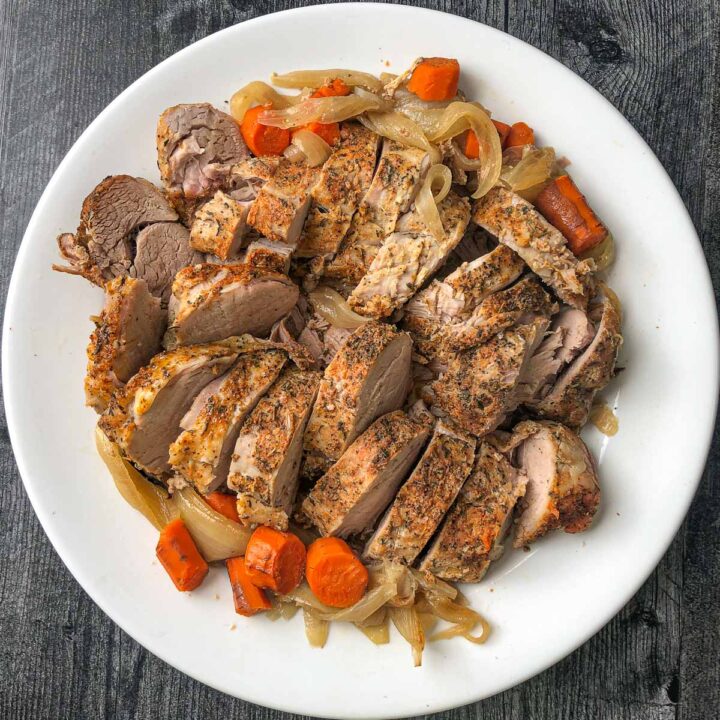 Simple Slow Cooker Pork Tenderloin Recipe
Total Time:
4 hours
5 minutes
This easy crock pot pork tenderloin recipe is perfect for busy weeknight dinners or even for a Sunday dinner with family. Just minutes to prepare and then set and forget. Full of flavor and creates tender, juicy meat.
Ingredients
2 ½ pounds pork tenderloin
1 teaspoon onion powder
1 teaspoon garlic powder
1 teaspoon paprika
1 ½ teaspoon salt
1 teaspoon black pepper
½ teaspoon thyme
1 onion, chopped into big pieces
carrots, potatoes or whatever vegetables you want (optional)
Instructions
Spray the slow cooker with cooking spray. Then chop onions into quarters or bigger sized pieces and place on the bottom of the crockpot. The onion is important because it will cook and caramelize add extra flavor to the meat.
Mix all of the spices together in a little bowl. Then rub all over the pork tenderloin. Place into the slow cooker ontop of the onions.
Chop any other vegetables you want to use but make sure they are bigger pieces so they don't get mushy. I just used onions and carrots but you can use potatoes, celery, sweet potatoes, or whatever veggies you want. You can also not use any veggies but keep the onions.
Cook on high for 3 ½ hours or on low for 4-6 hours. Cooking time may vary depending on how big your roast is. You will know it's done when the internal temperature is 145°F when using a meat thermometer. Also the vegetables should be fork tender.
Take out the meat and place on the platter. Cover with aluminum foil and let rest for a few minutes. Then slice into pieces for servings. Spoon the roasted vegetables around the meat slices. Spoon any juices from the crockpot over the meat slices.
Store leftovers in an airtight container.
Notes
The nutritional information for 1 serving (based on 8) is 219 calories / 5.2g fat / 2.6g carbs / 0.5g fiber / 38.4g protein = 2.1g net carbs
Nutrition Information:
Yield:

8
Serving Size:

1
Amount Per Serving:
Calories:

219