These German fried potatoes with bacon are pure comfort food. How can you go wrong with potatoes and bacon! This easy side dish takes less than 30 minutes and you can eat the leftovers for breakfast! It's sure to be a family favorite.
You might also like this perfect crispy steak fries recipe!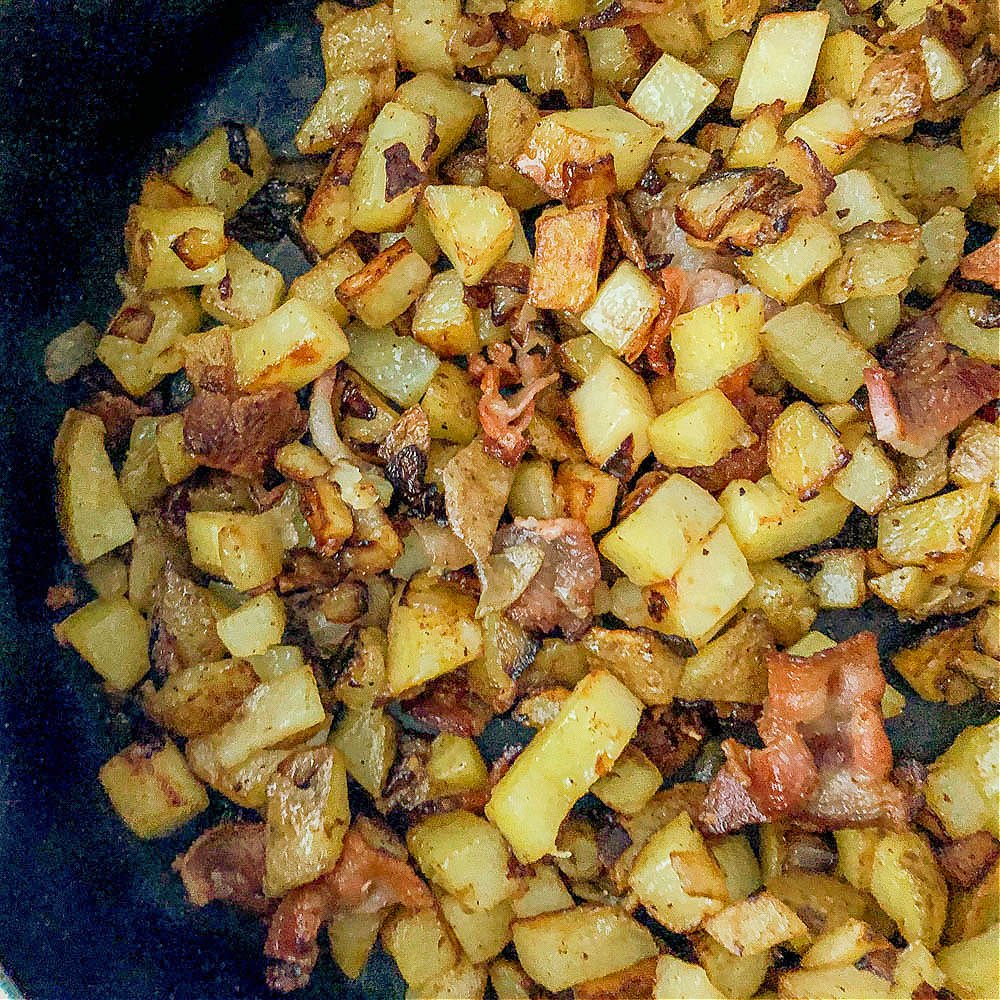 This weeks theme at Sunday Supper is Oktoberfest. When I was younger, I never missed this celebration but it was mostly about beer, friends and having a good time. So I'm not up on German food too much.
However while perusing recipes I came across Bratkartoffeln (please don't ask me to pronounce it) which is German fried potatoes in a pan. I thought I could handle that especially as it involves bacon. So that is what I'm making today for Oktoberfest!
Other Yummy Bacon Recipes
This is a simple recipe that involves bacon, onions and potatoes. I feel like every week I am putting up a bacon recipe.
Last week it was bacon wrapped stuffed chicken, and before that loaded smashed cauliflower bites. One thing my family loves is bacon!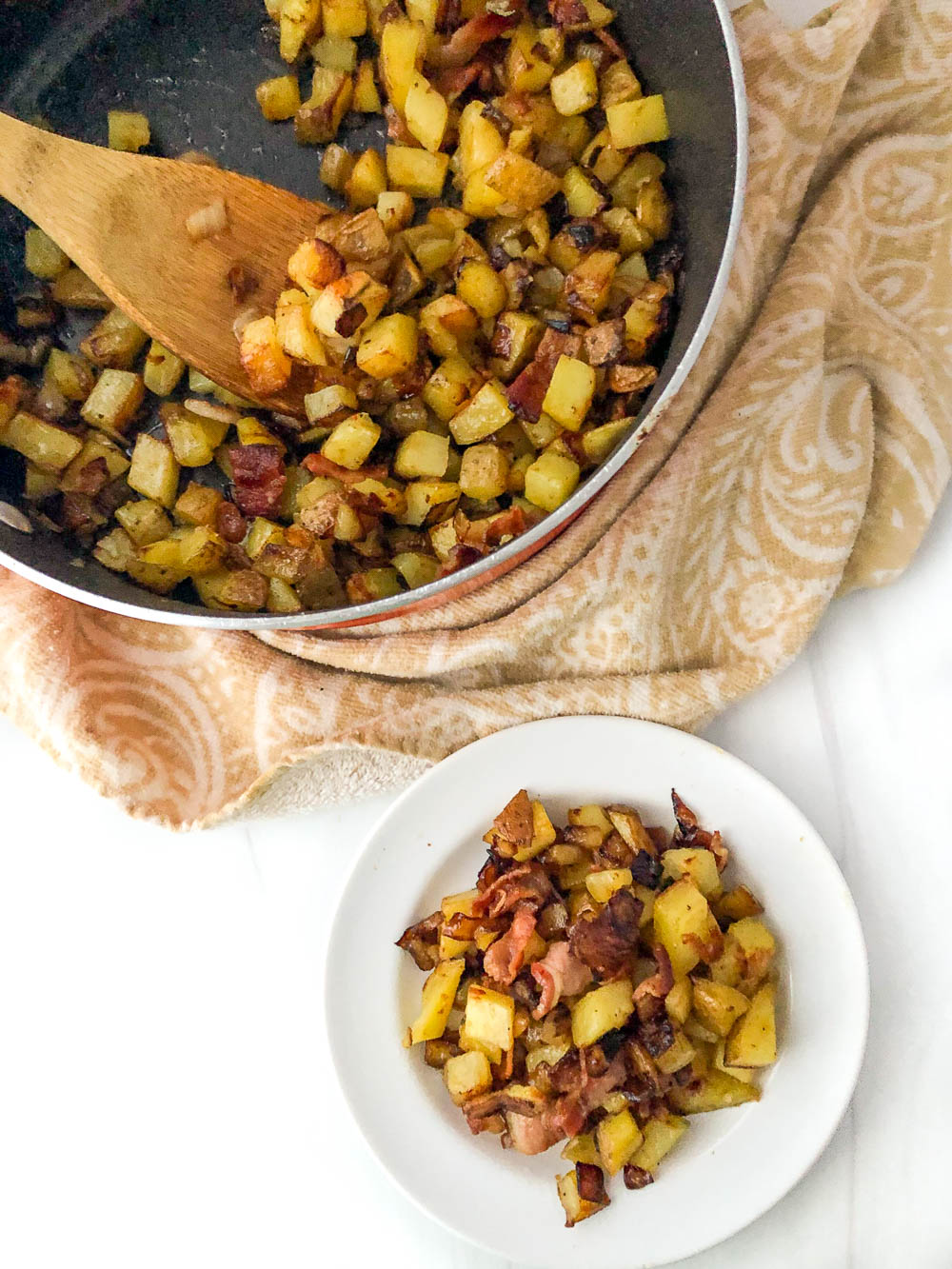 German Fried Potatoes Recipe
You gotta love a recipe with only 3 ingredients: golden potatoes, onions and bacon. So let's make our friend potatoes!
Step 1: Start by cooking your bacon in a cast iron skillet.
Step 2: While the bacon is cooking chop your potatoes into uniform cubes. I like to use the food chopper below because it's so easy and you get even pieces of potatoes. I bought it at Aldi along time ago buy they also have them on Amazon.
Step 3: Once you have the potatoes chopped, I put them in this microwave steamer for 5 minutes. Precooking the potatoes makes them take less time frying and you can get a nice golden brown.
Step 4: Take the out the bacon and now you can fry the onion for a few minutes until they are translucent.
Step 5: Then add in the potatoes and saute until the potatoes are browned nicely. Add back the bacon and cook for another minute and you are done!

Why You Should Make This For Oktoberfest (& Notes)
It's super easy and only takes 3 ingredients.
It has bacon. Need I say more.
It goes great with beer especially the day after. 😉
Microwaving your potatoes first makes them soft inside and crispy outside.
You can make this all in one pan with no oil because you use the grease from the bacon.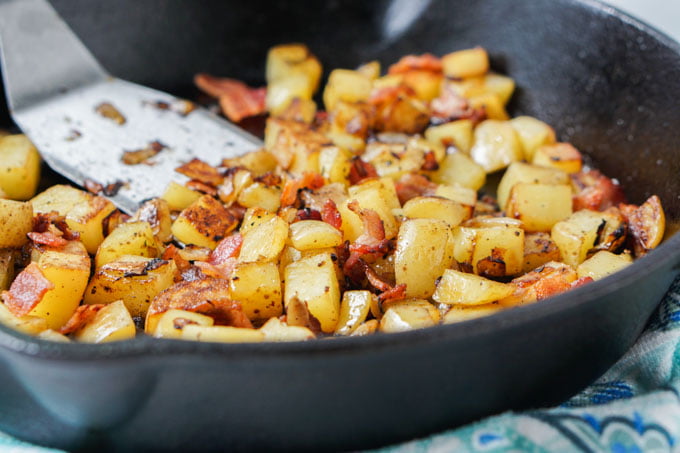 This is pure comfort food for me. I even ate a little with a fried egg for breakfast the next day.
I hope you like these German fried potatoes. It's an easy side dish that my family just loved and I will be making it more often.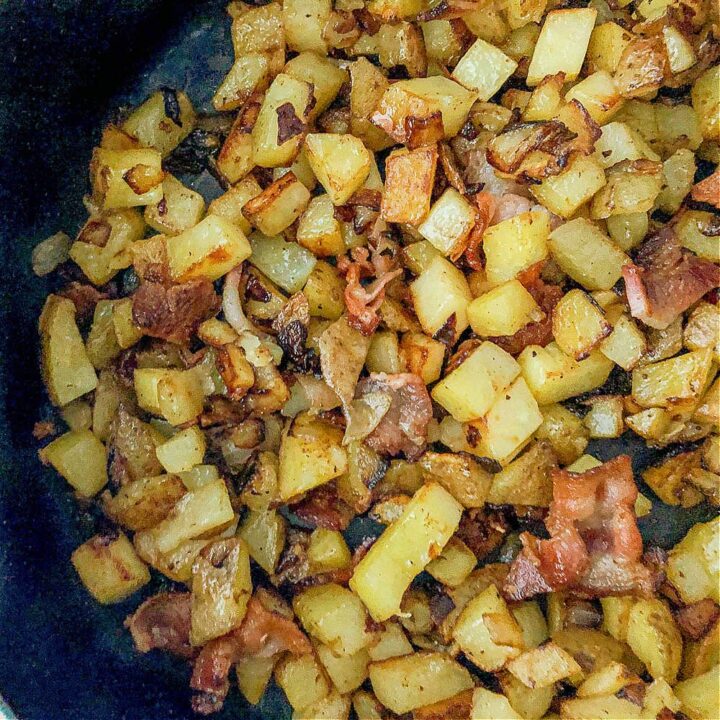 German Fried Potatoes with Bacon
These German style fried potatoes are pure comfort food. So easy to make and sure to be a family favorite.
Ingredients
4 pieces thick bacon
1 onion, finely chopped
3 cups potatoes, golden, uniformly diced into cubes
salt and pepper to taste
Instructions
In a large skillet, add bacon and fry until crispy.
At the same time, add your potato cubes to a microwaveable dish and microwave for 5 minutes.
When the bacon is done, take it out of the pan and add the diced onion.
Saute for 1 minute or 2 until they start to turn translucent and then add your potatoes.
Cook for 15 minutes or more until the potatoes are browned and cooked through.
Add back crumbled bacon and mix through.
Season with salt and pepper.
Nutrition Information:
Yield:

4
Serving Size:

1
Amount Per Serving:
Calories:

134
Unsaturated Fat:

0g