This German fried potatoes with bacon recipe is pure comfort food. How can you go wrong with potatoes and bacon! This easy side dish needs only 3 basic ingredients and takes less than 30 minutes. Best of all you can eat the leftovers for breakfast! It's sure to be a family favorite.
You might also like this perfect crispy steak fries recipe!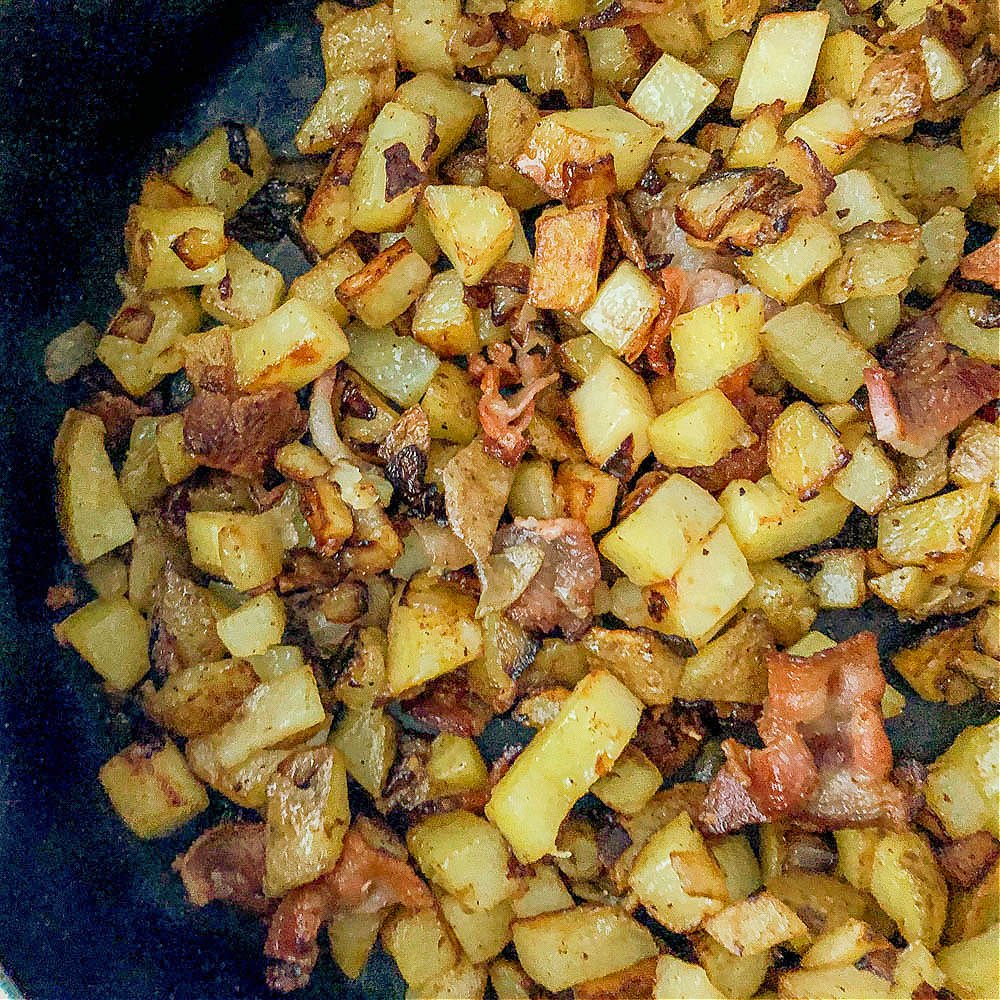 A few years ago I used to belong to a group of food bloggers who shared themed recipes every Sunday. It was called Sunday Supper and one particular week's theme was Oktoberfest where we made German dishes.
When I was younger, I never missed this celebration but it was mostly about beer, friends and having a good time. So I'm not up on German food too much but while perusing recipes I came across a German side dish called Bratkartoffeln (please don't ask me to pronounce it) which is German fried potatoes in a pan.
This was so my kind of food – fried diced potatoes with crispy bacon and caramelized onions. It's a really simple recipe and you can eat it for a delicious side dish that everyone will love. And if you have leftovers you can eat them for breakfast instead of hash browns or home fries.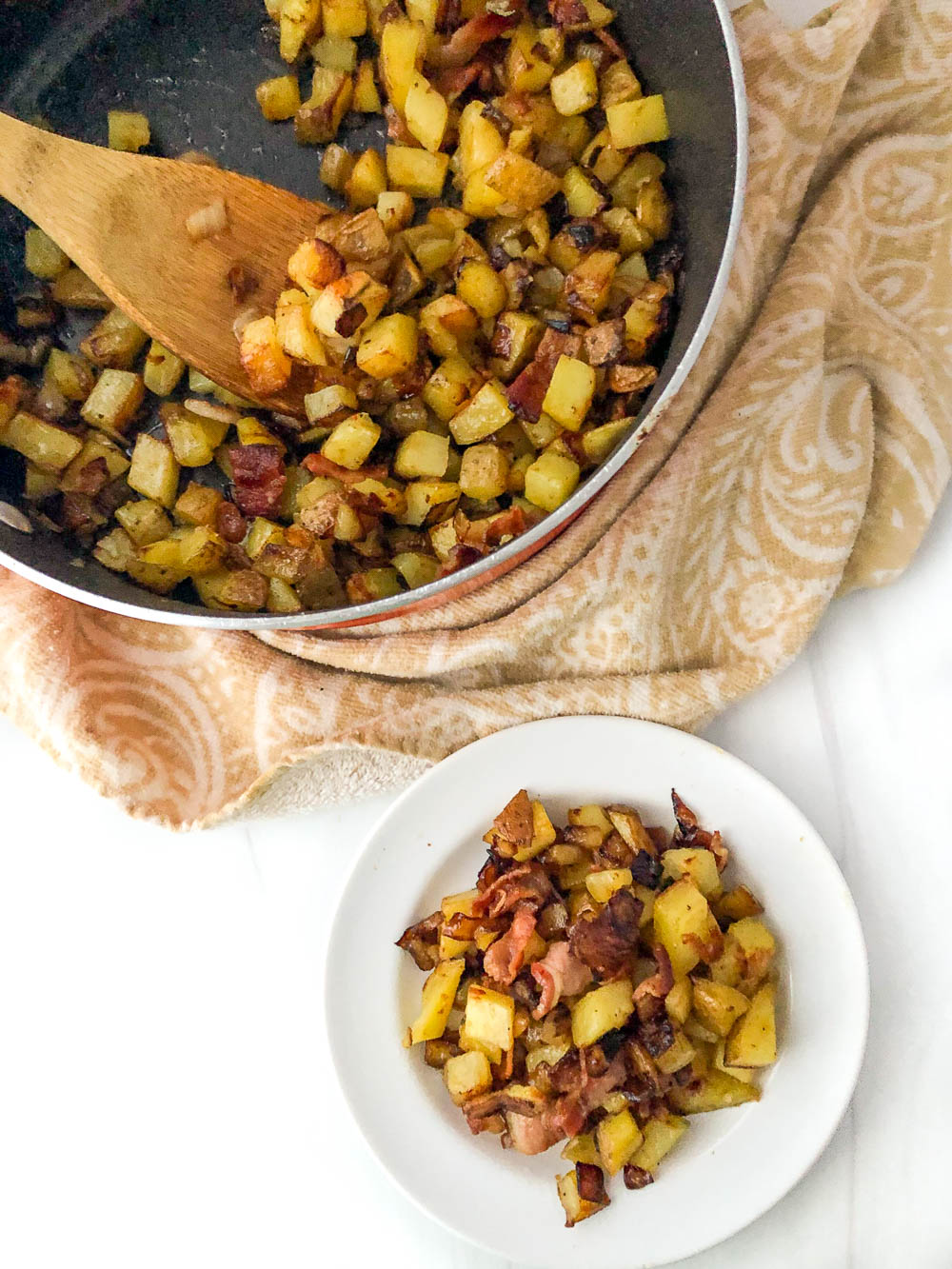 The simple ingredients I used.
This tasty side dish only needs bacon, onions and raw potatoes. I also used salt and black pepper to season. I read that some recipes call for seasonings like caraway, marjoram, rosemary or garlic. I however wanted to keep it simple. (learn more)
Potatoes
I used gold potatoes for this recipe. I find they crisp up well and the keep the center nice and soft. I also like them because their skins are soft and you can just keep them on when you are dicing them. That doesn't mean you can use russet or other types though.
Also I diced the potatoes instead of slicing because they cook more evenly and and it's easier to get a uniform size using a food chopper.
Bacon
I use the bacon fat instead of butter or olive oil. If you don't want to use bacon in this recipe for some reason you can use 2 tablespoons of butter to saute the onions and potatoes.
I like to buy center cut bacon in my recipes. If you like bigger ham like chunks of bacon you can use a thicker cut or if you just like crispier bits use a thinner sliced bacon.
Onions
You can use any kind of onion you want. I use yellow onions or white onions, however green onions or even sweeter Vidalia onions would taste good too.
How to make German fried potatoes.
Step 1: Chop the raw potatoes into uniform cubes. I like to use the food chopper below because it's so easy and you get even pieces of potatoes. I bought it at Aldi along time ago buy they also have them on Amazon.
Step 2: Once you have the potatoes chopped, I put them in this microwave steamer for 5 minutes. Precooking the potatoes makes them take less time frying and you can get them nice and golden brown yet soft and creamy in the inside.
Step 3: While they are cooking, heat up a large skillet to medium high heat. I used a cast iron skillet. Place the bacon slices in the pan and after a few minutes turn the heat down to medium heat.
Cook to your desired texture. I like mine a bit more crispy while my husband likes it chewy. When it's to your liking, take it out and let drain on a piece of paper towel. Chop or crumble the bacon into small pieces. Keep the grease in the pan though.
Step 4: Next add the onion to the pan and saute for a few minutes until they are translucent.
Step 5: nce the potatoes are done, add to the pan in a single layer and saute until the potatoes are golden brown. If you don't use a large skillet you may need to do this I batches.
Then add back the cooked bacon pieces and cook for another minute and you are done! You can add some chopped fresh parsley or even some chives for garnish if you wish but it's not necessary.

And that is all there is to this simple recipe. We eat these crispy potatoes for a tasty side dish at dinner time. It goes great with this chicken schnitzel along with a nice green salad to make a complete meal.
You could also eat this potato dish for a breakfast side dish. Store leftovers in an airtight container. Please scroll down to view the printable recipe card.
Other delicious recipes with bacon in them.
Bacon is the ultimate comfort food and my family LOVES it as I'm sure most people do. Here are a few more easy recipes that use bacon.
Why I love these German fried potatoes for Oktoberfest.
It's a super easy side dish and only takes 3 ingredients.
It has bacon and definitely is a crowd pleaser.
Microwaving your potatoes first makes them soft inside and crispy outside.
You can make this all in one pan with no oil because you use the grease from the bacon.
It goes great with beer especially the day after Oktoberfest. 😉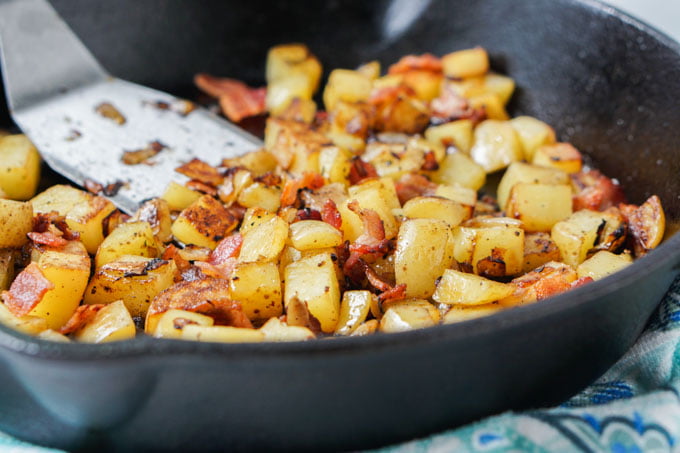 These German fried potatoes are pure comfort food for me and my family loves them. So next time you are looking for an easy side dish try this recipe.
And then eat the leftovers for breakfast! I often eat these with a fried eggs for breakfast the next day. I hope you like as much as we do.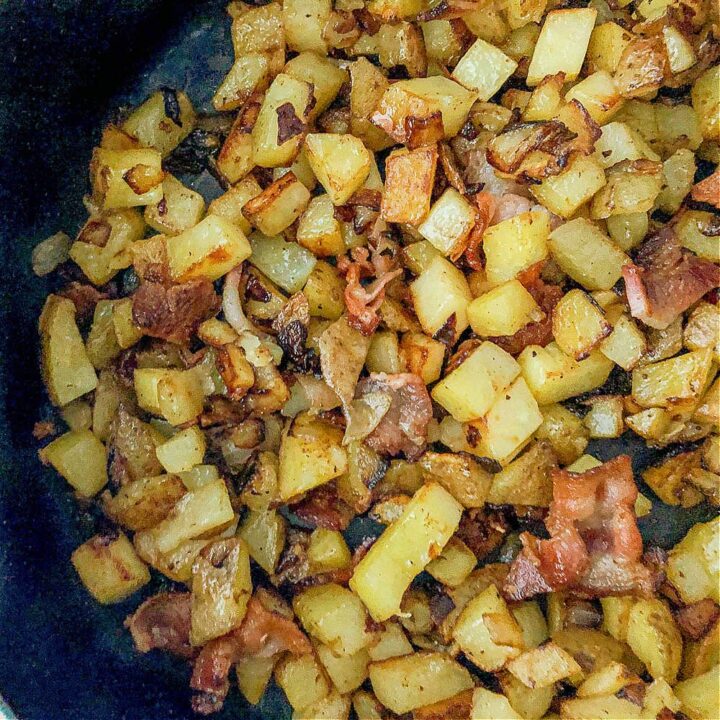 German Fried Potatoes with Bacon
These German style fried potatoes are pure comfort food and the perfect side dish to any meaty main dish. So easy to make and sure to be a family favorite.
Ingredients
4 pieces thick bacon
1 onion, finely chopped
3 cups potatoes, golden, uniformly diced into cubes
salt and pepper to taste
Instructions
Heat up a large skillet to medium high heat. Add bacon slices and cook for a few minutes and then turn the heat down to medium heat. Frie until crispy and to your desired texture (chewy or crispy).
At the same time, dice potatoes into uniform bite size cubes. Add them to a microwaveable bowl with a bit of water and microwave for 5 minutes. Drain excess water when done.
When the bacon is done, take it out of the pan and place on a piece of paper towel to absorb excess grease. Crumble or chop into small pieces and set aside.
Using the bacon grease in the pan, add the onion to the hot pan and saute for a few minutes until they start to turn translucent and then add your cooked potatoes.
Fry for 10-15 minutes or more until the potatoes are browned and cooked through. Add back crumbled bacon and mix through.
Season with salt and pepper to taste. Note the bacon might be salty to taste first before adding too much salt. Store leftovers in an airtight container.
Nutrition Information:
Yield:

4
Serving Size:

1
Amount Per Serving:
Calories:

134
Unsaturated Fat:

0g